Nostalgia Cruise
Block 32, Tuan Chau Harbor, Halong, Quang Ninh
Show map
Price from: US$ 176 (Save 9%)
US$ 160 /pax
Booked 4 times in the last 24 hours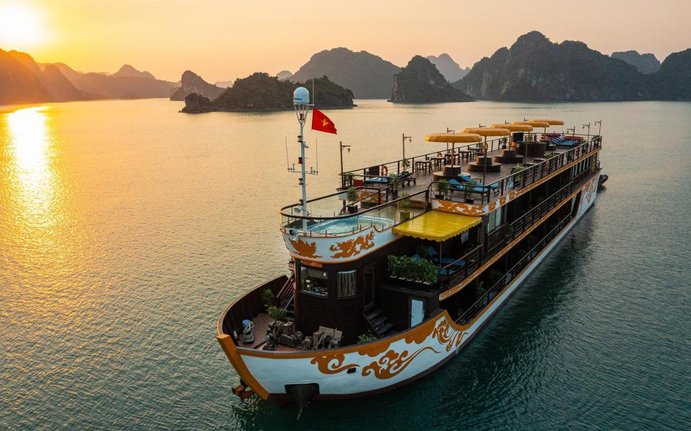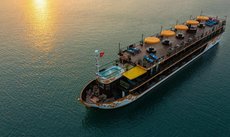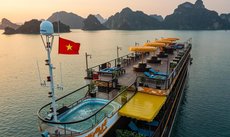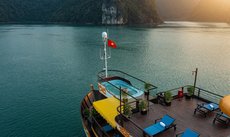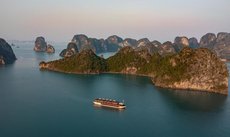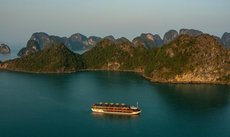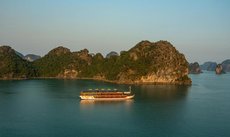 The newest cruise on Halong Bay with only 10 cabins for the utmost privacy and opulence.
A step back to history with elegant royal architectural design.
Cabins are marvelous, distinctive in style and best known for outstanding services.
Delightful culinary options and relaxing entertainment activities await you to explore.
Cruise information
Itinerary:
Lan Ha Bay - Trung Trang Cave - Tra Bau - Ao Ech
Exclusive deals & offers Special deal - Only $180 per person
Price from: US$ 180 /pax
BOOK THIS DEAL
Included:
Inhouse English-speaking tour guide
All meals aboard as mentioned in the itineraries
Kayaking, Cooking class, Tai chi exercise, Swimming (if the weather permits), Movies, Squid fishing, Music entertainment, satellite TV, Local wine experience, Tea ceremony
Sightseeing entrance fees
Luxury cabin with A/C
Welcome drink
Notes & Policies:
This promotion is applicable for Princess Suites.
This promotion cannot be combined with other promotional programs. To book the promotional package and get detailed advice, please contact the hotline at (+84) 966 311 132 or email: info@visithalongbay.com
Booking period: 25/10/2023 - 31/12/2023
Stay period: 25/10/2023 - 31/12/2023
Rooms & rates
We Price Match
Select date and package options
Clear all
Accommodation Type
King Room with Balcony
Size: 30 m²
Bed options: 1 large double bed
Queen Suite with Sea View
Size: 28 m²
Bed options: 1 large double bed
Princess Suite with Balcony
Size: 28 m²
Bed options: 1 large double bed
Family Suite with Balcony
Size: 56 m²
Bed options: 2 single beds and 1 large double bed
Family Queen Suite with Balcony
Size: 56 m²
Bed options: 2 single beds and 1 large double bed
Complete all required fields to continue
(Child Policy & Extra Bed Charge )
About Nostalgia Cruise
Stepping aboard the Nostalgia Cruise slowly sailing on the Lan Ha Bay, you can immerse yourself in the majestic historical past of the nation. The ship features the finest architectural style of the Nguyen Dynasty. It stands out like a miniature version of the ancient Hue Imperial Palace, combining vintage charm with luxury.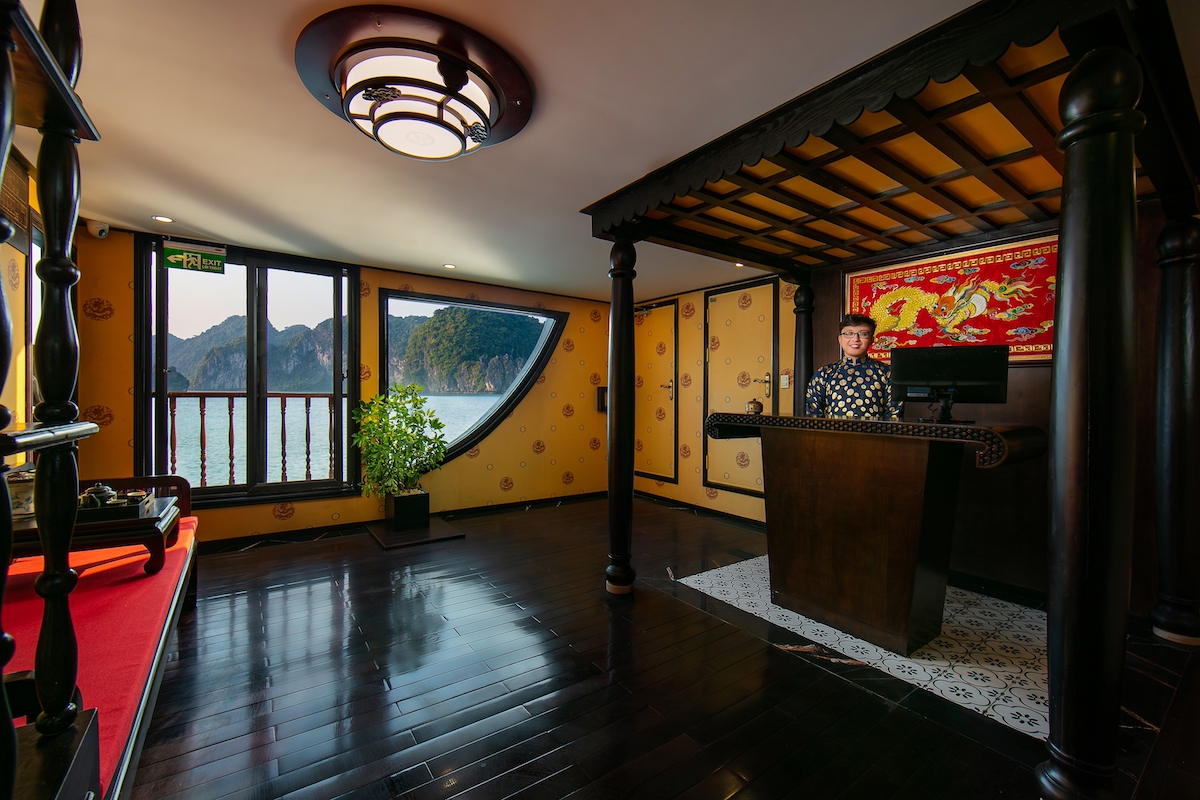 Pros
+ Nostalgia Cruise offers a warm, intimate yet still luxurious cruising experience.
+ The cruise itineraries are well-planned to have proper time for relaxation and exploration.
+ Meals are sumptuous and come in large portions.
Cons
- Pricer than other cruises.
Bottom Line
Royalty architecture and realistic traditional experience make Nostalgia a perfect option while visiting heritage wonders.
Itinerary & activities
Either you opt for a 2-day or 3-day cruise itinerary, you have ample opportunities to explore the site fully, delve into the traditional lives of fishermen, and bask in the breathtaking beauty of Halong Bay landscapes. Get ready to embark upon a wonderful voyage filled with unforgettable moments.
Cruise quality
Nostalgia boasts the newest and one of the most luxurious cruises on Halong Bay. This boutique cruise comprises only 10 cabins and the interior design is inspired by royal architecture under Nguyen Dynasty. All amenities onboard are top-notch and meet all your demands for a relaxing, enjoyable cruise experience.
Cabin quality
10 cabins are exquisitely luxurious and well-appointed, each featuring a private balcony and a private bathroom. From these cozy spaces, you can indulge in mesmerizing views of the enchanting Halong Bay - Lan Ha Bay.
Service & facilities
The brand-new cruise offers wonderful facilities such as a heated Jacuzzi pool, a vibrating sundeck lounge bar and a high-quality spa. Additionally, you can indulge in several royal services like a tea ceremony, a cooking class, and dressing up like royal figures.
Food & Drink
In an ancient classic setting, you are served a delectable fusion menu with the freshest ingredients. A morning breakfast can be attentively ordered in the dining room.
Frequently asked questions
How many itineraries does the cruise offer?
Nostalgia Cruise provides 2-day and 3-day cruise itineraries to discover Lan Ha Bay.
How large are the cabins on the cruise?
Cabins onboard are not really spacious, around 30 sqm but well-appointed with opulent amenities.
Does the cabin have a private balcony?
Each cabin has a private balcony viewing the bay.
When will we disembark the cruise?
The disembarkation time is 11:35 am.
Is the kayaking service included in the price?
Yes. The kayaking service is included in the price.
Maps and Itineraries
Block 32, Tuan Chau Harbor, Halong, Quang Ninh
Our guest's experiences (8)
| | | |
| --- | --- | --- |
| 5 star | | 8 reviews |
| 4 star | | 0 reviews |
| 3 star | | 0 reviews |
| 2 star | | 0 reviews |
| 1 star | | 0 reviews |
17 images from customer





More
12 images
M
Mat Weng
1 year, 1 month ago
Nice services in the room as well as the restaurant. The staff, especially Rose were really nice and professional! Thank you for everything!
3 people found this helpful
Helpful
K
Kim Jiun
5 months, 1 week ago
We had an incredible time on this cruise. Activities both onboard and at the destinations were fun and engaging. Caving, kayaking, and swimming were all interesting. The captain was friendly and the rooms were large, clean, and even luxurious! We were surprised at the bathtub, but it allowed for a great view of the landscape.
1 people found this helpful
Helpful
O
Olivia White
7 months, 2 weeks ago
The dining options exceeded my expectations, especially the buffet. The quality of the food was consistently high. The onboard entertainment was top-notch, with a variety of shows that kept us entertained every evening. Cabins were neat and superior with high-quality amenities. Really worth the price!
3 people found this helpful
Helpful
E
Elizabeth Jackson
8 months, 3 weeks ago
While the cruise had a lot to offer and it was not crowded with only a few number of cabins. We had a lot of quiet space to indulge in the scenery. Staff were helpful and they served us plentiful food and beverages during the trip. Really enjoy it!
D
Daniel Rodriguez
7 months, 2 weeks ago
The cabins were beautifully decorated and the services were brilliant. However, some of the scheduled events were not as engaging as I had hoped. It would have been nice to have a clearer schedule with more diverse options.
2 people found this helpful
Helpful
M
Mary Davis
7 months, 2 weeks ago
The itinerary was fantastic, with stops at breathtaking destinations of Lan Ha Bay. The cabin was premium and spotless. In-room services were also impeccable. The crew members were always friendly and eager to assist. A good ship to travel with, highly recommend it!
C
Charles Robinson
6 months, 2 weeks ago
I and my family had an amazing time on this cruise! The food was delectable and well-presented. The shore excursions were well-organized and offered unique experiences. The tour guides were knowledgeable and made the visits memorable.
4 people found this helpful
Helpful
R
Robert Garcia
5 months, 3 weeks ago
Nostalgia cruise was luxurious but the overall experience was slightly overpriced. While some aspects were worth it, there were moments where I questioned whether the cost matched the value.
Questions and Answers (0)
Be the first to ask a question on this page!
Talk to a cruise expert
Request a call back
Or Email us
Our customers' experiences

My wife and I recently visited Halong Bay on Peony cruise. The price is very reasonable and the vegetarian food …
Chloe (Australia)

I contacted Visit Halong Bay staff for some trip idea and they responded very swiftly with good recommendations.
Nina Ng (Singapore)

My trip to Halong Bay was delayed because of Covid-19 and I am so glad that I made it back …
Christine Nguyen (Australia)
You might also like...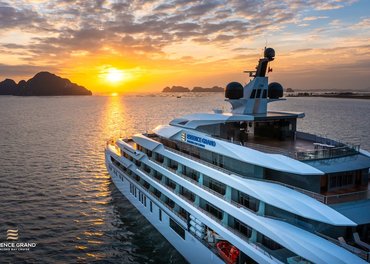 9% OFF
Halong Bay
Launched 2023 - Steel - 55 cabins
Outdoor swimming pool
Ultra luxury
Triple room
Kid-friendly
Booked 10 times in the last 24 hours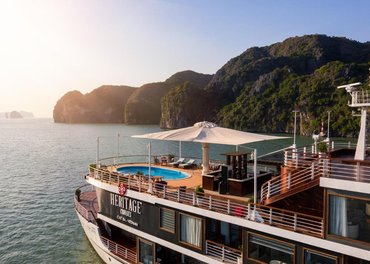 9% OFF
Lan Ha Bay
Launched 2019 - Metal - 20 cabins
Outdoor swimming pool
All cabins with balcony
All meals included
Lan Ha Bay route
Booked 2 times in the last 24 hours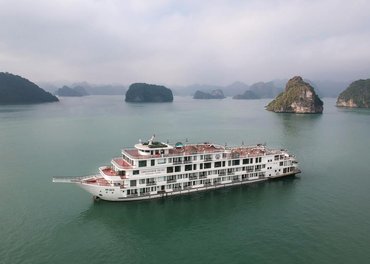 9% OFF
Halong Bay
Launched 2018 - Metal - 46 cabins
Outdoor swimming pool
All cabins with balcony
Elevator
Halong Bay route
Booked 5 times in the last 24 hours