Orchid Classic Cruise
Tuan Chau Marina, Ha Long Bay, Ha Long, Vietnam
Show map
Price from: US$ 198 (Save 9%)
US$ 180 /pax
Booked 4 times in the last 24 hours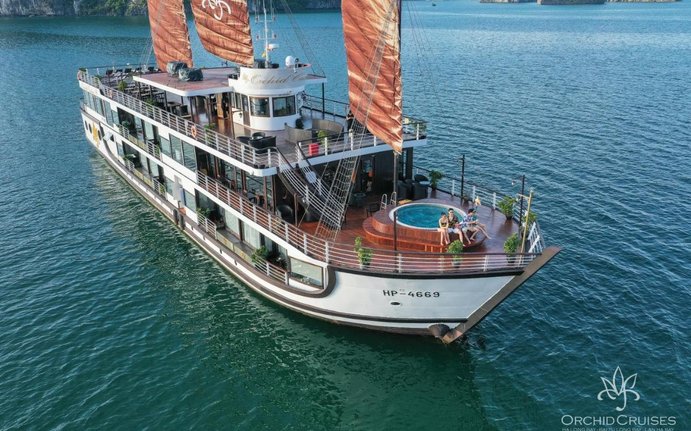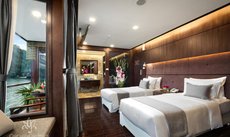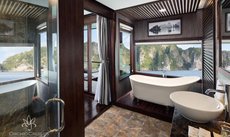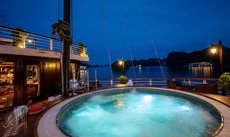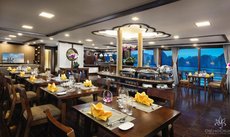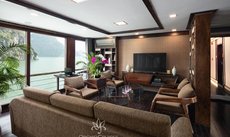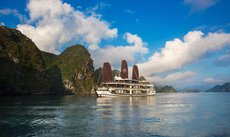 Orchid Classic is among the most opulent cruises on Halong Bay.
You have ample opportunities to engage in various water-based activities on Lan Ha Bay and Cat Ba Island.
Unrivalled services are offered by great staff.
Wellness services and facilities are abundant onboard.
Cruise information
Itinerary:
Lan Ha Bay - Trung Trang Cave - Tra Bau - Ao Ech
Rooms & rates
We Price Match
Select date and package options
Clear all
Accommodation Type
Suite with Private Balcony
Size: 36 m²
Bed options: 1 extra-large double bed
Max: +
Max adults: 2
Max children: 1(up to 12 years of age)
Orchid Exclusive Suite
Size: 45 m²
Bed options: 1 extra-large double bed
Max: +
Max adults: 2
Max children: 1(up to 12 years of age)
Premium Suite with Private Balcony
Size: 36 m²
Bed options: 2 single beds and 1 double bed
Max: +
Max adults: 2
Max children: 1(up to 12 years of age)
Family Suite with Private Balcony (3 pax)
Size: 72 m²
Bed options: 2 single beds and 1 double bed or 2 double beds
Max: +
Max adults: 3
Max children: 1(up to 12 years of age)
Complete all required fields to continue
(Child Policy & Extra Bed Charge )
About Orchid Classic Cruise
Orchid Classic Cruise inherits its fleet's long tradition of being one of the most luxurious cruise lines in Halong Bay. This 5-star vessel is the best choice for families and groups with large cabins and abundant amenities. You'll also be satisfied with its fascinating voyages to a lot of pristine beaches, tranquil lagoons, and fishing villages on Lan Ha Bay and Cat Ba Island.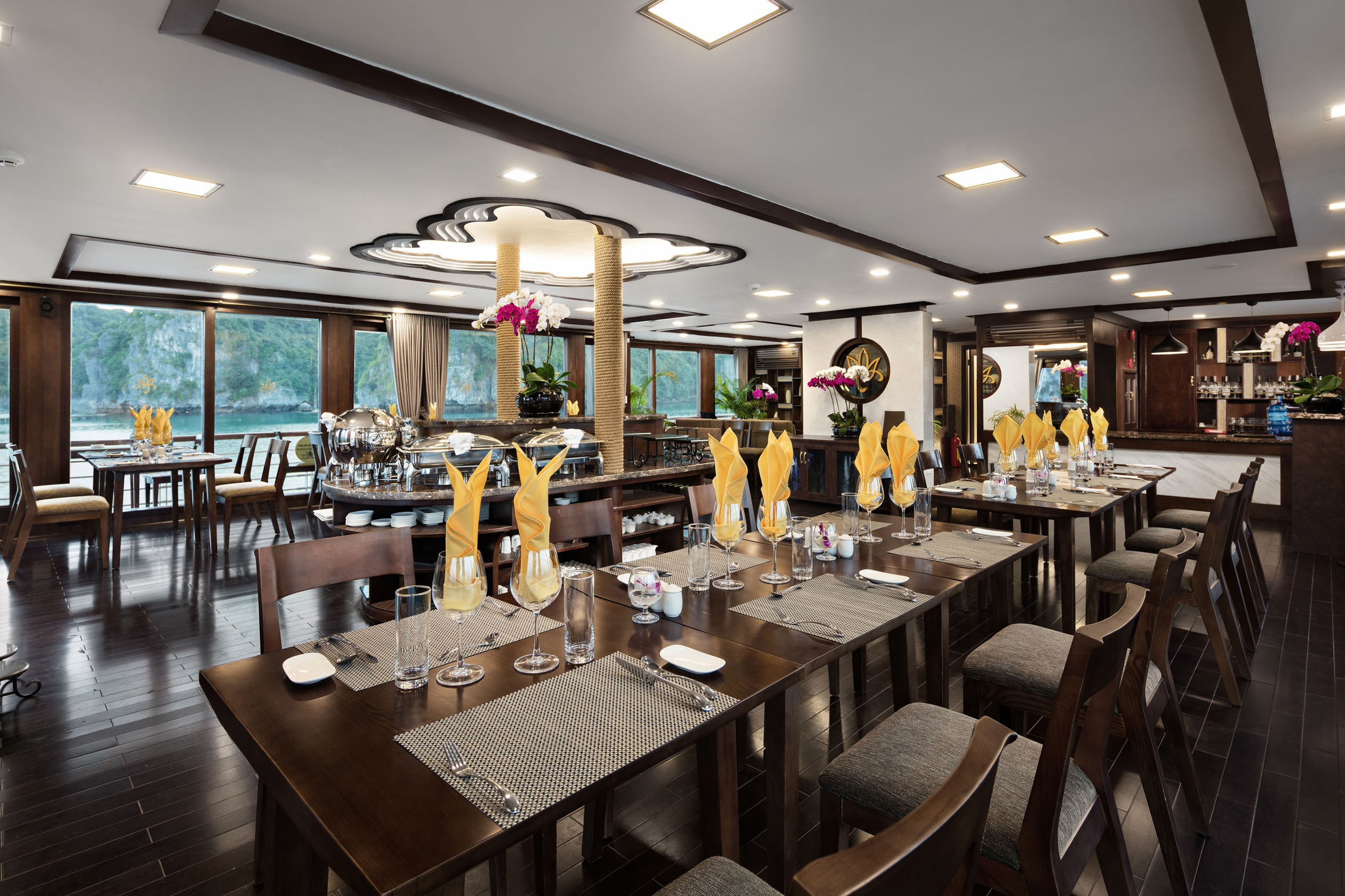 Pros
+ The ship is stunning and luxurious.
+ Cabins are surprisingly gigantic and offer wonderful sea views directly from your bed.
+ The restaurant serves great food in quality and quantity.
Cons
- The cooking demonstration is a bit short.
- There is a lack of guidance for kayaking.
Bottom Line
Orchid Classic Cruise is unquestionably one of the most desirable cruise ships for upper-class travelers, with high-quality amenities and exciting activities.
Itinerary & activities
The charm of Lan Ha Bay is revealed during your excursions. You'll visit Trung Trang cave, Tra Bau area, Viet Hai village, and Ao Ech area. Fun-filled excursions, spectacular views, and a range of water activities await you onboard and offshore.
Cruise quality
It is the cruise's ultimate elegance that allures you from the first look. It features a chic design of wooden furniture, fine black-and-white pictures, delicate details, and neat, spacious cabins. The property is made of steel with wooden floors and outfitted with high-quality facilities.
Cabin quality
The number of 14 luxurious and well-furnished cabins is limited but provides the utmost comfort. All accommodations are spacious (from 36sqm to 72sqm) and feature stunning décor of exotic wood, marble, and modern furniture. You can enjoy a full ocean view and an airy fresh atmosphere from a private balcony.
Service & facilities
Guests on Orchid Classic Cruise can relax with a range of outstanding amenities. Generous public space is ideal for socializing, and you'll also have access to dedicated venues such as fitness, spa, and dining areas.
Food & Drink
The buffet and a la carte menu in the restaurant comprises American, Vietnamese, and Asian dishes and grill/ BBQ. This is also an ideal place for Karaoke and special events. Additionally, cocktails and great snacks are served during the sunset party on the sundeck.
Frequently asked questions
Are cabins smoking or non-smoking?
All cabins onboard are non-smoking.

Are children free-of-charge on Orchid Classic Cruise?
Children under 5 years old are free of charge, sharing the cabin and existing bed with 2 adults.
Is kayaking included in the total price?
Yes. Kayaking is included in the price.
Where does Orchid Classic Cruise visit?
The cruise visits Lan Ha Bay and Cat Ba Island on its 2-day and 3-day itineraries.
Is the cruise has a swimming pool?
Yes. There is an outdoor jacuzzi pool at the bow of the cruise.
Maps and Itineraries
Tuan Chau Marina, Ha Long Bay, Ha Long, Vietnam
Our guest's experiences (8)
| | | |
| --- | --- | --- |
| 5 star | | 7 reviews |
| 4 star | | 1 reviews |
| 3 star | | 0 reviews |
| 2 star | | 0 reviews |
| 1 star | | 0 reviews |
N
Nathalie Young
7 months, 3 weeks ago
There were 4 of us and we booked 2 Balcony Suite connecting on the first deck. Our cabins include a private balcony and ensuite bathroom with tub and shower. Fewer cabins are the reason why we picked Orchid Classic as we had more private space to relax onboard. The staff offered excellent service. Special thanks to Lily, David, and Stella for their kindness and hospitality.
4 people found this helpful
Helpful
C
Carrie Brooke
9 months, 3 weeks ago
From start to finish, things went well organized. The team worked professionally and they were very friendly and dedicated. The cave was small yet it was a nice visit. Kayaking was so much fun and fishing squid was exciting. Food was incredibly delicious. We must remember this trip for our whole life. Thanks a lot.
4 people found this helpful
Helpful
Orchid Classic was a true luxury getaway. The boat was beautifully decorated in traditional style. There are only 14 cabins and we felt it was a perfect capacity for a relaxing trip. Food, cabin, and staff are all superb. Thank you!
4 people found this helpful
Helpful
A
Augustine
1 year, 2 months ago
My family with 2 kids (3 and 5 years old) traveled to Halong for 2 days 1 night. Our cabin was spacious and fully appointed. The balcony and windows were nice. Food was amazing and they had food for kids as well. Itinerary was interesting with plenty of activities. The staff was welcoming and helpful with the kids. We have nothing to complain about this trip! Thanks Orchid cruise.
2 people found this helpful
Helpful
V
Vanessa
10 months, 3 weeks ago
My boyfriend and I chose 2 nights since we want to explore more. Lots of activities are included such as visiting a cave, kayaking, swimming, cooking class, biking, exploring a village, etc. Every activity followed a timetable which was a bit tight. The transfer from the dock to the mother boat was long (30 minutes) and not very comfortable. Delicious meals and friendly staff were 2 pluses of Orchid Class. The view was outstanding yet there were many crowds and you may see litter on the bay.
3 people found this helpful
Helpful
J
Joseph Geraghty
8 months ago
We booked 2 nights on Orchid Classic. Food and drinks on the main boat were ok yet the lunch on the day boat was not very good. Drinks were expensive. The staff was hospitable and the guide did a great job. The scenery was unparalleled. The trip to the village by bike and kayaking was interesting.
1 people found this helpful
Helpful
M
Martha
8 months, 3 weeks ago
The program was fully packed so you may find it rushed and lacking of relaxing time if you join all activities. The food was nicely presented and tasty. The staff made my trip with a birthday celebration for dinner. Really appreciate that. Eric and Rum were the best. Everyone went the extra mile to please guests. Thank you so much!
4 people found this helpful
Helpful
E
Erica Eve Seligson
9 months, 2 weeks ago
Me and my husband love the classical style so Orchid Classic was the one we chose. The boat looks almost like the photos since it has been operating for years. The jacuzzi pool was nice for a dip. The staff was friendly and welcoming, Our cabin was clean and tidy. We had full amenities provided such as a safe, wardrobe, bathrobe, slippers, toiletries, tub,... The balcony was good to watch the bay. We would recommend Orchid Cruise to my friends.
3 people found this helpful
Helpful
Questions and Answers (0)
Be the first to ask a question on this page!
Talk to a cruise expert
Request a call back
Or Email us
Our customers' experiences

My wife and I recently visited Halong Bay on Peony cruise. The price is very reasonable and the vegetarian food …
Chloe (Australia)

I contacted Visit Halong Bay staff for some trip idea and they responded very swiftly with good recommendations.
Nina Ng (Singapore)

My trip to Halong Bay was delayed because of Covid-19 and I am so glad that I made it back …
Christine Nguyen (Australia)
You might also like...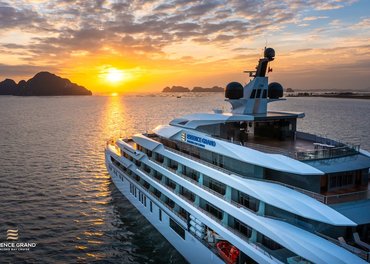 9% OFF
Halong Bay
Launched 2023 - Steel - 55 cabins
Outdoor swimming pool
Ultra luxury
Triple room
Kid-friendly
Booked 10 times in the last 24 hours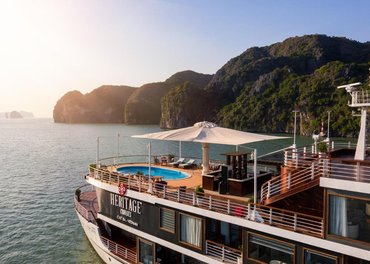 9% OFF
Lan Ha Bay
Launched 2019 - Metal - 20 cabins
Outdoor swimming pool
All cabins with balcony
All meals included
Lan Ha Bay route
Booked 2 times in the last 24 hours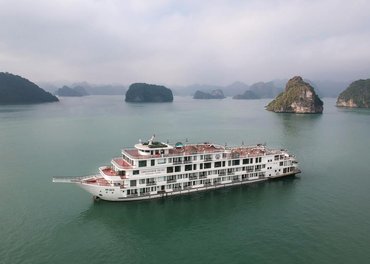 9% OFF
Halong Bay
Launched 2018 - Metal - 46 cabins
Outdoor swimming pool
All cabins with balcony
Elevator
Halong Bay route
Booked 5 times in the last 24 hours