Orchid Premium Cruise
Lot 32, Tuan Chau Marina, Ha Long Bay, Ha Long, Vietnam
Show map
Price from: US$ 302 (Save 8%)
US$ 275 /pax
Booked 4 times in the last 24 hours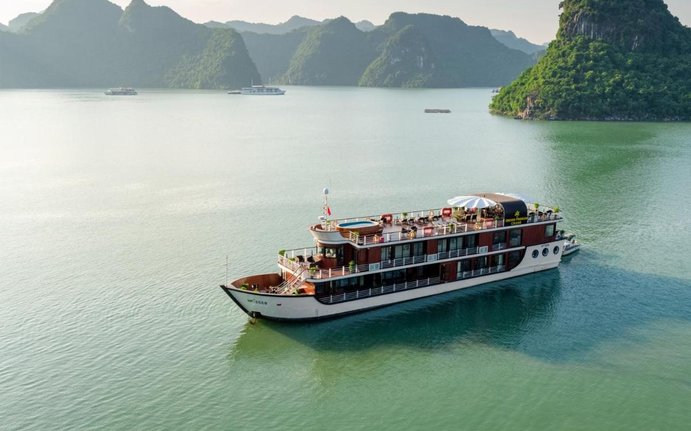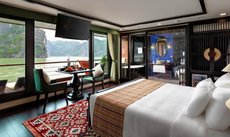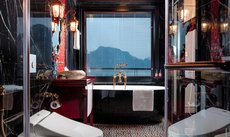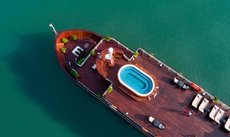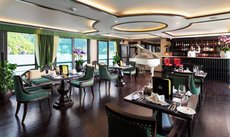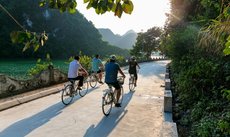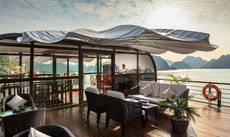 This is one of the best cruises on Halong Bay with the ultimate in comfort and opulence.
Quintessential architectural design features both Asian and French styles.
Orchid Premium Cruise has some of the largest cabins in the Halong Bay area.
Private balconies and sitting areas are available in each cabin on the ship.
Cruise information
Itinerary:
Lan Ha Bay - Trung Trang Cave - Tra Bau - Ao Ech
Rooms & rates
We Price Match
Select date and package options
Clear all
Accommodation Type
Suite with Terrace
Size: 45 m²
Bed options: 1 extra-large double bed
Max: +
Max adults: 2
Max children: 1(up to 12 years of age)
Family Room with Terrace
Size: 90 m²
Bed options: 2 extra-large double beds
Max: +
Max adults: 4
Max children: 1(up to 12 years of age)
Premium Terrace Suite
Size: 48 m²
Bed options: 1 extra-large double bed
Max: +
Max adults: 2
Max children: 1(up to 12 years of age)
Premium Family Suite
Size: 96 m²
Bed options: 2 extra-large double beds
Max: +
Max adults: 4
Max children: 1(up to 12 years of age)
Exclusive Suite
Size: 65 m²
Bed options: 1 extra-large double bed
Max: +
Max adults: 2
Max children: 1(up to 12 years of age)
Complete all required fields to continue
(Child Policy & Extra Bed Charge )
About Orchid Premium Cruise
Indulge in the captivating allure of Indochine architecture with Orchid Premium. This exquisite vessel blends the essence of Asian traditions with the charm and refinement of French design. Generously appointed suites onboard are fitted with balconies and private bathtubs overlooking the enchanting bay. Besides, you'll enjoy the added privilege of round-the-clock private butler service and cutting-edge amenities on the cruise.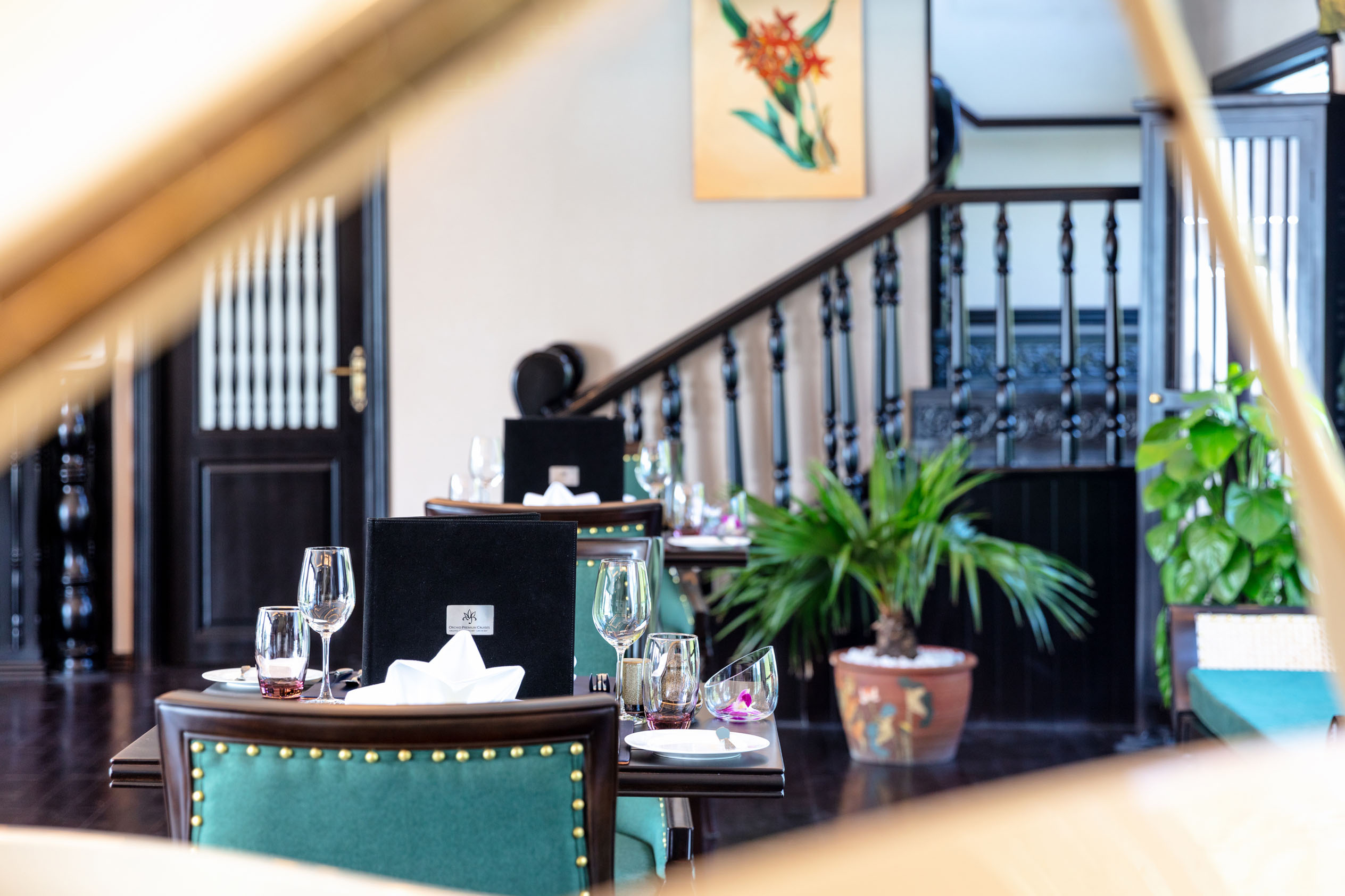 Pros
+ The opulent vessel ensures comfortable accommodations and indulgent services.
+ The restaurant serves excellent Asian - European flavors.
Cons
- There is only one option for a 2-day itinerary on Lan Ha Bay.
Bottom Line
Orchid Premium Cruise is the first choice for upscale domestic and international tourists exploring Lan Ha Bay.
Itinerary & activities
The cruise only specializes in the 2-day excursion on Lan Ha Bay and Cat Ba Island which takes you to Trung Trang Cave, Tra Bau Area, and Ao Ech Area. Popular activities to engage in are swimming, kayaking, exploring caves, enjoying cooking demonstrations, and squid fishing.
Cruise quality
Besides gorgeous design, Orchid Premium Cruise ensures the highest safety standard with premium facilities. The vessel is made of metal and has wooden floors. Additionally, it is adorned with beautiful ornamental details.
Cabin quality
Suites on Orchid Premium Cruise are generous, well-appointed, and exclusively have a private Jacuzzi in the bathroom. The room size is measured from 45sqm to 96sqm. You have an airy private sitting area with a balcony to admire majestic bay views.
Service & facilities
The cruise boasts a spacious and airy sundeck to admire romantic sunset and celebrate a party. You can seek refreshing moments in the spa or a Jacuzzi pool on the sundeck. Furthermore, 24/7 butler service is available to cater to your every wish.
Food & Drink
The cruise's dining area serves a fusion menu of Asian and international specialities that you can savor delectable food while enjoying expansive bay views. There is also a bar for premium wines and cocktails to sip during the day and at night.
Frequently asked questions
How can I book the massage services onboard?
You can book massage services directly with the cruise manager.
Does Orchid Premium Cruise offer a 3-day itinerary?
Yes. Orchid Premium Cruise provides a 3-day itinerary to Lan Ha Bay.
Does the cruise offer a kayaking service?
Yes. Kayaking is included in the cruise's itinerary and it is free of charge.
Do I need to pay for transportation service?
Yes. Transportation cost is required when you book the car.
Are meals included on the cruise?
Yes. All meals are included on the cruise.
Maps and Itineraries
Lot 32, Tuan Chau Marina, Ha Long Bay, Ha Long, Vietnam
Our guest's experiences (7)
| | | |
| --- | --- | --- |
| 5 star | | 6 reviews |
| 4 star | | 1 reviews |
| 3 star | | 0 reviews |
| 2 star | | 0 reviews |
| 1 star | | 0 reviews |
L
Lauren Martin
7 months, 3 weeks ago
The cruise was exceptional in its quality of service and experience. The captain and crew members were always helpful. 100% recommended for anyone who wishes to experience Halong Bay.
S
Sophia Walker
7 months, 3 weeks ago
Words could not be enough to express our satisfaction with Orchid Premium Cruises. The ship was luxurious and the staff served us delicious and plentiful food. Kayaking was really exciting but the beach was a bit crowded.
2 people found this helpful
Helpful
J
James Anderson
6 months, 1 week ago
The entire experience on Orchid Premium cruise was incredible. The ship was gorgeous, and luxurious. I loved the design of the ship and its cabins. The food was incredible and the staff are amazing. Excursions to Halong Bay was wonderful, the atmosphere was cool and landscape was breathtaking.
2 people found this helpful
Helpful
E
Ewa Nowak
6 months, 1 week ago
Orchid Premium was a fantastic cruise for honeymooners. I and my wife enjoyed more relaxing experiences on the ship than on the destination. Our honeymoon room was romantic and had a very large balcony viewing the bay. Private dining was romantic too, such a memorable experience to have. Thank the cruise so much!
D
Diego Fernandez
6 months, 2 weeks ago
Highly recommend this cruise for any first-timers. The cruise was genuinely premium. The food was delicious and well-presented. Definitely back this cruise for the next time.
S
Sophie Dubois
6 months, 2 weeks ago
The food was delectable with brilliant presentation. I also enjoyed the beverages in the bar. The cruise was not crowded and the cabins were chic, elegant, spacious, clean and had full superior amenities. Wonderful activities to make us really content.
C
Christopher Turner
9 months, 2 weeks ago
The vacation on the Orchid Premium cruise was the highlight of my family trip to Vietnam. The staff and captain were friendly and helpful in all cases. Onboard activities were quite repetitive so we decided to stay inside the cabin and enjoy beautiful bay views.
3 people found this helpful
Helpful
Questions and Answers (0)
Be the first to ask a question on this page!
Talk to a cruise expert
Request a call back
Or Email us
Our customers' experiences

My wife and I recently visited Halong Bay on Peony cruise. The price is very reasonable and the vegetarian food …
Chloe (Australia)

I contacted Visit Halong Bay staff for some trip idea and they responded very swiftly with good recommendations.
Nina Ng (Singapore)

My trip to Halong Bay was delayed because of Covid-19 and I am so glad that I made it back …
Christine Nguyen (Australia)
You might also like...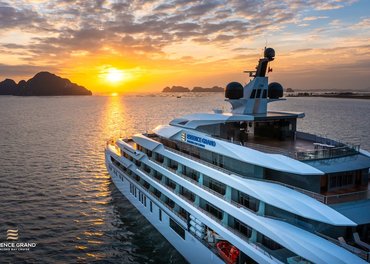 9% OFF
Halong Bay
Launched 2023 - Steel - 55 cabins
Outdoor swimming pool
Ultra luxury
Triple room
Kid-friendly
Booked 10 times in the last 24 hours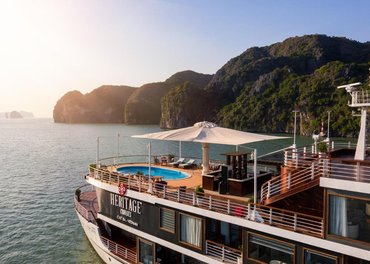 9% OFF
Lan Ha Bay
Launched 2019 - Metal - 20 cabins
Outdoor swimming pool
All cabins with balcony
All meals included
Lan Ha Bay route
Booked 2 times in the last 24 hours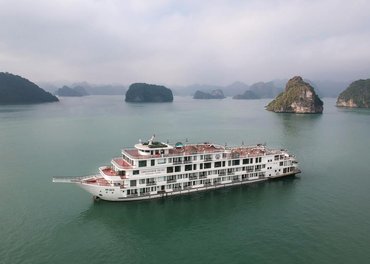 9% OFF
Halong Bay
Launched 2018 - Metal - 46 cabins
Outdoor swimming pool
All cabins with balcony
Elevator
Halong Bay route
Booked 5 times in the last 24 hours