Orchid Trendy Cruise
Block 32, Tuan Chau Marina, Ha Long Bay, Ha Long, Vietnam
Show map
Price from: US$ 181 (Save 9%)
US$ 165 /pax
Booked 5 times in the last 24 hours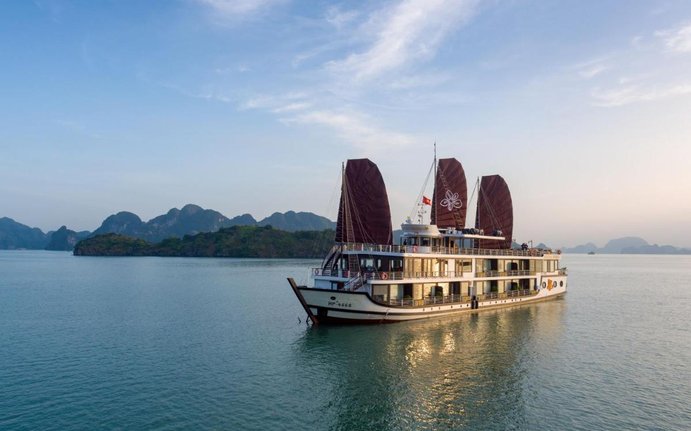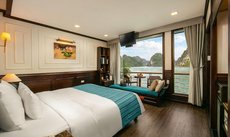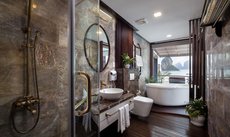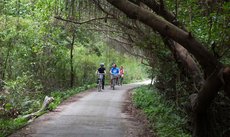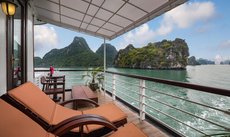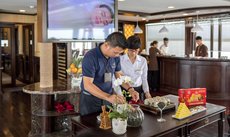 Elegant design featuring French colonial style with classic traits
Outdoor jacuzzi pool at the bow of the ship
Spacious cabins with connecting cabins for families
Visiting Lan Ha Bay with an isolated route
Spa with sauna to boost relaxation
Cruise information
Itinerary:
Lan Ha Bay - Trung Trang Cave - Tra Bau - Ao Ech
Rooms & rates
We Price Match
Select date and package options
Clear all
Accommodation Type
Deluxe Double or Twin Room with Balcony
Size: 28 m²
Bed options: 1 large double bed or 2 single beds
Max: +
Max adults: 2
Max children: 1(up to 12 years of age)
Premium Deluxe Double or Twin Room with Balcony
Size: 28 m²
Bed options: 1 large double bed or 2 single beds
Max: +
Max adults: 2
Max children: 1(up to 12 years of age)
Azalea Exclusive Suite with Terrace
Size: 45 m²
Bed options: 1 large double bed
Max: +
Max adults: 2
Max children: 1(up to 12 years of age)
Deluxe Family Room with Balcony
Size: 56 m²
Bed options: 2 single beds and 1 large double bed or 2 large double beds
Premium Deluxe Family Room with Balcony
Size: 56 m²
Bed options: 2 single beds and 1 large double bed or 2 large double beds
Complete all required fields to continue
(Child Policy & Extra Bed Charge )
About Orchid Trendy Cruise
Launched in 2017, Orchid Trendy (formally Azalea Cruise) is one of the most renowned brand names for visitors coming to Halong. The cruise starts from Tuan Chau Pier in Halong and crosses the most untouched parts of Lan Ha Bay. In addition to state-of-the-art facilities, Orchid Trendy enhances cruising experiences with dedicated service, a friendly crew team, and a tasty fusion Asian and European cuisine menu.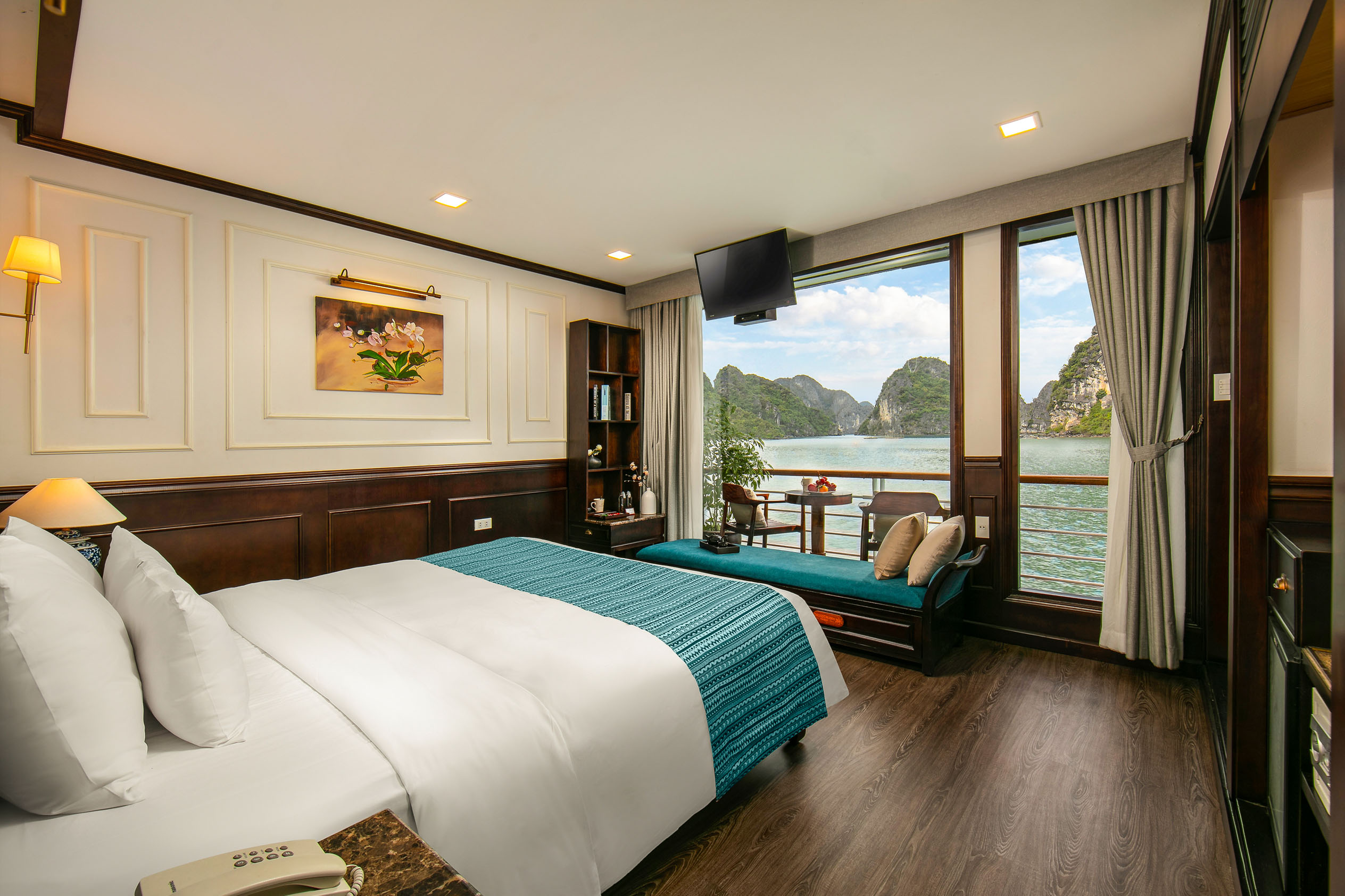 Pros
+ Hospitable staff, especially waiters and waitresses and tour guides.
+ Rooms are fully equipped and neat.
+ Food is plentiful and the set menus are excellent.
Cons
- The vessel is a bit outdated.
- Long waiting time on the small boat for excursions.
- Some food in the buffet could be better.
Bottom Line
Orchid Trendy offers travelers a luxurious but intimate ambiance and creates an unforgettable cruise trip with its upscale facilities and attentive service.
Itinerary & activities
The cruise sets sail on the Lan Ha Bay area with the most untouched spots such as Tra Bau, Ao Ech, and Trung Trang Cave on Cat Ba Island. The 2-night guests have a chance to go to pristine areas that big boats cannot access. You will explore a local village on Cat Ba Island to learn about their daily life, visit an ancient house and enjoy the rustic path surrounded by dense jungles. You can immerse in the transparent sea and feel the utmost peace and relaxation.
Activities are abundant such as kayaking, swimming, biking, hiking, cooking class, Taichi, squid fishing, Happy Hour, etc. Otherwise, you can only unwind on the sundeck or on your private balcony and admire the poetic bay.
Cruise quality
The vessel includes 4 decks which are the basement, the first and second decks for accommodation, restaurant and bar, and the sundeck on the top. All equipment for safety is provided in accommodation and in public areas. Passengers can stay in comfortable rooms, enjoy delicious meals and beverages and pamper yourself with spa and sauna onboard.
Cabin quality
Orchid Trendy boasts 20 deluxe cabins with all private balconies in each. Whether guests choose a Deluxe, Premium Deluxe, or Exclusive Suite, the cabins promise an amazing view of Lan Ha Bay through the full-length glass windows and all amenities needed for a luxury stay. Travelers can find fine bedding, a private sitting area, satellite TV, air-conditioning, minibar, telephone, safe box, bathtub and shower, soft towels, etc.
Rooms are 28 to 45 square meters in size. Deluxe and Premium Deluxe cabins can be interconnected and make a larger private space for groups of 3 to 4 adults or families with kids.
Service & facilities
A luxurious space is filled with modern services and facilities on Orchid Trendy. An opulent reception welcomes you from the very first steps of boarding. Well-equipped accommodation takes care of your sleep and private relaxing moments. An Indochine-style restaurant and bar serve a full range of featured cuisine and drinks. Also, a large sundeck invites you to enjoy the fresh air and sunshine from the bay at any time. Orchid Trendy also owns an outdoor jacuzzi pool and a spa with a dry sauna to rejuvenate your body and mind, leaving all the stress and muscle tension behind.
Food & Drink
The experienced chef team makes sure all guests enjoy every single dish. Combined Asian-European cuisine will be the highlight. Travelers have a chance to enjoy from the most local dishes to some international flavors made from the freshest and carefully selected ingredients. Plenty of drinks can be ordered from the bar in the dining area or the outdoor bar on the sundeck.
Frequently asked questions
What is the best room type on Orchid Trendy?
The best room on Orchid Trendy is Orchid Exclusive Suite. It is the largest room with an area of 45 sqm. It is located on the upper deck with a spacious terrace with sun loungers, an ensuite bathroom with luxurious amenities.
How many meals are there on the boat?
There are 4 meals for 2 days/1 night itinerary and 7 meals for 3 days/2 nights itinerary.
Does the cruise include a transfer service?
No. The transfer service (shuttle bus/ private car) is available upon request and charged. The room rate does not include a transfer service.
Can a room add an extra bed for 3 adults?
Yes. All rooms on Orchid Trendy can add an extra bed. However, the extra beds are limited and only provided upon request for a surcharge.
If I cannot join the activities, can I stay onboard?
Yes. All the excursions and activities are optional. You can surely choose to join or stay onboard to relax.
Maps and Itineraries
Block 32, Tuan Chau Marina, Ha Long Bay, Ha Long, Vietnam
Our guest's experiences (10)
| | | |
| --- | --- | --- |
| 5 star | | 9 reviews |
| 4 star | | 1 reviews |
| 3 star | | 0 reviews |
| 2 star | | 0 reviews |
| 1 star | | 0 reviews |
R
Rosemary
8 months, 2 weeks ago
Booked 2 nights/3 days and it was the best choice for us. My boyfriend and I were picked up at the hotel timely and the check in went smoothly. We were transferred by a small boat to embark on the main vessel. The ship itself was clean and chic. Our cabin was lovely, too. It has a balcony and a bathtub. Activities were lots of fun. We loved the biking trip to the village and kayaking on the bay. The cave was small yet a nice experience. All activities were nice such as cooking class, taichi, squid fishing,... The outdoor jacuzzi pool at the bow was a bonus. Can't compliment this trip enough. Thanks to the Orchid Trendy team.
C
Caroline Goldstein
10 months, 2 weeks ago
The team was all welcoming and polite. The cruise manager Nilo was our favorite. The tour guide was also very informative and helpful. Food was incredible. The cabin was spacious and fully equipped. The tour on the island was peaceful. The bay was beautiful but rubbish issues could be seen. Activities after dinner could be more varied.
H
Heena Naithani
8 months, 3 weeks ago
My family stayed for 1 night. There were both pros and cons. Pros: The view was good, the staff was friendly, cabins were nice. Cons: Check-in and check-out at the dock were chaotic, wifi was not good, food quality was unstable with some meals really good and some average.
J
Julian
9 months, 4 weeks ago
Cuisine was fantastic. We love every meal, especially the dinner set menu. Happy Hour was great cuz you will see the price of drinks was pretty high. The room was comfortable and included a full range of amenities. Staff was so helpful and friendly. They set up rose petals in our rooms since it was our honeymoon. We also had an exceptional dining table for dinner. Really appreciate that! Definitely come back again!
2 people found this helpful
Helpful
J
Jasmin Philipp
8 months, 2 weeks ago
3 days/2 nights could be considered carefully. The 3-day is indeed much more relaxing and less rushed than the 2-day, but if you are not an active person and cannot do kayaking or cycling, 2-day is enough. And be noticed that you will spend most of the time on the second day on a day boat (without rooms) for excursions and cannot access your cabin to relax. The village was normal and not much to see. However, Halong (or Lan Ha) Bay was really charming and tranquil. Food on the main boat was amazing and staff was courteous and went above and beyond. Overall a nice time but 1 night is enough!
3 people found this helpful
Helpful
Strongly recommend this trip! Orchid Trendy was a nice boat with modern facilities and a full range of service. There is an outdoor jacuzzi, a spa and sauna, stylish restaurant and bar onboard. Food was of good quality and quantity. Ginny and Nilo went the extra mile to guarantee our comfort. Thank you very much!
3 people found this helpful
Helpful
S
Shah Harish
7 months, 2 weeks ago
The trip was faultless. We had a wonderful 2 days on Lan Ha Bay. The scenery was extraordinary. Service on board was excellent. Highly recommended.
3 people found this helpful
Helpful
V
Vinay Hiranandani
11 months, 3 weeks ago
We had 2 days on Orchid Trendy. The staff was very nice and caring. The interior was well maintained and had a chic design. Our Deluxe cabin included air-con, private bathroom with bath amenities, and a stunning view from the floor to ceiling glass window. Food was varied yet some dishes were dry and could be more flavorful.
4 people found this helpful
Helpful
A
Amina Resch
10 months, 2 weeks ago
The vessel was anchored far from the dock so we had to take a shuttle boat for around 30 minutes to embark onboard. Our cabin was pretty and the private balcony had a table and chairs for sightseeing. The staff was excellent and super friendly. Food was generous and delicious. The drinks were overpriced but we could make use of Happy Hour (buy 1 get 1).
3 people found this helpful
Helpful
O
Olivia Alice Ray
1 year ago
The trip to Halong Bay was the trip of our lifetime. The vessel was traditional and elegant. As soon as we stepped on the ship, things were great and exceeded our expectations. The cabin was very nice, bright, the best view, and the bed was comfy. We visited a cave on Cat Ba island and went swimming around the boat on the first day and kayaking on the second day. Staff was amazing. A shout out to the guide and cruise manager. Only downside: the check-in area at the port could be improved, a bit small and not very well organized.
3 people found this helpful
Helpful
Questions and Answers (0)
Be the first to ask a question on this page!
Talk to a cruise expert
Request a call back
Or Email us
Our customers' experiences

My wife and I recently visited Halong Bay on Peony cruise. The price is very reasonable and the vegetarian food …
Chloe (Australia)

I contacted Visit Halong Bay staff for some trip idea and they responded very swiftly with good recommendations.
Nina Ng (Singapore)

My trip to Halong Bay was delayed because of Covid-19 and I am so glad that I made it back …
Christine Nguyen (Australia)
You might also like...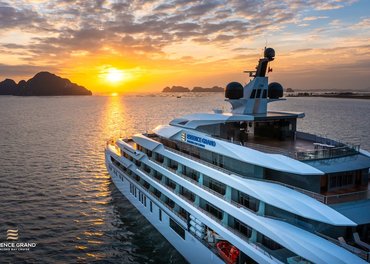 9% OFF
Halong Bay
Launched 2023 - Steel - 55 cabins
Outdoor swimming pool
Ultra luxury
Triple room
Kid-friendly
Booked 10 times in the last 24 hours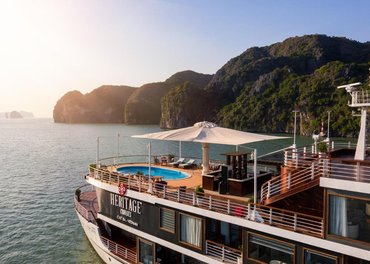 9% OFF
Lan Ha Bay
Launched 2019 - Metal - 20 cabins
Outdoor swimming pool
All cabins with balcony
All meals included
Lan Ha Bay route
Booked 2 times in the last 24 hours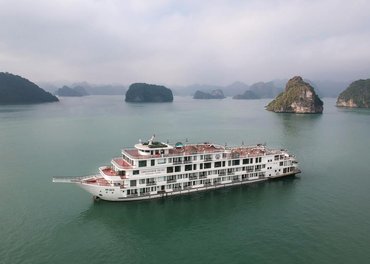 9% OFF
Halong Bay
Launched 2018 - Metal - 46 cabins
Outdoor swimming pool
All cabins with balcony
Elevator
Halong Bay route
Booked 5 times in the last 24 hours