Paradise Elegance Cruise
Tuan Chau Island, Ha Long City, Quang Ninh, Viet Nam, Ha Long, Vietnam
Show map
Price from: US$ 187 (Save 9%)
US$ 170 /pax
Booked 3 times in the last 24 hours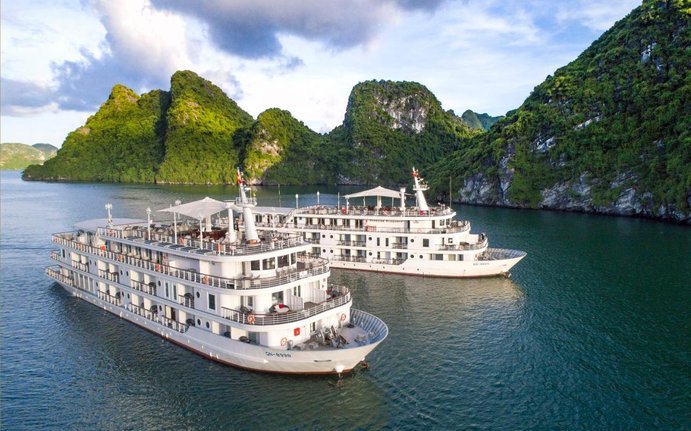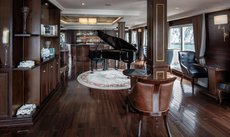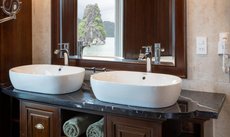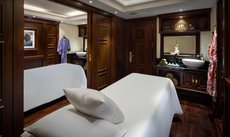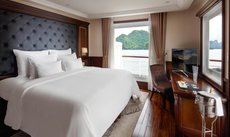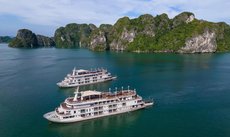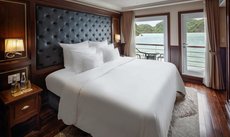 One of the finest cruises exploring Halong Bay with well-known attractions namely Titop Island, Sung Sot Cave, and Tung Sau Pearl Farm.
You are served a fusion of menu of fresh seafood, international buffet, and Vietnamese-European meals.
Typical recreational activities are thoughtfully provided on the cruise and at tourist sites.
Cruise information
Itinerary:
Halong Bay - Tung Sau Area - Titop Island - Sung Sot Cave
Rooms & rates
We Price Match
Select date and package options
Clear all
Accommodation Type
Deluxe with Balcony Package
Size: 25 m²
Bed options: 2 single beds or 1 extra-large double bed
Max: +
Max adults: 2
Max children: 1(up to 12 years of age)
Elegance Suite with Balcony
Size: 35 m²
Bed options: 2 single beds or 1 extra-large double bed
Max: +
Max adults: 2
Max children: 1(up to 12 years of age)
Captain View Terrace Suite
Size: 35 m²
Bed options: 2 single beds or 1 extra-large double bed
Max: +
Max adults: 2
Max children: 1(up to 12 years of age)
Executive with Balcony
Size: 25 m²
Bed options: 2 single beds or 1 extra-large double bed
Max: +
Max adults: 2
Max children: 1(up to 12 years of age)
Complete all required fields to continue
(Child Policy & Extra Bed Charge )
About Paradise Elegance Cruise
Paradise Elegance Cruise is a member of Paradise group, designated for luxury cruising. The lavish, modern vessel features contemporary style combined with Vietnamese concepts. Onboard, you can expect premium services and facilities as well as the best dining experience. Shore excursions to Halong Bay with two and three-day durations provide in-depth knowledge of the bay's culture and legendary wonders.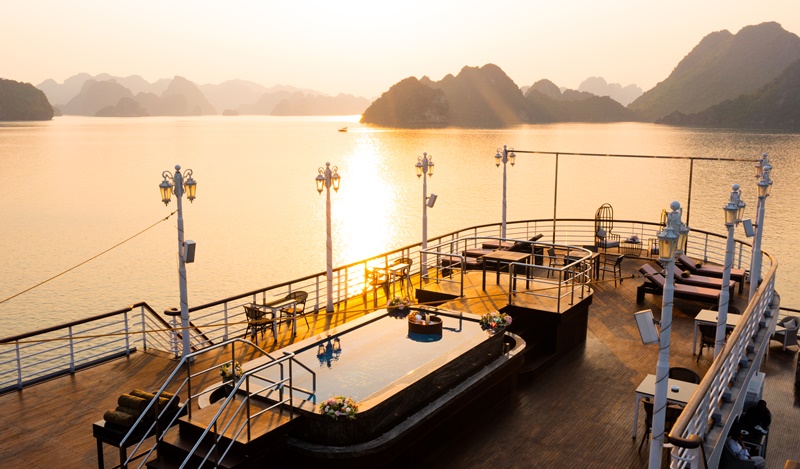 Pros
+ The luxurious cruise offers first-class services and a range of entertainment programs.
+ The modern design is apparent in staterooms and public spaces.
+ The trip is very well-organized and includes exciting activities.
Cons
- The WIFI onboard is slow.
- There is a little noise from the engines causing annoyance, especially for rooms near the engine hall.
Bottom Line
The ship specializes in all-inclusive voyages, delectable culinary options, and a variety of choices in on-deck entertainment for an unforgettable cruising experience.
Itinerary & activities
Paradise Elegance cruise brings visitors an intensive exploration of Halong Bay's natural splendors. Tung Sau Pearl Farm area is an ideal spot for kayaking while Sung Sot cave is magnificent, offering panoramic views of the bay. Other highlight activities are swimming in Titop beach and taking a bamboo boat to Cua Van floating village.
Cruise quality
Paradise Elegance is like a 5-star floating hotel on Halong Bay, boasting unique design with modernity and traditional features.
Cabin quality
Paradise Elegance Cruise stands out with Vietnamese-style design and contemporary details. Embark on this stylish vessel, youwill indulge in top-notch suites and an abundance of modern comforts and amenities.
Service & facilities
The cruise offers first-class butler service coupled with a full range of facilities and dining options. You have ample opportunities to refresh with a morning taichi, sunset party, live music performances, and squid fishing at night. Additionally, a stimulating environment is enhanced on the spacious sundeck with an open bar.
Food & Drink
Le Marin restaurant serves delectable international breakfast buffet, set menu lunch, and European-style dinner while you admire spectacular bay views from the panorama deck. A fine dining experience is complete with a sip of great wines of soft drinks in the Piano Lounge.
Frequently asked questions
Are balconies available in all rooms?
Yes, all cabins on board have private balconies with majestic views of Halong Bay.
What type of cuisine is served on Paradise Elegance Cruise?
The cruise's restaurant specializes in authentic Vietnamese specialties and international cuisines. You'll also enjoy fresh seafood onboard.
Where does Paradise Elegance Cruise visit?
Paradise Elegance Cruise visits Halong Bay with notable attractions like Sung Sot Cave, Titop Island, and Tung Sau Pearl Farm.
Is kayaking included in the total price?
No. Kayaking service is not included in the total price.
Are entrance and sightseeing fees included in the price?
Yes. Entrance and sightseeing fees are included in the total price.
Maps and Itineraries
Tuan Chau Island, Ha Long City, Quang Ninh, Viet Nam, Ha Long, Vietnam
Our guest's experiences (10)
| | | |
| --- | --- | --- |
| 5 star | | 9 reviews |
| 4 star | | 1 reviews |
| 3 star | | 0 reviews |
| 2 star | | 0 reviews |
| 1 star | | 0 reviews |
S
Shahn Moseley
1 year, 1 month ago
My family had 2 nights 3 days on Paradise Elegance Cruise. The trip included plenty of activities and the scenery was unbeatable. Although the tours on the first and last day were nice yet terribly crowded. Excursions on the second day were much more isolated and private. Food onboard was superb with the freshest seafood and eye-catching presentation. Recommend everyone to book 2 nights!
C
Carla Pedroso
7 months, 3 weeks ago
The bay was spectacular and all the attractions were so beautiful. The ship was large and dipping in the jacuzzi pool on the top deck was nice. Out butler Sam could not do enough for you. He was informative and kept us well informed of the itinerary and quickly responded to our needs.
P
Pranav Narain
9 months, 2 weeks ago
We had a 1 night tour and nothing was too much trouble. The ship was clean and spacious, The interior was well-maintained. Our cabin offers an excellent view from the front and the bed was so comfy. Staff could not be more helpful, especially Aldo and Richard. The dinner was outstanding with multiple courses. Kayaking was fun yet it was an extra charge and the time was a bit short.
4 people found this helpful
Helpful
J
Jaclyn Chua
8 months, 2 weeks ago
Aldo provides exceptional service. He was informative and went out of his way to help us. The cabin was nice and comfortable. Food for breakfast could be more varied. Drinks were expensive and there should be water served during the meal.
S
Susan Fisher
10 months, 1 week ago
We were lucky that the cruise was not full and the weather was perfect on our trip date. Our Deluxe cabin was very large. The bathroom had a standing shower and all amenities needed such as shower gel, shampoo, towels, hair dryer, etc. The 3rd deck is a restaurant and a piano lounge with live music. The excursions were interesting yet there were too many people at a time. You need to keep moving in the cave and on the way to the top of Titop peak to not to stop others. Anyway, the views were picturesque and magnificent. Overall, the Paradise team did a good job!
H
Harrison Lucas
7 months, 3 weeks ago
A perfect trip! Great food, clean cabin, varied activities, and friendly staff. We love everything. Paradise Elegance was the best! Thank you!
F
Fabio Lewin
8 months, 2 weeks ago
Thank you for a great time on Paradise Elegance Cruise. The service was top-notch. The food can't be faulted and in a great variety. Our cabin was on the first deck with super soft bedding and a stunning view from the windows. We also love spending time on the private balcony to watch the bay. The staff was polite, kind, and helpful. Highly recommend everyone to book a cruise with Paradise!
L
Le Dat Tien
10 months, 3 weeks ago
Everything went smoothly and the service met the standard. Food, cabin, and programs were okay. Just one thing is that wifi did not work at all and even though we tried to use 4g, the internet connection was unstable. Make sure you check all the works before embarking on board and just completely enjoy the vacation.
3 people found this helpful
Helpful
My husband and I celebrated our honeymoon on Paradise Elegance and the staff cannot make it better. Everything was well organized from start to finish, from the pick up to the check in, beautiful room decor, all the meals, excursions, etc. We visited amazing attractions such as Surprise Cave, Titop Island and went kayaking around the area of a pearl farm. It was an experience of our lives.
2 people found this helpful
Helpful
L
Linda
7 months, 2 weeks ago
Halong Bay was mesmerizing and Paradise Elegance made our trip really unforgettable. The team was very attentive and friendly. They were also professional in organizing the tour and sweet in taking care of everyone. A shout out to Ms. Bell - the dedicated manager! We just want to send a big thanks for the excellent meals, exciting activities, and exceptional service. We would love to recommend this trip!
2 people found this helpful
Helpful
Questions and Answers (0)
Be the first to ask a question on this page!
Talk to a cruise expert
Request a call back
Or Email us
Our customers' experiences

My wife and I recently visited Halong Bay on Peony cruise. The price is very reasonable and the vegetarian food …
Chloe (Australia)

I contacted Visit Halong Bay staff for some trip idea and they responded very swiftly with good recommendations.
Nina Ng (Singapore)

My trip to Halong Bay was delayed because of Covid-19 and I am so glad that I made it back …
Christine Nguyen (Australia)
You might also like...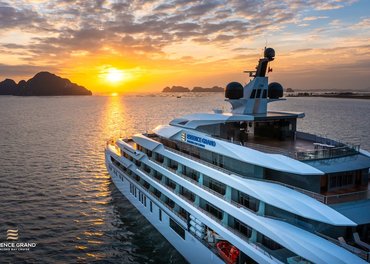 9% OFF
Halong Bay
Launched 2023 - Steel - 55 cabins
Outdoor swimming pool
Ultra luxury
Triple room
Kid-friendly
Booked 10 times in the last 24 hours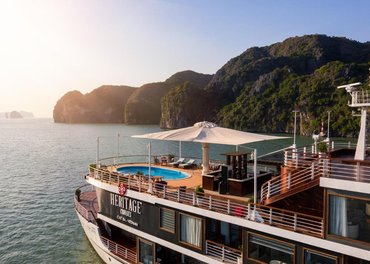 9% OFF
Lan Ha Bay
Launched 2019 - Metal - 20 cabins
Outdoor swimming pool
All cabins with balcony
All meals included
Lan Ha Bay route
Booked 2 times in the last 24 hours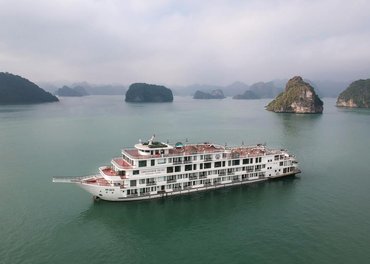 9% OFF
Halong Bay
Launched 2018 - Metal - 46 cabins
Outdoor swimming pool
All cabins with balcony
Elevator
Halong Bay route
Booked 5 times in the last 24 hours