Paradise Peak Cruise
Tuan Chau Island, Ha Long, Vietnam
Show map
Price from: US$ 286 (Save 9%)
US$ 260 /pax
Booked 6 times in the last 24 hours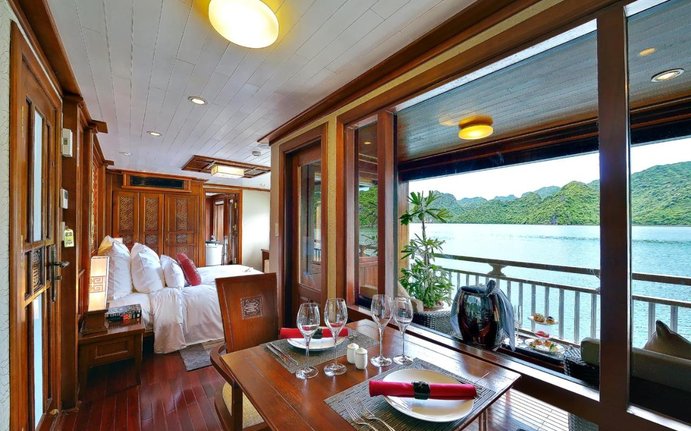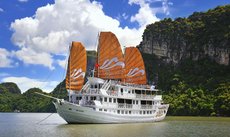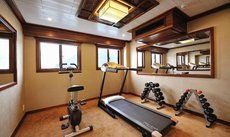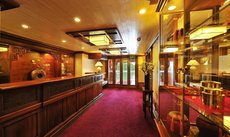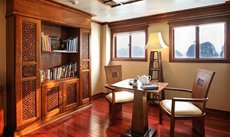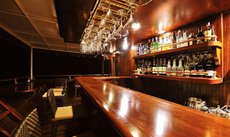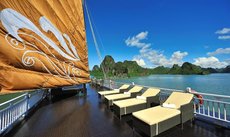 Paradise Peak Cruise is luxurious, well-organized, and provides efficient services.
Dining options are diverse and prepared by a Michelin-star chef.
The onboard sundeck is among the largest of its kind in Halong Bay.
Unwind in spacious, royal-style cabins with private Jacuzzi.
Cruise information
Itinerary:
Halong Bay - Tung Sau Area - Titop Island - Sung Sot Cave
Rooms & rates
We Price Match
Select date and package options
Clear all
Accommodation Type
Junior Suite
Size: 38 m²
Bed options: 1 extra-large double bed or 2 single beds
Max: +
Max adults: 2
Max children: 1(up to 12 years of age)
Superior Suite
Size: 40 m²
Bed options: 1 extra-large double bed
Max: +
Max adults: 2
Max children: 1(up to 12 years of age)
Premium Suite
Size: 42 m²
Bed options: 1 extra-large double bed
Max: +
Max adults: 2
Max children: 1(up to 12 years of age)
Complete all required fields to continue
(Child Policy & Extra Bed Charge )
About Paradise Peak Cruise
Paradise Peak Cruise prides itself on offering an opulent interior and upscale experience. You can expect abundant dining options and a variety of stimulating programs. This vessel provides visits to well-known tourist attractions on Halong Bay so that you can both soak up the rustic feeling, spectacular stalagmites and stalactites and delve into the local cultures.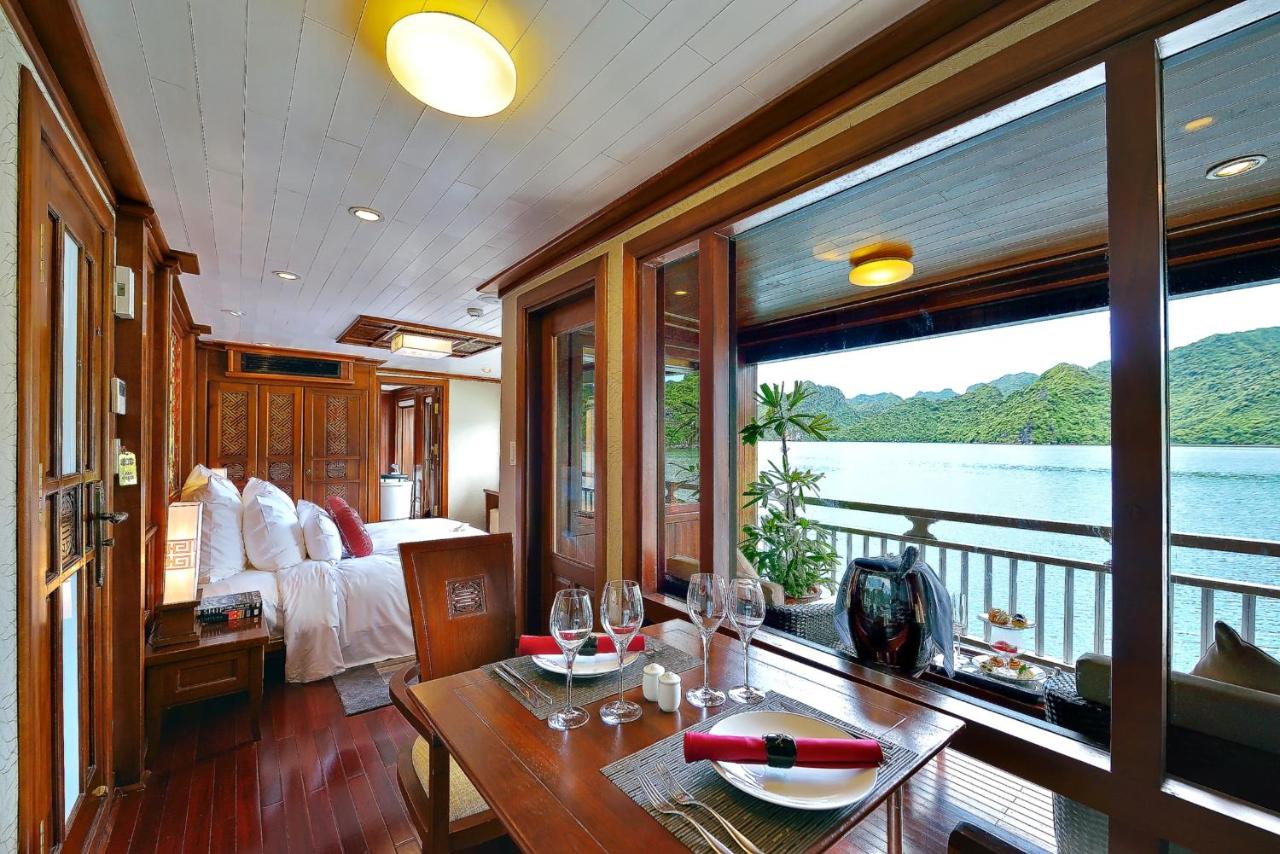 Pros
+ The pick-up and drop-off services are convenient and on time.
+ Staterooms are well-decorated and fitted with good size balconies and private bathrooms.
+ The food menu is sumptuous and abundant.
Cons
- There are masses of cruises on Halong Bay, making the spots overcrowded.
- Onboard activities, such as the cooking class, are almost the same each day.
Bottom Line
Exclusivity and personalization are especially praised on Paradise Peak cruise.
Itinerary & activities
The cruise earns high marks for all-inclusive itineraries that cover the most remarkable sites of Halong Bay. You'll see a vast collection of the best caves in Halong Bay, including Luon Cave, Tien Ong Cave, and Sung Sot Cave.
Cruise quality
Paradise Peak Cruise is made from high-quality wood in combination with metal materials to guarantee safety. The 5-star property also boasts a sophisticated traditional design and laid-back luxury.
Cabin quality
8 suites on the Paradise Peak Cruise are of medium size and have unique names. Each room is tastefully furnished with various cabin amenities, such as a balcony, a private dining area, a Jacuzzi, and so on. Uniquely, if you prefer absolute privacy can request private treatment and meals in the room.
Service & facilities
You have access to a variety of modern features, including an elegant dining room, an outdoor lounge, a bar, and a spacious sundeck. Moreover, there are 3 massage rooms, a day spa & sauna, and a fitness room.
Food & Drink
You're served delectable meals in the open-seating dining area. The menu comprises a la carte menu with a fusion of Western-Asian specialities. In terms of drinks, the cruise bar offers a lot of cocktails and wines.
Frequently asked questions
Are drinks included in the price?
Free drinks, wines, and local beers are offered as special benefits for tourists booking Paradise Peak Cruise only.
Is transfer service included in the price?
No. Transfer service is not included in the price.
Which bay does Paradise Peak Cruise visit?
The cruise offers excursions to famous attractions on Halong Bay.
Do I need to pay for the kayaking service?
No. 1 kayak is free per cabin per day.
How large are the cabins on Paradise Peak Cruise?
The cabins onboard are pretty spacious, measuring around 40sqm.
Maps and Itineraries
Tuan Chau Island, Ha Long, Vietnam
Our guest's experiences (8)
| | | |
| --- | --- | --- |
| 5 star | | 8 reviews |
| 4 star | | 0 reviews |
| 3 star | | 0 reviews |
| 2 star | | 0 reviews |
| 1 star | | 0 reviews |
M
Mya Nguyen
8 months, 3 weeks ago
Very nice cruise, keep it up! The excursions included many magnificent caves and every activity was awesome, especially kayaking as the views were truly splendid. There were a lot of things you can do on board too - cooking class, tai chi, gym, spa & sauna,... Spa services were very relaxing but quite costly though. Thank you so much everyone!
3 people found this helpful
Helpful
L
Lea Andersen
7 months, 2 weeks ago
I already loved this boat when I saw its traditional elegant look. But the experience really went beyond our expectations! The weather was cool, the bays were splendid, and the open-air bar was so romantic. Every meal was delicious and plentiful. All the places we visited were nice, especially Sung Sot Cave. We also loved the jacuzzi in our cabin and the well-equipped gym on board! Perfect experience!
2 people found this helpful
Helpful
L
Luca Bianchi
8 months, 3 weeks ago
Memorable cruising experiences with Paradise Peak Cruise! The whole crew was very friendly and helpful! We loved Vietnamese food and the restaurant also served many other cuisines, a perfect fusion, very delicious! Rooms were large and very well appointed! Only one thing was the environment, there was trash in the water and the air was quite polluted too. I hope everyone will act to save nature!
E
Emma
5 months, 3 weeks ago
I would like to thank the Paradise Peak Cruise staff for their dedication and professionalism. Our family had a great vacation! We went kayaking, exploring Sung Sot Cave, swimming,... Halong Bay was even more beautiful than in online pictures. However, my son (6 years old) got bored quite quickly though. Thus I think this cruise would be a perfect choice for couples!
L
Leila Petrovic
6 months, 1 week ago
We took the 3-day tour with Paradise Peak and it was such an amazing trip! From the transfer to the activities, everything was well planned and punctual. The staff were amazing and professional. However, the activities in the evening were repeated. But the excursions on the 2nd day were absolutely wonderful! We really enjoyed the views and kayaking in Luon Cave too! Totally value for money!
2 people found this helpful
Helpful
H
Hiroshi
9 months, 1 week ago
The boat itself was cozy, elegant, and spacious so I could enjoy a memorable time with my partner. The sauna was spectacular and not many other cruises had this! We also loved cooking class and Tai Chi at sunrise, so romantic and tranquil! The library was chill and peaceful but did not have many types of books. The bar was awesome but drinks were quite expensive. Overall, a truly luxurious experience with this cruise!
1 people found this helpful
Helpful
M
Mateo Hernandez
9 months, 3 weeks ago
The meals were very balanced and the portions were ideal. My cabin had a balcony and a private jacuzzi, which was so relaxing and modern. We visited Sung Sot Cave, very impressive but quite crowded with tourists. The highlight of the trip was kayaking and watch the clear waters and limestone karsts. Highly recommend this Paradise Peak cruise!
4 people found this helpful
Helpful
E
Emily Chen
4 months, 3 weeks ago
Food was absolutely delicious and well presented! The restaurant brought about a luxurious ambiance and the staff were really professional and dedicated. We were also really pleased with the spacious sundeck with many sunbeds, ideal for relaxing and watching the stunning bays. Wifi was free but there was no connection though. Our rooms were very beautiful! Everything was wonderful! THANKS ALL!
Questions and Answers (0)
Be the first to ask a question on this page!
Talk to a cruise expert
Request a call back
Or Email us
Our customers' experiences

My wife and I recently visited Halong Bay on Peony cruise. The price is very reasonable and the vegetarian food …
Chloe (Australia)

I contacted Visit Halong Bay staff for some trip idea and they responded very swiftly with good recommendations.
Nina Ng (Singapore)

My trip to Halong Bay was delayed because of Covid-19 and I am so glad that I made it back …
Christine Nguyen (Australia)
You might also like...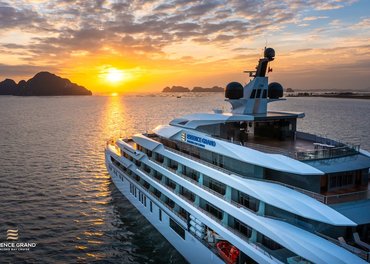 9% OFF
Halong Bay
Launched 2023 - Steel - 55 cabins
Outdoor swimming pool
Ultra luxury
Triple room
Kid-friendly
Booked 10 times in the last 24 hours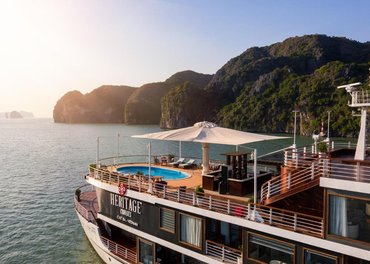 9% OFF
Lan Ha Bay
Launched 2019 - Metal - 20 cabins
Outdoor swimming pool
All cabins with balcony
All meals included
Lan Ha Bay route
Booked 2 times in the last 24 hours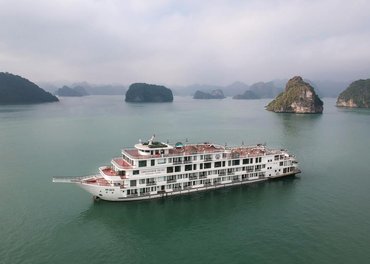 9% OFF
Halong Bay
Launched 2018 - Metal - 46 cabins
Outdoor swimming pool
All cabins with balcony
Elevator
Halong Bay route
Booked 5 times in the last 24 hours