Rita Cruise
Dock 16c Tuan Chau Maria Island, Halong, Ha Long, Vietnam
Show map
Price from: US$ 176 (Save 9%)
US$ 160 /pax
Booked 5 times in the last 24 hours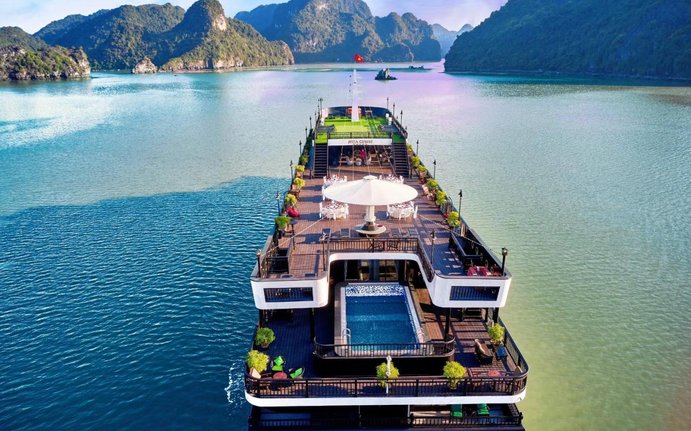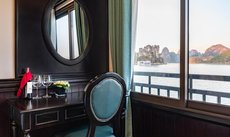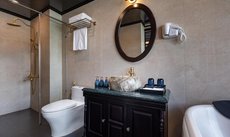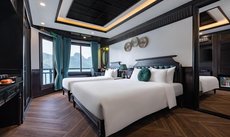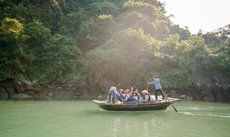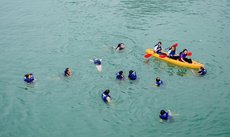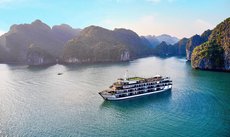 Luxury cabins with modern amenities, jacuzzi tub and private balcony.
Elegant restaurant with varied menus.
Upscale facilities namely swimming pool, steam & sauna, soundproof karaoke room, gym & spa, mini golf course, etc.
Exceptional itinerary from Halong - Lan Ha Bay and Cat Ba Island.
Cruise team is well-trained and friendly.
Cruise information
Itinerary:
Lan Ha Bay - Dark & Bright Cave - Tra Bau - Ao Ech
Operator:
Alisa Group Vietnam
Rooms & rates
We Price Match
Select date and package options
Clear all
Accommodation Type
Senior Suite Twin/ Double Private Balcony
Size: 30 m²
Bed options: 2 single beds or 1 large double bed
Triple Suite Private Balcony
Size: 32 m²
Bed options: 3 single beds or 1 single bed and 1 large double bed
Max: +
Max adults: 3
Max children: 1(up to 12 years of age)
Family Suite Connecting Private Balcony
Size: 65 m²
Bed options: 2 single beds and 1 large double bed
Max: +
Max adults: 4
Max children: 1(up to 12 years of age)
Presidential Suite with Private Terrace
Size: 118 m²
Bed options: 1 extra-large double bed
Max: +
Max adults: 2
Max children: 1(up to 12 years of age)
Royal suite private balcony & jacuzzi
Size: 45 m²
Bed options: 1 extra-large double bed
Max: +
Max adults: 2
Max children: 1(up to 12 years of age)
Deluxe Double or Twin Room
Size: N/A
Bed options: 2 single beds or 1 extra-large double bed
Deluxe Family Suite
Size: N/A
Bed options: 1 extra-large double bed
Deluxe King Suite
Size: N/A
Bed options: Bedroom : 1 extra-large double bed Living room: 1 sofa bed
Complete all required fields to continue
(Child Policy & Extra Bed Charge )
About Rita Cruise
Launched in 2020, Rita Cruise is a new luxury cruise that meets 5-star standards in Halong Bay. Designed in Italian-Indochinese style, the cruise impresses guests with its sophisticated and elegant furnishings and advanced facilities. Rita Cruise sets sail in Lan Ha Bay and explores the most secluded areas - making it one of the best options for those who prefer more privacy and natural indulgence.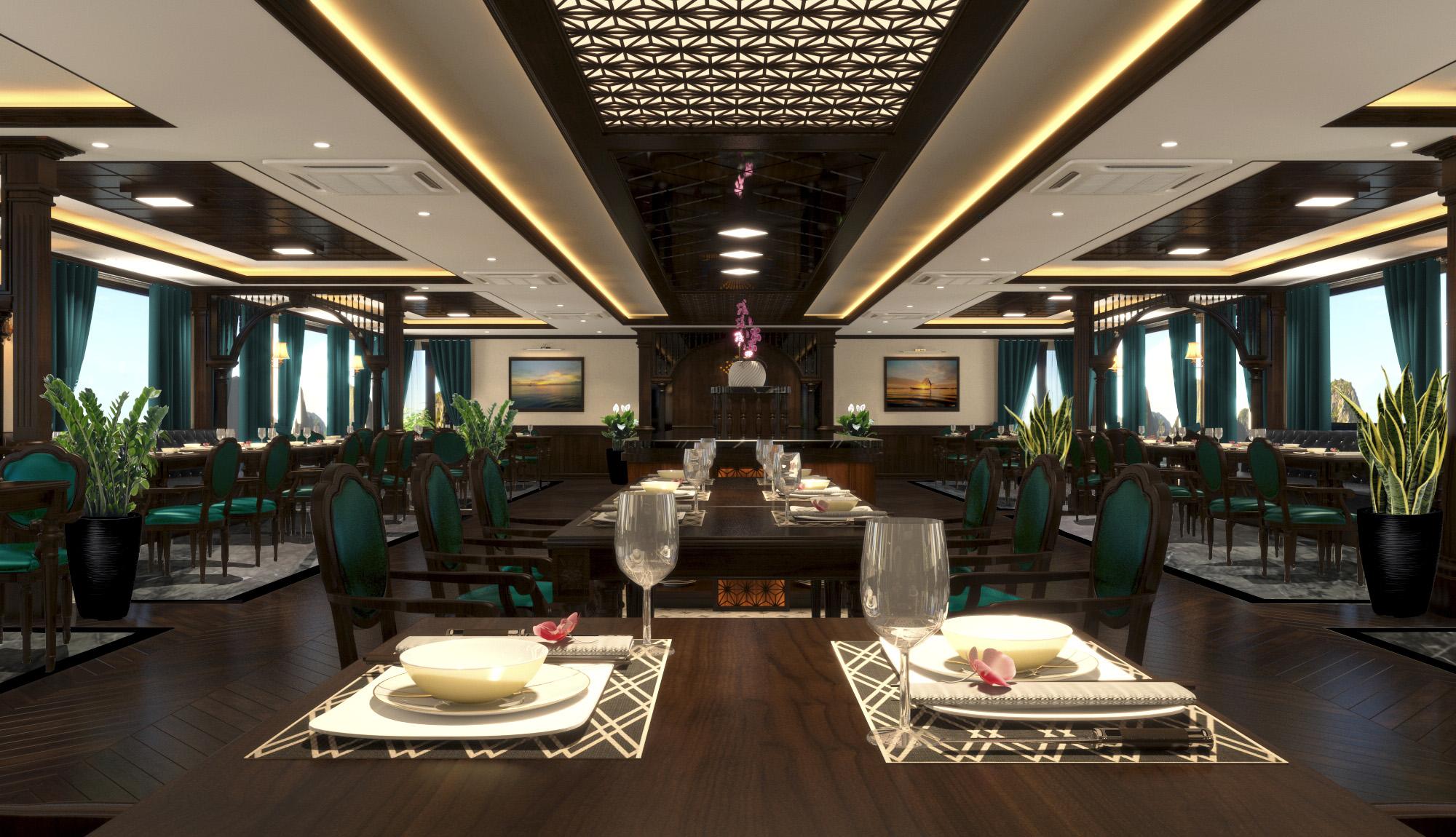 Pros
+ Opulent furnishing and well-equipped cabins.
+ A great variety of modern facilities and services on board.
+ Exclusive itinerary with the most-visited attractions but with utmost enjoyment.
+ Staff is friendly and polite.
Cons
- Unstable wifi connection.
- The karaoke is still a bit loud.
Bottom Line
Rita Cruise is a brand new 5-star cruise that accommodates not only the relaxation but also the recreation demand of travelers in Lan Ha Bay.
Itinerary & activities
Your trip with Rita Cruise will be filled with activities on the magnificent backdrop of Lan Ha Bay. Getting through an underwater cave by kayak or sampan boat, swimming at Ao Ech Area, riding a bike on a 5-km rustic path in Viet Hai village to see a traditional house, and sunbathing on the pristine sandy beach is all worth trying. Passengers are invited to enjoy onboard activities such as playing mini golf, dipping in the jacuzzi pool, making traditional food in the cooking class, fishing squid, and unwind in the cafe lounge, and more.
Cruise quality
As one of the newest 5-star cruises in Halong Bay - Lan Ha Bay, Rita Cruise ensures a safe journey with an exciting program for 1 and 2 nights. On top of that, the variety of modern facilities and 5-star service promises not only a comfortable stay but also a fun-filled vacation you never want to regret.
Cabin quality
Rita Cruise boasts 31 thoughtful-equipped ensuite cabins. Featuring Italian - Indochinese style, rooms are elegant and modern with no shortage of facilities such as private bathroom with a rain shower and tub, balcony with table and chair, satellite TV, safe box, mini bar, etc.
There are 7 room categories in Rita Cruise including Junior Suite, Senior Suite, Triple Suite, Honeymoon Suite, Rita Suite, President Suite, and Family Suite (Junior or Senior Connecting).
Service & facilities
The diversity of luxurious service and facilities is highly focused on Rita Cruise. Here you can pamper yourself by soaking in a 4-season pool, trying a massage treatment, and unwinding at the wine & coffee lounge. Besides, a library, a karaoke room, a souvenir, a mini golf course, and a state-of-the-art gym center ensure you are entertained and stay healthy during the vacation.
Rita Cruise offers special butler service with a private dining area, an occasion to create the best memory with your loved ones. Moreover, the 500-sqm sundeck with a professional sound and light system and a capacity of 150 seats is the ultimate place to organize outdoor events such as year-end parties, weddings, seminars, company anniversaries, etc.
Food & Drink
Located on the 4th floor, Lotus & Mimosa Restaurant & Bar covers an area of up to 260 square meters and can cater to 80 guests per time. The neoclassical space is upgraded by spectacular bay views from full-length glass doors. Food is well prepared and nicely presented with a variety of local and international flavors. Last but not least, Rita Cruise ensures every food request is paid attention to. Whether you are a meat or seafood lover, a vegan, or simply not keen on any kind of food, the cruise makes sure you can enjoy all the food to the fullest.
If the indoor bar on the 4th floor is not enough, Mimosa Cafe và Sky bar on the top floor with an open space definitely makes your unwinding time unforgettable forever.
Frequently asked questions
Is the swimming pool heated in winter?
Yes. The swimming pool on Rita Cruise is four season one so it will be heated in the cold weather.

How many cabins are there?
There are 31 cabins on Rita Cruise.
Are the massage and sauna included in the price?
No. Massage and sauna are not included in the price.
Do you pick up at the airport?
Yes. We have a pick-up service from the airport for an extra fee. You can contact our travel consultant with more details of your travel date and number of guests for more assistance.
What should I bring onboard?
Apart from your valid passport or identity card required upon check-in for compulsory, you are highly recommended to bring sunglasses, sunscreen, hat, comfortable or hiking shoes, swimsuit, insect repellent, some money (cash/card) to pay for excluded drinks/services onboard.
Maps and Itineraries
Dock 16c Tuan Chau Maria Island, Halong, Ha Long, Vietnam
Our guest's experiences (9)
| | | |
| --- | --- | --- |
| 5 star | | 9 reviews |
| 4 star | | 0 reviews |
| 3 star | | 0 reviews |
| 2 star | | 0 reviews |
| 1 star | | 0 reviews |
S
Stephanie
6 months, 2 weeks ago
A nice experience! We booked 2 nights on Rita Cruise for our 10-year anniversary. There were plenty of activities throughout our stay. The day trip was interesting with biking and swimming. Kayaking was a must-try on the bay. The scenery was nice and watching the sunset on the cruise was superb.
3 people found this helpful
Helpful
A
Anne Zimmermann
11 months, 2 weeks ago
Thank you Happy and his team! They did a good job and provided excellent service. The cruise includes many modern facilities such as a swimming pool, library, spa & gym, coffee lounge, mini golf course, etc. There were hearty meals and they had alternatives for vegans or guests with allergies. The bay was nice yet we saw rubbish floating around. There must be some actions to improve it. However, the experience with Rita Cruise was great overall!
3 people found this helpful
Helpful
E
Eek Seung Lee
11 months ago
My parents and I came to Halong for the first time and we are very happy we did it with Rita Cruise. The ship was huge and very modern. Our cabin was very nice with all modern amenities. The food menu was varied and delicious. Drinks were a bit expensive. We enjoyed every activity, especially kayaking, sunset party, dipping in the pool, cooking class, squid fishing,...We had a great time on Rita Cruise. Thank you so much!
2 people found this helpful
Helpful
M
Matthew Curtis
8 months, 2 weeks ago
The trip exceeded my expectations. The boat was large and clean. The furniture was well maintained. The crew treated us great, especially Happy. Lan Ha Bay was extraordinary. Highly recommended.
4 people found this helpful
Helpful
O
Oscar Darsow
8 months, 2 weeks ago
A stylish cruise with beautiful rooms! We stayed in the Junior Suite and the cushion and pillows were soft and very comfy. We love sitting on our balcony to watch the bay. The staff was very friendly. Activities are varied and great, except for the karaoke. Wifi did not work well.
3 people found this helpful
Helpful
F
Florian Karlstedt
8 months, 2 weeks ago
We went on Rita Cruise for 2 nights. The program was well-planned and operated by the team. Food was a bit too much for us but it was really really good. The trip to the Bright Cave was nice with kayaking. We had a chance to visit locals and join a biking tour around the village. The beach on day 2 was small yet very pristine and the water was super clean. such a great experience to remember.
J
Joel Hourtoule
9 months, 2 weeks ago
My family with 2 kids booked a connecting suite on Rita Cruise for 2 days 1 night. Shout out to the staff who were always welcoming and helpful. The tour guide was very caring and attentive. The cruise also served great children's food. Kayaking on the bay was really nice. Highly recommend this tour for families like us.
2 people found this helpful
Helpful
D
Duncan Craig
1 year, 1 month ago

The vessel was gorgeous. The interior had nice decor and lots of modern facilities. We chose a Senior Suite on the second deck. The cabin was superb, new, clean, and spacious. The team assisted us any time we needed. Really appreciate that. The only downside was the weak wifi but we did enjoy the trip very much. Thank you!
3 people found this helpful
Helpful
A
Amit Surana
10 months, 2 weeks ago
The cruise was very pretty and had so many modern facilities that we did not have time to try them all. Next time we would book 2 nights to enjoy the trip more. The 1-night trip includes a variety of activities such as swimming, kayaking, cooking class, squid fishing, etc. Food was delicious!
3 people found this helpful
Helpful
Questions and Answers (0)
Be the first to ask a question on this page!
Talk to a cruise expert
Request a call back
Or Email us
Our customers' experiences

My wife and I recently visited Halong Bay on Peony cruise. The price is very reasonable and the vegetarian food …
Chloe (Australia)

I contacted Visit Halong Bay staff for some trip idea and they responded very swiftly with good recommendations.
Nina Ng (Singapore)

My trip to Halong Bay was delayed because of Covid-19 and I am so glad that I made it back …
Christine Nguyen (Australia)
You might also like...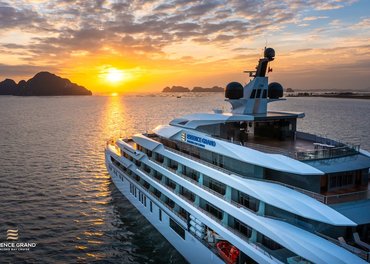 9% OFF
Halong Bay
Launched 2023 - Steel - 55 cabins
Outdoor swimming pool
Ultra luxury
Triple room
Kid-friendly
Booked 10 times in the last 24 hours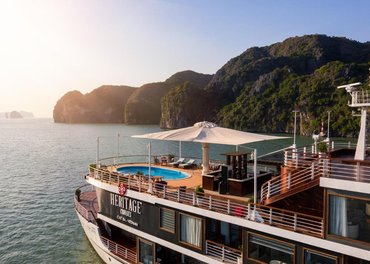 9% OFF
Lan Ha Bay
Launched 2019 - Metal - 20 cabins
Outdoor swimming pool
All cabins with balcony
All meals included
Lan Ha Bay route
Booked 2 times in the last 24 hours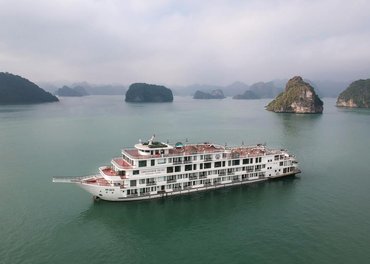 9% OFF
Halong Bay
Launched 2018 - Metal - 46 cabins
Outdoor swimming pool
All cabins with balcony
Elevator
Halong Bay route
Booked 5 times in the last 24 hours