Rosy Cruises
Gate 26, Tuan Chau Harbor, Halong, Quang Ninh
Show map
Price from: US$ 231 (Save 9%)
US$ 210 /pax
Booked 6 times in the last 24 hours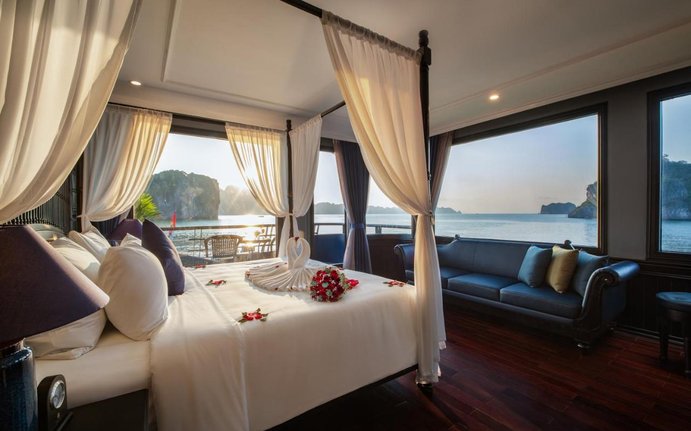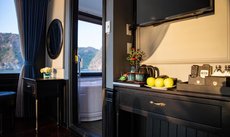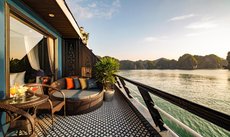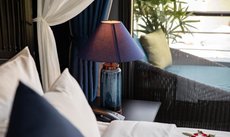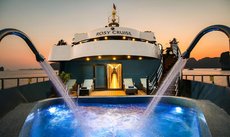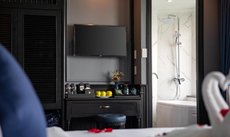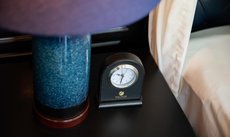 Elegant design from exterior to interior
Outdoor four-season jacuzzi pool
Luxurious restaurant and panoramic bar
Birthday and wedding ceremonies are celebrated on request
Cruise information
Itinerary:
Lan Ha Bay - kayaking/swiming - Bright Cave
Operator:
Asia Travel Image Co Ltd
Rooms & rates
We Price Match
Select date and package options
Clear all
Accommodation Type
Honeymoon Suite Ocean View With Private Terrace
Size: 32 m²
Bed options: 1 extra-large double bed
Max: +
Max adults: 2
Max children: 1(up to 12 years of age)
Junior Suite Ocean View with Private Balcony
Size: 24 m²
Bed options: 2 single beds or 1 large double bed
Max: +
Max adults: 2
Max children: 1(up to 12 years of age)
Triple Suite Ocean View with Private Balcony
Size: 35 m²
Bed options: 1 single bed and 1 large double bed
Max: +
Max adults: 3
Max children: 1(up to 12 years of age)
Family Suite Ocean View with Private Balcony
Size: 48 m²
Bed options: 2 single beds and 1 large double bed
Max: +
Max adults: 4
Max children: 1(up to 12 years of age)
Luxury Suite With Private Balcony
Size: 52 m²
Bed options: Bedroom : 1 single bed and 1 large double bed Living room: 1 sofa bed
Max: +
Max adults: 2
Max children: 1(up to 12 years of age)
Complete all required fields to continue
(Child Policy & Extra Bed Charge )
About Rosy Cruises
Launched in 2020, Rosy is a luxury boutique cruise offering 5-star service with upscale facilities. The cruise includes a bunch of well-selected landmarks in Lan Ha Bay - an extended part of Halong Bay but with a more pristine scenery. Rosy Cruise guarantees an exciting program for 2 days 1 night and 3 days 2 nights and a worry-free vacation under the assistance of a carefully-selected team.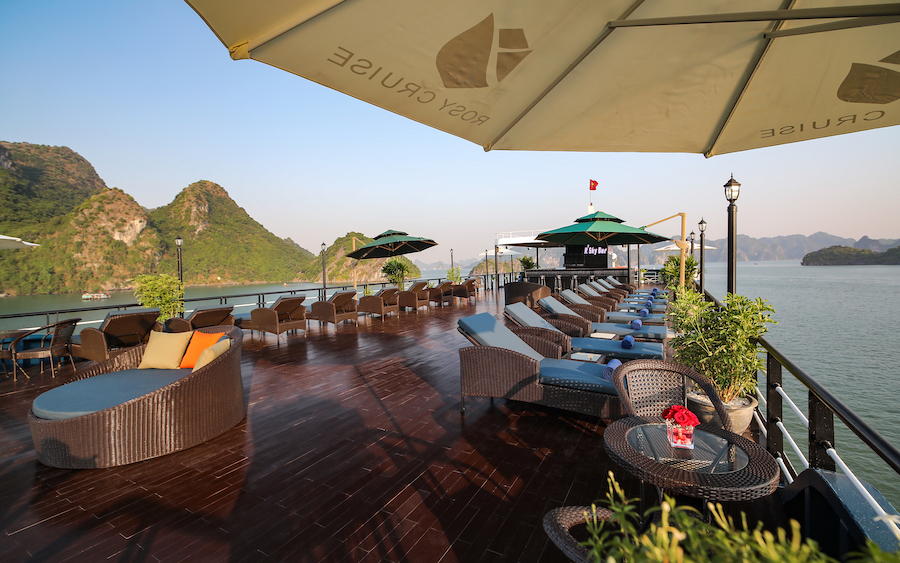 Pros
+ Full range of services and facilities
+ Suites are various in type to meet various needs
+ Staff is friendly and provides dedicated service
Cons
- Drinks are expensive
- A bit long time for transferring from/to the ship among attractions
Bottom Line
Rosy Cruise is one of the best luxury boutique cruises with impeccable cabins, luxurious interiors and excellent service.
Itinerary & activities
Rosy Cruise includes 1-night and 2-night itineraries with a bunch of activities on and off the boat. For 1-night, you will swim, kayak, or get on a sampan boat rowed by local people to visit a cave and a tranquil lagoon. For the longer itinerary, you get to the further area of Lan Ha Bay and have a whole day to explore Viet Hai village on a bike or electric car, soak up the sun on the sandy beach or kayak.
Onboard activities will keep you entertained during the vacation. That is a cooking demonstration with the most traditional dish in Vietnam, a Sunset party with complimentary fresh fruit and snacks, squid fishing at night, or a morning Taichi session on the sundeck.
Cruise quality
Designed in the luxury boutique concept, Rosy offers an exclusive experience with modern service and facilities along with local touches. Guests are impressed by its high-end furnishings and elegant decor.
Cabin quality
Rosy Cruise boasts 22 ensuite cabins located on the second and third deck of the vessel. Featuring a contemporary design, each cabin comes with a private balcony, well-equipped bathroom, and comfortable bathtub. You find no shortage of amenities such as air conditioning, LED TV, standing shower, hair dryer, bathrobe, safe box, and other safety equipment. Cabins measure 28 to 55 sqm and can sleep a single, couple, group of three, or families with kids.
Service & facilities
In addition to shore excursions, Rosy provides a lot of onboard services and facilities matching a 5-star standard. A lavish dining area with a panoramic bar will awaken your taste buds. An outdoor four-season jacuzzi pool at the bow of the ship will provide the most pampering moments. If you want deep relaxation, a massage treatment is the best way to rejuvenate your whole body and mind. Free kayak and bike, birthday or wedding celebrations, themed dinners, or games are also provided on Rosy Cruise.
Food & Drink
The Gourmet Restaurant is located on the fourth deck of the cruise where guests can savor sumptuous meals from local and international cuisine and admire the magnificent bay view from full-length doors. Food on Rosy Cruise is not only prepared from the best quality ingredients but also beautifully present in every detail. The varied menu promises an unforgettable dining experience on the bay. Besides, a panoramic bar and an indoor bar ensure to provide a top wine list with tasty cocktails and more.
Frequently asked questions
Does Rosy cruise have a spa?
Yes. Rosy Cruise has the Healing Spa with a wide selection of natural spa treatments.
How many room types are there?
There are 6 room types on Rosy Cruise including Junior Suite (6), Triple Junior Suite (4), Senior Suite (6), Triple Senior Suite (2), Luxury Suite (2), and Vip Suite (2).
Is the cruise suitable for families?
Yes. Rosy is absolutely suitable for families. Junior Connecting and Senior Connecting Suites can accommodate up to 4 adults and 2 children. The cruise also highly focuses on safety standards and also offers many activities matching both adults and children's liking.
Is the kayaking included in the price?
Yes. Kayaking is included in the price.
Do I have to join all activities or can I stay onboard?
No. All activities are optional. You can either join the activities or stay onboard to enjoy onboard facilities and simply relax in the cabin.
Maps and Itineraries
Gate 26, Tuan Chau Harbor, Halong, Quang Ninh
Our guest's experiences (8)
| | | |
| --- | --- | --- |
| 5 star | | 8 reviews |
| 4 star | | 0 reviews |
| 3 star | | 0 reviews |
| 2 star | | 0 reviews |
| 1 star | | 0 reviews |
R
Raunak Malhotda
8 months, 4 weeks ago
\My kids love the swimming pool and the water was not too deep, really safe for children! Boat riding to explore the cave was very nice and the weather was so cool. The rock and cave were fantastic and the trip was memorable. My family stayed in 1 cabin and the room was spacious and convenient. Food and drinks were nice but still could be improved.
2 people found this helpful
Helpful
A
Allison
8 months, 3 weeks ago
I highly recommend people go on a cruise in the sunny weather. We took a 1-night tour and the Tai Chi was canceled because of the rain. Other activities were great though, and we really enjoyed kayaking. Halong Bay was truly magnificent and I think everyone should come here once! The food was delicious and we thank you for catering to our vegetarian requests really well.
W
Wode
7 months, 3 weeks ago
We took a 2-day tour and would love to have expanded it! The jacuzzi pool was nice but it was quite small for many people. The cabins were pretty and well equipped. Some staff did not speak English very well and it was hard for communication, but they were very nice and supportive though, thanks all for that!
2 people found this helpful
Helpful
P
Potel
9 months, 3 weeks ago
We were very happy to choose this cruise! The views and locations were beautiful and we absolutely loved the boat ride to the cave! Actually the boat was not as new as we expected and some parts needed improvement. Bedrooms were excellent and very enjoyable! We got a nice stay and the staff were very friendly too!
V
Viacent
7 months, 3 weeks ago
Overall, the cruise was a fantastic experience! It ran really smoothly and on board, there were many great activities such as cooking classes, sunset party… But the transfer to the day boat on the 2nd day was a bit slow and tiring. The food was lovely and we had plenty of it, so you do not have to worry about the amount. There were many drink choices as well! We really appreciated the well-decorated rooms and interiors. Great value for money!
4 people found this helpful
Helpful
H
Helena Ly
7 months, 2 weeks ago
It was very nice and thoughtful of the Rosy Cruise that their staff took great care of my grandparents throughout the trip, they had a wonderful time! In Viet Hai Village, it was very nice to have a ride in an electric car for the views as my grandparents cannot cycle well. You can also choose to stay on board if you do not want to explore the destinations. I loved squid fishing under the stars, very exciting and memorable. I would definitely recommend this great cruise for everyone I know.
2 people found this helpful
Helpful
M
Mary Mohamad
8 months, 3 weeks ago
The boat was very clean and beautiful! To me, the food was a little bit bland but its flavors were still very delicious and fresh. Drinks were great too but quite pricey, you should check its prices first to make a clever choice. The views were spectacular and really met all my expectations about Halong Bay. Thanks all the dedicated staff for this amazing opportunity! Totally worth it all!
2 people found this helpful
Helpful
C
Chris Nguyen
5 months, 3 weeks ago
We stayed in a junior suite and I must compliment the room's great decoration, clean and comfortable designs. The only downside was the slow wifi connection but it was understandable due to the remote trip. Services were great at every point and we loved the food here. The staff were very helpful, especially the manager, thank you all so much! I highly recommend Rosy cruise and also suggest that you should do some research beforehand about their schedule and activities to avoid feeling rushed.
2 people found this helpful
Helpful
Questions and Answers (2)
Q
jessica baker
3 weeks, 1 day ago
are there cots available?
A
Visithalongbay Team
3 weeks, 1 day ago
@jessica baker, There are cots onboard, however, the number is limited. So, you should check the availability on a specific travel date. Regards,
0 people found this helpful
Talk to a cruise expert
Request a call back
Or Email us
Our customers' experiences

My wife and I recently visited Halong Bay on Peony cruise. The price is very reasonable and the vegetarian food …
Chloe (Australia)

I contacted Visit Halong Bay staff for some trip idea and they responded very swiftly with good recommendations.
Nina Ng (Singapore)

My trip to Halong Bay was delayed because of Covid-19 and I am so glad that I made it back …
Christine Nguyen (Australia)
You might also like...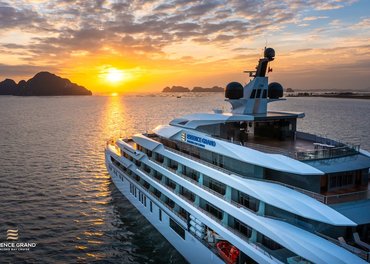 9% OFF
Halong Bay
Launched 2023 - Steel - 55 cabins
Outdoor swimming pool
Ultra luxury
Triple room
Kid-friendly
Booked 10 times in the last 24 hours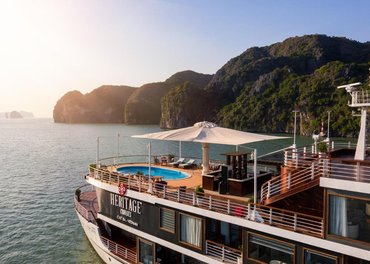 9% OFF
Lan Ha Bay
Launched 2019 - Metal - 20 cabins
Outdoor swimming pool
All cabins with balcony
All meals included
Lan Ha Bay route
Booked 2 times in the last 24 hours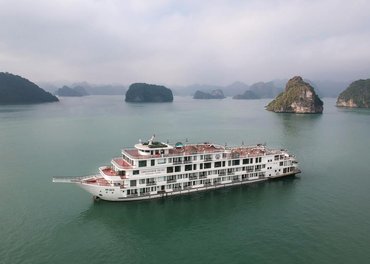 9% OFF
Halong Bay
Launched 2018 - Metal - 46 cabins
Outdoor swimming pool
All cabins with balcony
Elevator
Halong Bay route
Booked 5 times in the last 24 hours