Stellar of the Seas Cruise
Block 24, Tuan Chau Marina, Ha Long Bay, Ha Long, Vietnam
Show map
Price from: US$ 264 (Save 9%)
US$ 240 /pax
Booked 2 times in the last 24 hours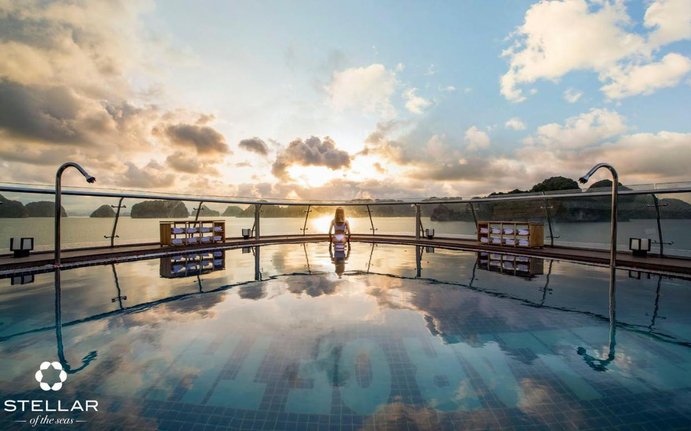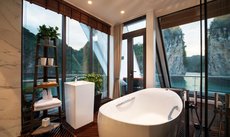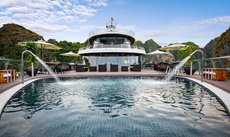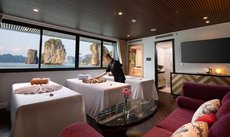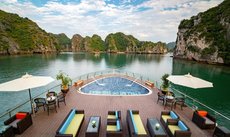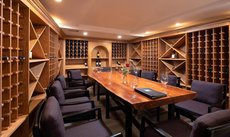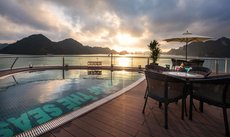 A long-standing cruise operator with 12 years of experience in the hospitality industry.
Upscale services and facilities such as a wine and cigars cellar, mini golf, panoramic bar, and seasonal swimming pool can be found on this cruise.
Generous cabins with private balconies for the best views of Halong Bay.
Great excursions exploring Lan Ha Bay and complete with an abundance of water-based activities.
Cruise information
Itinerary:
Lan Ha Bay - Dark & Bright Cave - Ao Ech
Rooms & rates
We Price Match
Select date and package options
Clear all
Accommodation Type
Junior Suite with Private Balcony
Size: 28 m²
Bed options: 2 single beds or 1 large double bed
Max: +
Max adults: 2
Max children: 1(up to 12 years of age)
Senior Suite with Private Balcony
Size: 30 m²
Bed options: 2 single beds or 1 large double bed
Max: +
Max adults: 2
Max children: 1(up to 12 years of age)
Executive Suite with Private Sun Terrace
Size: 32 m²
Bed options: 2 single beds or 1 large double bed
Max: +
Max adults: 2
Max children: 1(up to 12 years of age)
Presidential Suite with Private Sun Terrace
Size: 60 m²
Bed options: 1 extra-large double bed
Max: +
Max adults: 2
Max children: 1(up to 12 years of age)
Complete all required fields to continue
(Child Policy & Extra Bed Charge )
About Stellar of the Seas Cruise
Stellar of the Seas Cruise is an outstanding 5-star vessel in Halong Bay that perfectly combines contemporary luxury and authentic decor. A variety of state-of-the-art facilities are well-appointed for entertainment purposes. Additionally, the cruise is an optimal choice for upscale travelers with a well-researched route to Lan Ha Bay.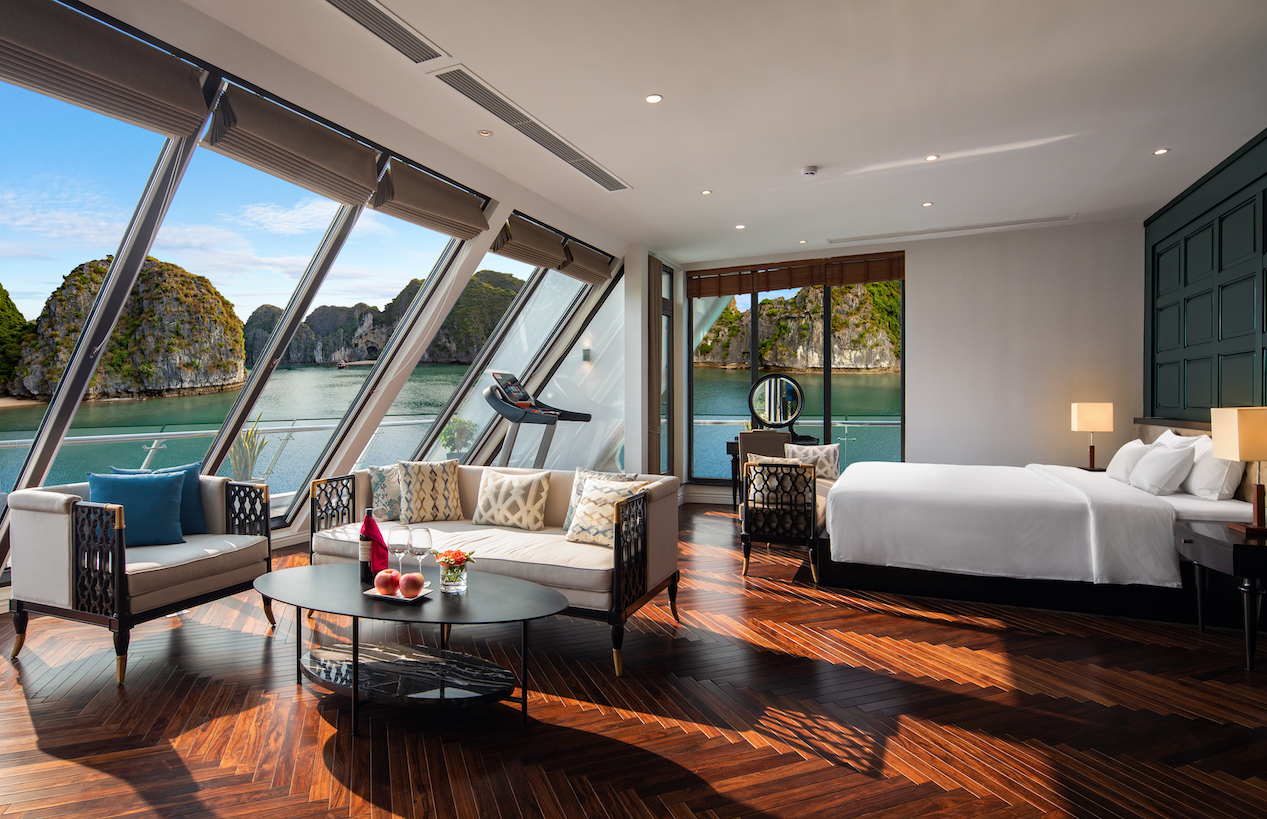 Pros
+ Impeccable services and various recreational amenities.
+ Excellent dining options including buffet, a la carte menu, and BBQ.
+ Staterooms are among the largest and most luxurious in Halong Bay fitted with a large private balcony.
Cons
- Pricier than most other cruises on the bay.
- There is no elevator and shuttle service costs extra.
Bottom Line
Stellar of the Seas Cruise is a premium choice for upscale guests with exclusive recreational amenities and exciting excursions to Lan Ha Bay.
Itinerary & activities
Destination-focused itineraries on Stellar of the Seas Cruise encompass well-known attractions on Lan Ha Bay including a primitive lagoon, Viet Hai Village, and Dark-Light Cave. There are also plenty of opportunities to participate in thrilling activities both onboard and ashore.
Cruise quality
The cruise possesses an exquisite décor inspired by contemporary luxury. A great cruising experience is guaranteed with the highest safety standards, delightful dining, and lively entertainment. The property also features non-smoking rooms and free WIFI onboard.
Cabin quality
22 luxury, well-appointed staterooms bring you plenty of comfort with modern amenities and large private sun terraces. Cribs and extra beds can be used when requested. You can enjoy complimentary bottles of water, tea, coffee, fresh fruit, flowers, and cocktails provided in the room.
Service & facilities
Stellar of the Seas Cruise has top-notch amenities with highlights of a 50sqm seasonal swimming pool on the third deck, a beauty spa, a mini-golf course, a wine and cigars cellar, and a panoramic bar.
Food & Drink
The dining restaurant with 60 seats serves guests international buffet breakfast, set menu lunch, and BBQ dinner. In addition, you can taste refreshing cocktails and socialize with each other in the fresh air at the bar.
Frequently asked questions
Does the cruise have elevators?
There are no elevators on the Stellar of the Seas Cruise.
Is a swimming pool available on the deck?
Yes, the 50-sqm swimming pool is among the largest ones of its kind in Halong Bay.
Where does the cruise sail to?
Stellar of the Seas cruise sails to Lan Ha Bay with notable attractions like Ao Ech, Viet Hai Village, and Dark & Bright Cave.
Is transportation included in the total price?
Transportation is not included in the total price.
Is the cruise family-friendly?
Yes. Family rooms are available onboard and one 0-3-year-old child is free of charge per cabin.
Maps and Itineraries
Block 24, Tuan Chau Marina, Ha Long Bay, Ha Long, Vietnam
Our guest's experiences (7)
| | | |
| --- | --- | --- |
| 5 star | | 7 reviews |
| 4 star | | 0 reviews |
| 3 star | | 0 reviews |
| 2 star | | 0 reviews |
| 1 star | | 0 reviews |
K
Kai Moseley
9 months, 3 weeks ago
Impressed by the dedicated crew team! They really went above and beyond to please their guests. My girlfriend and I were taken care of by butler Alice and she could not do better. We went kayaking at the cave and swimming in the bay. The water was clean there however there was litter floating in some places the cruise crossed by. Our Senior cabin was comfortable and there was a relaxing bath. Cocktails were great, too.
3 people found this helpful
Helpful
S
Steven Tran
6 months, 1 week ago
The property is stunning. The facilities were all well maintained and met the needs of different travelers. We chose a Junior Suite which was on the 1st level yet it was nothing short of amazing. The view from the windows and the sitting area on the private balcony was superb. The highlight must be the sumptuous meals with lobster and lots of other seafood. It was great for seafood lovers like us. However, you surely can request alternatives if seafood is not your thing. The itinerary was smooth and we felt relaxed from start to finish. Stellar of the seas could not be ignored in cruising Halong Bay!
L
Leonard Paul
9 months, 2 weeks ago
We went on Stellar for 2D1N on our parents' anniversary. The boat is very pretty and there are a variety of modern facilities in it. We love the swimming pool and the Happy Hour was perfect. Our cabin was spacious and had a nice view, too. The staff went the extra mile to make our trip special. Sincere thanks for the anniversary celebration. This was the truly 5-star service that we expected. Would surely come back with other family members. Thank you!
J
Jose Enrique
1 year, 1 month ago
Best personalized service! Joana was our butler and she looked after us very well. Every crew was friendly and tried their best to make our stay more comfortable. Food and drinks were tasty and there was a great variety of them. The bay was tranquil and kayaking was the highlight of the trip.
S
Stephanie Paul
6 months, 1 week ago
The food was more than excellent. We were served fine dining in a luxurious restaurant. The team was very caring and took good care of food diets and allergies for everyone. We booked an Executive Suite with an extra large private terrace and it was faultless. We regret that we did not book 2 nights to make use of the first class cabin and enjoy the view more.
L
Lee Tan
8 months, 3 weeks ago
Nothing to complain about this trip. Food was great. Drinks were tasty (although the price was high as I found it was the same as many other boats). The cabin was spacious, thoughtful-appointed, and clean. The activities were nice and plentiful. We found it both relaxing and entertaining. A value-for-money trip you should try!
3 people found this helpful
Helpful
Had a 2 day trip with my family on Stellar. The ship looks pretty and fully equipped. The staff was well trained and attentive. A special thanks to our butler Alice who was well behaved and very helpful throughout our trip. The photos taken by drone onboard are beautiful. Lan Ha Bay is indeed breathtaking yet there are quite a lot of boats that are affecting the pristine beauty now.
3 people found this helpful
Helpful
Questions and Answers (2)
Q
Danette Hanneman
3 weeks ago
Do you provide pick up in Hanoi and can we make it back to the Hanoi Airport for a 7 oclock flight
A
Visithalongbay Team
3 weeks ago
@Danette Hanneman, We provide pick-up service from Hanoi Old Quarter Area at the cost of $36/pax for a round trip. For Stellar of the Seas, the bus will drop you off in Hanoi Old Quarter at around 2:30 - 3:00 pm. It takes you around 45 minutes - 1 hour to get to Hanoi Airport. Therefore, you have enough time for your flight at 7:00 pm. Regards,
5 people found this helpful
Talk to a cruise expert
Request a call back
Or Email us
Our customers' experiences

My wife and I recently visited Halong Bay on Peony cruise. The price is very reasonable and the vegetarian food …
Chloe (Australia)

I contacted Visit Halong Bay staff for some trip idea and they responded very swiftly with good recommendations.
Nina Ng (Singapore)

My trip to Halong Bay was delayed because of Covid-19 and I am so glad that I made it back …
Christine Nguyen (Australia)
You might also like...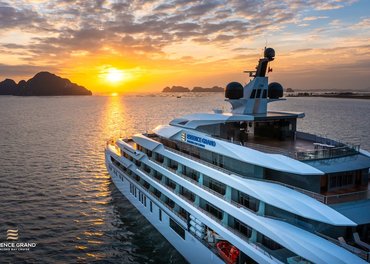 9% OFF
Halong Bay
Launched 2023 - Steel - 55 cabins
Outdoor swimming pool
Ultra luxury
Triple room
Kid-friendly
Booked 10 times in the last 24 hours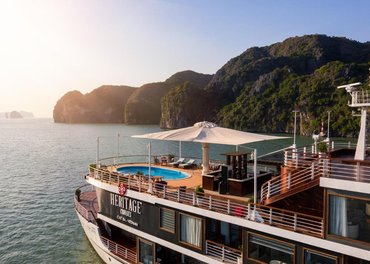 9% OFF
Lan Ha Bay
Launched 2019 - Metal - 20 cabins
Outdoor swimming pool
All cabins with balcony
All meals included
Lan Ha Bay route
Booked 2 times in the last 24 hours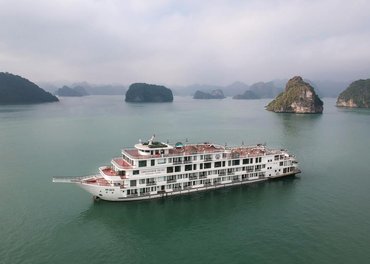 9% OFF
Halong Bay
Launched 2018 - Metal - 46 cabins
Outdoor swimming pool
All cabins with balcony
Elevator
Halong Bay route
Booked 5 times in the last 24 hours