Media gallery
Cruise overview
Tuan Chau Whaft, Ha Long, Quang Ninh
View on map
" Debuted in last February 2018, Alisa Premier Cruise makes it the newest addition to the Alisa cruise family. Leisure travelers can experience an indulgent night's sleep, impeccable services and savor delectable delights while cruising overnight on this boast. Feel the sea breeze as you take up exotic voyages to discover the most mind-blowing sceneries of Halong Bay and Lan Ha Bay."
Editor Reviews
Pros
The transfer service is fast and smooth. Alisa Premier cruise offers budget-friendly accommodations with an enclosed terrace for sweeping views of Halong Bay. The restaurant serves excellent vegetarian and Halal food which is hard to find. The well-arranged schedule is packed with many landmarks of Halong Bay and Lan Ha Bay.
Cons
Staterooms are quite small and ones at the rear of the ship are a little bit noisy because of the engine under. Wines are overpriced and options for breakfast are limited. Most attractions are touristy and not very pristine. The cruise anchors at a certain location with many other cruises making the area too crowded and noisy.
Bottom Line
With outstanding features taken from its line, Alias is amongst the most recommended cruises for middle-class travelers on Halong Bay and Lan Ha Bay.
About
Launched: 2017
Cabins: 22
Pick Up Time: 7:20 To 8:30 Am
Available Tours: 3 Days, 2 Days, Day Trip
Operating Areas: Halong Bay, Lan Ha Bay

9.2/10
Itinerary & activities
The brand-new Alisa Premier cruise is offering a couple of new culturally-enriching sailings on both Halong Bay and Lan Ha Bay. Explore Surprising Cave, visit the Pearl farm & fishing village, and enjoy free kayaking are some of the basic adventure activities you may indulge in.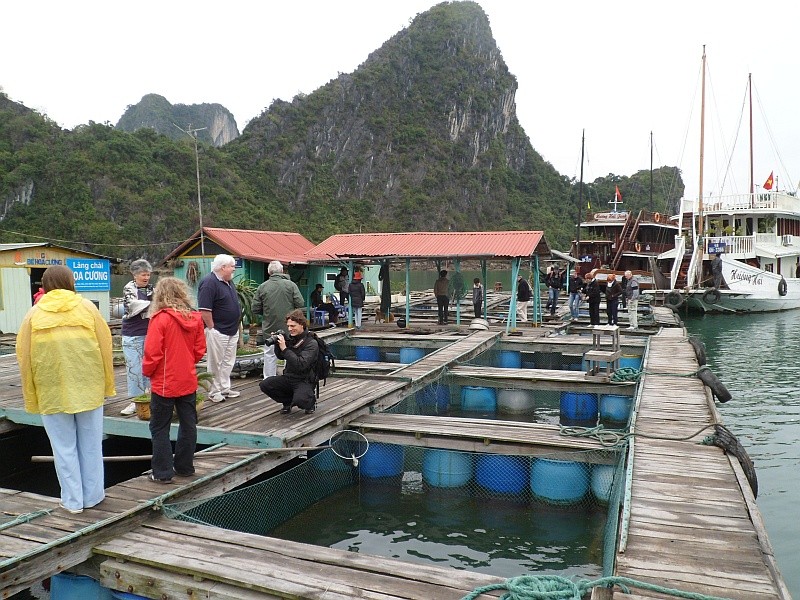 Visiting Pearl farm!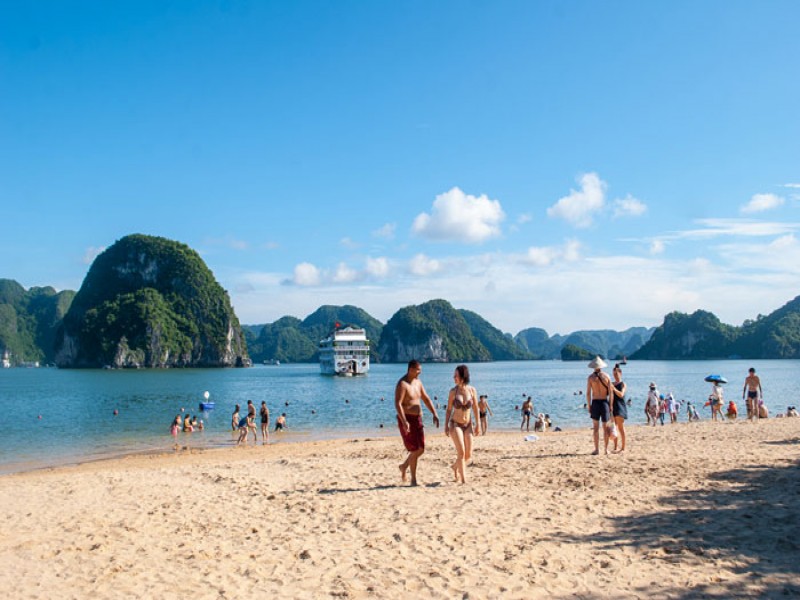 Swimming on Titov Island.
Cooking class
Tour or class about local culture
Happy hour
Evening entertainment
Karaoke
Fishing
Kayaking
Swimming
Visit pearl farm village
Cooking class
Sunset party
8.8/10
Cruise quality
Alisa premier is a 5-star modern steel junk which gained a great reputation for exceptional services and thoughtful amenities. It offers the finest accommodations, brilliant facilities and an unparalleled sense of comfort provided at a competitive price. More importantly, the boat is designed and built with cutting-edge technology to guarantee the highest level of stability and safety.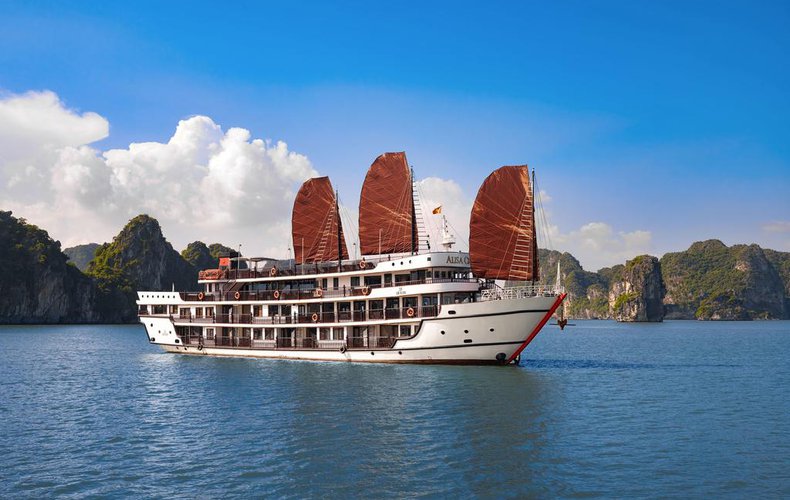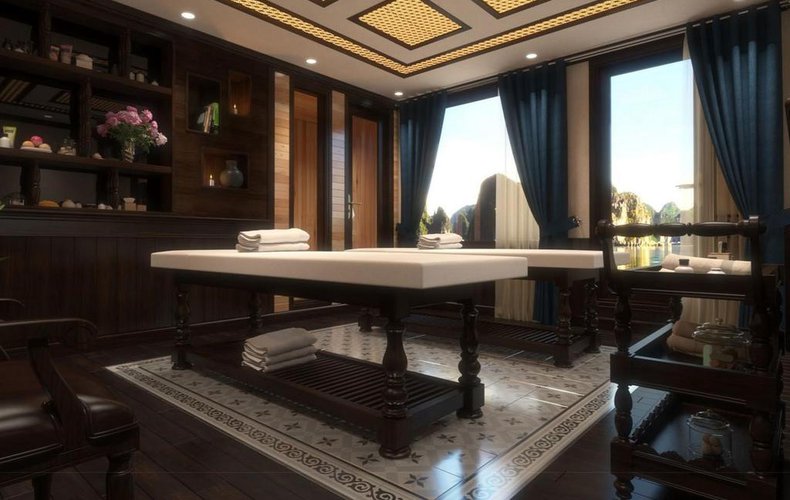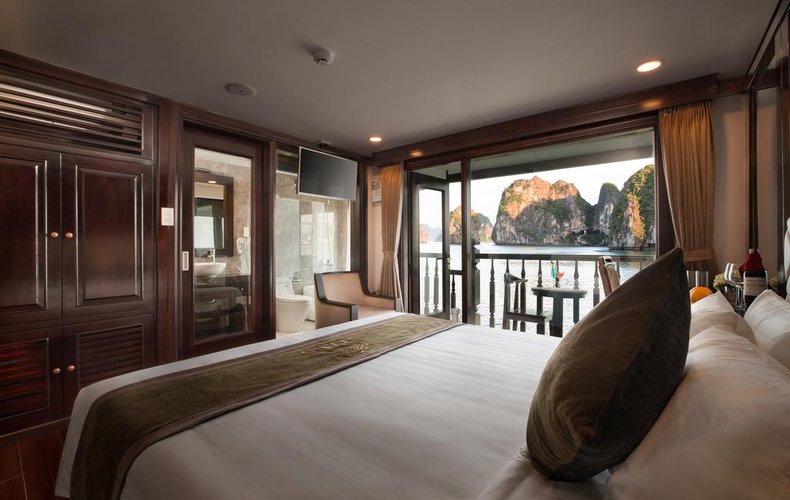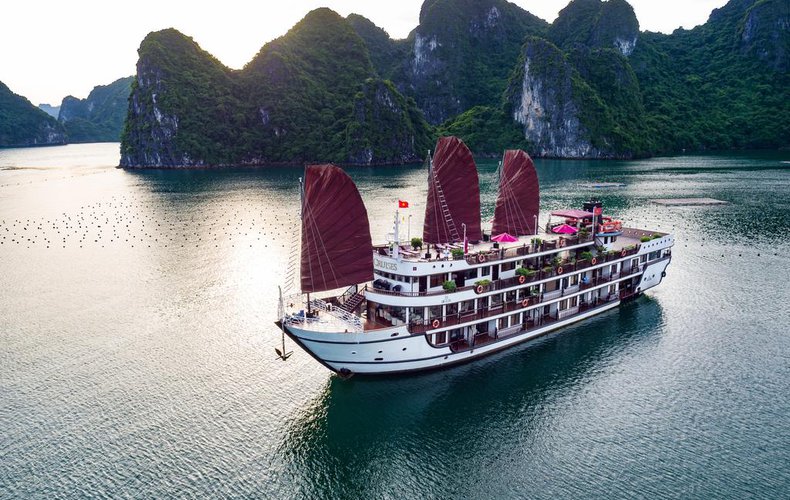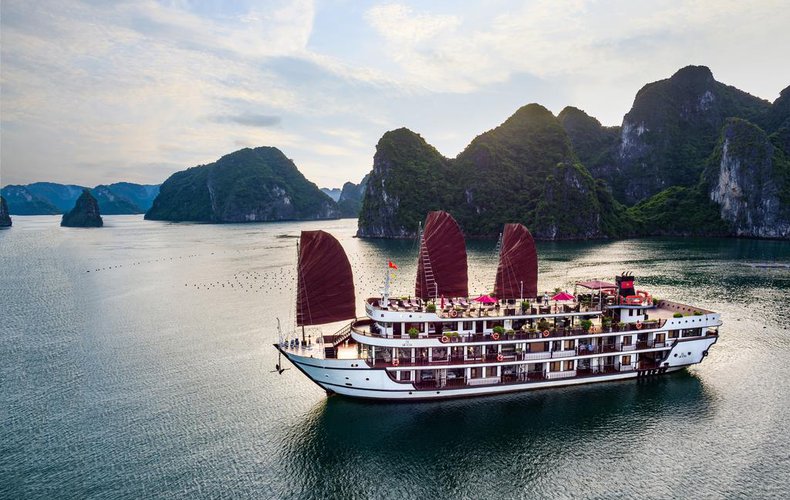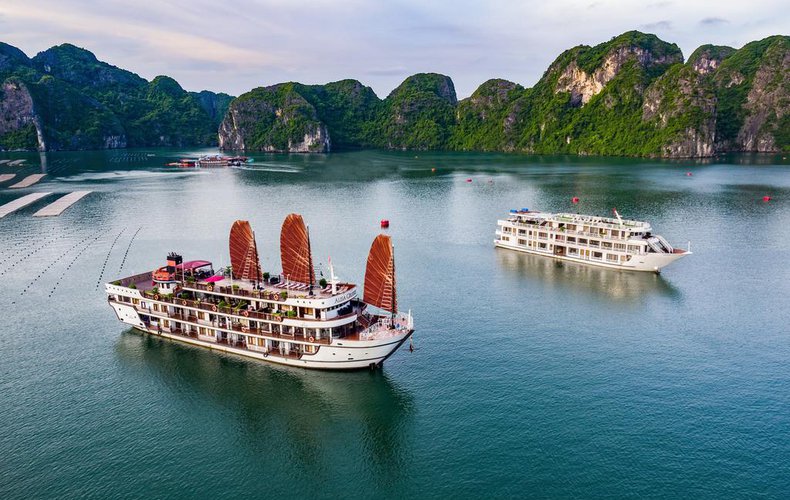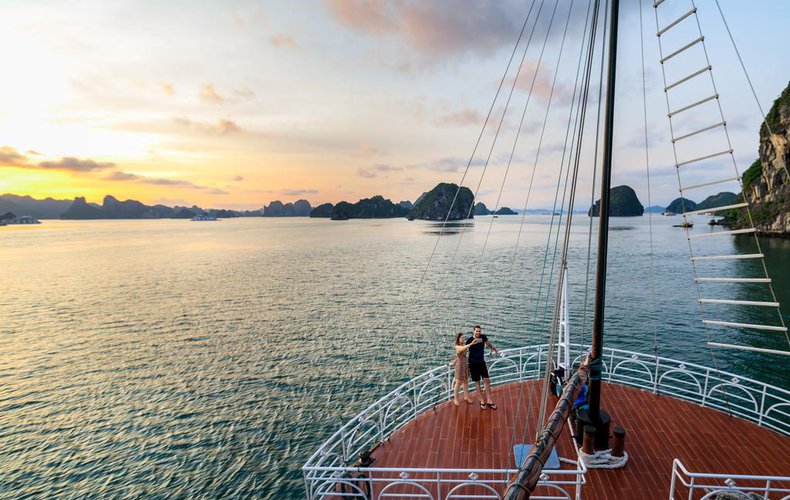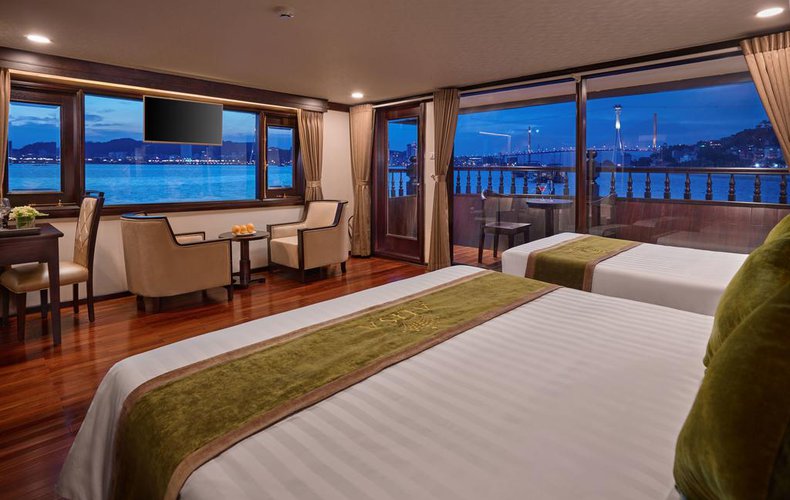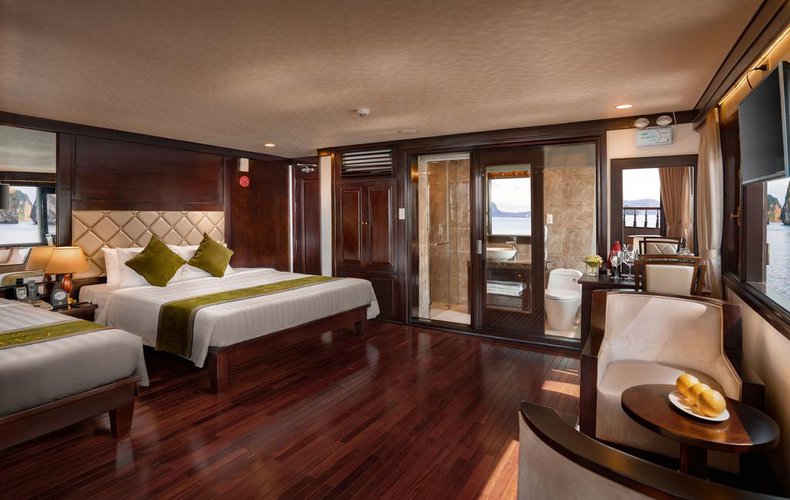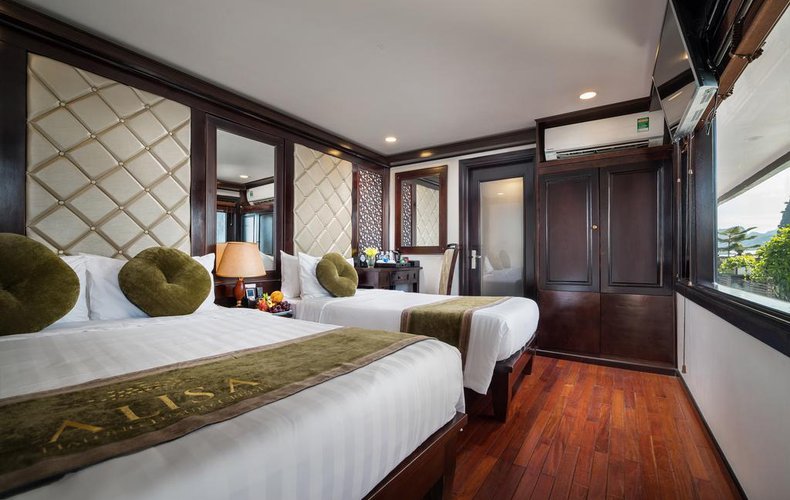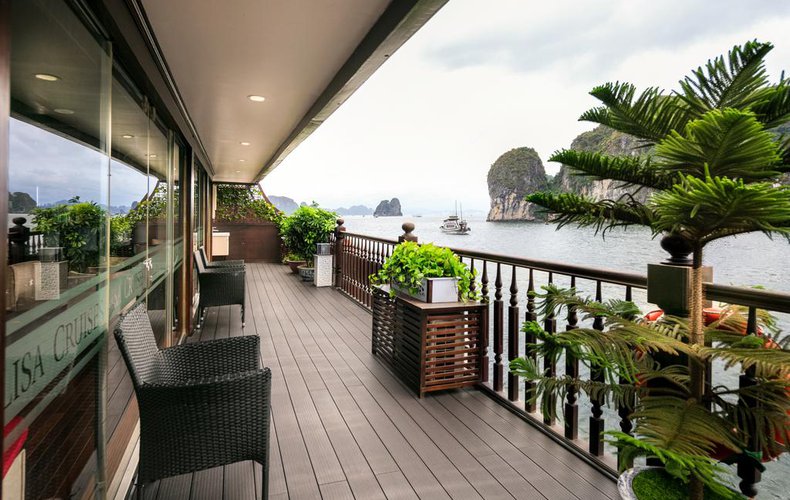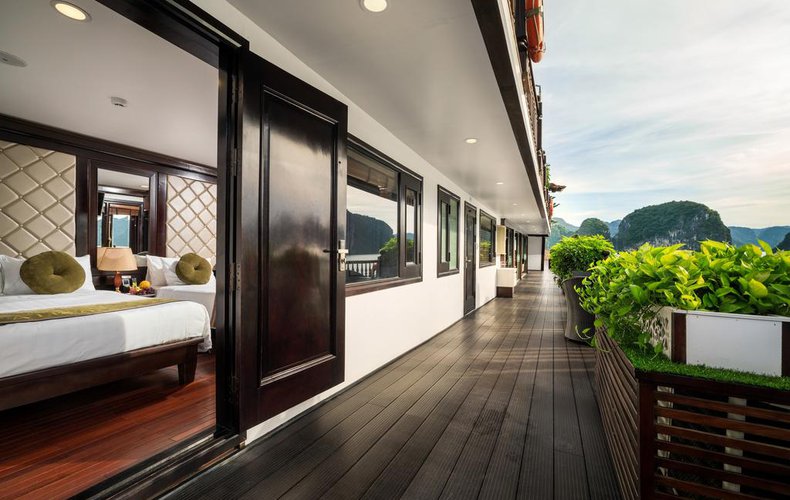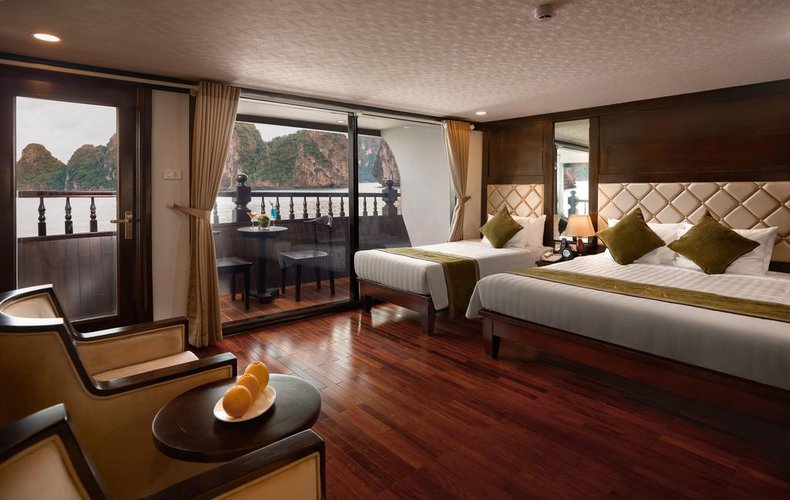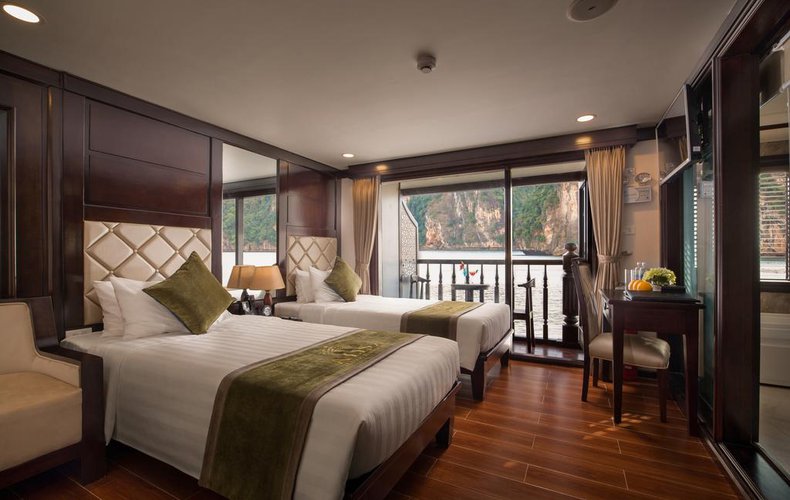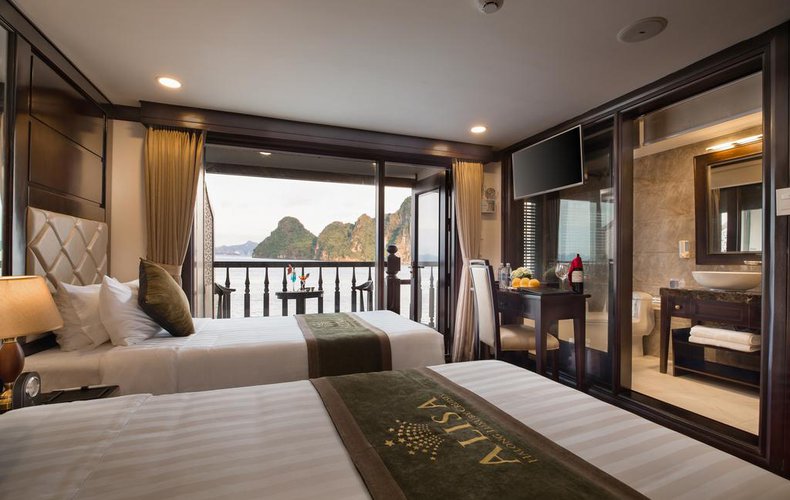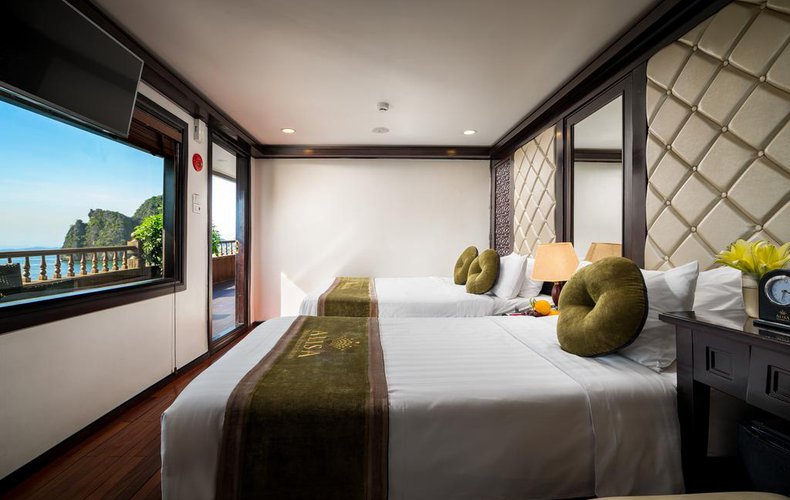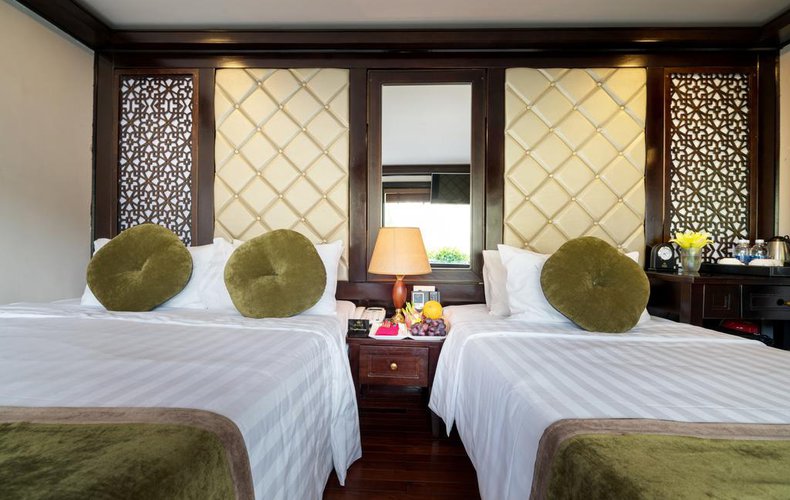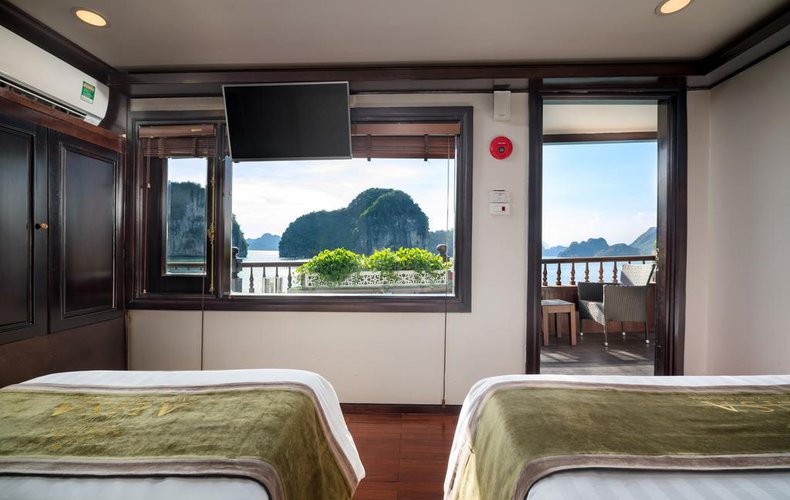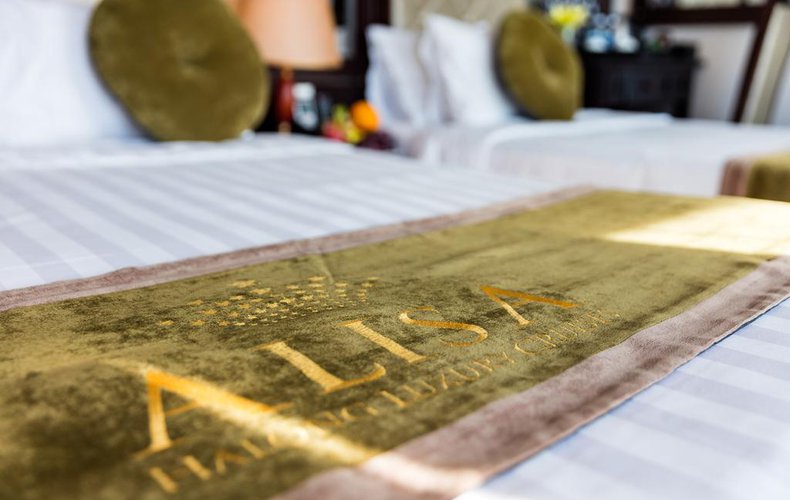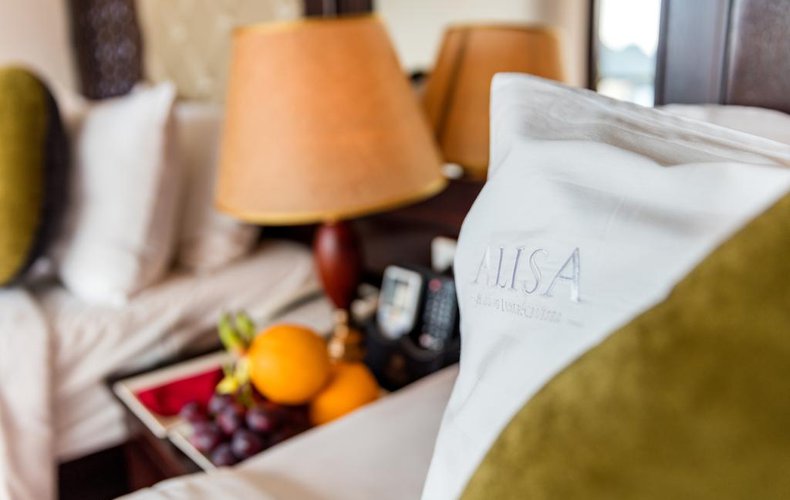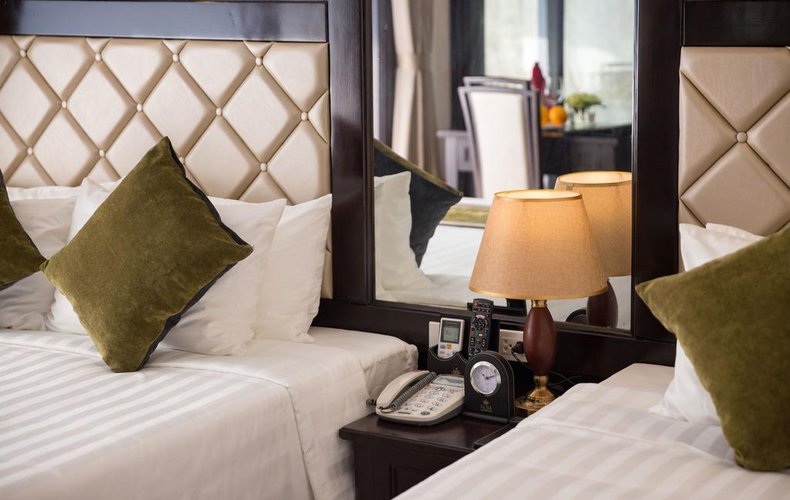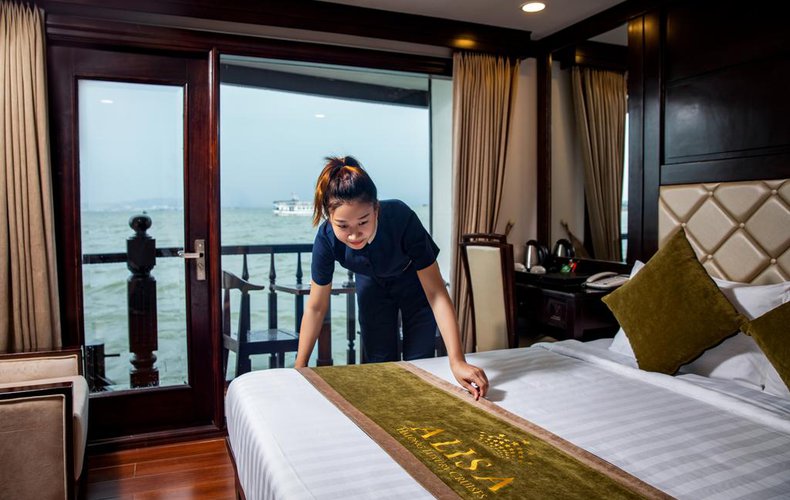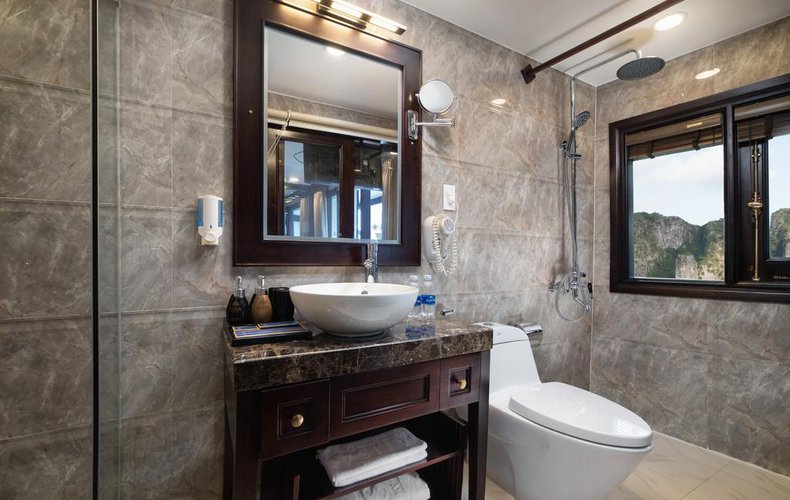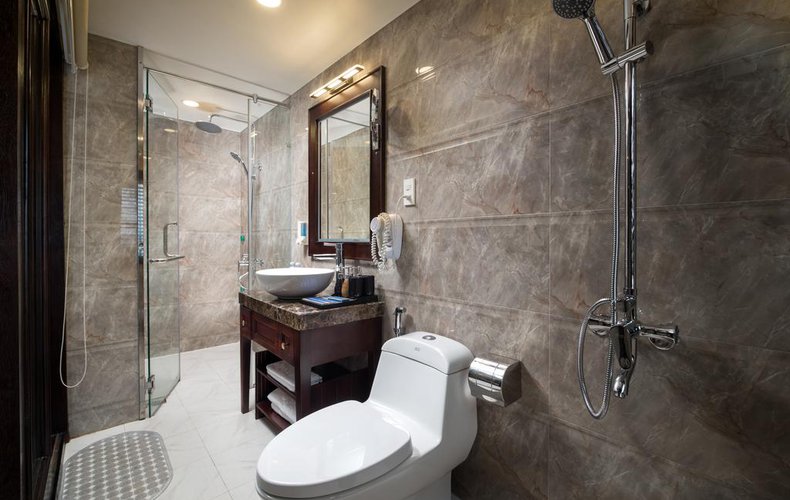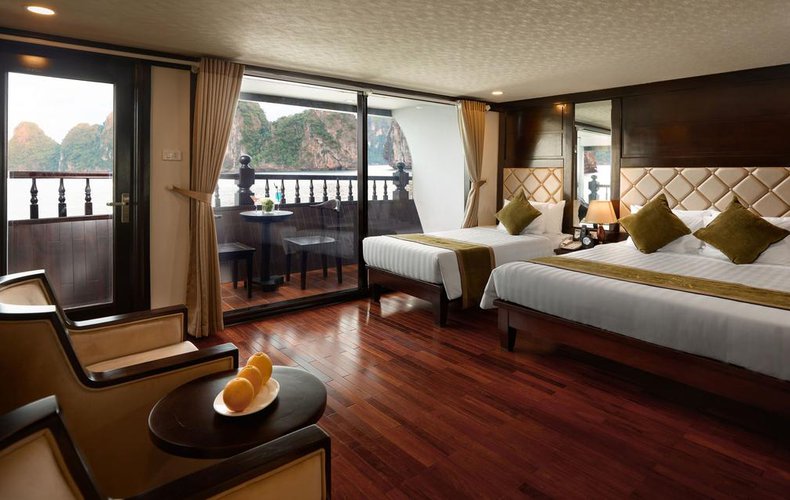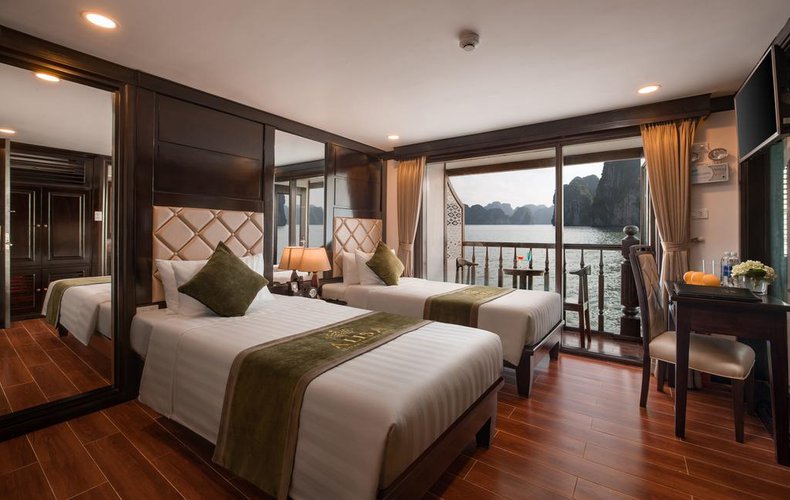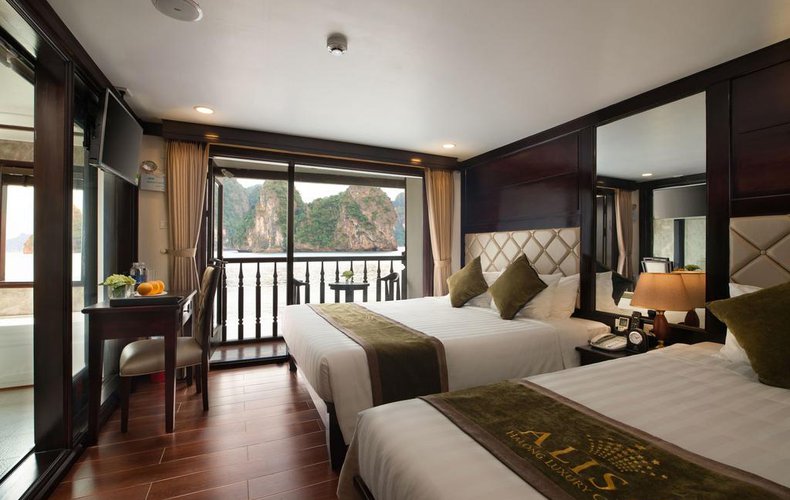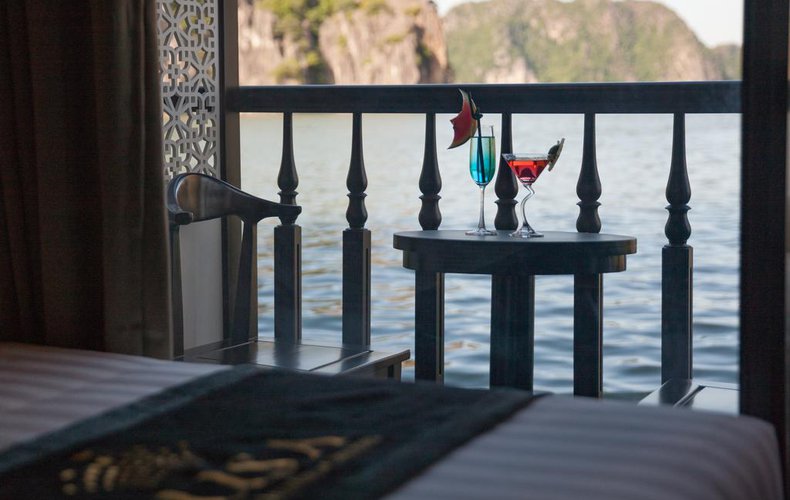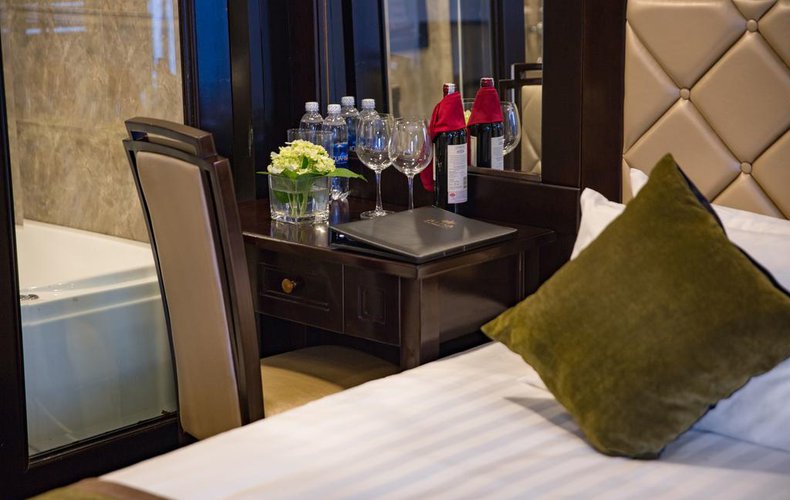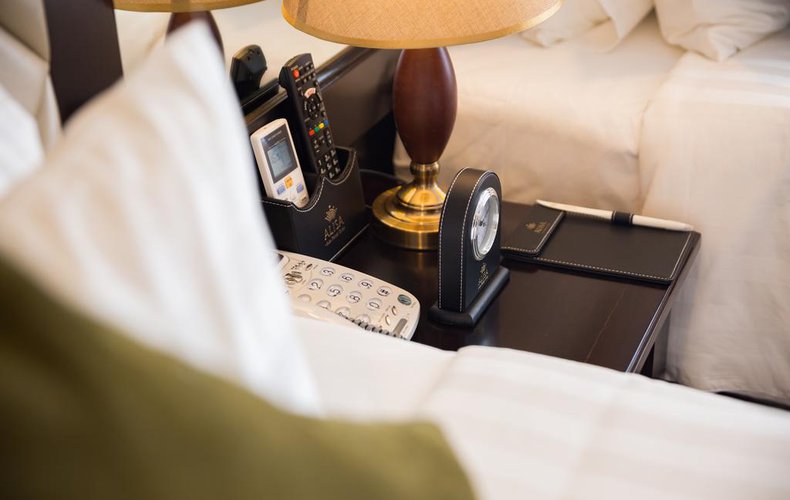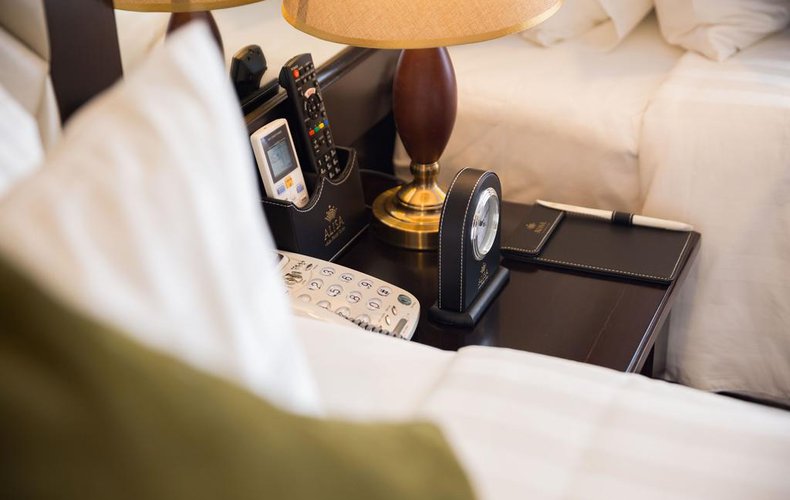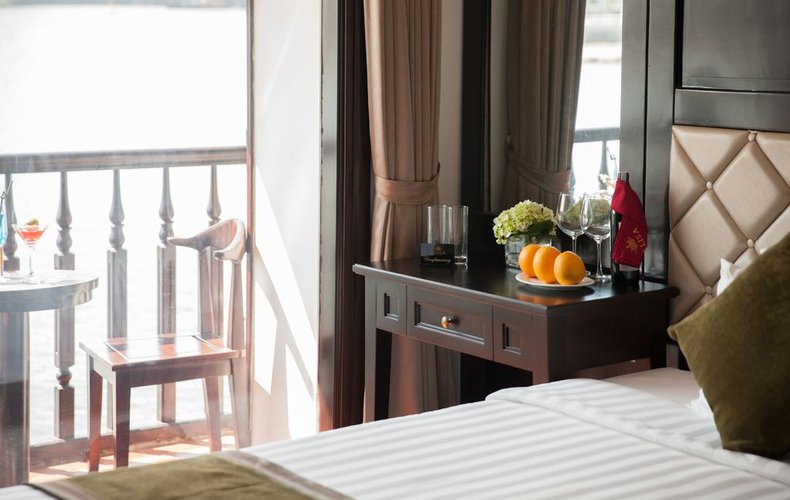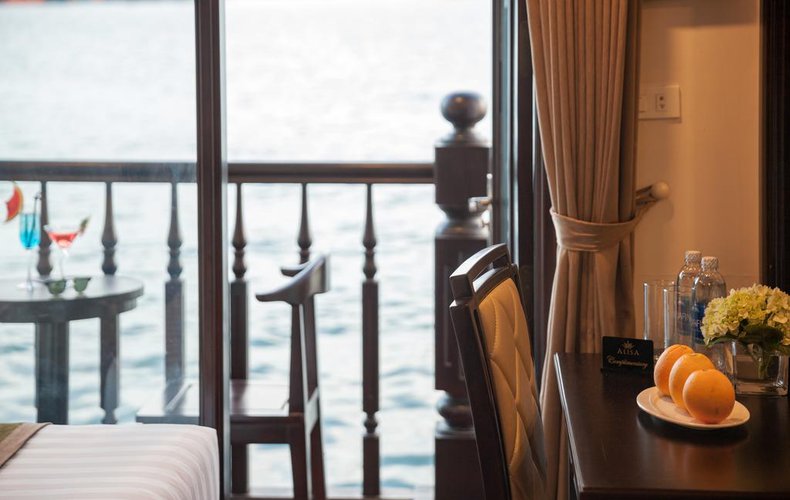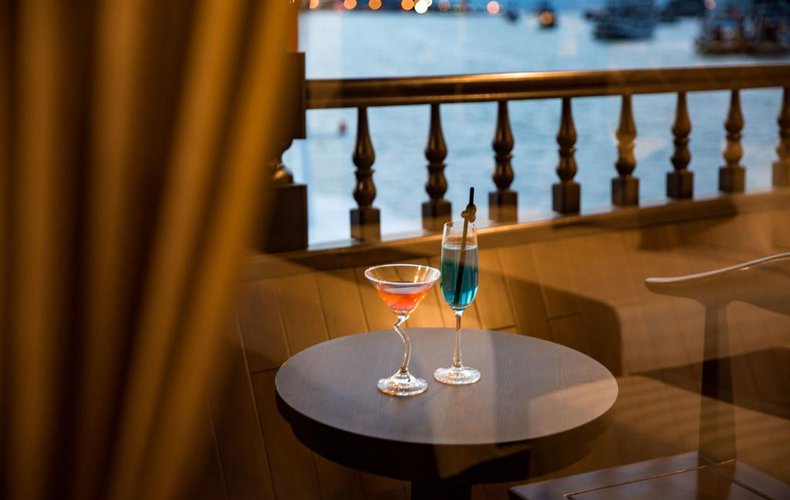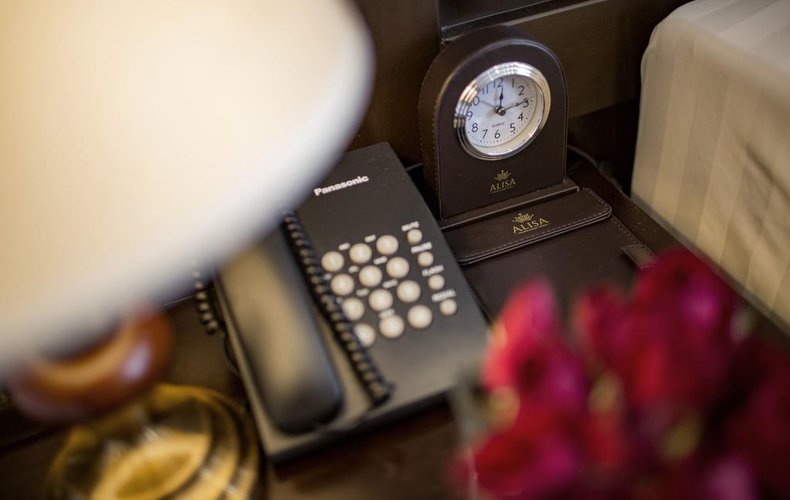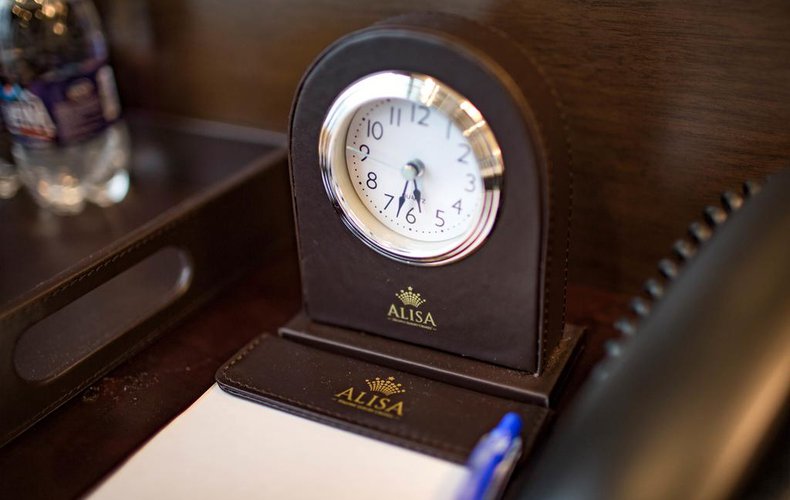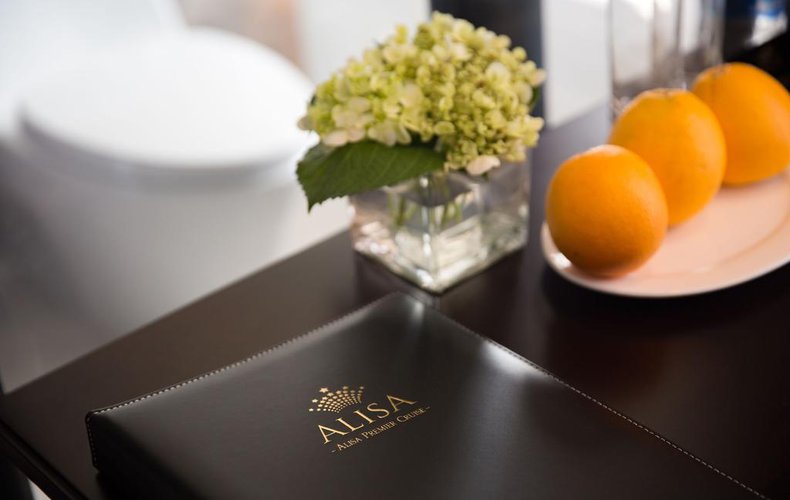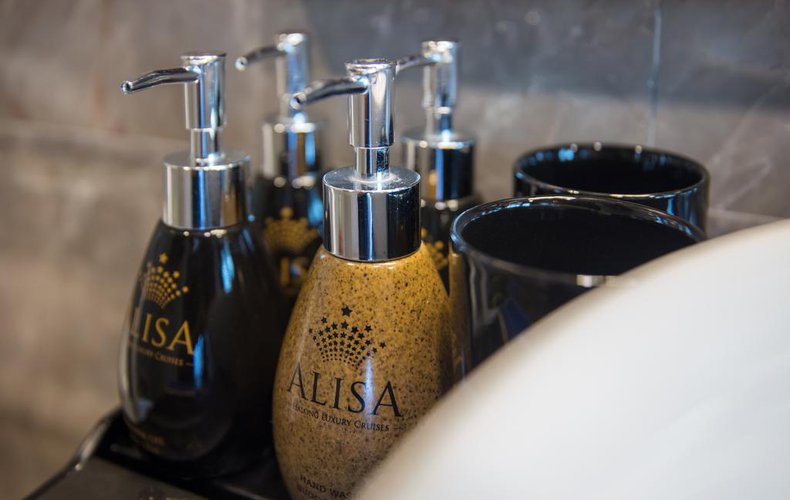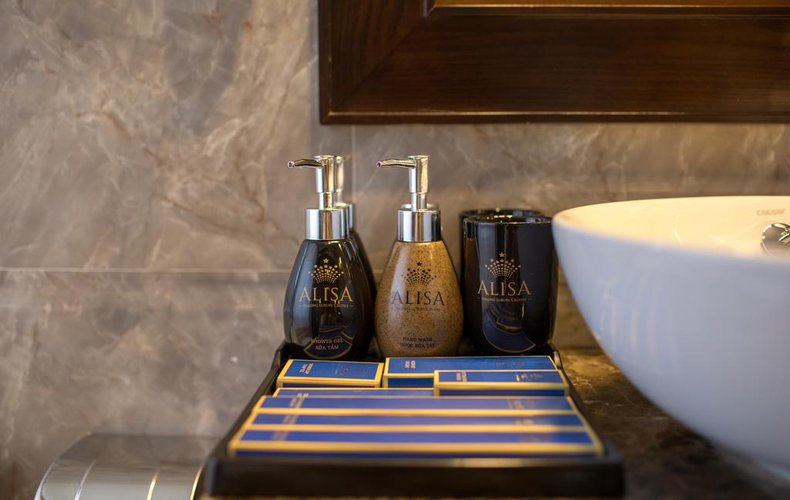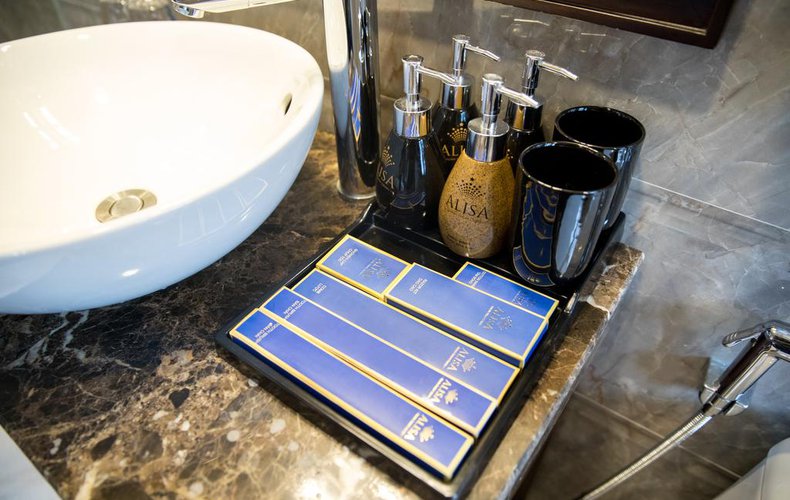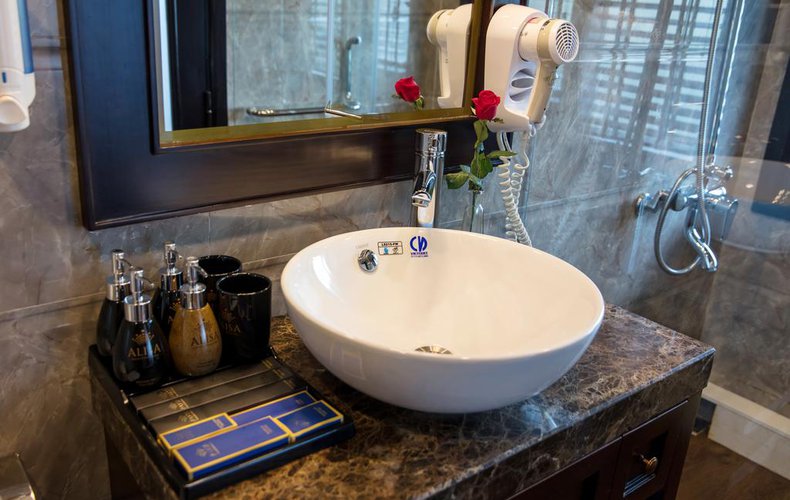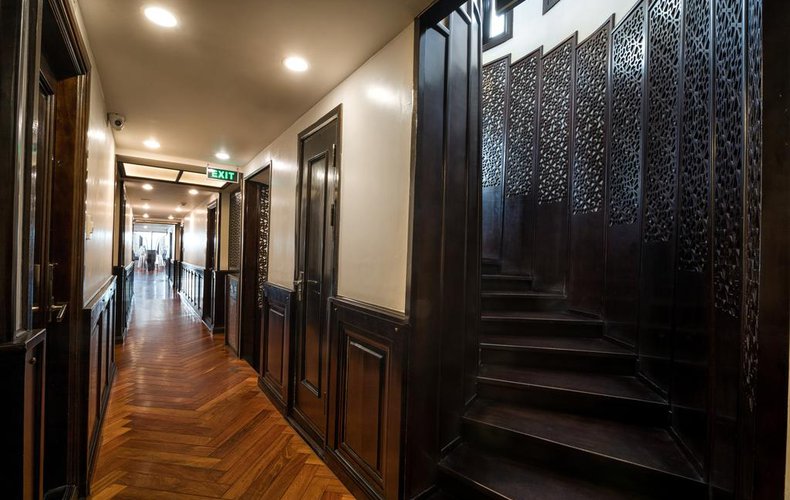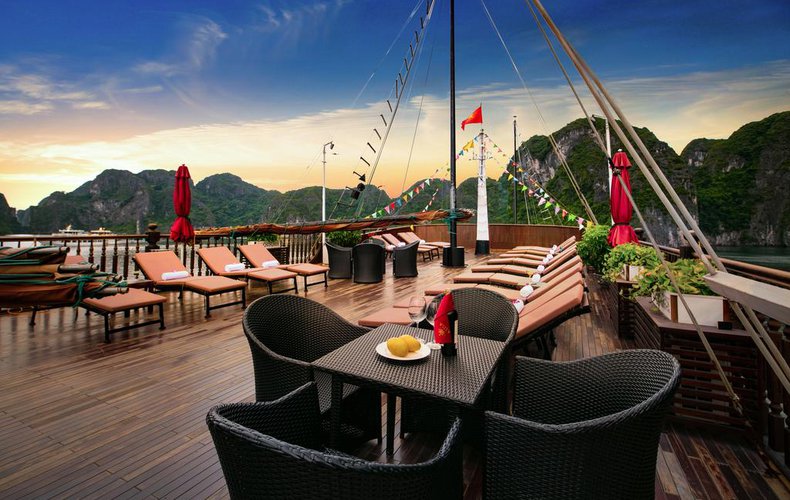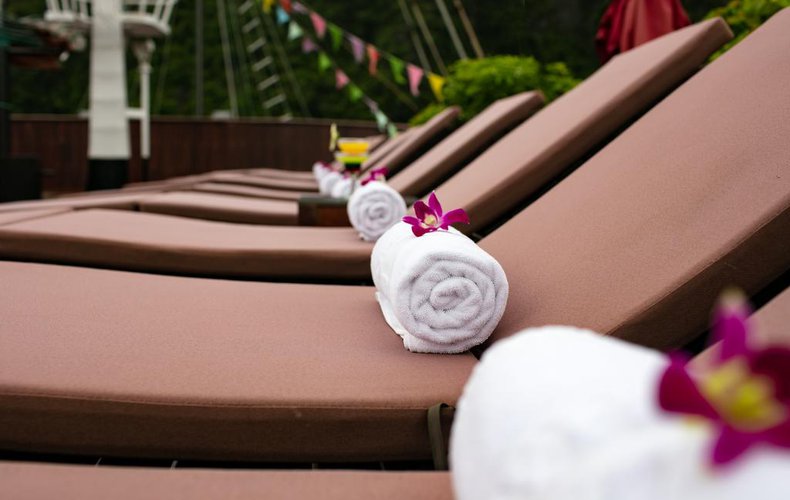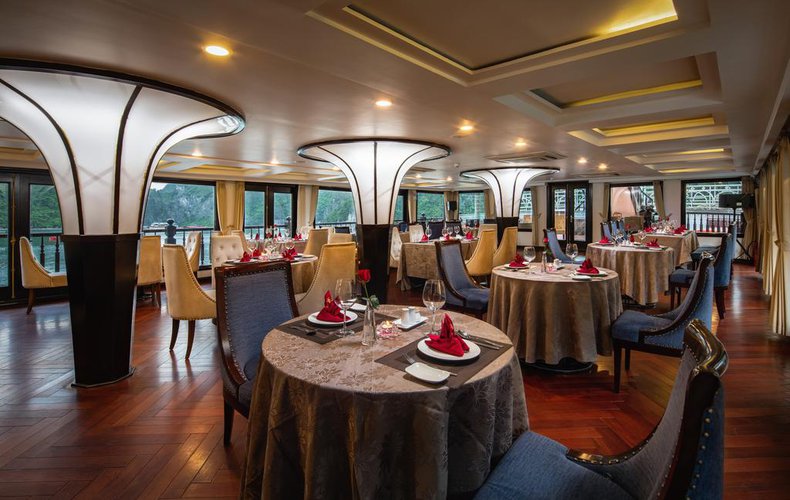 8.0/10
Service & facilities
A range of convenient facilities such as Jacuzzi tub, private balcony, Sky Bar with refrigerator and luxury Alisa restaurant commit to bringing you the most luxury cruising experience. In addition to this, Alisa cruise facilitates guests' relaxation with spa & massage, sauna, hot tub, fishing, canoeing, and dartboard.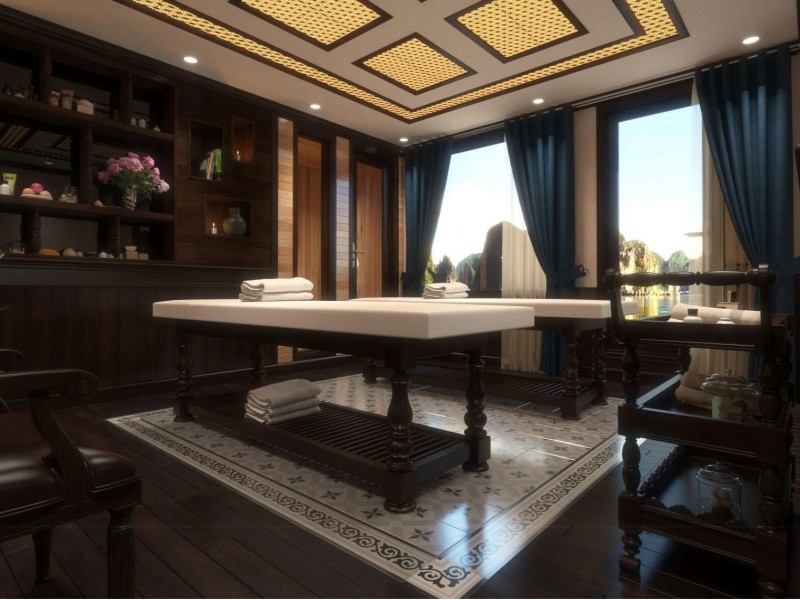 Alisa Spa service onboard.
Shuttle service
Shared lounge/TV area
Airport shuttle (additional charge)
Shuttle service (additional charge)
Designated smoking area
Air conditioning
Heating
Car hire
Soundproof rooms
Safety deposit box
Bridal suite
VIP room facilities
Family rooms
Non-smoking rooms
Room service
8.8/10
Cabin quality
22 luxurious suite cabins with ocean views are well-appointed with private bathrooms, private balcony, and especially Jacuzzi suite in the senior suite. All meals onboard are included and you'll get complimentary tea/coffee, bottles of water and internet connection in the room.
| Room Type | Maximum | Size |
| --- | --- | --- |
| Senior Suite Private Balcony & Jacuzzi (Double/ Twin) | 2 adults, 1 Children | 23 sqm |
| Senior Triple Suite Private Balcony & Jacuzzi | 3 adults, 1 Children | 23 sqm |
| Family Suite Connecting Private Balcony | 4 adults, 1 Children | 45 sqm |
| Family Suite Connecting Private Balcony | 4 adults, 1 Children | 45 sqm |
| Alisa Suite Private Balcony & Jacuzzi | 2 adults, 1 Children | 30 sqm |
| Single Suites Ocean View | 1 adults, 1 Children | 12 sqm |
9.0/10
Food & drink
The dining room serves a buffet lunch and an exclusive set-menu dinner with a variety of Vietnamese and Asian foods. For drinking options, the sunset party has a lot of fun with juices, cocktails, red wine and fruits. The Happy Hour also provides good value for sunset drinks.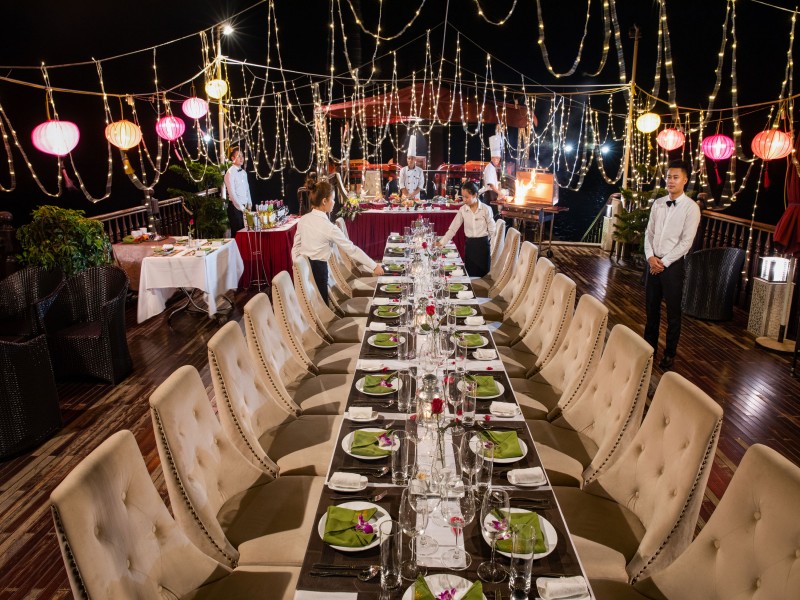 Alisa BBQ on deck!

8.3/10
Value for money
Single suite ocean views from US$278 and family suite connecting private balcony from US$688.
Access for guests with disabilities?
There are facilities for disabled guests.
Family-friendly?
- Children under 4 stay free of charge if using the existing bed. Extra beds are dependent on the room you choose.
- Baby cot and crib are available upon request.
Last updated: October 06, 2019
MORE CRUISES IN HALONG BAY
Frequently asked questions
1.

Is smoking allowed on Alisa cruise?

No, it isn't. Alisa Premier cruise is a smoke-free property so there is no space for smoking.
2.

Could I bring a heavy suitcase onboard? Does Alisa cruise have any specific requirement for luggage?

According to the cruise's policy, basically, you can bring whatever your airlines allow on the boat. However, because the trip is relatively short and you'll be dropped at your hotel in Hanoi at the end, you should bring ONLY the necessary items (no more than 20kg).
3.

How can I make a reservation?

To make a reservation, firstly, you should visit the cruise's official website www.alisacruise.com for detailed information and then book with reservation team booking@alisacruise.com. For more information and question, you can email to infor@alisacruise.com or contact directly to Mr.Kenny manager@alisacruise.com. If you want to book through a local agency, we recommend halongbaytours.com for lower price and more offers.
4.

Do I need to pay for food and transfer service or it includes in the total price?

Alisa cruise offers free breakfast for 2 while the transfer service costs an additional charge of around $35/person/round trip.
5.

Hi, I am going to book the 2D1N trip with Alisa Cruise. Is the price cheaper when I book through a local agency?

Booking accommodation on Alisa Premier cruise through a local reseller is cheaper and you'll receive several benefits. The price is often less than that shown on the official website.