Travel Tips
Best Cruises in Bai Tu Long Bay: The Complete Guide 2022
Featuring a complete information about Bai Tu Long bay and a handpicked list of the best cruises in Bai Tu Long bay for 2022.
Halong Bay or Bai Tu long Bay?
Halong Bay is admittedly one of the most magnificent natural wonders of the world thanks to myriad of staggering limestone islands and tiny islets, tranquil floating villages, and an array of overnight cruises. Consequently, the bay receives thousands of visitors every year. Unfortunately, alongside with mass-tourism is overcrowding and environmental degradation in major tourist attractions.
For that reason, while a vast majority of international travelers include Halong Bay in their travel bucket list to Vietnam, some prefer the neighboring off-the-beaten-path bodies of water including Lan Ha Bay and Bai Tu Long Bay that are located in the south and east of Halong Bay respectively.
Lan Ha Bay attracts throngs of tourists to see its non-touristy destinations and partake in various strenuous activities like climbing, hiking and kayaking. Today, there are an increasing number of newly-deployed itineraries and cruise lines operating in this kayaking paradise. Meanwhile, Bai Tu Long Bay is the least quiet bay amongst these three and exudes hidden beauty in every spectacle.
So Why Bay Tu Long Bay?
Bai Tu Long Bay takes possession of three quarters of the entire Halong Bay area. Despite its large area and proximity to Halong Bay; Bai Tu Long Bay remains unspoiled with fewer crowds and boats running days and nights. The sceneries here are just as spectacular as its 'tourist giant' neighbor and many parts still haven't been discovered yet.
Besides pristine seascapes, Bai Tu Long Bay also has preserved biodiversity and strong connection with the locals, their culture and likelihoods. Therefore, visitors yearning for isolated feel can pick Bai Tu Long Bay as an idyllic alternative to the touristy Halong Bay.
Getting to Bai Tu Long Bay
Crusing in Bai Tu Long Bay
Hon Gai is a popular departure point of cruises to Bai Tu Long Bay. The distance from Hanoi to Hon Gai wharf is 160km that takes 2-2.5 driving hours by bus. And all cruise companies have shuttle transfer either included in the price or at an additional charge (from US$20-30/person/one way). If you prefer private, from Hanoi, there are several transportation options:
Option 1: Luxury Transfer
Book the luxury 7-seater Kia Sendona via Xeluxury.vn Tel: 0243 9264 085/0901 291 290 that departs from Tonkin Café (18 Au Trieu Street, Hoan Kiem District) at 8:30 AM to Hon Gai Pier (6A Le Thanh Tong) at 10:30 AM. The average price is 280,000 VND/per person.
Option 2: Public Bus
Go to My Dinh bus station (Hanoi) and catch any buses to Bai Chay bus station (Quang Ninh province). The buses depart every 5 – 15 minutes and cost from 100,000-200,000 VND/passengers. Upon arrival, you take a taxi or motorbike taxi to Hon Gai Wharf, passing Bai Chay Bridge.
Other bus stations namely Gia Lam and Gia Bat also have buses to Quang Ninh province but less frequently.
Option 3: Train
Tourists who want to travel by train should come to Yen Vien railway station to take a train to Halong railway station. Departure time is 4:55 am and arrival time is 11:35 am. Ticket: US$3/passenger/hard seat. You can also Train Halong Express at Gia Lam station at cost of US$15/person.
Option 4: Seaplane
This is the fastest and most expensive way to reach Hon Gai pier from Hanoi via Hai Au Aviation. The plane flights from Noi Bai international airport to Van Don Airport. The price is around US$175/one way. Then you have to take a taxi to Hon Gai Wharf.
From Hai Phong, go to Lac Long bus station or Ben Binh bus station to take buses to Bai Chay bus station. Buses are available every 15 minutes. Total journey time is around 1.5 hour and fare is from 40,000 VND (local bus and Phuc Xuyen sleep bus) to 200,000 VND if you choose Minh Hieu Limousine (9-seater).
Tip: Most cruises will offer round-trip shuttle bus transfer to Hon Gai pier at about 20 USD/person.
When to visit Bai Tu Long Bay
Bai Tu Long bay beach in Summer (March to July)
Bai Tu Long Bay is good to see year-round but the best time to travel would be in early summer from January to May and late autumn from October to November with moderate weather and less rain. This kind of weather is ideal for outdoor trips and plentiful activities. Meanwhile, summer from July to September is not recommended because this time carries risks of unpredictable storms and torrential downpours.
How long to spend in Bai Tu Long Bay
Due to long distance from Halong mainland and Cat Ba Island, cruise operators only offer overnight trips to Bai Tu Long that means you will stay at least 2 days and 1 night on the bay. However, it's a quiet rushed itinerary because unlike Halong Bay or Lan Ha Bay where tourist attractions are close to each other, it takes lots of time transferring between Bai Tu Long Bay destinations. Thus, you should plan on a 3-day itinerary. For those who would like to stay longer, there are further 4D3N and even in-depth 5D4N private trips.
Best Cruises in Bai Tu Long Bay
Dragon Legend Cruise - is considered as one of the best cruises in Bai Tu Long Bay
List of cruises operating in Bai Tu Long bay area:
| Cruise Name | Itinerary Highlights | Price (2021) |
| --- | --- | --- |
| Paloma Cruise | Thien Canh Son Cave, Vung Vieng Village | 132 USD/pp (2 days 1 night) |
| Signature Cruise | Thien Canh Son Cave, Vung Vieng Village, Ban Chan Island, Cap La Island, Cong Dam Island | 133 USD/pp (2 days 1 night) |
| Athena Cruise | Thien Canh Son Cave, Vung Vieng Village | 140 USD/pp (2 days 1 night) |
| Dragon Legend Cruise | Thien Canh Son Cave, Vung Vieng Village, Tra San Island, Vung Dang Island | 165 USD/pp (2 days 1 night) |
| Amira Cruise | Thien Canh Son Cave, Vung Vieng Village, Be Ong Dau Area, Cong Do Area | 125 USD/pp (2 days 1 night) |
| Dragon Pearl Junk | Thien Canh Son Cave, Vung Vieng Village, Cap La Island | 120 USD/pp (2 days 1 night) |
| Swan Cruise | Thien Canh Son Cave, Vung Vieng Village, Cap La Island, Doan Xa Village | 129 USD/pp (2 days 1 night) |
| Garden Bay Cruise | Vung Vieng Village, Vung Ha beach, Cap La Island | 116 USD/pp (2 days 1 night) |
| Oriental Sails | Thien Canh Son, Vung Vieng, Tra San | 123 USD/pp (2 days 1 night) |
Best luxury cruises
Signature cruise: From posh staterooms to fine dining and extensive onboard experiences, Signature cruise brings laid-back luxury to high-end customers in Bai Tu Long Bay. The wooden-hulled, steel-core cruise 5-star praises for its Renaissance architecture fitted with royal style furniture.
The signature junior suite costs from US$356 while elite family suite is priced from US$810. Guests are also offered upscale services like modern Jacuzzi bathroom, a world-class spa, and Limousine transfer.
Dragon Legend Cruises: The 2 Dragon Legend ships of opulence are the latest members of the Indochina junk fleet. Boasting Vietnamese traditional décor and a scattering of hand-crafted artworks, the ships bring a nostalgic feel. Intimate and old-school setting blends harmoniously with modern features such as 24 top-notch cabins, indoor & outdoor dining areas, spacious sundeck, and sumptuous spa.
Best mid-range cruises
Swan Cruise: The cruise offers sizeable cabins that fit all types of travelers, especially family and small groups. Its design is inspired from traditional style while dining options vary from Vietnamese to international cuisines. You can book the cruise with price from US$240.
Garden Bay Legend cruise: affordable cabin rooms costs from US$250 and guests can enjoy a variety of amenities including air-conditioner, private bathroom, continental breakfast at the accommodation, and sun terrace. Passengers can also take advantage of the business center, car rental service, and the souvenir shop.
Best budget cruises
Paloma cruise: the classic wooden junk is home to 18 standard cabins featuring modern-inspired interior. The cruise focuses on the sailing route that goes through Thien Canh Son cave, Vung Vieng village, and Cong Dam area and includes complimentary fishing and kayaking. Room price starts from US$220.
Oriental Sails cruise: another wooden boat but with traditional style, Oriental Sails is a bit old after many years of operation. Cabins have wooden furnishings and basic facilities but lack of entertainment programs onboard. The ship explores Bai Tu Long Bay with highlights are kayaking and bamboo rowing boat trip.
Other Things to do in Bai Tu Long Bay
Bai Tu Long National Park (Photo: Thanhnien.vn)
What it lacks in accommodation, Bai Tu Long Bay makes up for an array of heart-racing activities. Indeed, there is no dearth of things to do in the bay.
Kayaking in Vung Vieng fishing village
The mind-boggling, charming landscapes and crystal clear waters appeal tourists to take a wonderful kayaking trip. In the moment, visitors not only have a chance to admire the scenery but also greet local fishermen and get to know about their daily tasks.
Explore Thien Canh Son Cave
This well-hidden cave lies below the forest canopy and stone cliff and houses hundred-year-old stalagmites and stalactites. The cave is still untouched with a few of tourists and man-made influences.
Swimming and snorkeling at Ban Chan Beach
Ban Chan Beach is best known for clear waters, white-sandy beach, and good visibility that is perfect for swimming and snorkeling. Additionally, many tour operators offer BBQ party on the beach.
Visit Bai Tu Long National Park
Spreading over 15000 ha, the national biosphere protected zone is home to nearly 500 species of plants, 37 species of birds, and hundreds of marine animals such as seagull, mussels, and abalone. Come to the park, visitors have an opportunity to get close to the nature and grasp the knowledge thanks to wildlife enrichment programs.
Notes: All cruises in Bai Tu Long have resumed normal operations with 2 day 1 night cruise trip!
Questions and Answers
(0)
Be the first to ask a question on this page
READ THIS NEXT
Exploring Halong Bay nightlife is probably the best way to complete your journey in this land of natural wonders. In …
Read more
In the southeast coast of Cat Ba Island, Lan Ha Bay is a quieter and more pristine alternative to the …
Read more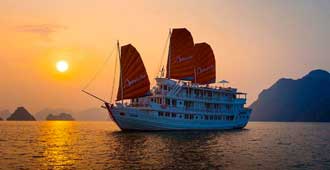 Discover the charming and exotic landscapes of Halong bay on an all-inclusive luxury cruise!
Meet local experts
Need to create your own Halong bay trip?
Call us now: +84 354 64 1421 (Whatsapp)
Customize Your Tour
QUESTION FORUM:
Halong Bay: Questions