How To Pick The Right Cruise?
Depending on who you're traveling with, different kinds of cruises offer different services. We want to make sure you choose the right cruise that fits your travel style.
Almost every traveler passing through Vietnam has either already been to Halong Bay or dreams of visiting. It's status as one of the seven natural wonders of the world and a UNESCO World Heritage site means that Halong Bay has been a popular choice for many travel bucket lists for many years. But Halong Bay is not the only bay worth knowing in the Gulf of Tonkin.
Choosing the right cruise operator for your trip to Halong Bay can overwhelm even the most experienced travelers: with a plethora of cruise options ranging from ultimate luxury to ultra-budget there are literally dozens of operators to choose from.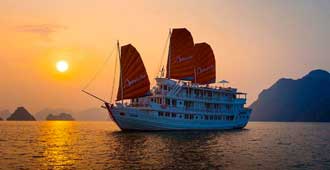 Discover the charming and exotic landscapes of Halong bay on an all-inclusive luxury cruise!
QUESTION FORUM:
Halong Bay: Questions
Free ITINERARY planning with us!
Planning your trip with our Halong local experts, we will help you with:
Accomodation: Find the best hotels/homestay or BnB.
Tours: Connect you to the trusted tour operator in Halong bay.
Cruises: Find the best cruise on your date!
It is all FREE