How to Choose a Cruise: The 5 Best Cruise Lines in Halong Bay
Choosing the right cruise operator for your trip to Halong Bay can overwhelm even the most experienced travelers: with a plethora of cruise options ranging from ultimate luxury to ultra-budget there are literally dozens of operators to choose from.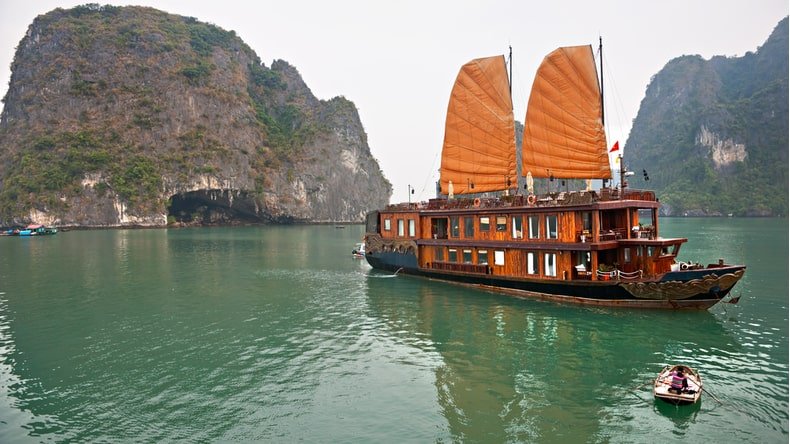 It's important to know that cruises that run through Halong Bay are a totally different animal to the kind that frequent the Caribbean or Trans-Atlantic routes. Halong Cruises run on a much smaller scale but there are often many cruise lines that come under one operator. However, there are a few big fish that run larger cruise lines who tend to provide better quality and service, in this guide, we talk about the main cruise operators travelers should consider for a cruise trip.
1. Bhaya Cruise Group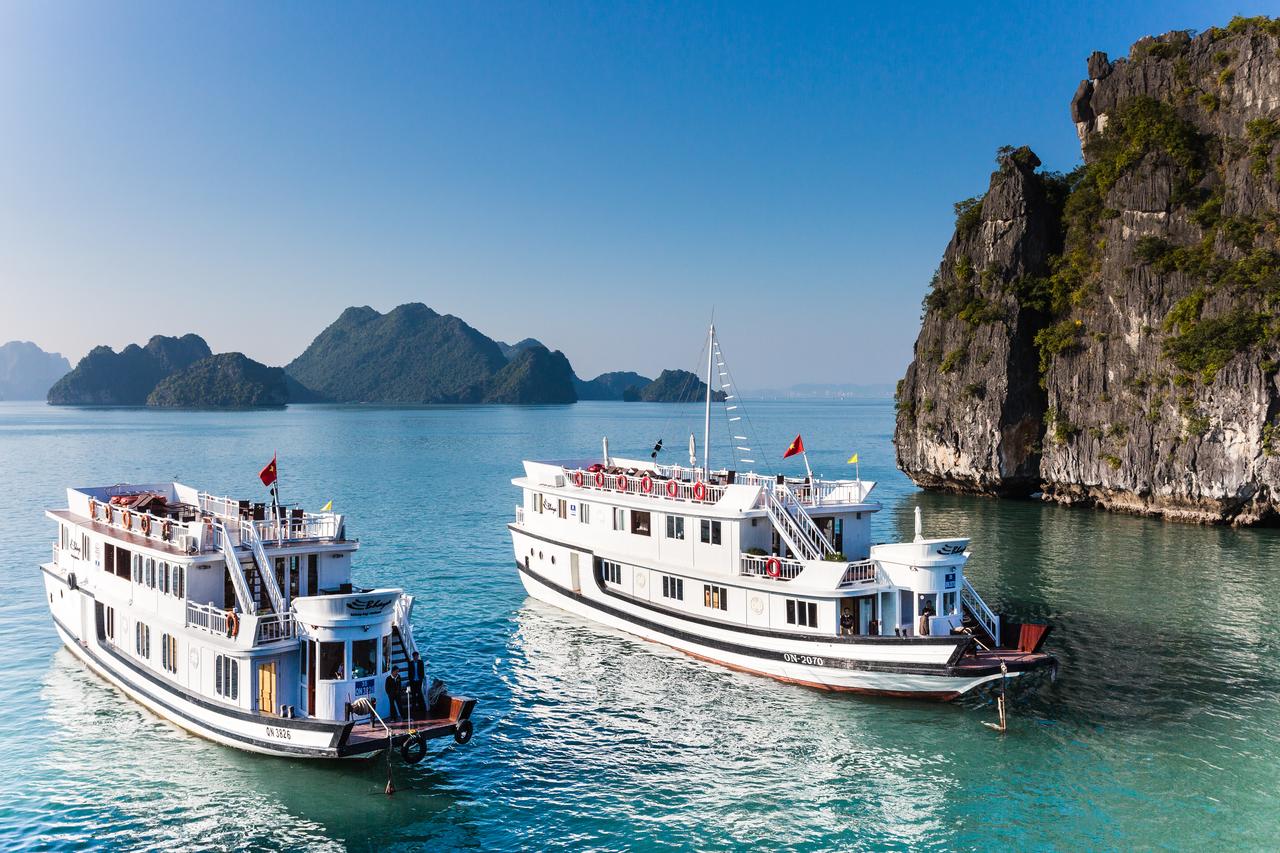 Bhaya Cruises 
Operates: Bhaya Classic Cruise Halong Bay, Bhaya Premium Cruise, Bhaya Legend Cruise and The Au Co Cruise.
Bhaya Cruises is the largest cruise operator in Halong Bay, with the biggest fleet of cruise boats in this region. Bhaya is a highly reputable and recommended operator with a 5-star rating on most (if not all) travel review websites. They run four different cruise lines, each offering cruises that run for one or two nights, but each providing a different type of service.
Bhaya Classic & Premium are smaller boutique cruises using traditional style wooden junk boats. They are the cheaper options out of Bhaya's four cruise lines, but still offer a superior experience for passengers. The Premium line differs from the Classic as it has fewer cabins on board, offering a more private experience to its customers.
The Au Co and Bhaya Legend both offer customers a more luxurious experience. The Au Co gives passengers not only a journey through Halong Bay, but also through Vietnamese culture, with a focus on gastronomy and premium standard activities to give their passengers the best experience. To add to the Au Co experience there is even a spa and Jacuzzi on board. Passengers of The Au Co can enjoy their cruise for 3 days and 2 nights (without having to switch to another boat, which is common practice with other cruise operators).
Bhaya Legend Cruise is marketed as private cruising, as it has only 1-3 cabins on each boat, and a flexible itinerary, giving passengers the option to enjoy a cruise of their own making.
Activities:
Perks:
All activities are included in the room price. Guests don't need to think about any extra fees.
Bhaya runs cruises through Halong Bay, Bai Tu Long Bay and Lan Ha Bay.
Prices from: $299 USD.

Duration of Trips: 2 days 1 night or 3 days 2 nights.
2. Indochina Junk Cruise Line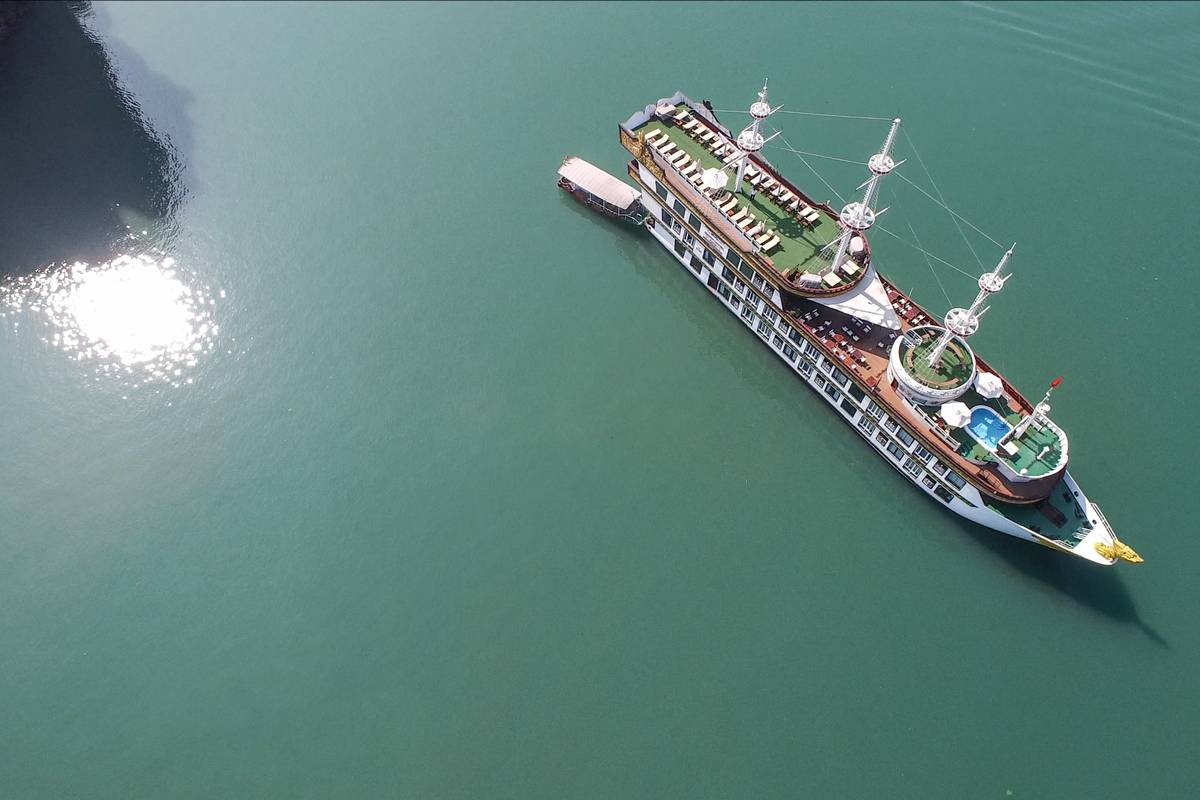 Indochina Junk 
Operates: Red Dragon Junk, Dragon Legend Cruise, Dragon's Pearl Junk, L'Amour Junk and Prince Junk.
Indochina Junk is another 5 star cruise operator running five separate cruise lines. It offers cruises of both Halong Bay and Bai Tu Long Bay on a variety of vessels, from the small and intimate L'Amour Junk to the grand Dragon Legend ships. The staff come from all over Vietnam and offer a friendly and accommodating service. Indochina Junk also commit to responsible and sustainable cruising.
Of all of Indochina Junk's cruise lines, Dragon's Pearl Junk and Dragon Legend Cruise are possibly the two most accessible while still retaining a comfortable level of luxury. Dragon Legend has two luxury 24-cabin boats with spas and restaurants onboard. Customer satisfaction is the theme of the day as the whole itinerary of activities are designed to give the customer the best experience of Halong Bay. Dragon's Pearl Junk is a good option for large parties with its 11 deluxe cabins.
The Red Dragon Junk line is impressive to say the least. The boats are designed with the idea of traditional Chinese junks in mind, and make a grand impression with their gorgeous red sails. These ships are relatively small with just 5 cabins, so they can only cater to a maximum of 11 people, meaning that Red Dragon keeps up with Indochina Junk's theme of intimacy and privacy on its cruises.
The boats of the Prince Junk line are modeled after the traditional fishing boats found in this area of Vietnam. The four ships that make up the Prince Junk fleet have either 2, 3 or 4 cabins, and are perfect for group holidays, family holidays or to be shared by couples looking for an intimate experience of Halong Bay. The cabins are luxurious and the warm hospitality crew are there to make sure you have the best experience possible.
L'Amour Junk is a one cabin private boat aptly named 'L'Amour' as it is aimed at couples looking for a special time in Halong Bay. It gives guests the highest level of privacy, but staff are on-call as and when guests need them.
Activities:
Barbecue on the beach.
Fishing trip.
Perks:
Indochina Junk offers a free transfer service to and from Hanoi for those who are based in Vietnam's capital.
Indochina Junk's cruise lines visit Vung Vieng fishing village, a unique cultural experience.
Prices from: $185 USD.

Duration of Trips: 1 day cruise, 2 days 1 night, 3 days 2 nights or 4 days 3 nights.
3. Pelican Group
Peony Cruise - One of the best selling cruises in Halong bay! 
Operates: Orchid Cruises, Azalea Cruises, Peony Cruises, Glory Legend Cruise and Pelican.
Pelican has the winning combination of being both a 4-star cruise provider whilst still offering an affordable price. Pelican's cruise lines strive to provide a luxury cruising experience for their guests. Each ship has a limited number of cabins to give guests the feeling of being on a more personal cruise, however the boats themselves are still grand as they house a spa, gym, restaurant and sundeck. Each Pelican cruise line also has gourmet dining. The main difference between each of the cruise lines is the size of the ship rather than the service they provide. The Glory Legend and Pelican lines have the biggest ships, with around 28 cabins each, whereas Peony and Azalea have around 24 cabins and Orchid has 20.
Activities:
Morning Tai Chi on deck.
Cave tours.
Kayaking between karsts.
Pelican Cruise spa.
Squid Fishing.
'Indochine' movie is available on Orchid Cruise.
Guitar on board free for any guest.
Perks:
Pelican Cruises travel between Halong Bay and Lan Ha Bay.
Orchid, Azalea and Peony guests can travel from Hanoi to Halong Bay in 2 hours rather than 4 hours compared to other operators.
24 hour hotline phone number.
Prices from: $210 USD.

Duration of Trips: 2 days 1 night or 3 days 2 nights.
4. Athena Cruise Line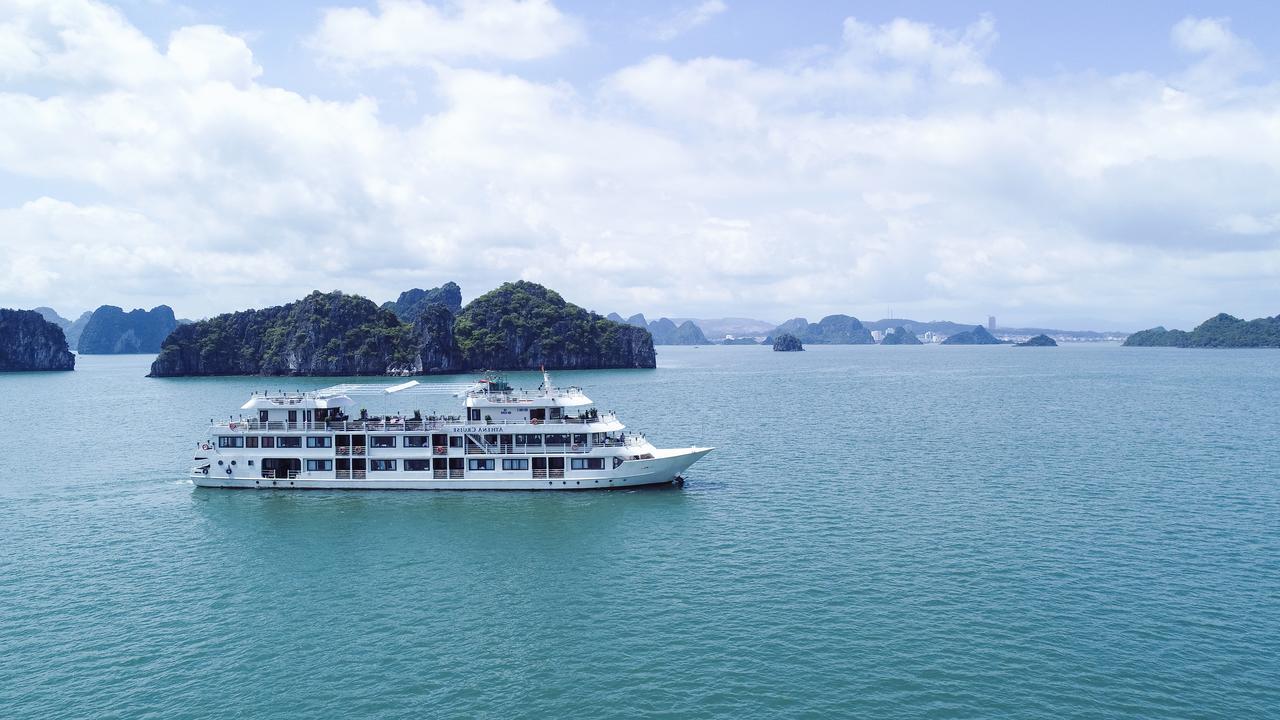 Athena Cruises 
Operates: Athena Cruise and Signature Cruise
Athena operates Athena Cruise, a 5-star luxury cruise boat that runs in Halong Bay and Bai Tu Long Bay. The Athena Cruise is medium sized with around 21 cabins and has an indoor restaurant and bar onboard. The onboard staff are available 24 hours a day to make sure their guests stay is as comfortable as possible. Signature Cruise is a little different as the cruise takes place on a luxury wooden boat, although both Athena and Signature both cruise through Halong Bay, Bai Tu Long Bay and Lan Ha Bay. The restaurants on Signature Cruise also serve 5-star western and Vietnamese food and provide a spa service.
Activities:
Tai Chi.
Tour of Thien Canh Song Cave.
Kayaking.
Visit to Vung Vieng Floating Village.
Cooking demonstrations.
Spa -Signature Cruise only.
Visit a pearl farm - Signature Cruise only.
Perks:
Guests can easily arrange transport to and from their hotel in Hanoi, or the airport, although this comes at an extra cost.
Prices from: $298 USD.

Duration of Trips: 1 day cruise, 2 days 1 night or 3 days 2 nights.
5. Aclass Cruise Line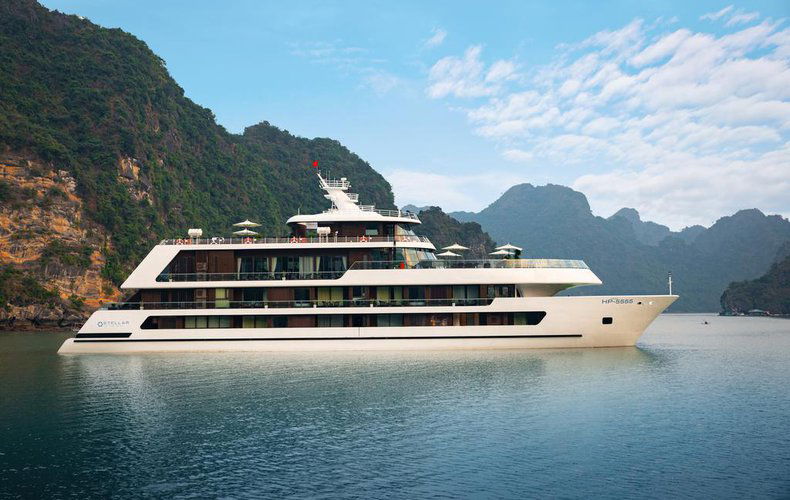 Stellar of the Seas: is considered as the most beautiful cruise in Halong bay.
 
Operates: Aclass Legend Cruise, Carina Cruise, Aclass Stellar Cruise and Stellar of the Seas.
Aclass Cruises have 12 years of experience in the hospitality industry and remain a reputable company in the Halong Cruise industry. They have 4 cruise lines running through Halong Bay, Lan Ha Bay and Bai Tu Long Bay. Aclass Stellar is by far the biggest Aclass cruise liner with 21 cabins and wonderful facilities onboard, including a swimming pool and mini-golf course. In comparison, Carina Cruise is its most intimate and luxurious option, with just 9 luxury cabins onboard. Each line also offer a daily shuttle service to and from Hanoi leaving between 7:45 a.m and 8:15 a.m.
Activities:
Tour in local bamboo boat.
Kayaking through floating village.
Swimming.
Trek to the top of Titop Island.
Taichi Class.
Squid Fishing at night.
Cooking demonstration.
Perks:
Aclass Cruises travel to Halong Bay, Lan Ha Bay and Bai Tu Long Bay.
Stellar of the Seas has fantastic onboard facilities including an onboard swimming pool onboard, mini-golf course, beauty spa and a wine and cigar cellar.
There are staff available that speak English, French and Vietnamese.
Prices: $250 USD.

Duration of Trips: Day trips, 2 days 1 night, 3 days 2 nights.