Depending on who you're traveling with, different kinds of cruises offer different services. We want to make sure you choose the right cruise that fits your travel style.
Solo Travelers
Solo travelers pretty much have the world at their feet because they can just follow their own wishes without having to cater for anyone else. Therefore, solo journeys depend entirely on the traveler's personal preferences.
Crusing Halong bay is actually a great option for solo travelers as they are jam-packed with activities that keep you busy and entertained, and also give you the opportunity to meet other guests from other parts of the world.
Depending on what kind of trip you want, we suggest browsing cruise itineraries of different cruise operators online before booking anything. This way you can choose a busy itinerary with many scheduled activities or, a relaxing itinerary with just some swimming, sunbathing and relaxing. It's also completely down to the individual to decide their price range - cruise types range from ultra-budget to ultimate luxury so the world is truly your oyster.
For a more sociable trip it is advisable to pick a cruise line with more cabins, as this means more people around to talk to and get to know. For a quieter trip, choose a cruise line with less cabins.
TIP: solo travelers traveling in the off-peak season should look online for any deals aimed at solo travelers - this could get tourists a good discount off their trip!
Backpackers/Budget Travelers
For travelers on a shoestring budget, looking for a good time full of friends and fun, it's possible to find Halong cruises at under $100 for 2 days and 1 night. The best place to find these ultra discounted cruises would be at travel agencies around the Old Quarter of Hanoi. The travel agencies display their prices on a board outside so you just need to walk around and find the right deal for you. Look for a cruise that includes a range of activities to help give you some amazing life experiences. Additionally, if you want to meet lots of new people, opt for a ship with more cabins. More cabins means more friends.
TIP:Cheaper cruises may bring some discomfort as the boats will be older, meaning noisier engines - travelers are advised to bring earplugs!
An alternative option for backpackers is a stay on Castaway Island in Lan Ha Bay for a memorable experience. Stays on this private island are 3 days and 2 nights long and are operated by Central Backpackers Hostel found in Hanoi's Old Quarter. The itinerary for Castaway Island includes days full of activities and evenings of games and drinks.
To visit Halong Bay while keeping outgoings to an absolute minimum, the best option might be a day trip. This way you can pay around $30 - $40 USD to visit Halong Bay for 4-6 hours, barely making a dent in your wallet.
TIP: When booking a cruise, make sure that food, water, Hanoi transfer and activities are included in your trip price - you don't want to end up paying any extra hidden fees.
Couples
Halong Bay is a truly wonderful choice for a romantic getaway. Many choose to visit Halong Bay on their honeymoon, or just to enjoy the scenery while enjoying some one-on-one time with their loved one.
For travelers honeymooning in Halong Bay, we recommend choosing one of the luxury cruise lines for an idyllic trip. Orchid Cruises or Bhaya Cruises are highly recommended.
If you have the spare cash, why not splash out a little and book the L'Amour Junk private charter boat, for the ultimate privacy and romance. If you don't want to break the bank, Indochina Junk also do cruises with boats that have 14 or so cabins, meaning that you still get the luxury experience but at a much lower price.
TIP: Be sure to let the ship's crew know if it's your honeymoon as they may go the extra mile to make the trip super special.
Families
If you're traveling with young children there are three important things to consider when looking for your cruise: safety, cabin suitability and a kid-friendly service. Many cruise lines have cabins catering to couples or solo travelers, so parents with young children need to keep an eye out for rooms that fit the whole family. Some luxury cruise lines provide cabins that are particularly suitable for families with young children. Parents should look for terrace suites with enough room for two adults and one or two children or deluxe cabins with connecting rooms.
Parents traveling with younger children should also keep an eye out for kid-friendly deals: many cruises will charge a discounted price for children under the age of 12, and often kids under 4 do not have to pay. Please note that children aged 12 and up are usually considered adults and are charged adult prices.
Another option for families is to hire a private cruise. Booking a private cruise means that you have the whole boat to yourself and often you can make your own itinerary. It also means that the whole ship's crew are there to cater to you and your family, making it easy to keep everyone in the family happy! Whichever option is right for your family, you should ensure that the activities offered on the cruise are suitable for your family. Peruse the cruise itineraries carefully before selecting and consider which activities are the most suitable before booking.
On the whole, when you're traveling with your loved ones, it's very important to make sure you choose a reputable cruise company that has a stellar safety record.
Questions and Answers
(0)
Be the first to ask a question on this page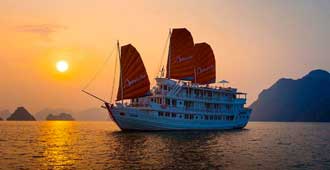 Discover the charming and exotic landscapes of Halong bay on an all-inclusive luxury cruise!
Meet local experts
Need to create your own Halong bay trip?
Call us now: +84 987 24 6600 (Whatsapp)
Customize Your Tour
QUESTION FORUM:
Halong Bay: Questions