Bhaya Cruises
Lot 9, Tuan Chau Marina, Ha Long, Vietnam
Show map
Price from: US$ 154 (Save 9%)
US$ 140 /pax
Booked 4 times in the last 24 hours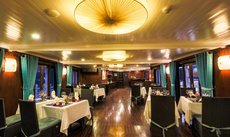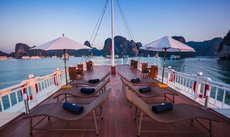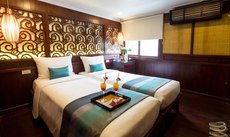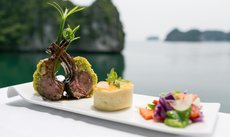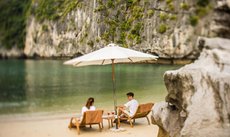 Bhaya Halong Cruises is a reputable cruise operator on Halong Bay with many years of experience.
The cruise line offers numerous choices for both groups and independent travellers.
The interior is fitted with adequate amenities for a comfortable stay.
The fleet provides excursions to prominent tourist sites of Halong Bay, Lan Ha Bay, and Bai Tu Long Bay, depending on the type of cruise you choose.
Cruise information
Itinerary:
Halong Bay - Titop Island - Trinh Nu Cave - Sung Sot Cave
Rooms & rates
We Price Match
Select date and package options
Clear all
Accommodation Type
Deluxe Room with Sea View
Size: 13 m²
Bed options: 2 single beds or 1 large double bed
Max: +
Max adults: 2
Max children: 1(up to 12 years of age)
Suite with Private Terrace
Size: 17 m²
Bed options: 1 large double bed
Max: +
Max adults: 2
Max children: 1(up to 12 years of age)
Premium Double or Twin Room with Balcony
Size: 16 m²
Bed options: 2 single beds or 1 large double bed
Max: +
Max adults: 2
Max children: 1(up to 12 years of age)
Complete all required fields to continue
(Child Policy & Extra Bed Charge )
About Bhaya Cruises
Bhaya Halong Cruises is a fleet of long-established, traditional boutique cruises. There are shared and private charter cruises catering to all your demands with an intimate and vibrant cruise experience.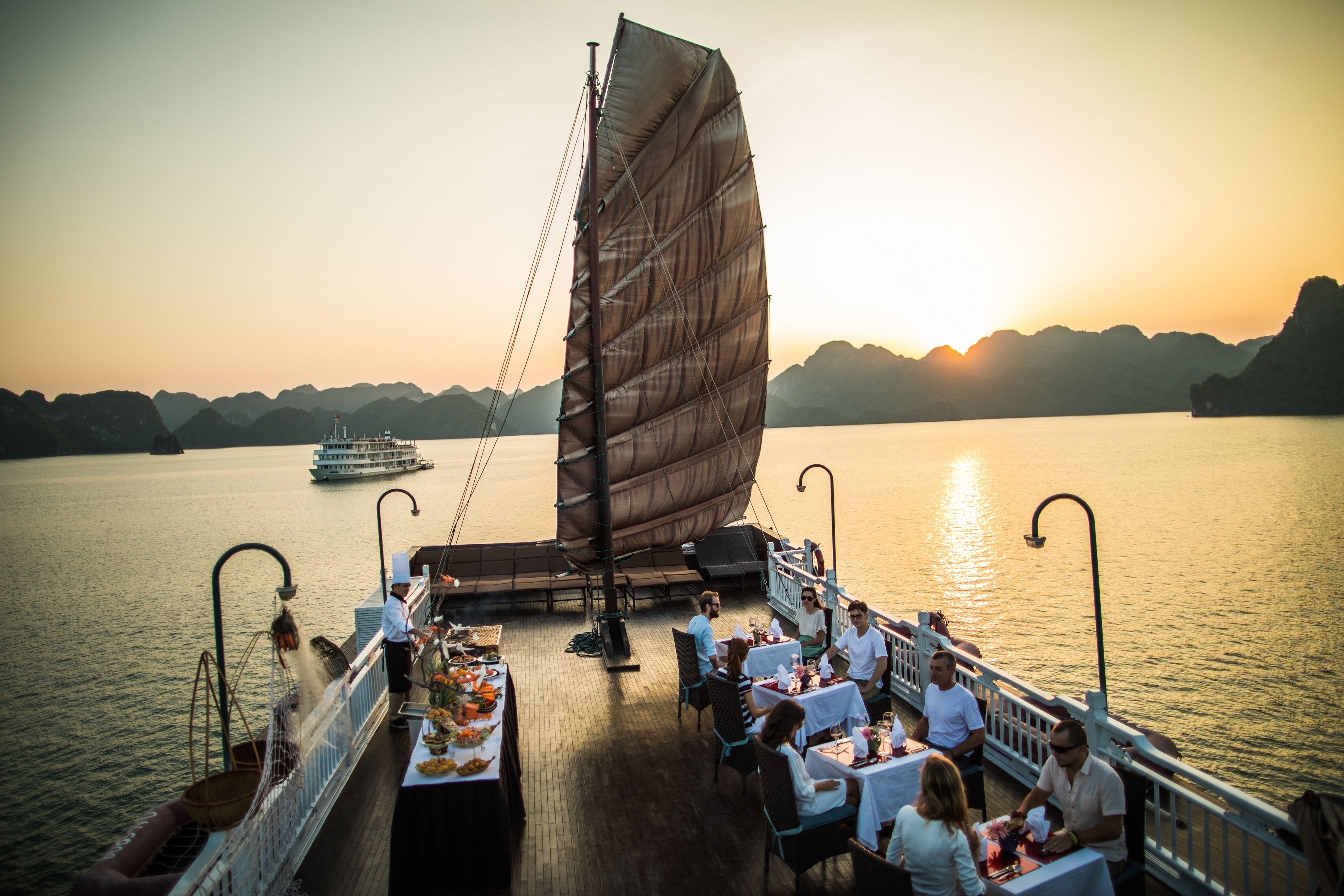 Pros
+ A wide selection of cruises that suit various kinds of travelers.
+ Staff and crew are very helpful and professional.
+ A plethora of cruise itineraries and activities to take part in.
Cons
- The boats and the cabins are small and not very well-appointed.
- Halong Bay is very touristy and the locations and the beaches are polluted.
Bottom Line
Bhaya Halong Cruises are suitable for budget-minded tourists who wish to explore well-known attractions in the Halong Bay area.
Itinerary & activities
It depends on the type of cruise you option as well as the cruise duration that you have different excursions to either Halong Bay, Lan Ha Bay, or Bai Tu Long Bay. During the 2-day journey, you'll explore Halong Bay with attractions such as Trinh Nu Cave and Sung Sot Cave – the largest cave in Halong Bay.
Meanwhile, the 3-day journey provides ample opportunities to visit both Lan Ha Bay and Bai Tu Long Bay.
Cruise quality
Bhaya wooden boats look a little bit ageing after a long time of operation. Small-sized deluxe and terrace suites are equipped with essential amenities and are adorned with traditional Vietnamese touches.
Cabin quality
There are a limited number of cabins on Bhaya Cruises and each cruise has a different capacity. Most cabins are furnished with a large window, while classic terrace suites provide access to the private terrace. You can find many necessary in-room facilities within the staterooms.
Service & facilities
The cruise line is fitted with adequate facilities at an affordable price for families and groups of friends looking for quality time staying together. Passengers can experience almost all the services and amenities that are on larger ships, including a restaurant, a bar & coffee shop, BBQ facilities, room services, and a smoking area.
Food & Drink
The dining room serves meals in various culinary styles, namely buffet, set menu, and a la carte style.
There is a Happy Hour time for you to enjoy a selection of drinks and snacks. In addition to this, you can sip cocktails, wine, spirits, and soft drinks in the bar.
Frequently asked questions
Are Bhaya Halong Cruises suitable for couples?
Yes. Couples can choose a small junk with a few cabins to enjoy privacy and intimacy onboard.
Where do Bhaya Halong Cruises visit?
The cruise line offers journeys to Halong Bay, Lan Ha Bay, and Bai Tu Long Bay, depending on the type of cruise and duration selected.
Are children free of charge?
Children under 5 years old are free of charge onboard.
Is WIFI available onboard?
Yes, but the WIFI connection is unstable in some parts of the cruise.
Are the cruise budget-friendly?
Yes. Bhaya Halong Cruises offer cruise excursions and cabins at affordable prices for mid-range travelers.
Maps and Itineraries
Lot 9, Tuan Chau Marina, Ha Long, Vietnam
Our guest's experiences (8)
| | | |
| --- | --- | --- |
| 5 star | | 8 reviews |
| 4 star | | 0 reviews |
| 3 star | | 0 reviews |
| 2 star | | 0 reviews |
| 1 star | | 0 reviews |
S
Sandra Rodriguez
9 months, 2 weeks ago
From the transfer, check-in, check-out to all the schedule, everything was so efficient and well organized. The exploration in the cave was captivating, the bays were perfect, food was tasty, and rooms were okay. However, Halong Bay had quite many other boats and wifi connection on board was really weak. My advice is to bring cash with you as paying by card is charged a bank fee.
2 people found this helpful
Helpful
G
Giulia Rizzo
6 months, 2 weeks ago
Bhaya staff spoke great and fluent English and they were all really kind and supportive. The boat was lovely and visited lots of gorgeous destinations in only 3 days. We were vegetarian and with our request in advance, the cruise really prepared great dishes to meet our needs. Cannot recommend this cruise more, truly fantastic!
Fabulous! We did the 2-night tour with Bhaya classic and everything was beautiful and memorable. We highly suggest this cruise as you will be involved in a lot of exciting activities - kayaking, swimming, caving, visiting farms & villages, cooking,... Things may seem rushed but you do not have to join all activities if you don't want to. Meals offered a lot of options and were all very yummy. Rooms were clean. Halong Bay was spectacular.
S
Sabine Keller
6 months, 2 weeks ago
We are a senior couple and spent 2 nights on Bhaya Cruise. Although we did not take part in many activities such as caving or visiting a fishing village, we really loved the dazzling views of the bays as well as all the wonderful amenities here. The cruise team was helpful and also attentive to our needs, they were all really friendly and polite. The food was superb. However, as we spent most of the time sightseeing, it got boring sometimes, so I suggest choosing a 1-night tour only for senior travelers.
J
Jean Dupont
6 months, 1 week ago
The cabins were nice, clean, with great room services despite its quite small size. The destinations were absolutely among the most gorgeous places we have visited in Vietnam, especially the caves. The food was delectable although some dishes were a little bland to me. The staff were excellent. The highlight was surely kayaking and swimming, which was really cool and pleasant with magnificent views.
3 people found this helpful
Helpful
D
David Martin
7 months, 3 weeks ago

A wonderful vacation with Bhaya Cruise! The whole crew were very professional and friendly. My wife and I had so much delicious Vietnamese food while on board and we also truly enjoyed all the off-deck excursions around the bays. We loved Bai Tu Long Bay and its wild serene beauty! However, the weather in June was extremely hot and I must say the A/C did not work really well.
E
Emma Clark
7 months, 2 weeks ago
Our experience with the Bhaya cruise was definitely above our first expectations. We took a 3-day tour and the most memorable moment was kayaking as well as a visit to Vung Vieng fishing village & pearl farm. The chef was very hospitable and the food was diverse and delicious. He also catered well to my vegetarian diets, which I really appreciated! We learned to make spring rolls, enjoyed sunbathing and relaxing on the sundeck,... The bays were absolutely stunning and we hope this cruise and the locals will continue their efforts for sustainable tourism!
2 people found this helpful
Helpful
D
David Smith
7 months, 2 weeks ago
Overall, it was a very nice cruise. The staff were so supportive and made great efforts to make your experience as memorable and pleasant as possible. The tour guide, Mr. Tom, was informative and funny! Although some parts were slightly outdated and wifi was slow and unstable, the trip was great thanks to the lovely crew, amazing bays, and good activities.
3 people found this helpful
Helpful
Questions and Answers (0)
Be the first to ask a question on this page!
Talk to a cruise expert
Request a call back
Or Email us
Our customers' experiences

My wife and I recently visited Halong Bay on Peony cruise. The price is very reasonable and the vegetarian food …
Chloe (Australia)

I contacted Visit Halong Bay staff for some trip idea and they responded very swiftly with good recommendations.
Nina Ng (Singapore)

My trip to Halong Bay was delayed because of Covid-19 and I am so glad that I made it back …
Christine Nguyen (Australia)
You might also like...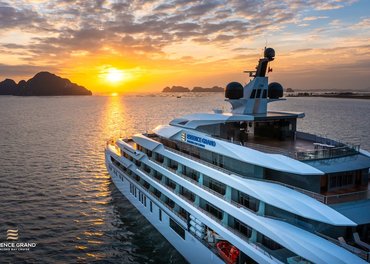 9% OFF
Halong Bay
Launched 2023 - Steel - 55 cabins
Outdoor swimming pool
Ultra luxury
Triple room
Kid-friendly
Booked 10 times in the last 24 hours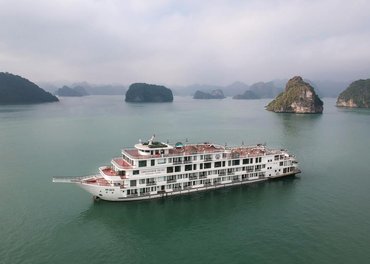 9% OFF
Halong Bay
Launched 2018 - Metal - 46 cabins
Outdoor swimming pool
All cabins with balcony
Elevator
Halong Bay route
Booked 5 times in the last 24 hours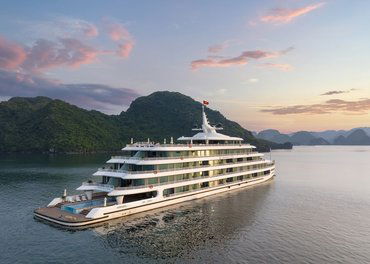 9% OFF
Halong Bay
Launched 2023 - Metal - 39 cabins
Outdoor swimming pool
Ultra luxury
Family rooms
Spa
Booked 10 times in the last 24 hours