La Regina Royal Cruise
Halong International Cruise Port, 9 Ha Long Street, Bai Chay Ward., Ha Long, Vietnam
Show map
Price from: US$ 143 (Save 9%)
US$ 130 /pax
Booked 3 times in the last 24 hours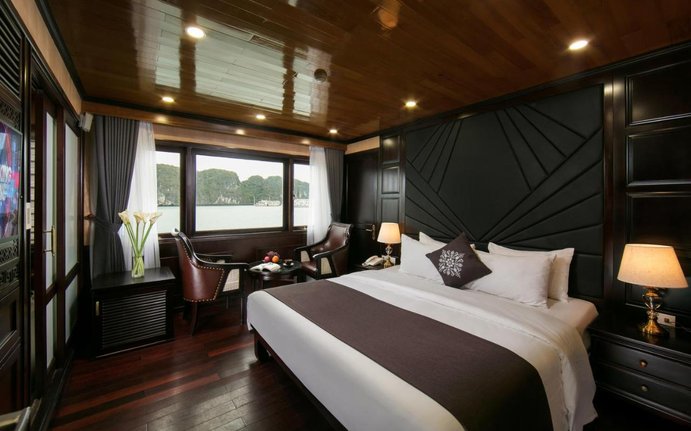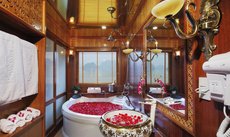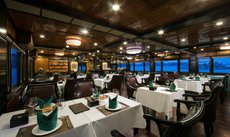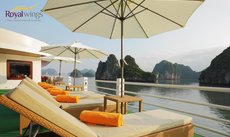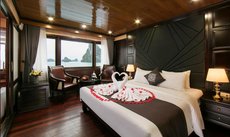 A youthful cruise boasting elegant traditional Vietnamese designs
Cozy accommodations with an ocean-view bathtub and fully-stocked amenities
Superb facilities offering excellent experiences - spa & wellness, squid fishing, food carving lesson,...
Unique routes exploring the unspoiled Bai Tu Long Bay
Cruise information
Itinerary:
Bai Tu Long Bay - Thien Canh Son Cave - Vung Vieng Fishing Village
Operator:
Sen Hoang Gia Company Limited
Rooms & rates
We Price Match
Select date and package options
Clear all
Accommodation Type
Noble Suite with Whirlpool Bath
Size: 26 m²
Bed options: 3 single beds or 1 single bed and 1 large double bed
Max: +
Max adults: 3
Max children: 1(up to 12 years of age)
Imperia Suite with Whirlpool Bath
Size: 26 m²
Bed options: 3 single beds or 1 single bed and 1 large double bed
Max: +
Max adults: 3
Max children: 1(up to 12 years of age)
Grand Royal Suite with Whirlpool Bath
Size: 35 m²
Bed options: 1 single bed and 1 double bed
Max: +
Max adults: 3
Max children: 1(up to 12 years of age)
Complete all required fields to continue
(Child Policy & Extra Bed Charge )
About La Regina Royal Cruise
A cruise with La Regina Royal offers an unforgettable experience, where tourists will encounter breathtaking bays and seas, impressive local attractions, and exquisite onboard facilities. With delightful Vietnamese traditional patterns, the cruise fosters a cozy and inviting ambiance, ensuring a warm welcome for all guests.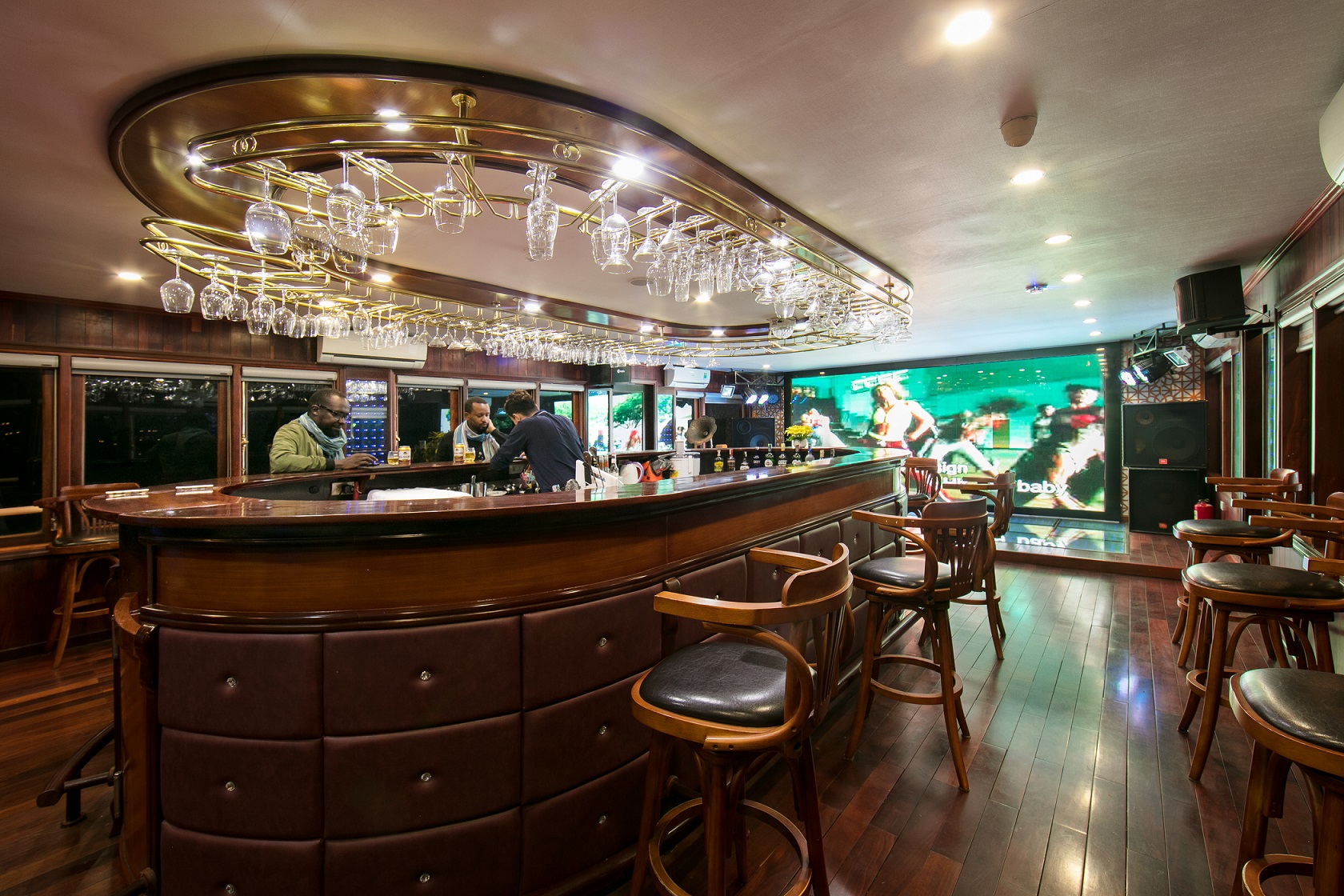 Pros
+ Cabins and public places are spacious, clean, and of high quality.
+ Helpful and conscientious staff team are always willing to assist.
+ Delicious drinks with reasonable prices.
Cons
- Check-in and check-out need improvements with better management.
- Limited options for vegetarian food.
Bottom Line
Coming to La Regina Cruise, passengers will be immersed in the soothing and serene allure of its Vietnamese traditional patterns, top-notch facilities, and dedicated services.
Itinerary & activities
On the first excursion with La Regina Royal Cruise, travelers will be taken to Luon Cave or Thien Canh Son Cave for kayaking or boat rowing & exploring the impressive seascapes. The next trips to Titop Island and Sung Sot Cave offer tourists gorgeous panoramic views across Halong Bay. Those opting for a 2-night schedule will have a great opportunity to find the utmost tranquility in the Cong Do area and Vung Vieng fishing village of Bai Tu Long Bay.
Experiences on board also promise an enjoyable vacation with sunrise Tai Chi, night squid fishing, Happy Hour, and so on.
Cruise quality
La Regina Royal showcases the timeless elegance of Vietnamese traditional themes through its regal architecture, adorned with cozy wooden designs and delicate decors.
Cabin quality
La Regina Royal boasts 20 lovely cabins, featuring its own regal styles with delicate wooden architecture and elegant decors. Each suite is well furnished with TV, broad windows overlooking gorgeous bays, an ocean-view bathtub, chairs & table, and so on. All details harmoniously combine and foster a cozy pleasant stay.
Service & facilities
La Regina Royal delights passengers with captivating experiences in every corner. The airy sundeck, a beloved spot for all guests, offers a tranquil space to admire dazzling panoramic views and indulge in delicious cocktails. The spacious dining and bar area with the capacity of up to 60 guests each, foster an intimate atmosphere for cozy gathering meals. Guests can also unwind their mind with the spa's natural treatments right on board.
Food & Drink
The restaurant offers a perfect fusion of Vietnamese specialties and international cuisines from all over the world, specializing in fresh and delicious seafood from local sources. A drink list from the bar including both non-alcoholic and alcoholic beverages adds a perfect touch to the onboard culinary journey.
Frequently asked questions
What drinks does the cruise have?
The drink list of La Regina Royal includes teas, coffees, fresh juices, mock-tails, cocktails, spirits, and wines from around the world.
What are the serving times of the restaurant?
The serving times of the restaurant are as below:
Breakfast: 07:00 - 08:30
Brunch: 10:00 – 11:00
Lunch: 12:40 - 14:00
Dinner: 19:00 - 20:00
Does the cruise have wifi?
Yes, the cruise does offer wifi. However, the Internet connection can be unstable due to the sea conditions.
What room types does the cruise have?
The cruise offers 3 different cabin types: Grand Royal (2 rooms); Imperial Suite (6 rooms); and Noble Suite (12 rooms). The room sizes vary from 26 - 35m2.
Are spa & massage services included in the price?
No, the price does not include spa & massage services.

Maps and Itineraries
Halong International Cruise Port, 9 Ha Long Street, Bai Chay Ward., Ha Long, Vietnam
Our guest's experiences (8)
| | | |
| --- | --- | --- |
| 5 star | | 7 reviews |
| 4 star | | 1 reviews |
| 3 star | | 0 reviews |
| 2 star | | 0 reviews |
| 1 star | | 0 reviews |

We highly recommend this cruise to anyone who traveled as a family with kids like us. The boat was cozy and secure. Staff were also attentive and took great care of our children (4 and 6 years old). Rooms were spacious and activities were fascinating, especially exploring caves. The bays were magnificent and the tour guide was polite and funny.
A
Amity Lee
7 months, 3 weeks ago
Pickup from the hotel was on time and very smooth, the bus also had wifi, which was very convenient. We were the first to arrive at the pier, but check-in and transferring on board took a lot of time. Rooms were well appointed and also featured a jacuzzi. The weather in August was rainy and foggy so we did not watch the bays clearly, what a shame! But the cruise was nice with kayaking, caving, spring roll making classes,... Food was delicious but I would love to have had more Vietnamese cuisines.
1 people found this helpful
Helpful
L
Lin Meredith
6 months, 2 weeks ago

Spa services were incredible and the staff were awesome. We did not go on excursions because my grandmother had difficulty walking. But the views were spectacular and we really enjoyed the sightseeing and onboard activities. Wifi was free but there was no stable connection. The bay was undoubtedly stunning but very crowded in winter.
3 people found this helpful
Helpful
J
Jena
8 months, 2 weeks ago
A great cruise to our family! Positives: friendly helpful staff; lovely decorations; fun tours and activities, especially cooking classes; magnificent scenery of the bays. Negatives: check-in took a lot of time and it was really unpleasant during the hot summer; the sea had some plastic bottles.
G
Georgie March
7 months, 3 weeks ago
Beautiful traditional boat and amazing staff services. The cabins were large, suitable and friendly for families with kids too. Meals were nice but I suggest you provide more vegetarian options. On the other hand, I think the itinerary needed improvement the most because we had to wait a long time for transferring and exploring caves. Kayaking was fun though!
2 people found this helpful
Helpful
C
Christina Louisa
8 months, 1 week ago

I was so impressed with the cozy accommodation on board, it even had a bay-view jacuzzi. Ti Top island visit was definitely the highlight of the trip thanks to fun activities and breathtaking panoramic views. One thing was that when I checked out, it was quite chaotic and crowded. This process really needed improvement in the future.
3 people found this helpful
Helpful
F
Finn
8 months, 3 weeks ago
Bai Tu Long Bay was amazingly tranquil and we had a truly memorable escape from daily life. We were welcomed on board with hot tea and great hospitality from staff. Rooms were clean and beautifully decorated; the balcony had gorgeous views but the balcony chairs were quite uncomfortable to me. Happy hour was buy 1 get 1 and drinks were delicious and diverse.
A
Alva Foo
9 months, 2 weeks ago
A nice ship and great value for money! The food was delicious and diverse for the buffet options for both days. Vietnamese cuisine was truly unique and tasty. Staff were friendly and attentive to our needs. But I also believe that the boat required a little updating as it was not as new as I expected. We were happy that we chose the Halong Bay cruise and had a lot of beautiful memories!
3 people found this helpful
Helpful
Questions and Answers (0)
Be the first to ask a question on this page!
Talk to a cruise expert
Request a call back
Or Email us
Our customers' experiences

My wife and I recently visited Halong Bay on Peony cruise. The price is very reasonable and the vegetarian food …
Chloe (Australia)

I contacted Visit Halong Bay staff for some trip idea and they responded very swiftly with good recommendations.
Nina Ng (Singapore)

My trip to Halong Bay was delayed because of Covid-19 and I am so glad that I made it back …
Christine Nguyen (Australia)
You might also like...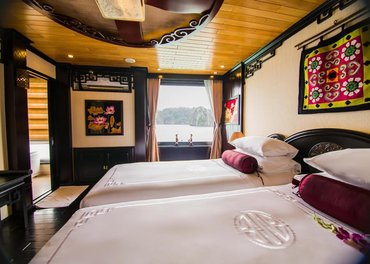 8% OFF
Bai Tu Long Bay
Launched 2014 - Metal - 24 cabins
Outdoor swimming pool
Free kayaking
Spa
Bar
Booked 5 times in the last 24 hours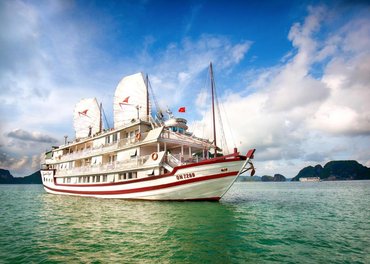 8% OFF
Bai Tu Long Bay
Launched 2014 - Wooden - 16 cabins
Cooking class
Family rooms
Free kayaking
Bai Tu Long Bay route
Booked 6 times in the last 24 hours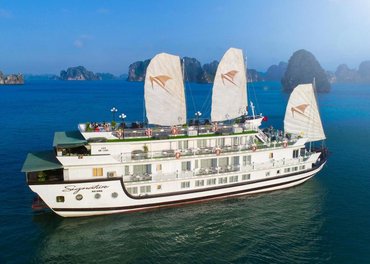 9% OFF
Bai Tu Long Bay
Launched 2013 - Wooden - 12 cabins
Cooking class
Family rooms
All meals included
Bai Tu Long Bay route
Booked 2 times in the last 24 hours