Royal Palace Cruise
Lot 26, Tuan Chau Wharf, Ha Long, Vietnam
Show map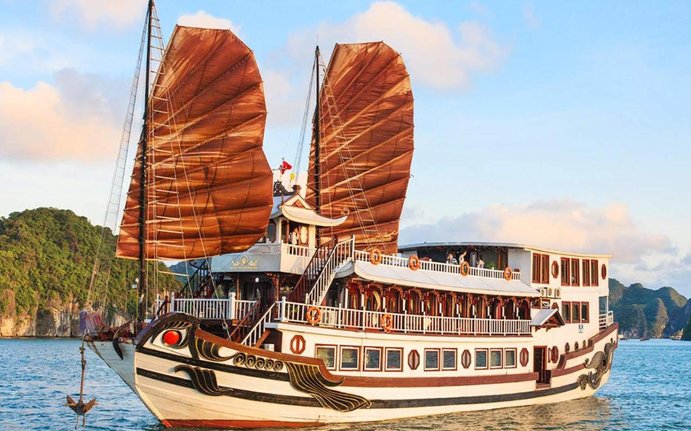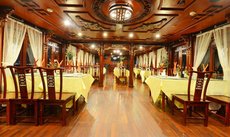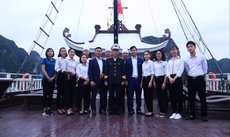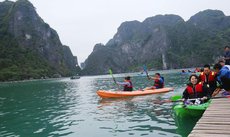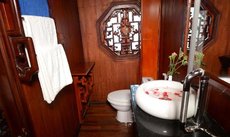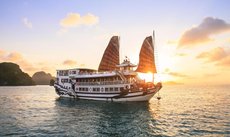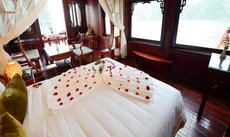 A mid-range cruise in traditional wooden junk style
Hearty meals with a lot of seafood options
Diversity of activities: swimming, kayaking, rowing boat, Tai Chi, cooking class, fishing squid,...
Focusing on natural and local experience
Itinerary on Halong Bay and Lan Ha Bay with signatures: Surprising Cave, Titop, Bright Cave, Ba Trai Dao Beach, etc.
Cruise information
Itinerary:
Halong Bay - Pearl Farm - Titop Island - Sung Sot Cave
Operator:
Halong Royal Palace
Rooms & rates
We Price Match
Select date and package options
Clear all
Accommodation Type
Deluxe Cabin (Free Two-way Transfer Service)
Size: 16 m²
Bed options: 2 single beds or 1 double bed
Max: +
Max adults: 2
Max children: 1(up to 12 years of age)
Ocean View Cabin (Free Two-way Transfer Service)
Size: 18 m²
Bed options: 2 single beds or 1 large double bed
Max: +
Max adults: 2
Max children: 1(up to 12 years of age)
Royal Suite with Balcony (Free Two-way Transfer Service)
Size: 28 m²
Bed options: 1 large double bed
Max: +
Max adults: 2
Max children: 1(up to 12 years of age)
Family Cabin(Free Two-way Transfer Service)
Size: 25 m²
Bed options: 1 single bed and 1 large double bed
Deluxe Double or Twin Room
Size: 16 m²
Bed options: 1 double bed or 2 single beds
Complete all required fields to continue
(Child Policy & Extra Bed Charge )
About Royal Palace Cruise
Launched in December 2014, Royal Palace Cruise is one of the pioneering middle-level wooden cruises in Halong Bay. With the ancient wooden junk design but modern facilities, the cruise provides a rustic refuge but necessary comfort and convenience for an unforgettable experience on the bay.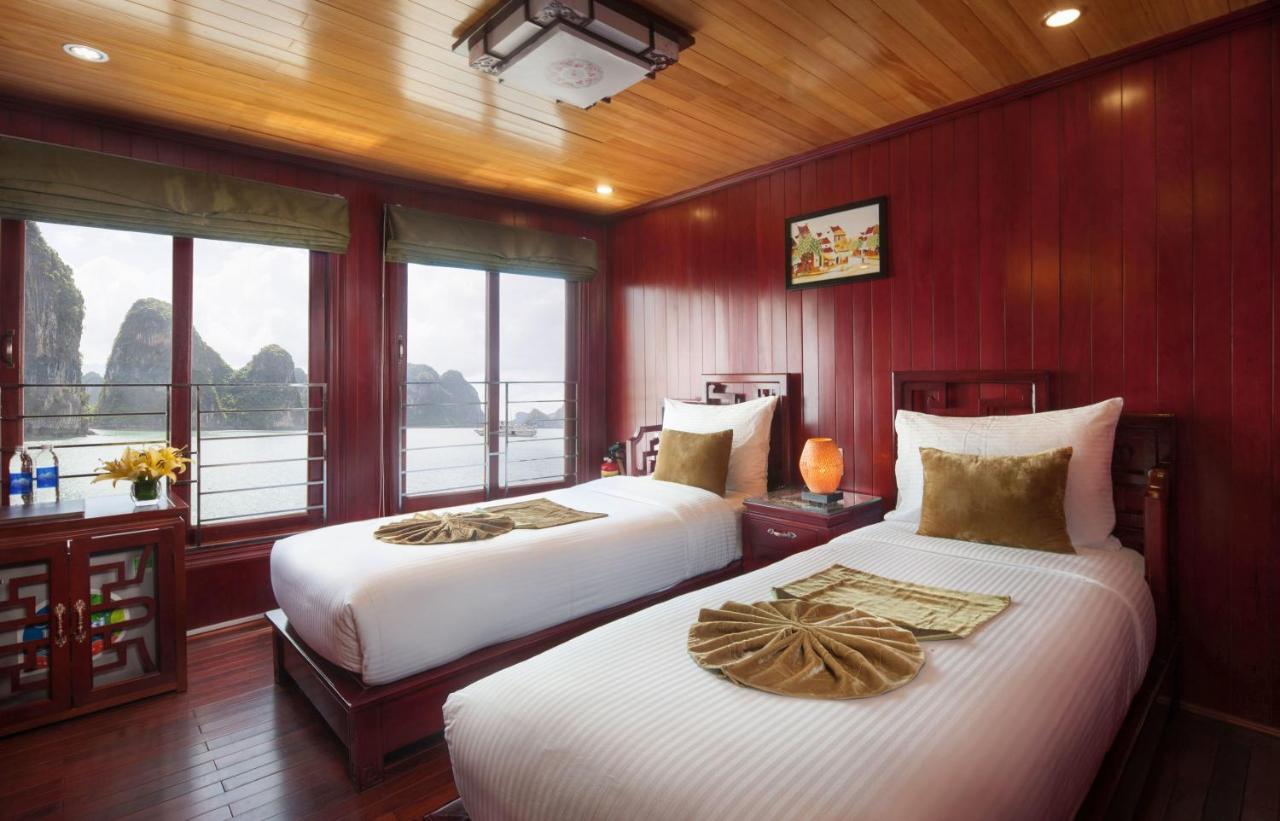 Pros
+ Activities are diversified.
+ Staff is very friendly and goes above and beyond.
+ Food for lunch and dinner are plentiful.
Cons
- The excursions are very crowded.
- Breakfast is average and needs more variety.
- Wifi does not work.
Bottom Line
Royal Palace Cruise provides a classical-style ambiance of traditional junk and a perfect getaway with plentiful activities on Halong Bay.
Itinerary & activities
The voyage with Royal Palace Cruise is full of remarkable attractions namely Titop Island, Surprising Cave, Dark - Bright Cave, and Three Peach Beach. The cruising route offers incredible scenery of thousands of limestone islands and islets and vast blue ocean. Travelers can also participate in a series of activities onboard and out of the boat such as kayaking, swimming, sampan boat, cooking class, fishing squid, etc. A Taichi session in the early morning will be a good chance for visitors to breathe the fresh air and enjoy the calm bay.
Cruise quality
The wooden ship bears the imprint of traditional Vietnamese architecture. With meticulous and sophisticated interior design, the ship creates an opulent but intimate space. After many years of operation, despite being upgraded in the last few years, the ship is still somewhat degraded.
Cabin quality
14 deluxe cabins are located from the 1st to the 3rd level of Royal Palace Cruise. Measuring 16 to 25 square meters, each cabin comes with a wide window and an ensuite bathroom with a rain shower and all needed bath amenities. Royal Suites Cabin is the 2 best cabins with a large private terrace and an unobstructed view at the back of the vessel.
Deluxe (16 sqm): 1st level, 6 cabins, wide windows, double/twin.
Deluxe Family (22 sqm): 1st level, 2 cabins, 1 double and 1 single bed.
Ocean-view cabins (18 sqm): 3rd level, 4 cabins, wide windows, double/twin.
Royal Suite (25 sqm): 2nd level, 2 cabins, large private balcony, double/twin.
Service & facilities
On Royal Palace Cruise, the crew team is always willing to accommodate your needs and provide dedicated service 24/24. The cruise includes common facilities namely a cozy restaurant & bar, a capacious sundeck with chairs, and a spa with massage treatments. In addition, singing karaoke, fishing squid, or trying traditional costumes for kings and queens are unmissable activities on the cruise.
Food & Drink
Gastronomy onboard is local cuisine mixed with some Western flavors. Most of the food is served in a set menu with many seafood dishes yet no shortage of options for meat lovers or vegans. Basic drinks are stocked at the bar such as cocktails, fresh juice, wine, beer, soft drinks, etc.
Frequently asked questions
What is the disembarkation time?
The disembarkation time is around 12:00 pm.
Is drinking water included?
01 Complimentary bottles of water per guest will be provided in the cabin. For other drinks from the bar, you will pay when you check out.
Can I order non-seafood meals onboard?
Yes. The cruise serves non-seafood meals.

Do you provide shuttle bus service?
Yes. Shuttle bus service is available upon request.
Does the cruise have a family room?
Yes. There are 2 Deluxe Family Cabins. Each includes 1 double bed with 1 single bed and can accommodate 3 adults and 1 child.
Maps and Itineraries
Lot 26, Tuan Chau Wharf, Ha Long, Vietnam
Our guest's experiences (7)
| | | |
| --- | --- | --- |
| 5 star | | 6 reviews |
| 4 star | | 1 reviews |
| 3 star | | 0 reviews |
| 2 star | | 0 reviews |
| 1 star | | 0 reviews |
M
Mikaele
5 months, 3 weeks ago
The bay was speechless. There were majestic limestone rocks and the cave tour was fantastic. The hike at Titop Island was a bit difficult yet the view was well worth it. Our cabin was a bit small and the air-con did not work well. The staff was a plus on the tour. The guide and food and beverage staff were caring and attentive to details.
2 people found this helpful
Helpful
N
Nicolette
5 months, 2 weeks ago
The cruise runs smoothly and we love the classic style of the traditional vessel. Delicious food and comfortable cabin. The downside is that the time for excursions was short and we had to keep following the schedule strictly if we did not want to miss it. We had just around half an hour for kayaking since it took some time to arrange the kayak for everyone. The drinks were at a very high price.
N
Ng Swee Ping
6 months, 2 weeks ago
Shout out to the crew. My husband and I were nicely treated and well fed. The food and activities were varied. The schedule was tight yet all of the activities were exciting. We wish we had booked 2 nights so we have more time to relax onboard and enjoy activities. Halong Bay was stunning and it was a truly lifelong destination.
E
Eva Lyons
6 months, 1 week ago
Had a family trip for 2 nights. There were a bunch of activities, sometimes too many that you need more break time. Food was good and allergies were well taken care of. Staff could not be more helpful and were always smiling. The tour to Surprise cave, the island was incredible. Kayaking at the pearl farm was short while it was much better at the Bright cave. Swimming at the beach in the Lan Ha Bay area was fabulous. In short, if you love activities and the old style for a mid-range price, Royal Palace is the best choice.
A
Allen
4 months, 2 weeks ago
The ship was in traditional style with multiple activities on and offboard. Room and food were okay. The staff was friendly. Internet connection on the boat was bad.
P
Prashant
7 months, 3 weeks ago
We are 3 couples joining the Royal Palace for 2D1N. Our cabins were on the 3rd level with a stunning view of the bay. The cave and island were magnificent yet it was crowded. It would be better if we could go visit at another time but most cruises share the same itineraries. The food was great and plentiful. We will suggest this tour to my family.
3 people found this helpful
Helpful
T
Thomas Clement
6 months ago
A nice trip on the traditional wooden junk! The classic architecture and design offered a nostalgic vibe. The cabin was compact and had a wide window. We stayed in the Deluxe on the main deck. Food was a balance of seafood and non-seafood dishes but you can order special requests such as vegetarian, dairy-free or gluten-free, etc. Lunch and dinner were better than breakfasts.
Questions and Answers (0)
Be the first to ask a question on this page!
Talk to a cruise expert
Request a call back
Or Email us
Our customers' experiences

My wife and I recently visited Halong Bay on Peony cruise. The price is very reasonable and the vegetarian food …
Chloe (Australia)

I contacted Visit Halong Bay staff for some trip idea and they responded very swiftly with good recommendations.
Nina Ng (Singapore)

My trip to Halong Bay was delayed because of Covid-19 and I am so glad that I made it back …
Christine Nguyen (Australia)
You might also like...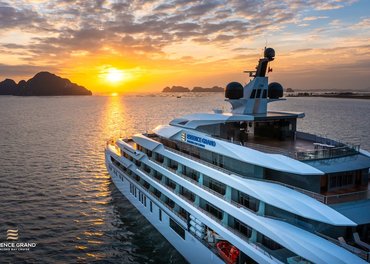 9% OFF
Halong Bay
Launched 2023 - Steel - 55 cabins
Outdoor swimming pool
Ultra luxury
Triple room
Kid-friendly
Booked 10 times in the last 24 hours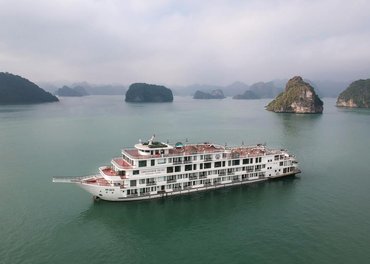 9% OFF
Halong Bay
Launched 2018 - Metal - 46 cabins
Outdoor swimming pool
All cabins with balcony
Elevator
Halong Bay route
Booked 5 times in the last 24 hours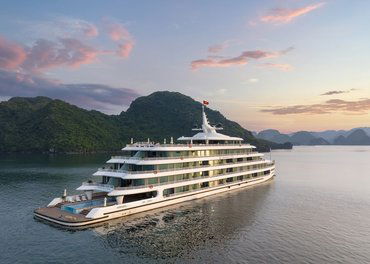 9% OFF
Halong Bay
Launched 2023 - Metal - 39 cabins
Outdoor swimming pool
Ultra luxury
Family rooms
Spa
Booked 10 times in the last 24 hours