Hai Phong is another major city in Northern Vietnam that is very close to Halong Bay. If you choose to go to Halong Bay from Hai Phong the most popular way to travel is by road but you can also take a ferry.
Here are the three main ways to travel from Hai Phong to Halong Bay:
1. Bus
Buses depart Hai Phong Lac Long bus station to Halong Bai Chay bus station every 15 minutes throughout the day. If you catch an official bus run by Hai Phong tourism it should cost around $2 one-way. There may be private buses running to Halong Bai Chay in the same bus station so be careful that you don't end up paying an overinflated price. The trip should take around 1.5 hours, traffic depending, and the last bus leaves at 6 pm. Bus timetables are subject to last minute change so be sure to be at the bus station with as much spare time as possible.
Once you arrive at Halong Bai Chay bus station you can catch a taxi to the cruise port or a hotel if need be.
Bus schedule between Hai Phong and Cat Bi Airport to Halong
| Bus | Depart | Arrive | Price |
| --- | --- | --- | --- |
| Minh Hiếu Limousine (9-seater) | Lac Long Bus Station (7:00 am) | Halong City (07:45 or 45 minutes) | 150,000 VND |
| Minh Hiếu Limousine (9-seater) | Cat Bi Airport (08:20 am) | Halong City (09:15 or 55 minutes) | 200,000 VND |
| Phúc Xuyên (46 seater sleeper bus) | An Duong, Hai Phong (14:55) | Bai Chay Bus Station (16:08 or 1h13m) | 60,000 VND |
Pro tip: Public bus is available every 15 minutes at Lac Long station (22 Cu Chinh Lan, Hong Bang, Hai Phong) to Bai Chay Station and the fare is 40,000 VND.
2. Taxi
If you opt for a faster way to get to Halong, you can easily book a regular taxi. Though more expensive, a taxi will be more comfortable than a bus and the drive is considerably faster. The journey should take you around 40 minutes and should cost between $30 and $45 dollars. When using taxis, you should always agree on a price beforehand to avoid hidden charges that are added at the end of your trip. Two reliable and well-known taxi services in Vietnam are Vinasun and Mai Linh, you can book a taxi via their websites. If you have trouble using the internet you can always ask your hotel or cruise provider to help you book a taxi.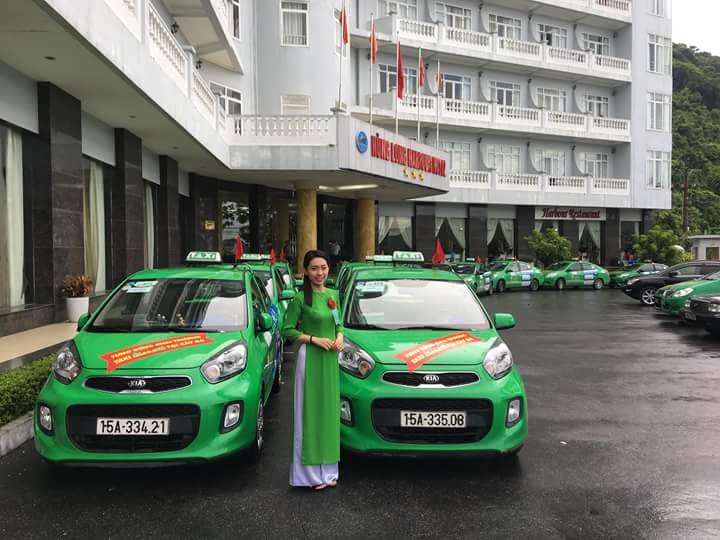 Mai Linh Taxi, one of the best and most reliable taxis in Hai Phong city.

Our recommended meter taxis in Hai Phong:
En Vang Taxi (Yellow) - 0313777999
Mai Linh Taxi (Green) - 0313833833
3. Ferry
Catch the ferry from Ben Binh ferry station in Hai Phong to Cat Ba island, then from Cat Ba island, you can catch another ferry to Halong Bay. The ferry from Hai Phong to Cat Ba island departs at 10 am and 2 pm every day, make sure you get there with plenty of time to make sure you don't miss it! Once at Cat Ba you can catch the hourly ferry to Tuan Chua marina, where all the Halong Bay cruises start. The total travel time should be around 3 and a half hours and the cost is around $8. The last ferries are at 4 pm but times are subject to change without notice so be flexible where you can.
Last updated: 24 August, 2019
READ THIS NEXT
The distance between Thailand and Halong bay is about 895 miles (1441 kilometers). From Thailand, the best and fastest option …
Read more
The distance from Sapa to Halong Bay is about 480km (298 miles). There are a couple of ways to transfer …
Read more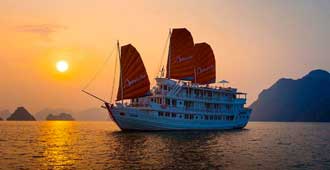 Discover the charming and exotic landscapes of Halong bay on an all-inclusive luxury cruise!
QUESTION FORUM:
Halong Bay: Questions
Free ITINERARY planning with us!
Planning your trip with our Halong local experts, we will help you with:
Accomodation: Find the best hotels/homestay or BnB.
Tours: Connect you to the trusted tour operator in Halong bay.
Cruises: Find the best cruise on your date!
It is all FREE