Halong Bay has a reasonable number of small overnight cruises, allowing you to immerse yourself in the beauty of the bay and enjoy a more extensive experience.
Nostalgia cruise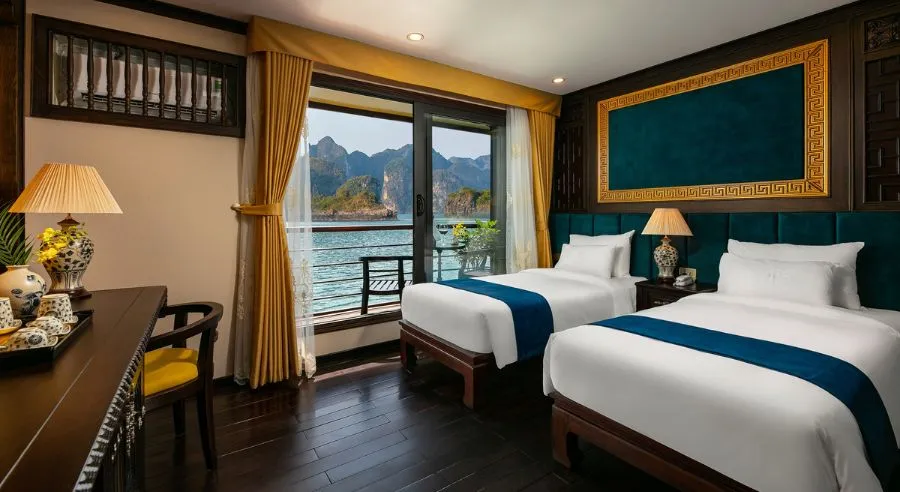 Year of operation: 2023
Number of cabins: 10
Embark on a delightful journey on the Nostalgia Cruise, setting sail in early February 2023. This newly launched, deluxe cruise guarantees utmost privacy with only 10 cabins in an intimate atmosphere. Its unique design resembles Hue Royal's architecture with a thoughtful arrangement of high-quality facilities including air conditioning, a minibar, an ocean-view bathtub with amenities, and a private balcony with a table and chair. At a glance, Nostalgia dining restaurant offers culinary delights in a traditional setting where you can savor a variety of featured dishes from Vietnam and Western nations. The cruise also has a swimming pool for a refreshing dip amid unparalleled scenery.
Whether you choose the 2-day, 1-night itinerary or the 3-day, 2-night option, rest assured that you will visit the most remarkable spots in Lan Ha Bay and engage in a wide range of leisure and recreational activities.
Orchid Premium Cruise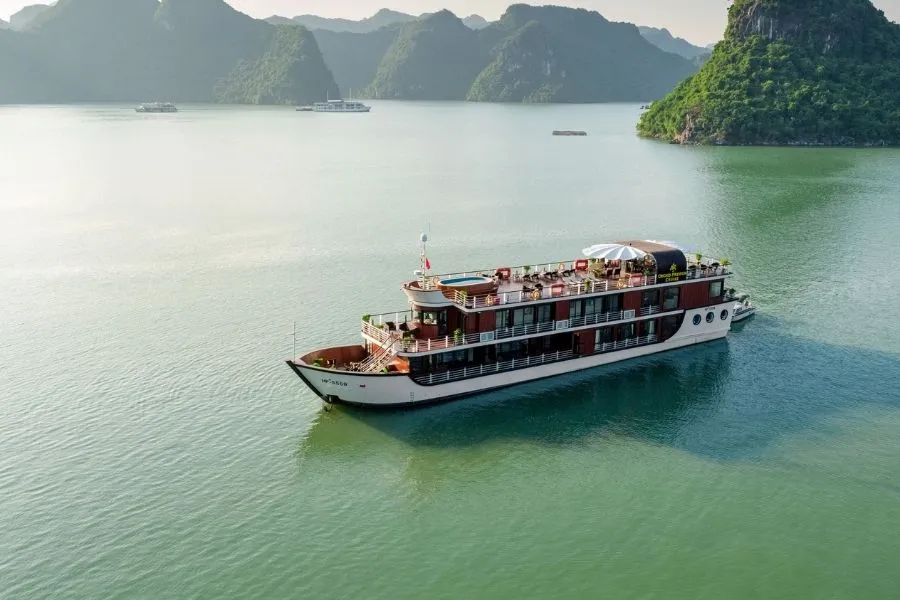 Year of operation: 2019
Number of cabins: 5
Experience the enchanting allure of Indochine architecture aboard the Orchid Premium Cruise, where the captivating essence of Asian traditions intertwines harmoniously with the romantic elegance of French design. The cruise consists of five exquisitely spacious suites, each featuring a private balcony offering sweeping views of the bay and a private bathtub for your relaxation and indulgence. Onboard accommodations especially fit families with children and small groups.
Orchid Premium Cruise's restaurant offers a fusion menu of Asian and European flavors. Meanwhile, the spa and a Jacuzzi on the top deck help you to balance your body and mind. With round-the-clock personal butler service, the Orchid Premium Cruise ensures an ultimate choice for a truly unforgettable stay.
Carina Cruise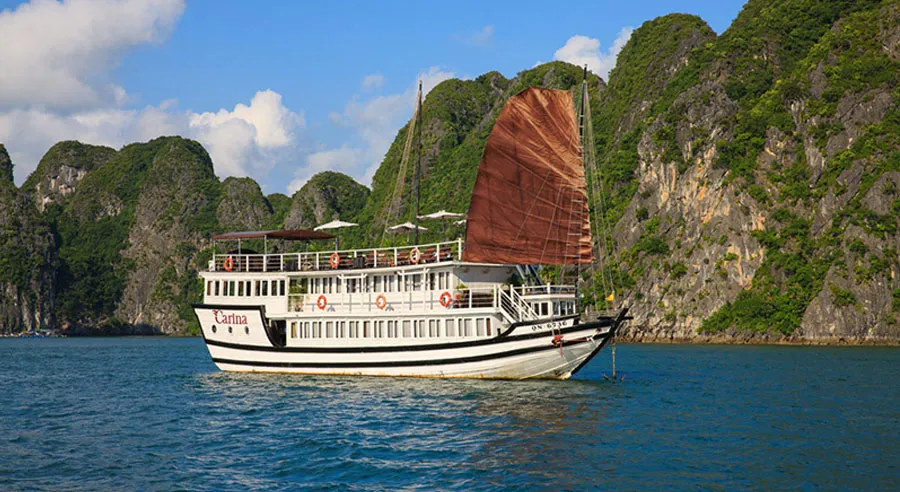 Year of operation: 2014
Number of cabins: 9
Carina Cruise offers a medium-sized space with personalized services and a cozy atmosphere for individuals, couples, and small groups. Deluxe and premium cabins are designed with large windows offering you stunning bay views. Choosing Carina Cruise, you gain access to lesser-populated areas of Halong Bay and Lan Ha Bay including Surprising Cave, Cua Van Floating Village, Three Peaches Islets, Dark and Light Cave, and pearl farm. You can also dive into the crystal-clear waters for swimming, embark on adventurous kayaking journeys, try your hand at fishing, explore the underwater world through snorkeling, experience the charm of local boat rowing, and embark on a trek to the island's summit.
Bhaya Premium Cruise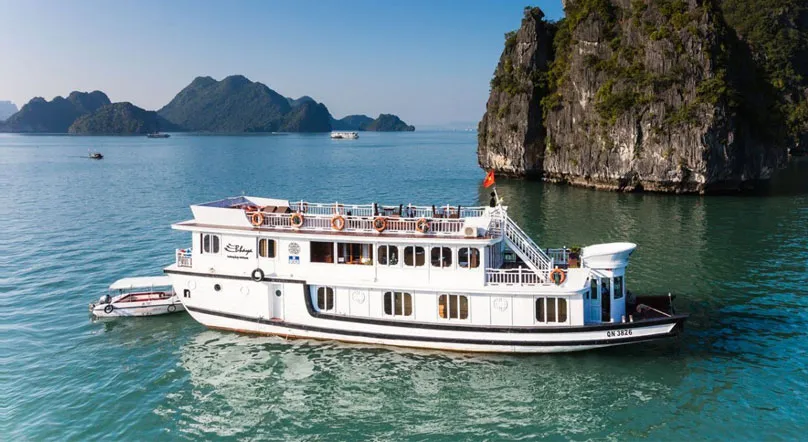 Year of operation: 2015
Number of cabins: 4
Bhaya Premium Cruise is a small and private boat with only 4 cabins. The cruise is especially suitable for couples and groups of 4 to 5 people. All cabins feature an average size of 22 sqm and each has a private balcony and other modern facilities. Journeys exploring Halong Bay aboard Bhaya Premium Cruise vary from 2 to 3-day itineraries to a 2-day trip by seaplane from Hanoi. The cruise takes you to Sung Sot Cave, Cua Van fishing village, Luon Cave, Trinh Nu Cave, and the Tung Sau area.
Petit White Dolphin Cruise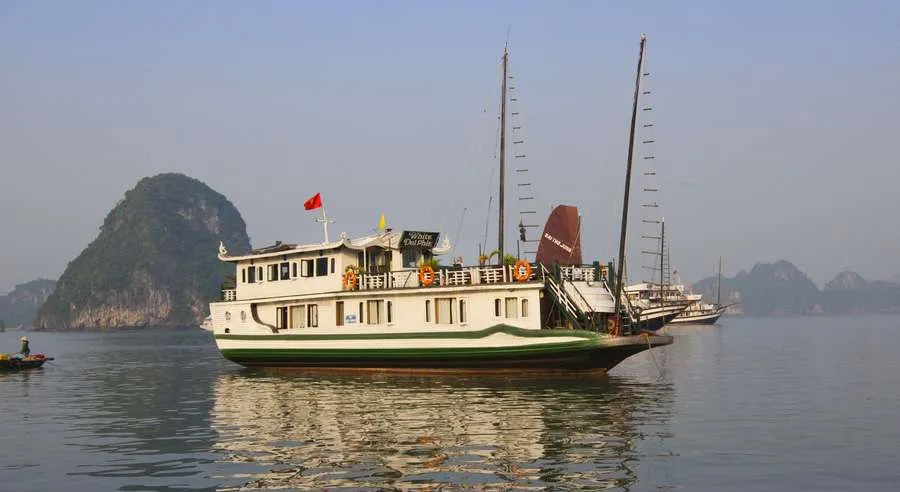 Year of operation: 2010
Number of cabins: 4
Departing from Hon Gai Pier, Petit White Dolphin Cruise provides a great itinerary visiting both Bai Tu Long Bay and Halong Bay with varied durations from 2D1N to 5D4N. Each of the 4 cabins on Petit White Dolphin Cruise has a wooden interior fitted with adequate facilities for a relaxing stay. In the cruise restaurant with a seating capacity of 14 passengers, you can enjoy an extensive collection of Western, Asian, and Vietnamese cuisines.
Heritage Line Violet Cruise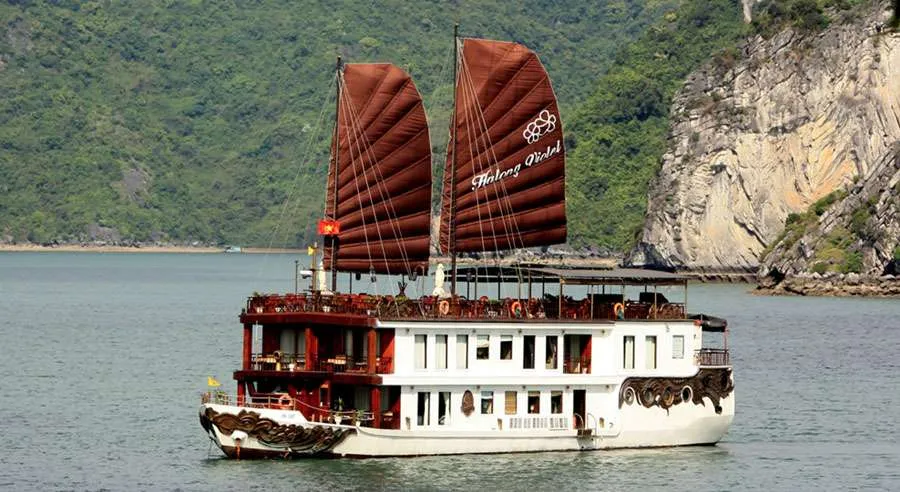 Year of operation: 2009
Number of cabins: 6
The Heritage Line Violet Cruise specializes in a truly exceptional luxury cruise experience in Halong Bay. The cruise's design is inspired by French-Indochine architecture with wooden floorings, unique artifacts, and ornaments. Heritage Line Violet Cruise consists of six spacious suites with luxurious amenities and private balconies. The dining room opens up to breathtaking views of the sea, a stylish bar, and a spacious sundeck.
Embarking on the two-day and three-day circuits, you will explore prominent tourist destinations on Halong Bay including Cua Van Fishing Village, Sung Sot Cave, Halong Pearl Farm, and Titop Island.
Questions and Answers
(0)
Be the first to ask a question on this page
READ THIS NEXT
Cat Ba island has been known for a long time as a must-visit destination for visitors to Halong Bay, especially …
Read more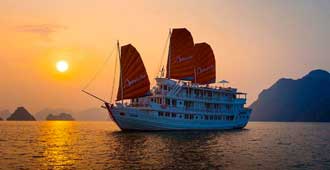 Discover the charming and exotic landscapes of Halong bay on an all-inclusive luxury cruise!
Meet local experts
Need to create your own Halong bay trip?
Call us now: +84 987 24 6600 (Whatsapp)
Customize Your Tour
QUESTION FORUM:
Halong Bay: Questions