Caves
Explore Halong's Biggest Cave: Sung Sot (Surprise) Cave
A place so amazing that the French deemed it "Grotte des Surprises" or (Surprise Grotto), Sung Sot Cave is one of the biggest, most beautiful caves in Halong Bay and a highlight on most Halong Bay itineraries.
Location
The cave can be found on the island of Bo Hon, along with another popular Halong cave, Trinh Nu. From the dock below, visitors must climb 50 stairs to the grotto's mouth, which is just over 20 meters above the sea. Sung Sot Cave is divided into two chambers; the first chamber, known as the "Waiting Room" is vast, adorned by stalagmites and stalactites and lit by multicolored lights positioned to complement the chamber's structural beauty.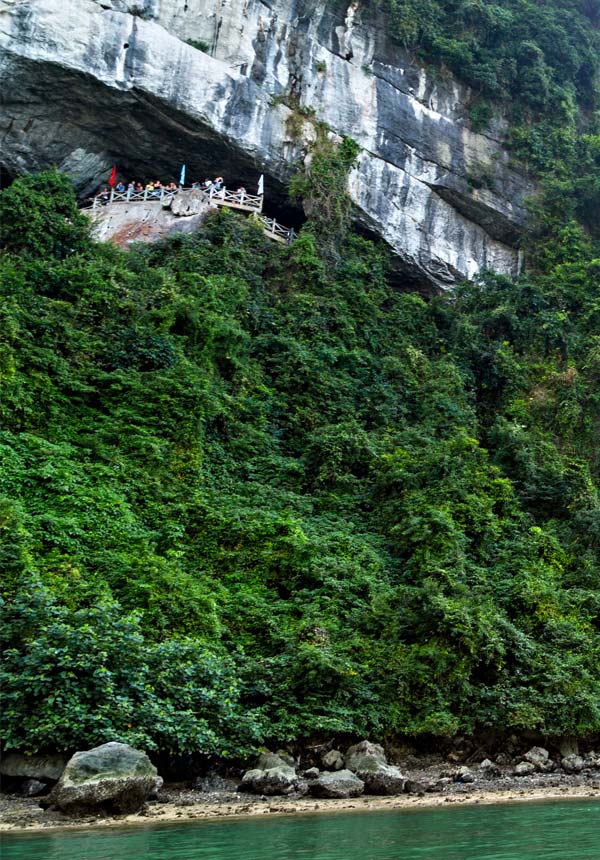 Sung sot cave from outside!

In order to reach the second chamber, visitors must walk down a narrow passageway. The second chamber is known as the "Serene Castle". This chamber is large and grand with an extremely high ceiling and has many interesting rock formations which locals identify by likening them to animals due to their shapes.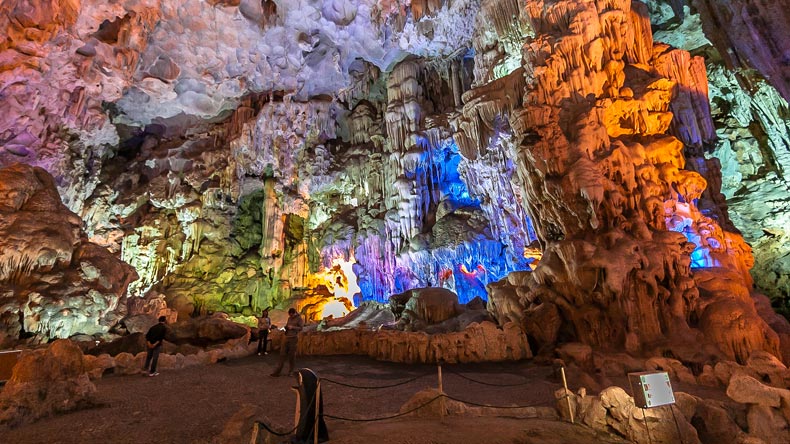 Legend
One eye-catching rock formation is shaped like a horse with a long-sword and is linked to the legend of Thanh Giong (God Gióng). It is said that Thanh Giong protected locals by defeating aggressors, demons and evil spirits, and once his work was done he ascended to the heavens, leaving behind a stone horse and sword to continue to drive away any future aggressors.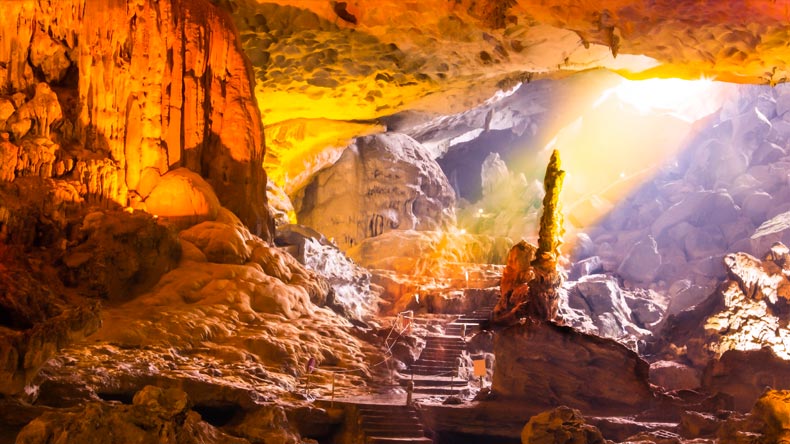 At the exit of the grotto, there is an open area called the "Royal Garden" where there is a peaceful pond and beautiful banyan trees. Some lucky visitors get to see monkeys in search of fruit which makes for some great photo opportunities!
READ THIS NEXT
Thien Cung Cave is in the south-west of Halong Bay. The story of this cave is an interesting one as, ...
Read more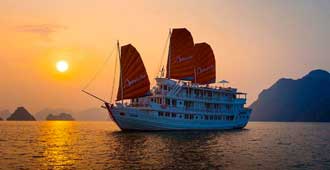 Discover the charming and exotic landscapes of Halong bay on an all-inclusive luxury cruise!
QUESTION FORUM:
Halong Bay: Questions
Free ITINERARY planning with us!
Planning your trip with our Halong local experts, we will help you with:
Accomodation: Find the best hotels/homestay or BnB.
Tours: Connect you to the trusted tour operator in Halong bay.
Cruises: Find the best cruise on your date!
It is all FREE