Halong Bay - Ninh Binh is a popular route for many visitors aiming to visit major attractions in Northern Vietnam. Having finished a 2 or 3-day vacation in Halong Bay, you can spend time transferring directly to Ninh Binh for another short trip without having to return to Hanoi. However, if you still do not know how to book transportation or what is the fastest way to travel from Halong Bay to Ninh Binh, this article will be very helpful.
Halong Bay - Ninh Binh: what are the best options?
The distance between Halong Bay and Ninh Binh is 190km (from Halong international cruise port to Trang An scenic complex). There are 4 major options to get from Halong Bay to Ninh Binh: by tourist/ Limousine bus, by private car/ taxi, by local bus, by motorbike and by train. The journey takes around 3.5 hours without resting.
Halong bay to Ninh Binh routes
| Routes | Distance | Travel time |
| --- | --- | --- |
| Halong bay to Ninh Binh city | 210km (130.5mi) | 3h30m |
| Halong bay to Trang An complex | 190km (118mi) | 3h10m |
| Halong bay to Bai Dinh Pagoda | 215km (133.6mi) | 3h50m |
| Halong bay to Cuc Phuong national park | 240km (149mi) | 5h |
How to get from Halong Bay to Ninh Binh?
The best option to transfer from Halong Bay to Ninh Binh primarily depends on your purposes and budget. Below is detailed transportation information from Halong Bay to Ninh Binh that you should know.
By tourist/ Limousine bus
Taking a tourist or Limousine bus is a convenient, money-saving, and highly-recommended way to get from Halong Bay to Ninh Binh. Those buses run on smooth highways with designated stops. The total transfer time is around 3.5 to 4 hours. One of the biggest advantages of transferring by tourist/ Limousine bus is that you will not be overwhelmed by the crowds since each Limousine accommodates only 9 passengers. In addition, couples or independent travelers will love this option the most because instead of having to hire a whole car, you can choose a shared option with other strangers that is more economical.
The ticket fare for a Limousine D Car seat is around VND 300.000 - VND 400.000/ pax.
Some popular tourist and Limousine bus companies following Halong Bay - Ninh Binh route are:
Limousine Quang Muoi: 1900 0287
Discovery Travel: 1900 6772
By private car/ taxi
Transferring by private car or taxi is the fastest and most comfortable way to get from Halong Bay to Ninh Binh. You can be flexible in time and driving routes. This option is best suited for families with kids or groups of friends. But it is also the most expensive means of transport. It costs you around 135 USD/ car for 3 to 4 passengers.
Taxi brands from Halong Bay - Ninh Binh:
Mai Linh Taxi: 0203 362 86 28
Hon Gai Taxi: 0203 384 84 84
Thanh Cong Taxi: 0203 367 57 57
By local bus
Traveling by local bus might not be comfortable but very cost-saving and suitable for budget-minded travelers. Direct buses from Halong city to Ninh Binh are available every day.
You need to get to Bai Chay bus station and buy ticket at the ticket counter. It usually takes around 4 to 5 hours and VND 160.000 - VND 250.000/ passenger/ one way.
Some local buses that have direct transfer from Halong Bay to Ninh Binh: Anh Thang bus, Vu Ngu bus, Quan Nam bus, Hai Thang bus.
Warning:
You should pay attention to your personal belongings and watch out for several crimes like pickpocketing and stealing at the bus station.
Check out information about the bus schedule before coming to the station to avoid waiting.
By motorbike
Adventurous travelers will love the scenic motorbike ride from Halong Bay to Ninh Binh, passing spectacular landscapes. You can also stop for taking photos or resting flexibly. One thing to keep in mind is that renting a motorbike to drive on your own can be a dangerous option with busy traffic. You should also need to strictly follow transportation rules and regulations for safety reasons.
By train
There is no direct train line between Halong bay and Ninh Binh. You will need to travel to Hanoi or Hai Phong railway station, then take a train ride to Ninh Binh. Traveling by train is a quite interesting experience that you can closely admire the rural beauty along the way.
With a distance of around 115 km, the total train journey takes around 2 - 2.5 hours. There are 5 trains from Hanoi Railway station (120 Le Duan street) to Ninh Binh Railway station (1 Hoang Hoa Tham street) every day. The ticket price for a seat with an air conditioner is around VND 150.000 - VND 250.000 per person.
Hanoi - Ninh Binh train schedule
| | |
| --- | --- |
| Train | Time |
| SE7 | 6:00 - 8:19 |
| SE5 | 9:00 - 11:15 |
| TN1 | 14:35 - 17:03 |
| SE1 | 19:30 - 21:44 |
| SE19 | 20:10 - 22:21 |
Transfer option ratings
Transportation

Total transfer time

Pros and cons

Rating

By tourist/ Limousine bus

3.5 - 4 hours

- Pros: Comfortable, less crowded, money-saving




- Cons: The service can be quickly fully booked

9/10

By private car/ taxi

3.5 hours

- Pros: Fastest way, stress-free, flexible, easy to book




- Cons: Costly and not suitable for large groups or independent travelers.

8.5/10

By local bus

4 - 5 hours

- Pros: The most economical way, buses are available during the day




- Cons: Crowded and not safe due to local crimes

8/10

By motorbike

4 hours

- Pros: Flexible, enjoy a beautiful drive, less expensive




- Cons: Dangerous and challenging with inexperienced tourists

7.5/10

By train

4.5 hours (Including 2 hour transfer from Halong bay to Hanoi)


- Pros: Trains are available throughout the day, you will not get stuck in crowd

- Cons: The total transfer time from Halong Bay to Ninh Binh will be much longer

6.5/10

Local tips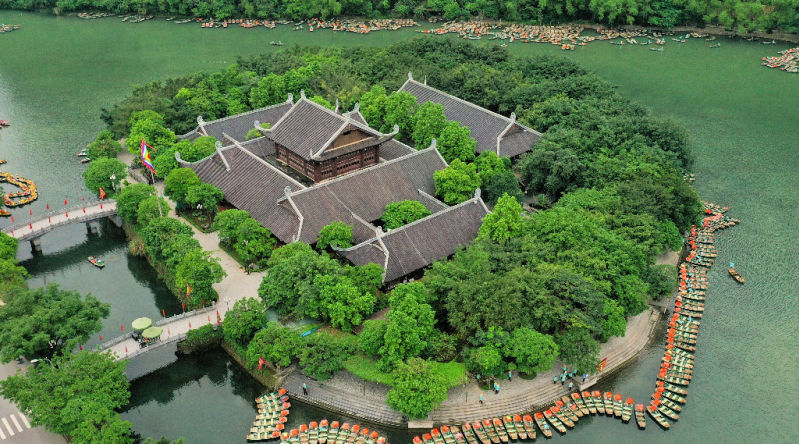 Trang An heritage site - one of the most popular tourist attraction in Ninh Binh
Buy tickets as early as possible to avoid overbooking and price rise especially in peak season or public holidays.
Prepare necessary items like first-aid equipment, water, and some medicines because most vehicles follow the highways with only a few stops.
Check rented vehicles carefully in case you want to travel by yourself.
Be careful with minor crimes in public areas and tourist attractions.
Dress properly when you visit spiritual sites in Ninh Binh.
See reverse route guide: Ninh Binh to Halong bay

Questions and Answers
(0)
Be the first to ask a question on this page
READ THIS NEXT
Regarding the distance and travel time from Hanoi to Halong Bay, the question is pretty straightforward. Yet, depending on the …
Read more
A complete guide on getting to Cat Ba Island from Hanoi, Hai Phong and Halong city.
Read more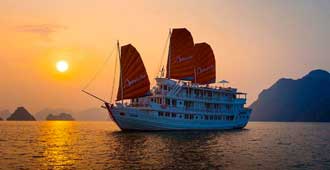 Discover the charming and exotic landscapes of Halong bay on an all-inclusive luxury cruise!
Meet local experts
Need to create your own Halong bay trip?
Call us now: +84 354 64 1421 (Whatsapp)
Customize Your Tour
QUESTION FORUM:
Halong Bay: Questions