Transportation
Hanoi to Halong Bay: The Fastest and Cheapest Transport Options
Hanoi is a popular base for many traveling through Vietnam and has so much to offer in its own right: a fascinating history, divine food and more pagodas than you can shake a stick at. It's true that tourists will never be bored in Hanoi, but sometimes it can be anything but relaxing. If you've had enough of Hanoi's busy streets, maybe it's time to look further east for a change of atmosphere.
Overview
Halong Bay sits on Vietnam's coastline, just over 160 kilometers (100 miles) east of Hanoi, and is worlds away from the hustle and bustle of Hanoi. Sprinkled with impressive limestone karsts, tropical jungles and idyllic beaches, Halong Bay must not be missed. Luckily, it's incredibly easy to travel there from Hanoi. Here are the best ways to get there.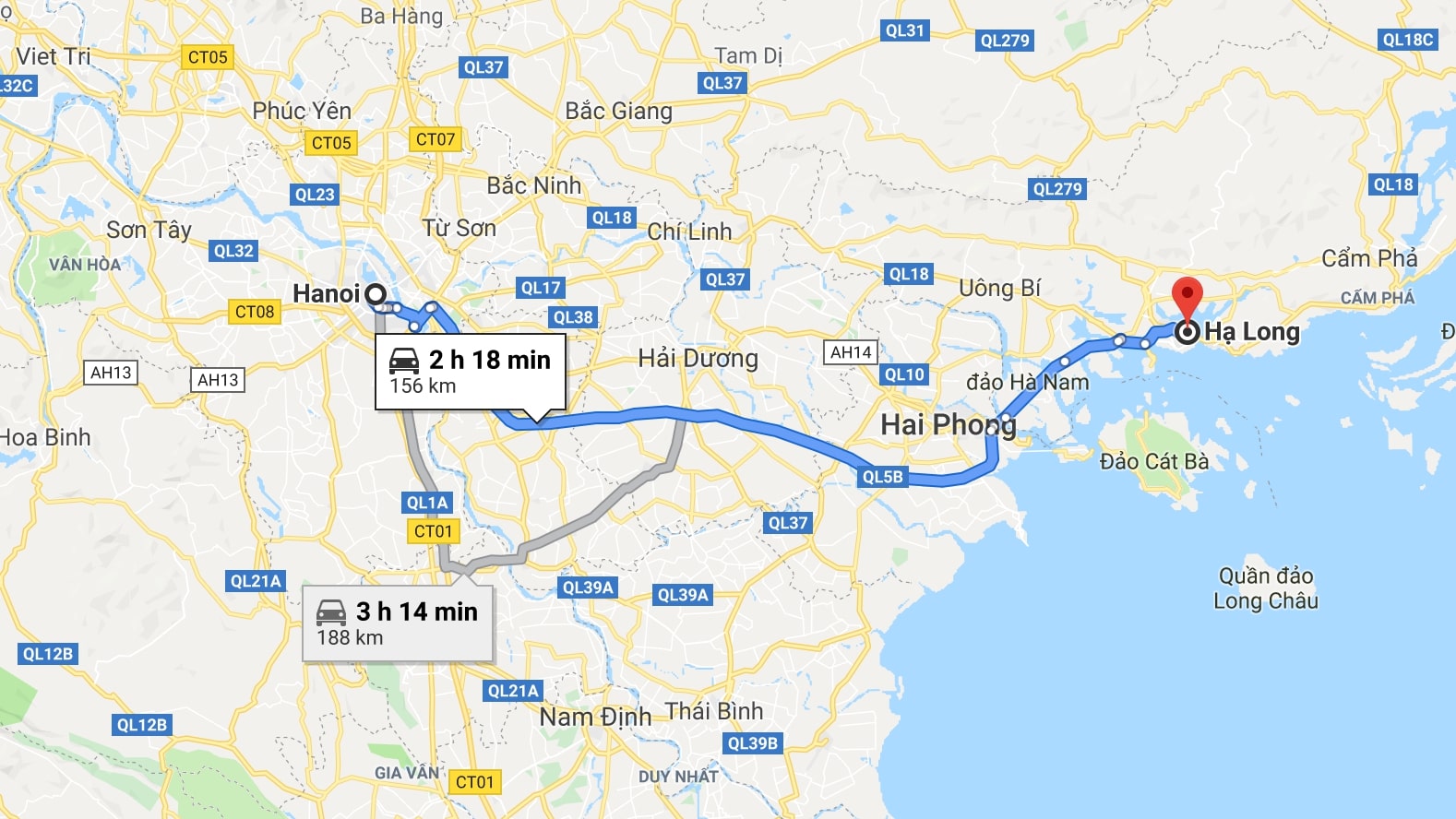 Hanoi to Halong Bay Route (Google maps)

1. Shuttle Bus
An easy and comfortable way to get to Halong Bay from Hanoi is to take a shuttle bus. Using a shuttle bus has the advantage that it will pick passengers up at their hotel or another agreed location and once their time in Halong Bay is up, it will also bring them back to Hanoi.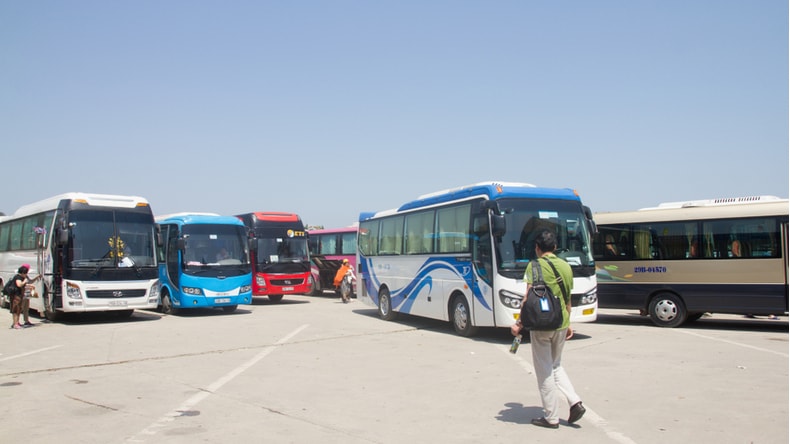 Shuttle bus to the cruise terminal in Halong bay (Photo: Shutterstock)
How to book:
Shuttle buses can usually be booked through a cruise or tour operator, at a cheaper price than if you book it independently.
Duration:
Due to the opening of a new highway between Hanoi and Halong Bay, travel time should be around 2 to 3 hours depending on traffic.
Cost:
The cost of a ticket ranges from around 200,000 to 350,000 VND ( $10.00 to $15.00 USD).
Pro tip: Most cruises in Halong bay will offer Shuttet bus for free of charge.
2. Public Bus
Using the local buses is not as comfortable and convenient as the shuttle bus, but it is cheaper. When traveling on a budget the local bus might be a better option.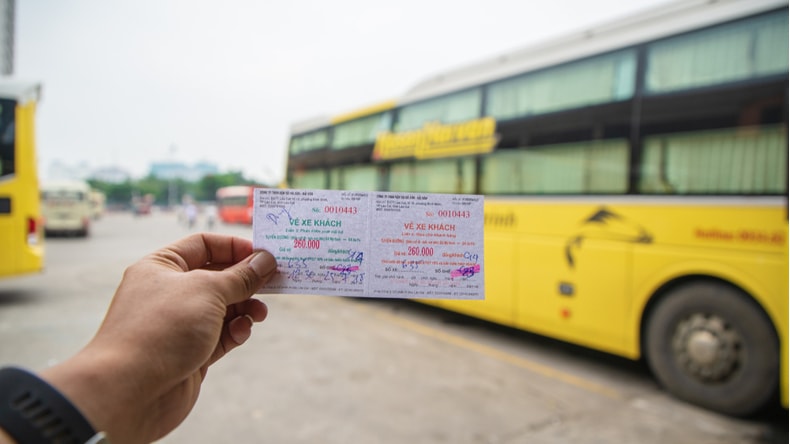 Bus tickets can be purchased directly at the bus station (Photo: Shutterstock)
Duration
As the bus has to make more stops than the shuttle bus, a trip to Halong Bay can take around 3 to 5 hours.
Cost
Tickets can be bought at the bus station for around $10 USD, but depending on the day tickets may cost as low as $5 USD.
Where to catch the bus
Travelers can take the bus from Hanoi's Gia Lam station to Halong's Bai Chay. It's also possible to catch the bus from My Dinh station in Hanoi to Bai Chay station in Halong. The buses from My Dinh tend to be larger and more comfortable than those from Gia Lam. Upon arrival in Bai Chay, travelers will need to take a taxi or motorbike taxi to their hotel or Tuan Chau gate which is the cruise port.
See our guide on taking a public bus from Hanoi to Halong bay.
3. Private Car
To to take a private car from Hanoi to Halong Bay, travelers can book the service through their hotel, cruise provider or a travel agency, or alternatively it is possible to book a private taxi. The private car will pick up and drop off passengers at whichever location is agreed upon. This is the easiest way, but also the most expensive, to get to Halong Bay.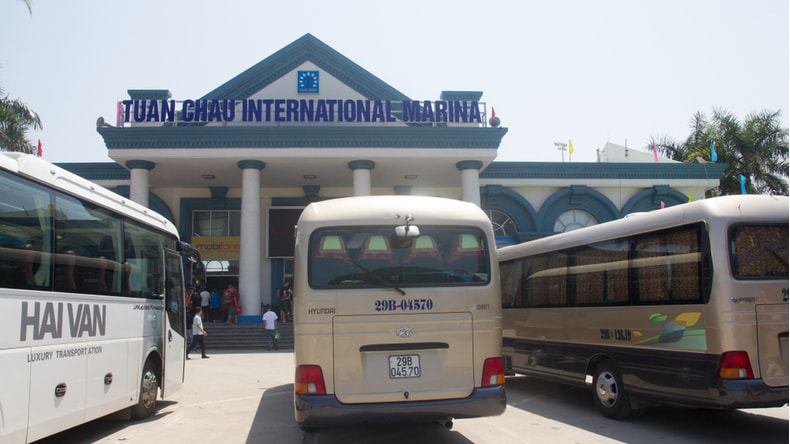 Door to door private car will take you to the exact location that you want to go (Halong cruise terminal, photo: Shutterstock)
Duration
Depending on traffic a private car will take around 2 to 3 hours to get to Halong Bay. This is pretty much on par with the shuttle bus although a private car may be a bit faster.
Cost
The cost can vary depending on whether the return trip is on the same day or not, but it usually will range from around 2,000,000 to 4,500,000 VND ( $85 USD- $200 USD).
This cost does not include highway toll fare (290,000 VND or $14 USD) if you want to travel via Hanoi-Halong highway.
4. Seaplane (Fastest)
Scenic view from Halong bay seaplane.
Catching a seaplane is easily the most special, and most amazing, way to get to Halong Bay from Hanoi. It's also the fastest way to get to Halong Bay. It has the added bonus that it offers spectacular aerial views of the bay.
How to catch a seaplane
A seaplane trip can be booked through the Hai Au Aviation's website or alternatively, travelers can contact their cruise provider to see if there are any packages available which include a seaplane flight. The plane departs from Noi Bai International Airport in Hanoi and arrives in Tuan Chau Cruise port in Halong Bay. Once arrived, you can take a Grab taxi (similar to Uber) or regular taxi to your final destination.
See: Schedules and prices
Duration
Journey by seaplane usually takes around 45 minutes from take off to landing.
Cost
Prices can vary widely depending on the time of year and whether or not you choose to add a 15-minute scenic tour of Halong Bay to your flight, but you can generally expect flights to cost from $180 USD up to $750 USD.
5. Train (Cheapest)
Recently the railway between Hanoi and Halong Bay reopened allowing tourists to take the train to Halong Bay. For a more authentic Vietnamese experience where you can travel with the landscape just passing you by at an easy pace, take the train.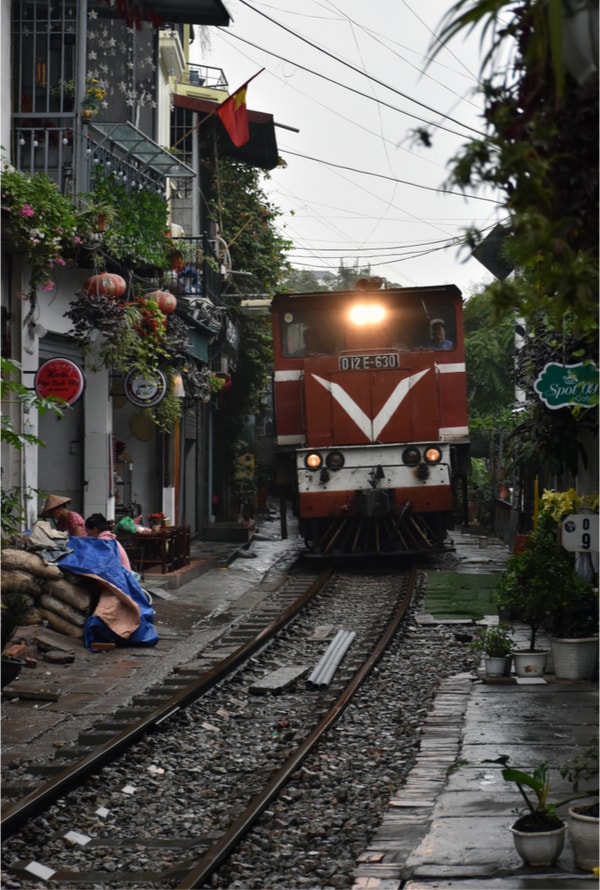 Train passing through a narrow street in Hanoi (Photo: Shutterstock)
Time and where to catch the train
The train leaves once a day from Yen Vien station in Hanoi at 4:55 a.m. and arrives at Halong station at 11:41 a.m. allowing a total travel time of 6 hours and 46 minutes. Once the train arrives in Halong City, travelers have to arrange additional transportation to reach their hotel or the cruise port. The train going back to Hanoi will also take 6 hours and 46 minutes and leaves Halong station at 1.50 p.m. and arrives in Hanoi at 8.31 p.m.
Train Schedules:
| Station | Distance (km) | Departure |
| --- | --- | --- |
| Yen Vien Station | 0 | 4:55 |
| Tu Son | 6 | 5:15 |
| Bac Ninh | 18 | 5:37 |
| Bac Giang | 38 | 6:12 |
| Pho Trang | 48 | 6:30 |
| Kep | 58 | 7:16 |
| Bao Son | 66 | 7:39 |
| Lan Mau | 75 | 8:1 |
| Dong Trieu | 107 | 9:18 |
| Mao Khe | 116 | 9:52 |
| Uong Bi | 132 | 10:30 |
| Yen Cu | 152 | 11:14 |
| Halong station | 164 | 11:45 |
Cost
This is by far the cheapest option to get to Halong Bay. You can expect a ticket to a bit less than 80,000 VND (4 USD).
Pro-tip: Download the Grab app for an easy way to hail taxis in an instant. The app is available in English and the prices are shown before the taxi arrives.
READ THIS NEXT
The distance between Thailand and Halong bay is about 895 miles (1441 kilometers). From Thailand, the best and fastest option …
Read more
The distance from Sapa to Halong Bay is about 480km (298 miles). There are a couple of ways to transfer …
Read more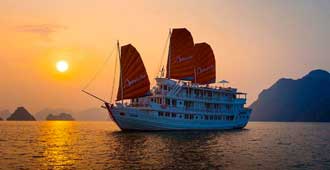 Discover the charming and exotic landscapes of Halong bay on an all-inclusive luxury cruise!
QUESTION FORUM:
Halong Bay: Questions
Free ITINERARY planning with us!
Planning your trip with our Halong local experts, we will help you with:
Accomodation: Find the best hotels/homestay or BnB.
Tours: Connect you to the trusted tour operator in Halong bay.
Cruises: Find the best cruise on your date!
It is all FREE