Taxi is the optimal choice if you are under a time constraint for travel from Hanoi to Halong Bay.
With a distance of 170km, it takes only around 2.5 to 3 hours to arrive in Halong Bay from Hanoi and costs around USD$62 - USD$98/taxi/one way depending on the car type and brand you choose. Hanoi is, in fact, ubiquitous with numerous taxi brands. And even though the service, in general, is similar in terms of transfer time and service quality, there are several differences in fares and ways of bookings.
This article provides you with essential information about reliable taxi companies, booking methods, estimated prices, and local tips. We hope with this detailed guide, you can have the best preparation for your upcoming trips to Halong Bay.
Trip map and fare calculation
Fee calculation
| | | | |
| --- | --- | --- | --- |
| Routes | Distance | Travel time | Fares |
| Hanoi to Tuan Chau Island | 150km | 2h 06m | 1,932,300 (~80 USD) |
| Hanoi to Halong city | 153km | 2h 08m | 2,034,900 VND (~82 USD) |
| Hanoi to Halong International Cruise Port | 152km | 2h 07m | 1,989,200 VND (~81 USD) |
| Hanoi airport to Halong bay | 174km | 2h 22m | 2,314,200 (~93 USD) |
Advantages of taxi transfer
Time efficiency is the biggest advantage of this instant demand-responsive means of transport. The total journey time could be within 2.5 hours without stops. By contrast, other modes of transport take around 3.5 hours.
This option is best suited for families with kids or the elderly and small groups of a maximum of 3 to 6 people for 4-seater cars and 7-seater cars respectively.
Taxi is typically convenient. It offers door-to-door pick-up service and ensures the utmost privacy.
Two major types of Hanoi taxi
Currently, traditional taxis and grab taxis are the two most prominent types of taxis for private transfer in Hanoi.
1. Traditional taxi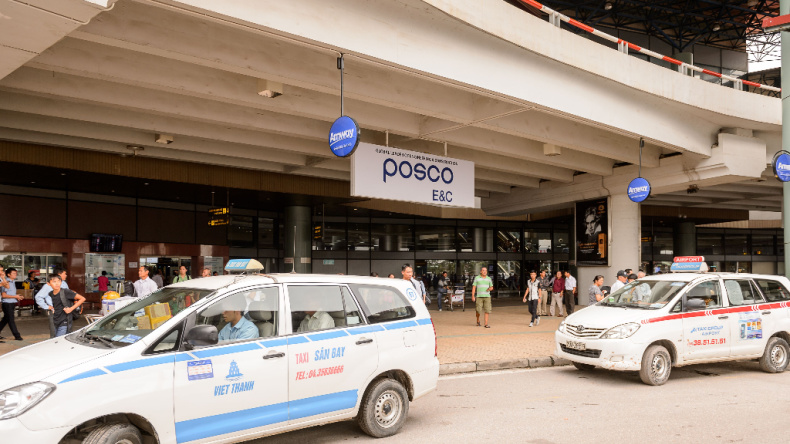 Taxi at Noi Bai International Airport
Traditional taxis with distinctive badges are a conventional and quite popular way of transfer for many locals and visitors in Hanoi and to nearby destinations. Each taxi brand has its own identity with a unique logo, colors, and other features for recognition. For example, Mai Linh Taxi uses green as the main color while G7 Taxis are in silver color. In terms of car types, you can choose between 4-seater cars and 7-seater cars.
Traditional taxis' fares are charged based on time and distance traveled measured by a specific taximeter. Popular traditional taxi brands in Hanoi are Mai Linh Taxi, G7 Taxi, and Thanh Nga Taxi.
Pros and cons of traditional taxis
Pros
Instant service that is available at almost any time of the day.
Competitive prices and various options.
Cons
The service is quickly full in rush hours thus you may have to wait for a long time for a cab.
Traditional taxi fares from Hanoi to Halong Bay
Taxi brands

4-seater cars

7-seater car

Total price

Contact

Thanh Nga Taxi

$0.37/km

$0.37/km

$62

Tel: 024.38.215.215

Website: https://cong-ty-cp-thanh-nga.business.site/

Mai Linh Taxi

$03.8/km

$0.5/km

$65-$85

Tel: 1055

Website: https://www.mailinh.vn/

G7 Taxi

$0.52/km

$0.58/km

$88.5-$98.5

Tel: 024 32 32 32 32

Website: https://g7taxi.vn/
2. Grab taxis or app-based taxis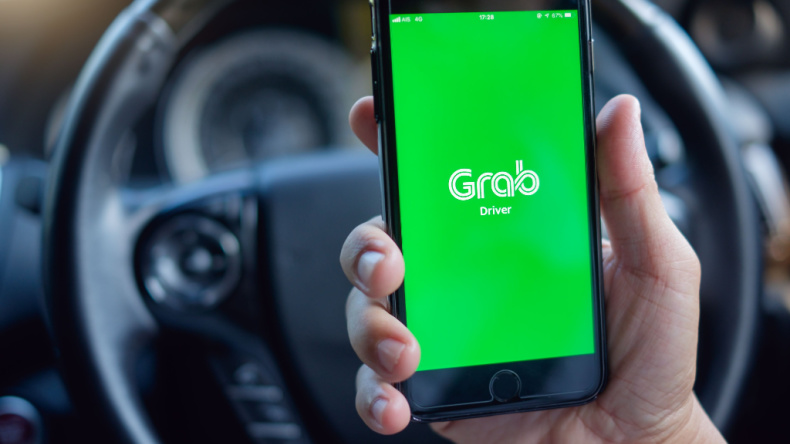 Grab is the most popular app-based taxi brand in Vietnam
Grab taxis are a modern form of taxis using applications for bookings. This type of transfer is becoming increasingly popular in recent years. Options for app-based taxis are varied namely Grab, Gojek, and Bee. With travel routes and prices calculated precisely on the app, all you need to do is just to book the one that is closest to you.
The estimated price for a grab taxi from Hanoi to Halong Bay is around VND1.800.000/4-seater car/one way (USD$75) and VND2.000.000/7-seater car/one way (USD$84).
Popular app-based taxi brands
Grab
Website: https://www.grab.com/vn/
Tel: You need to download the app and access the Help Center to make a call or solve problems
Gojek
Bee
Pros and cons of grab taxis
Pros
Numerous choices and plenty types of cars.
Clear details of distance, time, and price.
Money-saving thanks to many discounts.
Cons
It is difficult for low-tech people to book a car.
Reverse route Halong Bay - Hanoi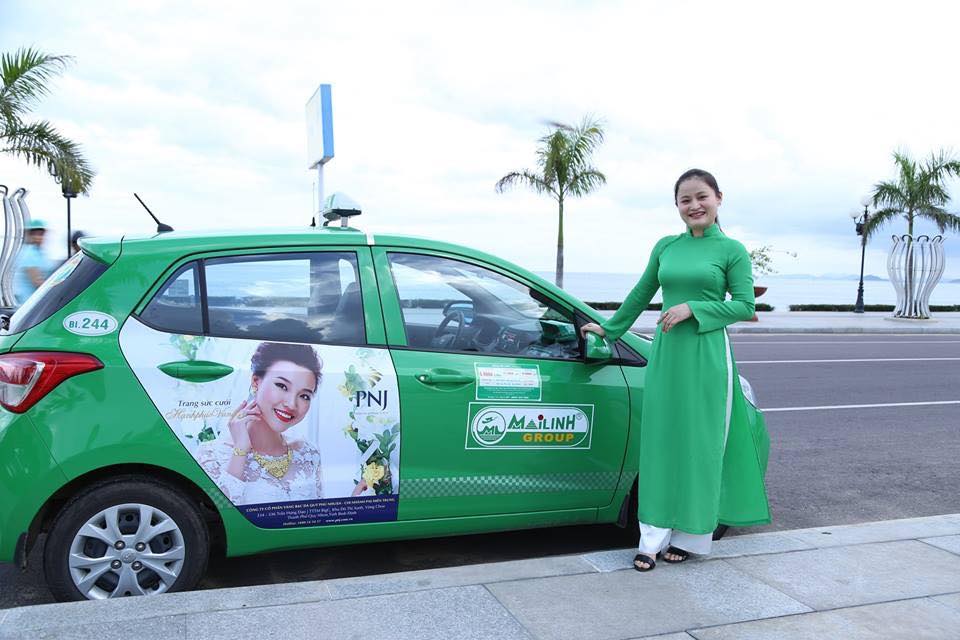 Mai Linh Taxi Bai Chay, Halong (Call center: 0333. 628 628)

Similarly to transfer from Hanoi to Halong Bay, you can easily take a taxi from Halong city to either Hanoi airport or Hanoi city center. The distance from Halong city to Noi Bai International Airport is 173km while it is 152km to the city center of Hanoi capital.
Recommended taxi brands and estimated fares for transfer from Halong Bay to Hanoi:
Taxi brands

Halong city to Hanoi airport

(173km)

Halong city to Hanoi city center (152km)

Contact

Mai Linh taxi

4-seat car: $79

7-seat car: $108

4-seat car: $69

7-seat car: $95

033 362 8628

Sao Mai taxi

4-seat car: $79

7-seat car: $97

4-seat car: $69

7-seat car: $85.5

0203 3 628 628

Thinh Hung taxi

4-seat car: $72

7-seat car: $79

4-seat car: $63

7-seat car: $69

033 365 9659
Local tips
Private transfer by taxi is best suited for families with children, the elderly, and small groups of friends.
Booking app-based taxis is cheaper and more transparent than traditional taxis.
Taking a taxi for transfer from Hanoi to Halong Bay is equally convenient and comfortable as renting a private car but at a much lower cost.
You should choose reputable taxi brands or ask travel agencies for help.
See our guide for Hanoi to Halong bay transfer
Questions and Answers
(0)
Be the first to ask a question on this page
READ THIS NEXT
Information for getting from the beach city of Da Nang to Halong bay!
Read more
Regarding the distance and travel time from Hanoi to Halong Bay, the question is pretty straightforward. Yet, depending on the …
Read more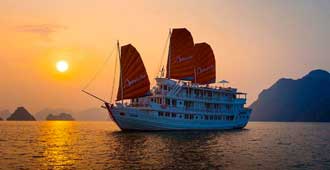 Discover the charming and exotic landscapes of Halong bay on an all-inclusive luxury cruise!
Meet local experts
Need to create your own Halong bay trip?
Call us now: +84 987 24 6600 (Whatsapp)
Customize Your Tour
QUESTION FORUM:
Halong Bay: Questions