Transportation
How to Get from Sapa to Halong Bay: By Bus, Train and Taxi
The distance from Sapa to Halong Bay is about 480km (298 miles). There are a couple of ways to transfer from Sapa to Halong Bay. Passengers can take a direct bus from Sapa to Halong, a train over Hanoi, or a private taxi.
1. Bus
Phuc Xuyen bus is the most recommended option as being the only transport company that provides direct transfer from Sapa to Halong and vice versa.
This 42-seat luxury bed car is well-appointed with all necessary amenities such as air conditioner, LCD screen, free WIFI, blankets, bottles of water, and free cold towels. Therefore, passengers will always feel comfortable with this extremely convenient journey.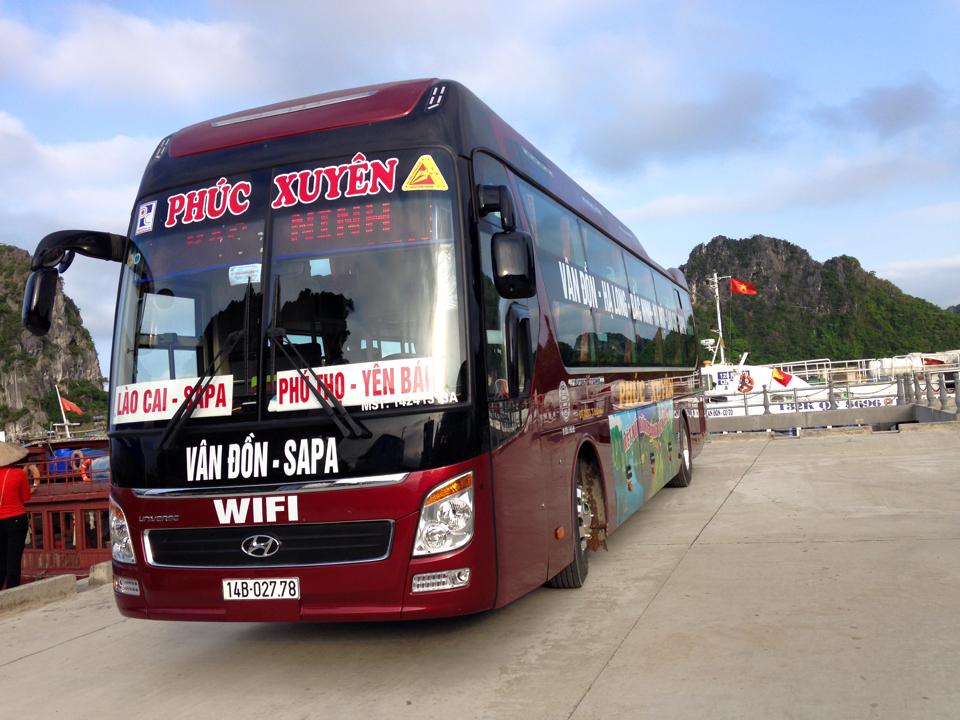 Phuc Xuyen Bus from Sapa to Van Don, Quang Ninh.
After arrive at the bus station, you need to take a taxi to the cruise port or hotel in Halong City.
Information:
Frequency: 4 times per day
Estimated price: US$16 ~ 370000 VND
Hotline: 02033662662
Website: phucxuyen.com.vn
Bus schedule from Sapa to Halong:
Alternatively, you can book through vietnamlocalbus.com for a bus that picks you up at the hotel in Sapa town or Sapa bus station to transfer directly to the bus station in Halong city.
Information:
Pick-up time: 17:00 pm
Drop-off time: 4:00 am (next day)
Duration: 9 hours
Transfer: Sapa – Lao Cai (seating bus) and Lao Cai – Halong city (sleeping bus)
Website: vietnamlocalbus.com
The price is US$25 and includes a taxi pick up from the hotel in Sapa town and a bus ticket to Halong Bay.
2. Train and bus
Overnight train from Sapa to Hanoi!
Traveling by train is an ideal choice for those who get sick of a bus ride and look for a good night's sleep. However, this is the most time-consuming transfer option.
From Sapa town center, you need to take a bus or a taxi to Lao Cai train station to catch a train to Hanoi. The total journey time is 8.5 hours.
Train schedule from Lao cai train station (Sapa) to Hanoi:
| Train | Type | Lao cai Station (for Sapa) | Stops | Hanoi Station (Tran Quy Cap) |
| --- | --- | --- | --- | --- |
| SP2 | Express train | 20:05 | 03 stops | 04:35 am (next day) |
| SP4 | Express train | 20:45 | 04 stops | 05:10 am (next day) |
| SP6 | Express train | 18:55 | 04 stops | 03:40 am (next day) |
| SP8 | Express train | 19:30 | 04 stops | 04:05 am (next day) |
| LC2 | Regular train | 21:20 | 15 stops | 06:55 am (next day) |
| LC4 | Regular train (slowest) | 09:10 | 27 stops | 20:15 (11h5m) |
| LC8 | Regular train | 22:05 | 13 stops | 07:25 am (Long Bien station) |
Notes: Train times and schedules are subject to change due to weather conditions.
Upon Hanoi arrival, take a bus from My Dinh or Yen Nghia bus station to Halong city (~4.5 hours). The price for a one-way ticket is from 70000 VND – 150000 VND. See our bus guide from Hanoi to Halong.
3. Taxi and private transfer service
Mai Linh taxi Lao Cai - (0214) 3 76 76 76
The fastest and most comfortable yet most expensive way to transfer from Sapa to Halong Bay is by a private taxi. Normally, the cost ranges from US$280 to US$310 for a 7-hour drive depending on the car size.
Recommended taxi & private transfer
Mai Linh taxi group
Tel: (0214) 3 76 76 76
Website: mailinh.vn
Sapa transfer service:
Address: Linh handicraft, Cat Cat village, Sapa, Lao Cai
Tel: +84 243 99 155 99; +84 91 235 82 82
Website: http://sapatransferservice.com/private-transfer-sapa-to-halong-66/
You can also use Grab app for private transfer for an upfront price quote.
Last updated: October 16, 2019
READ THIS NEXT
The distance between Thailand and Halong bay is about 895 miles (1441 kilometers). From Thailand, the best and fastest option …
Read more
Halong Bay is about as far away from Ho Chi Minh City (Saigon) as you can go. Ho Chi Minh …
Read more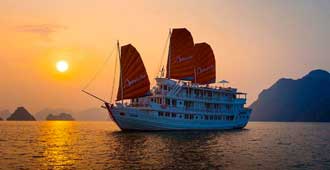 Discover the charming and exotic landscapes of Halong bay on an all-inclusive luxury cruise!
QUESTION FORUM:
Halong Bay: Questions
Free ITINERARY planning with us!
Planning your trip with our Halong local experts, we will help you with:
Accomodation: Find the best hotels/homestay or BnB.
Tours: Connect you to the trusted tour operator in Halong bay.
Cruises: Find the best cruise on your date!
It is all FREE