Lan Ha Bay: A Guide The Less Touristic Alternative For Halong Bay
Lan Ha Bay is made up of around 300 karst islands and limestone sea rocks and can be found southeast of Cat Ba Island. As a geological extension of Halong Bay, Lan Ha Bay is equally as beautiful although it is less visited, less inhabited and therefore has the extra appeal of being a more peaceful place.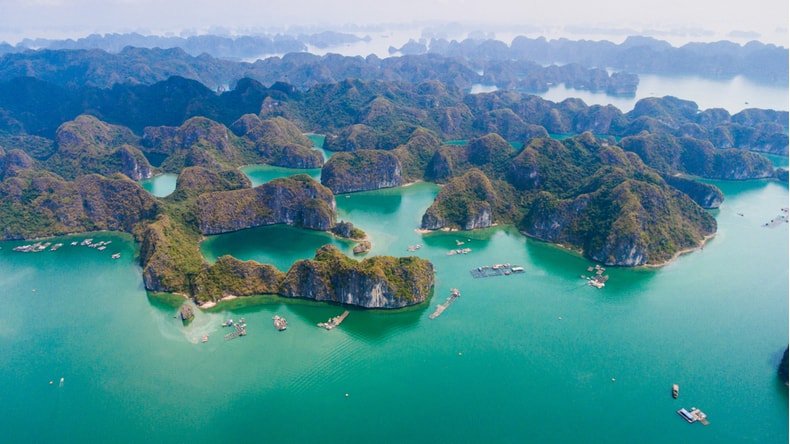 IN A NUTSHELL
Lan Ha Bay is located in the Gulf of Tonkin, near the city of Haiphong, in the northeastern part of Vietnam.
Lan Ha Bay is over 400 square kilometers in size, making it smaller than its more famous neighbor, Halong Bay.
Lan Ha Bay is known for its stunning natural beauty, with its towering cliffs, pristine beaches, and crystal-clear waters.
Lan Ha Bay is home to a unique ecosystem, including hundreds of species of flora and fauna, and several species of endangered marine life.
Compared to Halong Bay, Lan Ha Bay is less crowded, making it a great option for those seeking a more peaceful and serene experience.
Lan Ha Bay is a great destination for kayaking and biking, with several scenic routes and trails to explore.
There are many eco-friendly accommodations available in Lan Ha Bay, including floating hotels and eco-resorts, which help to preserve the natural environment of the bay.
What does Lan Ha Bay have to offer?
This isolated paradise is an ideal beach location, with hundreds of undisturbed white sand beaches. While the beaches are fairly small, they are surrounded by towering limestone karsts that give visitors lots of privacy. Whilst relaxing at these tiny beaches visitors may see many butterflies and birds enjoying the many flowers and trees that sit around the edges of the sand. Lan Ha Bay is also a great place to take part in water-based activities such as snorkeling, kayaking or scuba-diving!
One unexpected activity that is possible in Lan Ha Bay is rock climbing! Some cruise operators offer the option to climb some of the ancient limestone karsts that are dotted around the bay, giving visitors the chance to see Lan Ha Bay from a very different perspective. Though it can be physically challenging, it is also extremely satisfying to climb your way to the top.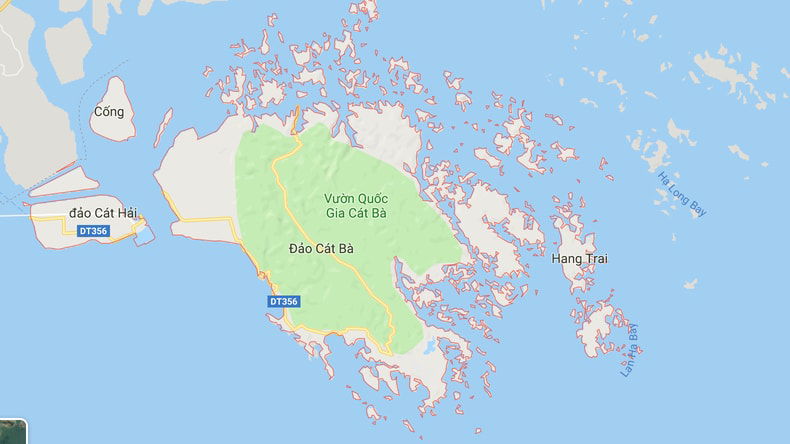 Many visitors use Lan Ha Bay as a base for visiting the nearby fishing villages and floating villages that are an integral part of Halong culture. Viet Hai Fishing Village is one of Lan Ha Bay's top attractions where locals invite tourists to come and witness their traditional way of living. Visitors may be surprised to see that people who live on floating villages have guard dogs and even restaurants and a kind of Town Hall.
See our guide: The best Lan Ha Bay cruises for every type of traveler
Some lucky travelers may get the opportunity to see bio-luminescent plankton, which are sometimes visible in the waters of Lan Ha Bay at nighttime when it's very dark. These plankton give the impression of stars floating in the ocean.
Places of interest
Cat Ba Island - The largest island in the Cat Ba Archipelago, Cat Ba Island is one of the main features of Lan Ha Bay. It is a tourist hub for the Halong Bay area as many tourists who choose not to opt for a cruise use Cat Ba as their base to explore this bay area, and can also have a great time exploring Cat Ba's jungle and caves and enjoying its beautiful sunsets.

Cat Ba National Park - Photo: @bstravelshots / Instagram

Monkey Island - Cat Dua Island, more famously known as Monkey Island, is famous for two things, firstly for its monkeys and secondly for its wonderful view of the bay. Monkey Island features on many cruise itineraries and can also be accessed by tour from Cat Ba Island. The peak of the island offers some of the best views of Lan Ha Bay and is reached by a short trek from the beach.

Photo: @dthanh.thanh / Instagram

Cannon Fort - Overlooking Lan Ha Bay like a watchful parent, the Cannon Fort is the perfect place to get a stunning panoramic view of the bay. The Cannon Fort sits on top of a 177-meter-high hilltop and is open to the public from 8 a.m. to 5 p.m. everyday. There is an entrance fee of around $2.00 USD for adults.

Canon Fort - Cat Ba - Photo: @sunpinkkk / Instagram

Luon Cave - One of Lan Ha Bay's famous caves, Luon Cave can be found on Bo Hon Island. It has much to offer with its charming natural scenery and exploring it is one of Lan Ha's greatest experiences. Exploration is done by kayak or a small boat and tourists can choose to kayak alone or to take a tour in a local boat. Inside Luon Cave the air is cool, the water calm and the atmosphere peaceful. Monkeys can often be seen running around the cave.

Bamboo boat through Luon Cave - Photo: @pikarounna_journeys / Instagram
There are a number of islets and caves in Lan Ha bay including: Guoc islet, Doi Islet, Ca cave, Dragon Jaw cave and Do Cung cave!
How to get there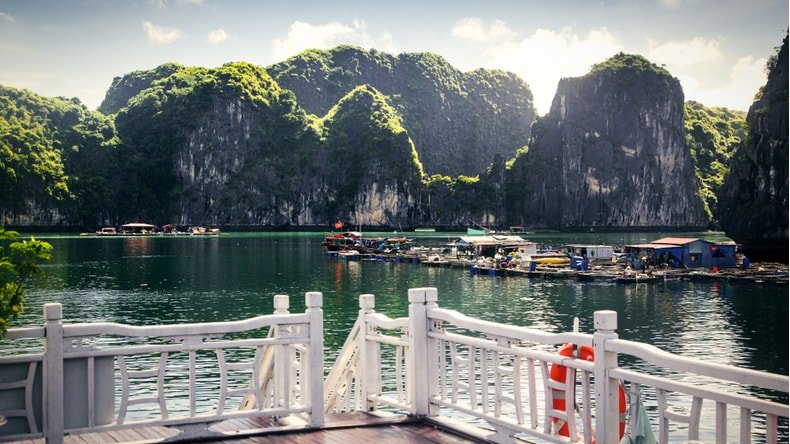 To reach Lan Ha Bay there are a few easy options. Many choose to arrange a cruise with a Hanoi-based cruise company; these cruise packages usually provide a return transfer to and from Hanoi and full board overnight on a traditional junk ship.
A few cruises visiting Lan Ha bay are:
| Cruise | Departure Port | Route |
| --- | --- | --- |
| Orchid Cruises | Tuan Chau pier, Halong Bay (170km from Hanoi) | Tuan Chau Pier - Da Chong islet - Con Vit islet - Trung Trang - Tra Bau (Lan Ha bay) |
| Peony Cruises | Tuan Chau pier | Tuan Chau Pier - Cat Ba island - Lan Ha bay |
| Mon Cheri Cruises | Tuan Chau pier | Hanoi - Hai Phong - Halong bay - Lan Ha Bay - Cat Ba island |
If you choose to visit Lan Ha Bay independently a good option would be to first go to Cat Ba Island and book a boat tour from there.
If you are based in Hanoi you can reach Cat Ba Island by taking a direct bus or taxi from Hanoi to the island of Cat Hai, and once in Cat Hai you can take a 10 minute speedboat journey to Cat Ba. Once in Cat Ba you can take a boat from Beo harbour (Bến Bèo) which is about a good mile (2 kilometers) from Cat Ba town. By bus the total journey should take around 03 hours and should cost you around 350,000 VND.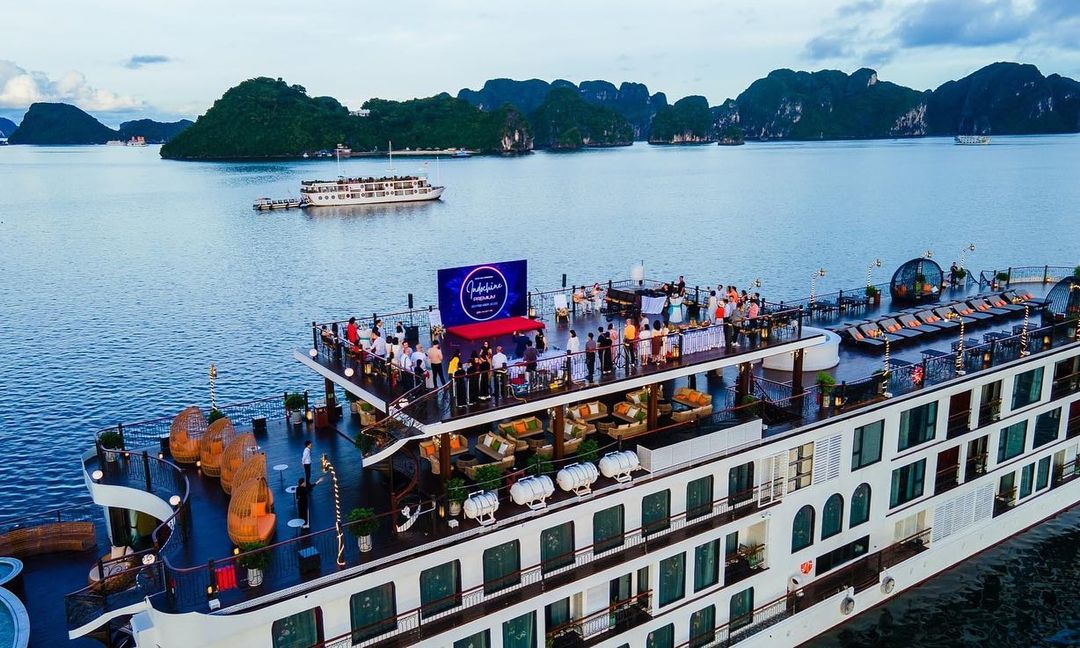 Alternatively, if you are traveling directly from Hai Phong it is very easy and straightforward to book a speedboat or ferry from Hai Phong from Binh Port to Cat Ba Island. Speedboats cost around 190,000 VND and should take around 1 hour and ferries cost around 120,000 VND and take 2 hours. Ferry and boat tickets can be booked online or in person at Binh Port.
Weather & climate
Truly you can visit Lan Ha Bay at any time of the year and have a great experience but the perfect time to visit Lan Ha Bay is between March and June or October and November.
From March to June the weather stays mostly sunny, and it doesn't get as blisteringly hot nor does it rain as much as it does during summer. Having good weather like this will give you great conditions to enjoy the many activities on offer. Although you should keep in mind that this time is also peak season for domestic tourists. After June, the weather becomes a lot more volatile and typhoons and tropical storms become more likely.
Lan Ha bay weather averages:
| Months | High / Low(°C) | Rain | Rainfalls |
| --- | --- | --- | --- |
| January | 20° / 14° | 4 days | 39mm |
| February | 21° / 15° | 4 days | 21mm |
| March | 22° / 17° | 6 days | 52mm |
| April | 25° / 20° | 7 days | 67mm |
| May | 31° / 24° | 9 days | 174mm |
| June | 32° / 25° | 8 days | 186mm |
| July | 31° / 24° | 10 days | 247mm |
| August | 31° / 25° | 12 days | 315mm |
| September | 30° / 24° | 11 days | 234mm |
| October | 28° / 21° | 5 days | 69mm |
| November | 24° / 17° | 4 days | 45mm |
| December | 22° / 15° | 3 days | 27mm |
Weather graph: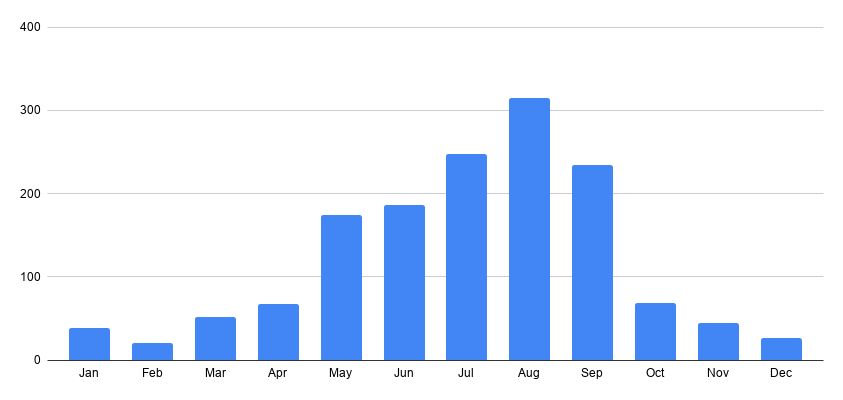 Summary: From October to November the sunshine will be gentler and there will be more of a breeze, however the biggest bonus is that Lan Ha Bay will be less busy than it is in the summer months. The temperate weather and the quieter atmosphere makes the fall a great time to visit Lan Ha Bay.