Customs and traditions in Halong Bay and its surrounding area have been passed down from generation to generation and this gives Halong Bay great cultural importance within Northern Vietnam.
1. People
The people of Halong Bay are part of the majority ethnic group in Vietnam, the Kinh people. Vietnamese is the spoken language although basic English may be spoken by those working in the tourism industry.
For many years, Halong Bay locals have mostly lived in unique floating fishing villages; making a living from fishing and marine harvesting. The local fishermen fish by different methods, such as cast-fishing, trawling, and netting. At night visitors can try their hand at squid-fishing. Alternatively, many locals also make a living from the booming tourism industry in the area. Some make and sell handmade jewelry, while others run floating convenience stores on small row-boats.
Generations of families are born in the floating villages and many stay there their wholes lives. However, in recent years, the Quang Ninh government have begun to relocate the inhabitants of the floating villages into settlements on land. The purpose of this is to preserve Halong Bay's natural landscape and maintain its status as a heritage area.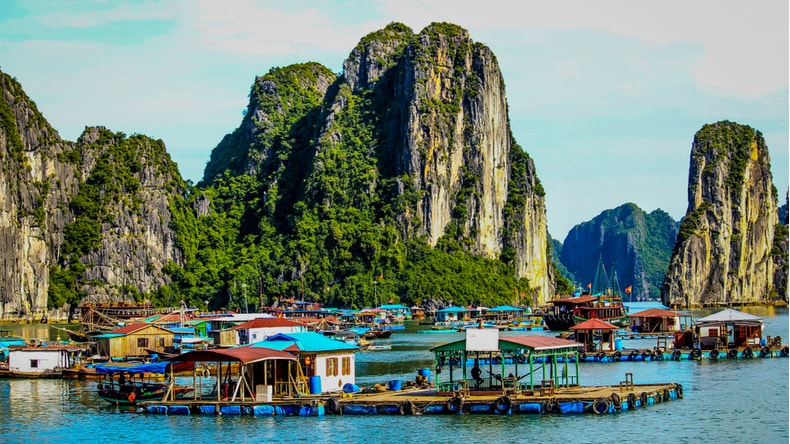 2. Religion
Just like the rest of Vietnam, the religion followed by citizens of the Halong Bay area is largely led by ancient folk beliefs and traditions that are centered around ancestor worship. Many Vietnamese people are very spiritual and superstitious and believe that there is a supernatural element to life. However, there is also a presence of Buddhist and Christian followers, and in Eastern Halong City you'll find an active Roman Catholic church that still celebrates Mass and Christian holidays.
Inhabitants of Halong Bay participate in the main religious festivals and celebrations that are popular throughout Vietnam - the most important holiday is Tet, the celebration of the Lunar New Year. At this time, the Vietnamese people clean their houses before passing into the new year, throw big family parties and gift lucky money to family and friends.
3. Food
Due to its prime location, it's no surprise that Halong Bay is celebrated for its delicious seafood. Locals and visitors alike can enjoy Quang Ninh delicacies such as locally prepared Cha Muc (fried squid cakes) with sticky rice or Banh Cuon (a type of meat pancake), crab, lobster, and oysters. Many local dishes are also made using some of the many types of mollusk (surprisingly tasty!), which can be found in abundance in Halong Bay. Ngan is a popular type of clam that can be prepared in many different ways and is also used to make wine. Shrimp is another main feature of Halong food and is eaten with lemon salt.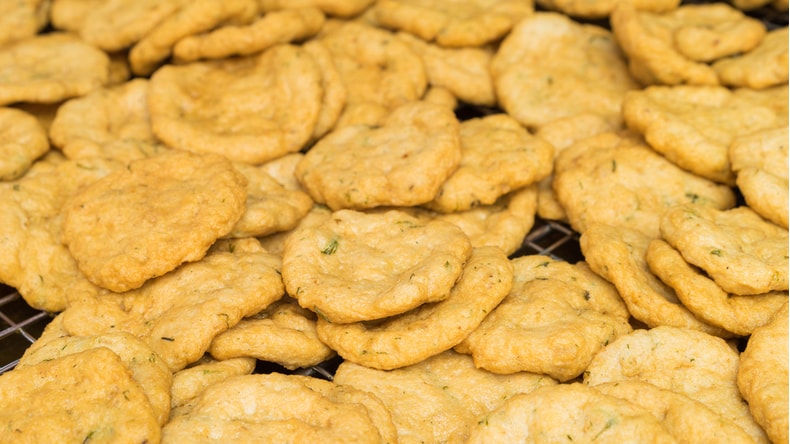 Grilled chopped cuttlefish, a famous food in Halong bay.
4. Music
Music and songs are as important in Vietnamese culture as anywhere. 'Hat Giao Duyen' is a popular traditional love song sung in a style similar to the Quan Ho style of singing which originated in the nearby Bac Ninh province. Quan Ho songs usually discuss issues of the heart like love and heartbreak. The song is sung commonly on one of the four floating fishing villages in Halong Bay, Cua Van, during wedding celebrations. Weddings in the Cua Van village are to be held on the 15th day of the lunar month. On this day, the moon is brightest, and the softly moonlit bay makes sure that all the fish stay away from the surface of the sea.
5. Art
Art forms that are found in Halong Bay are strongly tied to the local culture. Bespoke, handcrafted sculptures made from Anthracite coal are characteristic of Quang Ninh province and make a fantastic souvenir. Many examples can be found in Halong Market and popular models include the Fighting Cock statue which represents the Fighting Cock islet which has stood in Halong Bay for a thousand years. In Halong Bay's Pearl Farm you may witness how a pearl is cultured and transformed into beautiful handcrafted jewelry. In Vietnam, this kind of pearl farming is mainly done in Halong Bay and the surrounding area. The method used to harvest and culture the pearls was heavily inspired by the Japanese method, as this method was first developed by Japanese innovators.
Rice paintings, popular throughout Vietnam, are also commonly made in Halong Bay. Rice grains are colored by frying them to different levels of a shade of brown and then arranged to form delicate landscape depictions. A small rice painting can take weeks to complete, and a larger one will take even longer!
6. Ancient Culture
It may surprise you to learn that Halong bay is widely regarded as one of the world's cradles of mankind. Several ancient civilizations had their genesis in the area, going as far back as to 3000 BC.
Despite Halong culture having existed for thousands of years, it only became known to the rest of the world during the French colonial time in Vietnam. Around 65 years ago, a dedicated team of both Vietnamese and international scientists discovered the first distinctive indications of ancient cultures originating in Halong Bay. Together, the scientists uncovered 27 traces of ancient culture, including a complicated system of primitive caves and a variety of sophisticated rock tools.
Similar to many other ancient civilizations, the Halong people used their tools for farming, hunting and fishing. Of those tools, the hand axe in particular played a critical role in the lives of the ancient Halong people. To this day, the axe is considered to be a symbol of the people of Halong.
Another noticeable feature of Halong culture lies in its ceramic products. The products made by the peoples of Halong were diverse and unique and were mainly made using a ceramic turntable. Ceramic products were often the pride of the local people as it has helped Halong culture to differentiate itself from other cultures co-existing in the same area.
Today, most of Halong's 1600 islands and islets are uninhabited. Less than 2000 people occupy Halong Bay, forming four prominent fishing communities housed by floating villages and fed by local fishermen. Life in Halong Bay is naturally centered around the sea and locals live a basic way of life, following the traditions their families have honored for generations.
Sources:
Questions and Answers
(0)
Be the first to ask a question on this page
READ THIS NEXT
Vietnamese New Year is known as Tet, Tet Nguyen Dan, or Lunar New Year in Vietnam. It is the most …
Read more
Hanoi Old Quarter has long been known as the historical and cultural hub in the heart of Hanoi Capital.
Read more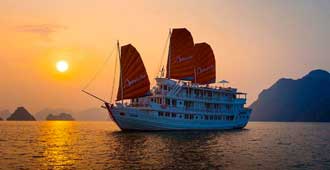 Discover the charming and exotic landscapes of Halong bay on an all-inclusive luxury cruise!
Meet local experts
Need to create your own Halong bay trip?
Call us now: +84 987 24 6600 (Whatsapp)
Customize Your Tour
QUESTION FORUM:
Halong Bay: Questions