Halong city - Best things to do & travel guide
Our guide to Halong city will help you explore its breathtaking landscapes, discover local culture, and find the best experiences, from cruising on the bay to savoring delicious seafood cuisine.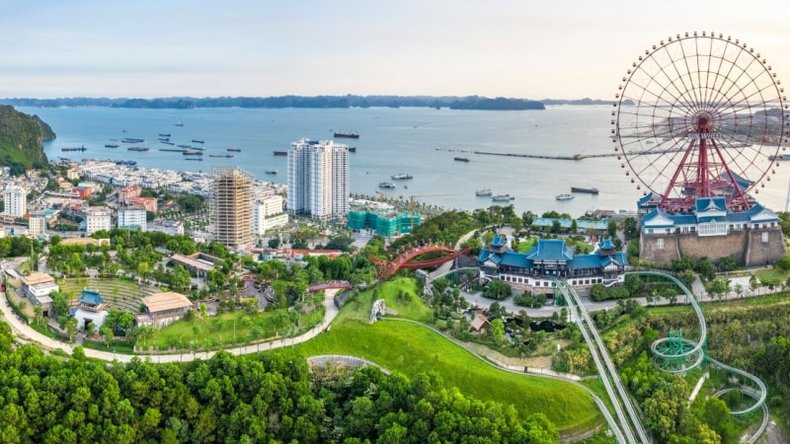 About Halong city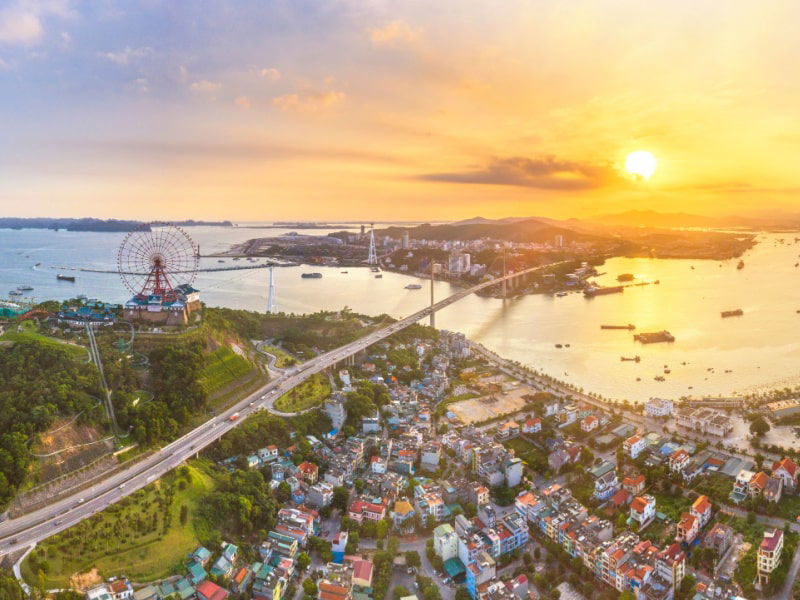 Situated at the heart of Quang Ninh Province, about 160 km from Hanoi capital, Halong city is undoubtedly a delightful destination for those who seek an immersive cultural experience. After embarking on a mesmerizing cruise through the awe-inspiring Halong Bay, visitors are warmly welcomed to delve into the unique and lively local lifestyle in Halong city, acquainting themselves with captivating customs and traditions.
This enchanting place boasts a tapestry of vibrant markets, bustling seafood restaurants, and a rich cultural heritage. There are an array of historical and cultural landmarks in Halong waiting to be discovered, including museums, churches, and fascinating entertainment spots. With a dynamic and superior development in hotels, facilities, and transportation, Halong ensures that tourists are treated to an enjoyable travel experience.
Immerse yourself in the alluring essence of Halong City, where every moment contributes to a beautiful and memorable journey.
Best things to see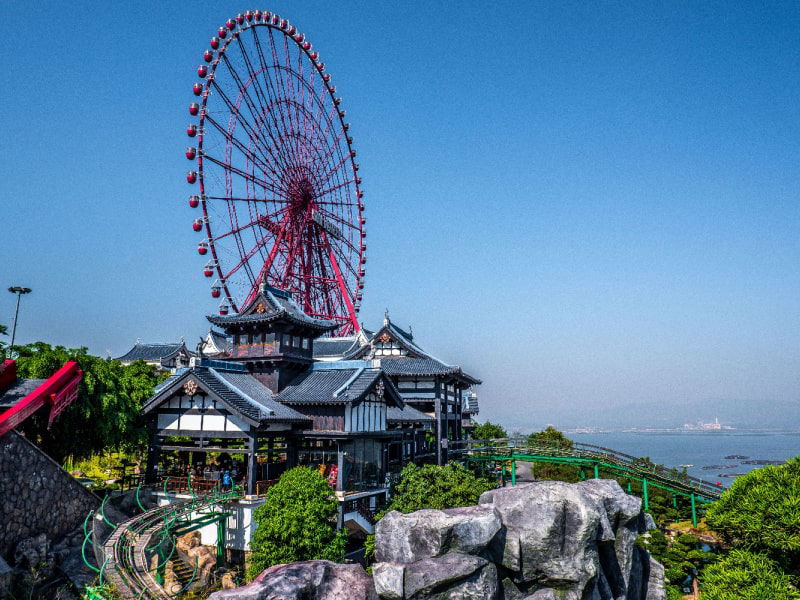 Sun World Halong Complex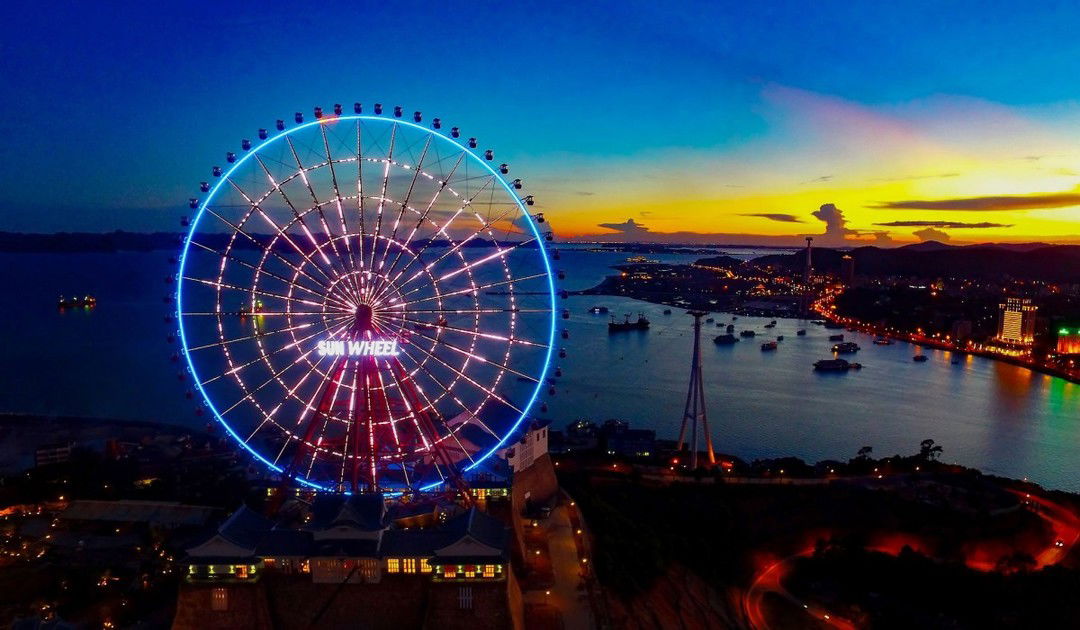 Located at the heart of Halong city, spreading around 214 ha, Sun World Halong is a sophisticated complex covering top-notch amusement activities for all ages. This impressive theme park stands as a premier entertainment center in Vietnam, showcasing a diverse array of games and leisures activities.
The complex is divided into 3 main captivating zones with unique experiences:
Dragon Park: An adventurous world of 30 exhilarating games with intriguing names such as Mysterious Search, Pirate Ship, Furious Rhino, Monster Spin, Tracing the Dragon, and more. Families with kids can enjoy gentler games like The Spinning Cups, Convey Ride, Halong Railway, and others.
Water Park: Just like its name, this area provides amazing water games suitable for all groups of travelers. Some highly-recommended games include The Miraculous Island Kingdom, Non-stop Tornado, Dragon Upstream, Turbulence rapids.
Queen Cable Cars & Sun Hills: This section features more relaxed and gentle games designed to cater to all travelers. Thanks to the superb cable car systems and breathtaking scenery, visitors are also encouraged to immerse in a tranquil ambiance while enjoying lovely panoramic views of Halong.
Bai Tho Mountain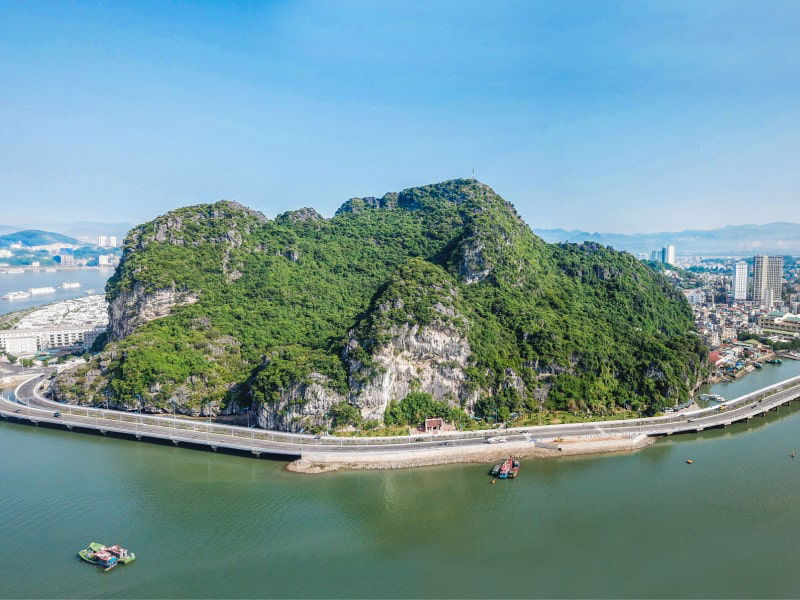 At just 200 meters in height, Bai Tho Mountain offers an enjoyable hiking and climbing experience, rewarding adventurers with breathtaking panoramic views of Halong Bay from its summit. On the way to reach its peak, tourists are also treated to a serene natural ambiance, surrounded by the lush greenery, unique rock formations, and the soothing sounds of birds.
Closed to the public due to safety reasons in 2017, Bai Tho Mountain is expected to reopen in 2023, promising unforgettable moments for its visitors.
Helpful travel tips:
Be sure to check the weather forecast in advance to avoid rain and dress comfortably.
Don't forget to pack sunscreen and insect repellent.
Plan your visit before 4:00 PM to ensure safety and maximize your enjoyment.
Carry some snacks and enough water for the trek.
It is advisable you hike in a group so as to look after each other.
Quang Ninh Museum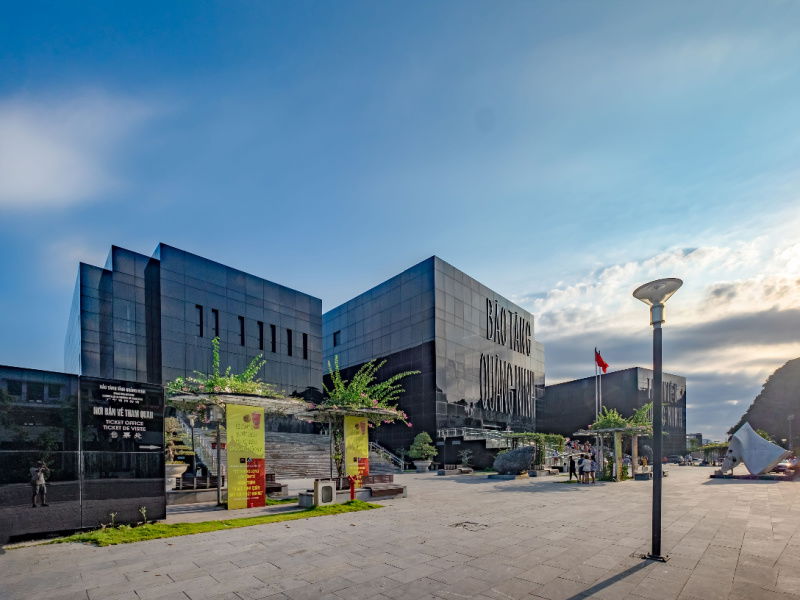 Delicately bringing the image of coal - the primary mineral of Quang Ninh into unique architecture and designs, Quang Ninh Museum showcases not only impressive local culture and history, but also the spirit and allure of the province. The museum has 3 floors each of which features a distinct charm.
While the first floor exhibits exquisite artwork reflecting the wonders of nature and seas, the second floor transports visitors back to prehistoric times with a remarkable collection of meticulous artifacts. Finally, the third floor completes the exhibition journey by presenting valuable time-honored documents of Quang Ninh's notable accomplishments.
Entrance ticket:
Adults: VND 40,000/ person
Students: VND 20,000/ person 
Children: VND 10,000/ person
Bai Chay Beach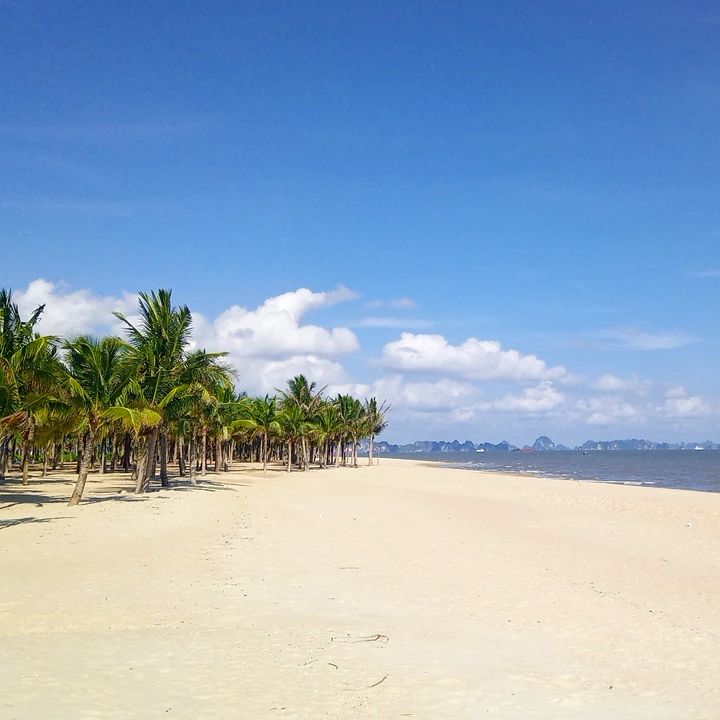 Bai Chay Beach attracts thousands of tourists annually thanks to its charming stretching white sandbank seamlessly blending with the crystal-clear blue waters. Considered one of Vietnam's most popular man-made beaches, this destination offers a serene ambiance for swimming, sunbathing, surfing, canoeing, etc. As Bai Chay is also a vibrant area, visitors can also take a great opportunity to delve into the colorful lifestyles here with an array of seafood restaurants, hotels, and resorts in the vicinity. 
Helpful travel information:
Nearby restaurants: Phuong Nam Restaurant, Linh Dan Restaurant, Thien Anh Restaurant, Hong Hanh 3 Restaurant, Cua Vang Restaurant.
Nearby hotels: Muong Thanh Luxury Ha Long Centre Hotel, Premier Village Ha Long Bay Resort, Novotel Halong Bay, Starlight Hotel.
Long Tien Pagoda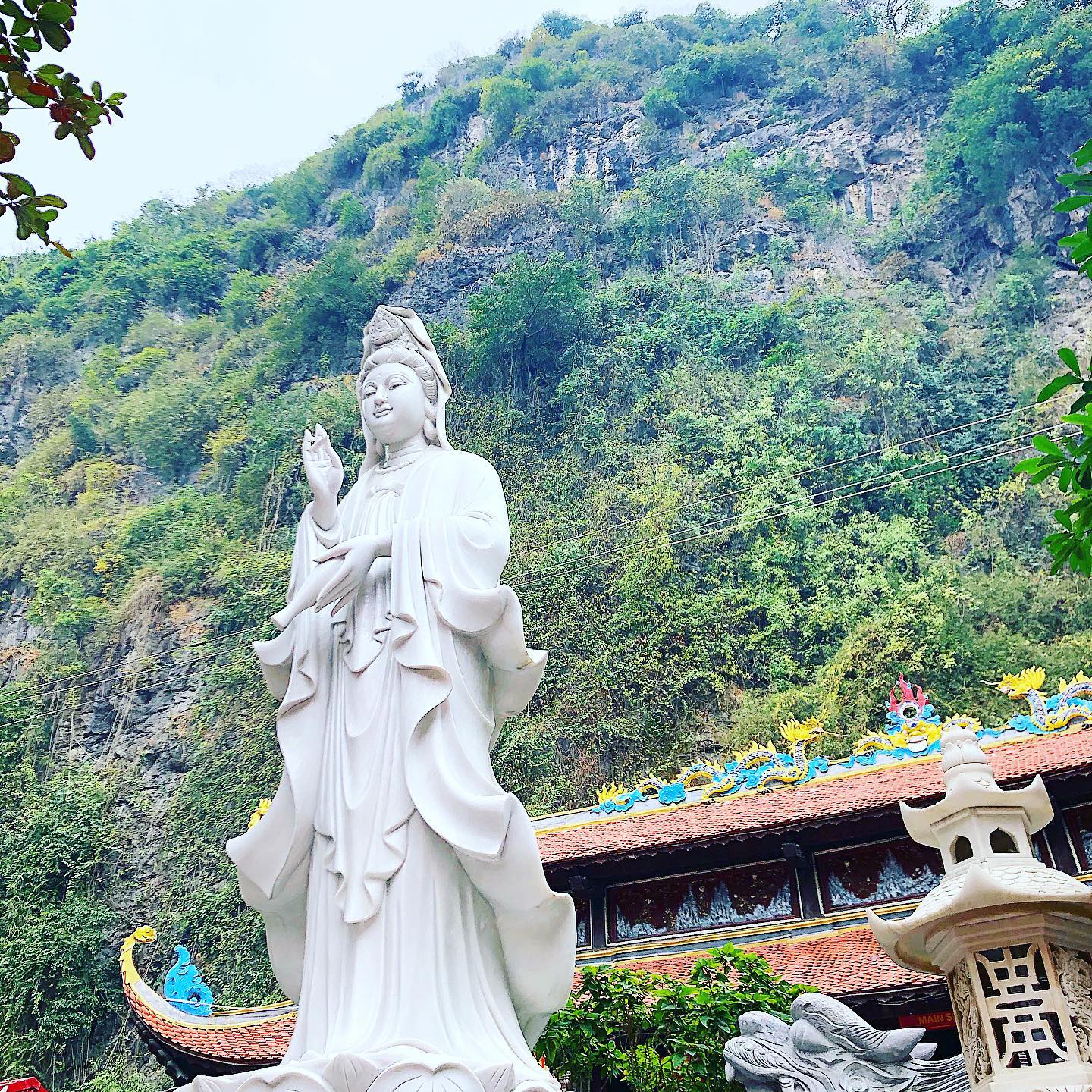 Located peacefully at the foot of Bai Tho Mountain, Long Tien Pagoda is the largest pagoda in Halong City, holding magnificent architecture and profound spiritual significance. Visitors to this sacred site not only have the opportunity to marvel at the unique & bold designs of the Nguyen Dynasty but can also find peace and solace in the church's serene ambiance.
Helpful travel information:
Entrance Fee: There is no entrance fee to Long Tien Pagoda.
Dress Code: It is important to dress appropriately when visiting this attraction, avoiding wearing tight-fitting clothes and skirts.
Essential Items: For the utmost comfort and convenience, it is advisable to bring water, hats, and sunscreen when exploring the church.
Map of things to see
3 - Best things to do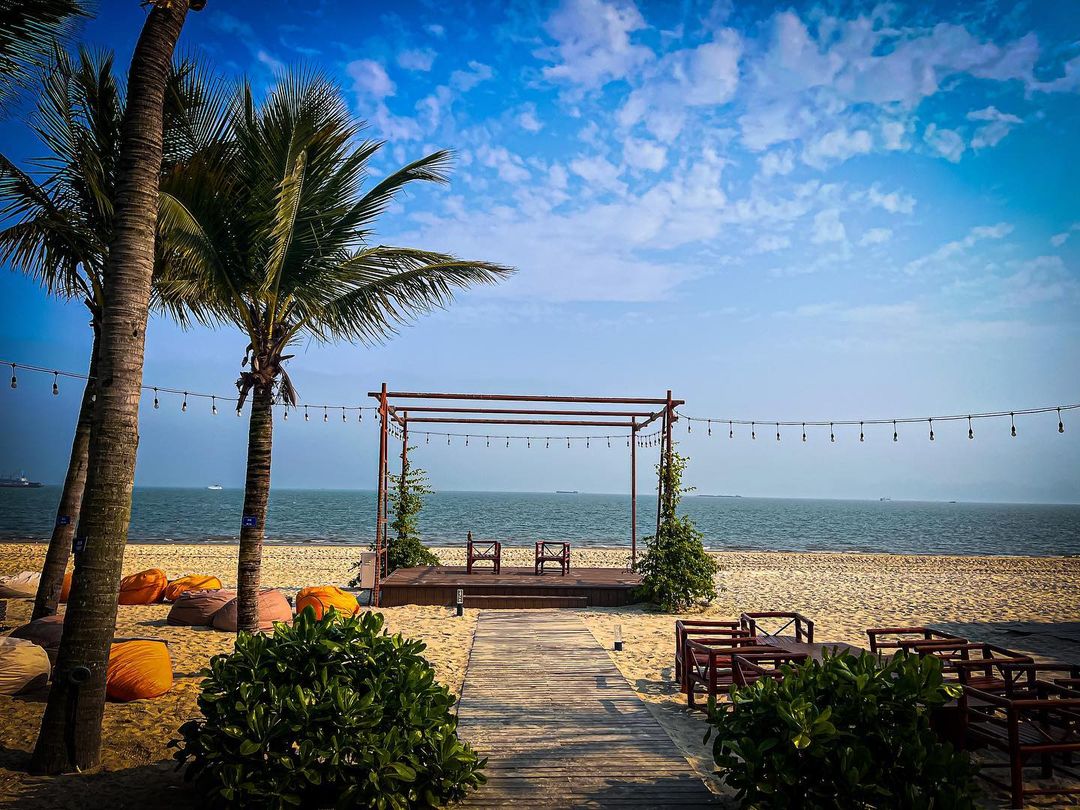 Entertain at Sun World Halong Complex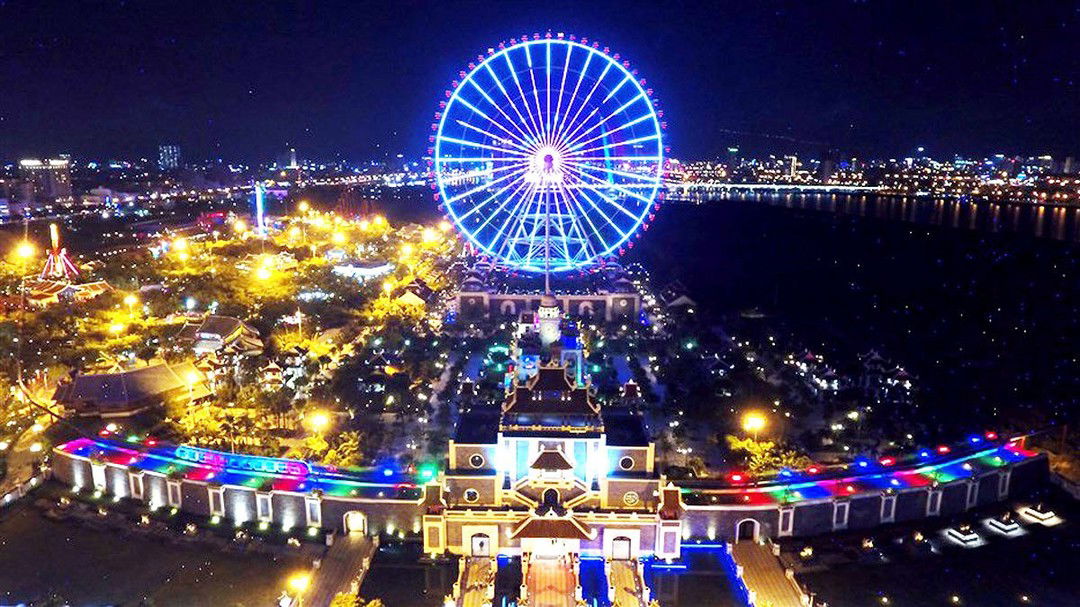 For those who seek a vacation full of entertaining & unforgettable adventures, come to Halong and experience thrilling and captivating experiences at Sun World Halong Complex. This attraction is considered as one of the premier entertainment hubs in Vietnam, offering an array of games and activities, suitable for all ages. Whether you are looking for a fascinating experience or an immersive relaxation, the Sun World Halong Complex always has something to offer.
Address: 9 Ha Long, Bai Chay Ward, Halong City
Discover local cultures with various cultural and religious attractions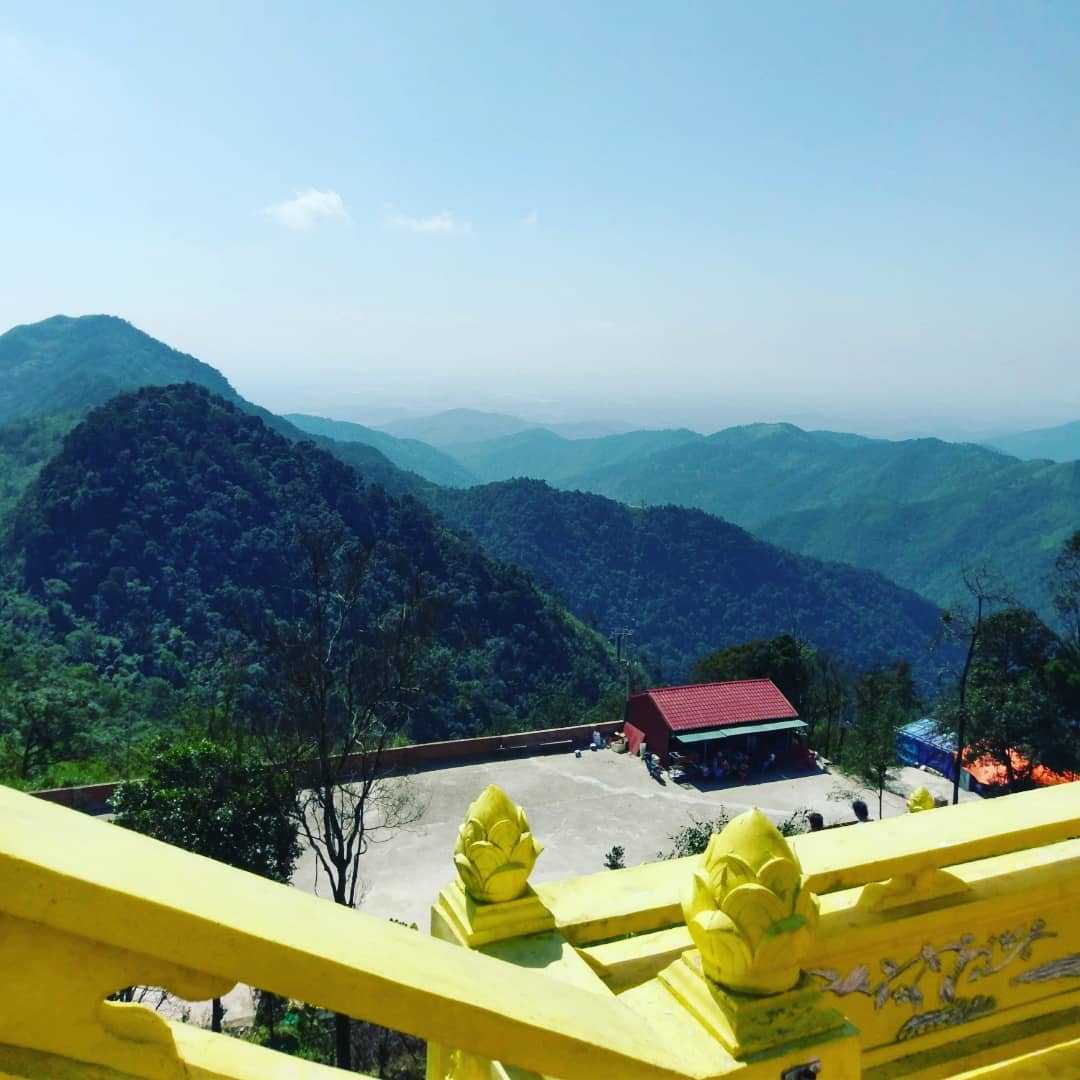 Apart from its stunning natural landscapes and captivating entertainment centers, Halong City is also renowned for its vibrant cultures, rich historical heritage, and captivating festivals. The city features a collection of museums, notably the Quang Ninh Museum, where you can explore the timeless beauty and cultural values of the province.
Additionally, the destination also boasts many popular spiritual attractions such as Long Tien Pagoda and Loi Am Pagoda, where visitors can truly find inner peace and tranquility in the serene ambiance.
Explore Bai Chay Old Quarter
Just by strolling around the Bai Chay Old Quarter, travelers will be enjoyably captivated by the bustling ambiance of Halong city. This enchanting area is brimming with an array of restaurants, hotels, cafes, and bars, guaranteeing a fulfilling experience for tourists. Amidst the charm of this quarter, visitors will also encounter lovely hints of Hoi An and Hanoi, with the iconic golden yellow walls and ancient architectural allures.
Some must-try activities when visiting this old town are going sightseeing, indulging in local delicacies, relaxing at local cafes, and capturing beautiful photos thanks to the picturesque backdrops available at every corner.
Go shopping & enjoy local delicacies at seafood markets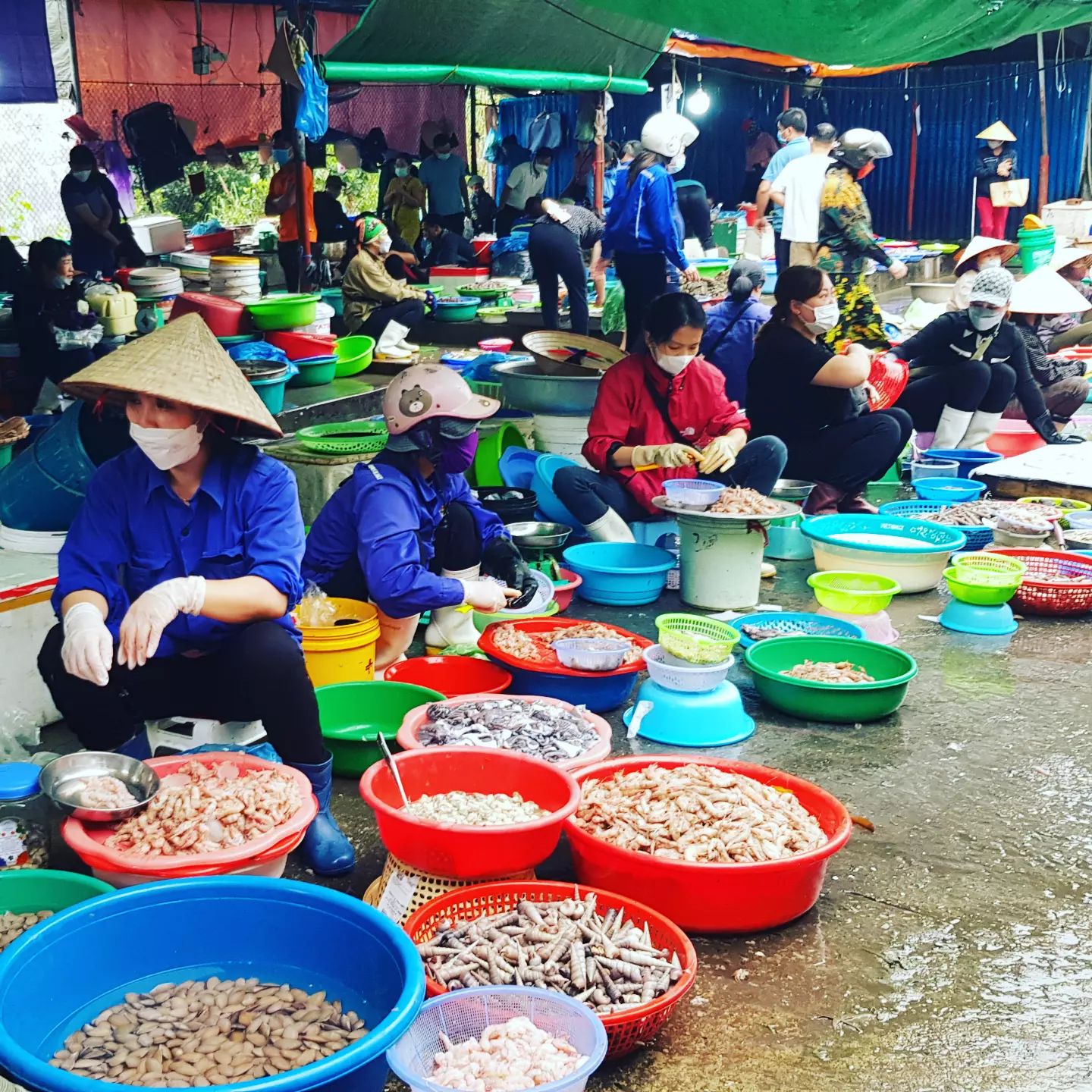 Coming to Halong city, visitors should not miss the hustling atmosphere of seafood markets, where they can indulge in varied delicious local specialties as well as go shopping for fresh and delicious local seafood. This is also a nice opportunity to experience a vibrant and idyllic lifestyle in the morning of the fishermen and locals here. 
Some popular seafood markets in Halong city are:
Halong 1 Market: Bach Dang Street, Halong City
Halong 2 Market:  433 Le Loi, Tran Hung Dao Ward, Halong City
Cai Dam Market: Tien Ong, Bai Chay Ward, Halong City
Hung Thang Market: Hung Thang, Bai Chay Ward, Halong City
What to do at night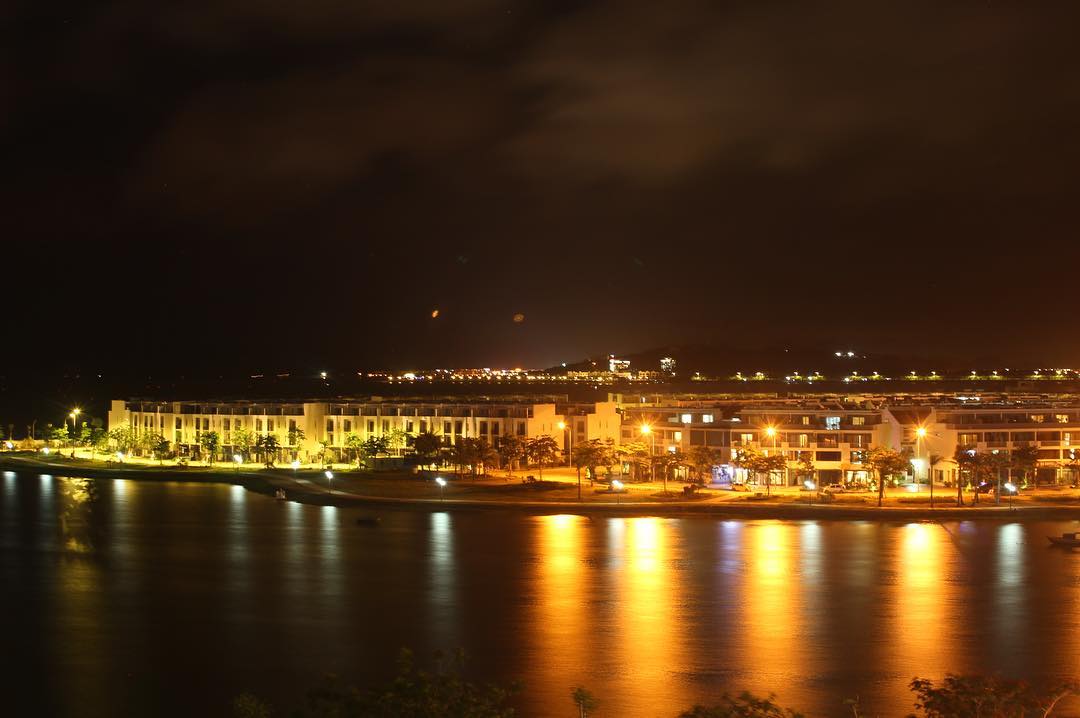 Go sightseeing at Bai Chay Bridge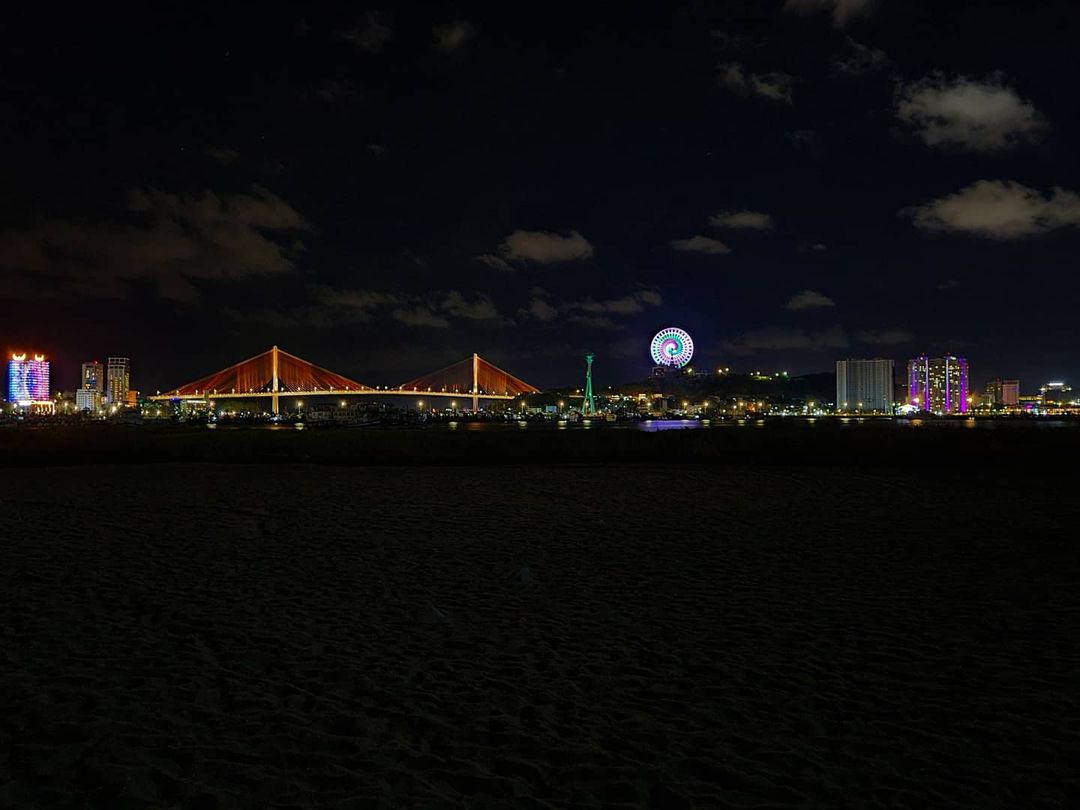 Visiting Halong, don't miss the opportunity to experience the alluring nightlife views of this bustling city from Bai Chay Bridge. During the day, the bridge stands as an impressive, sturdy structure. But in the evening when the LED lights come alive in a colorful array of different hues, combined with the twinkling vehicle lights, the bridge transforms into a magnificent and romantic spectacle, exuding a truly pure charm.
With its slender shape and graceful designs, the bridge has become an iconic symbol of the city, serving both as a crucial transportation link and a captivating architectural masterpiece.
From the bridge, you'll be treated to a breathtaking panoramic view of the city at night and a glimpse of the bay, creating an unforgettable experience.
Explore Halong Night Market
Halong Night Market, a must-go spot in the evening, is an enchanting destination that captures the vibrant local nightlife of the city. Here, visitors are greeted with an array of colorful souvenir shops, tantalizing fragrances from street food stalls, and sparkling lights. Simply strolling through the market and immersing in the lively ambience allows tourists to discover the rich customs and culture of this city area, providing a truly meaningful evening of exploration and discovery.
Address: Hoang Quoc Viet, Hung Thang Ward, Halong City.
Must-try street food: seafood, "gat gu" cake, seafood vermicelli, Halong bubble yogurt, grilled squid rolls.
Marvel at the sparkling bay views from the Sun Wheel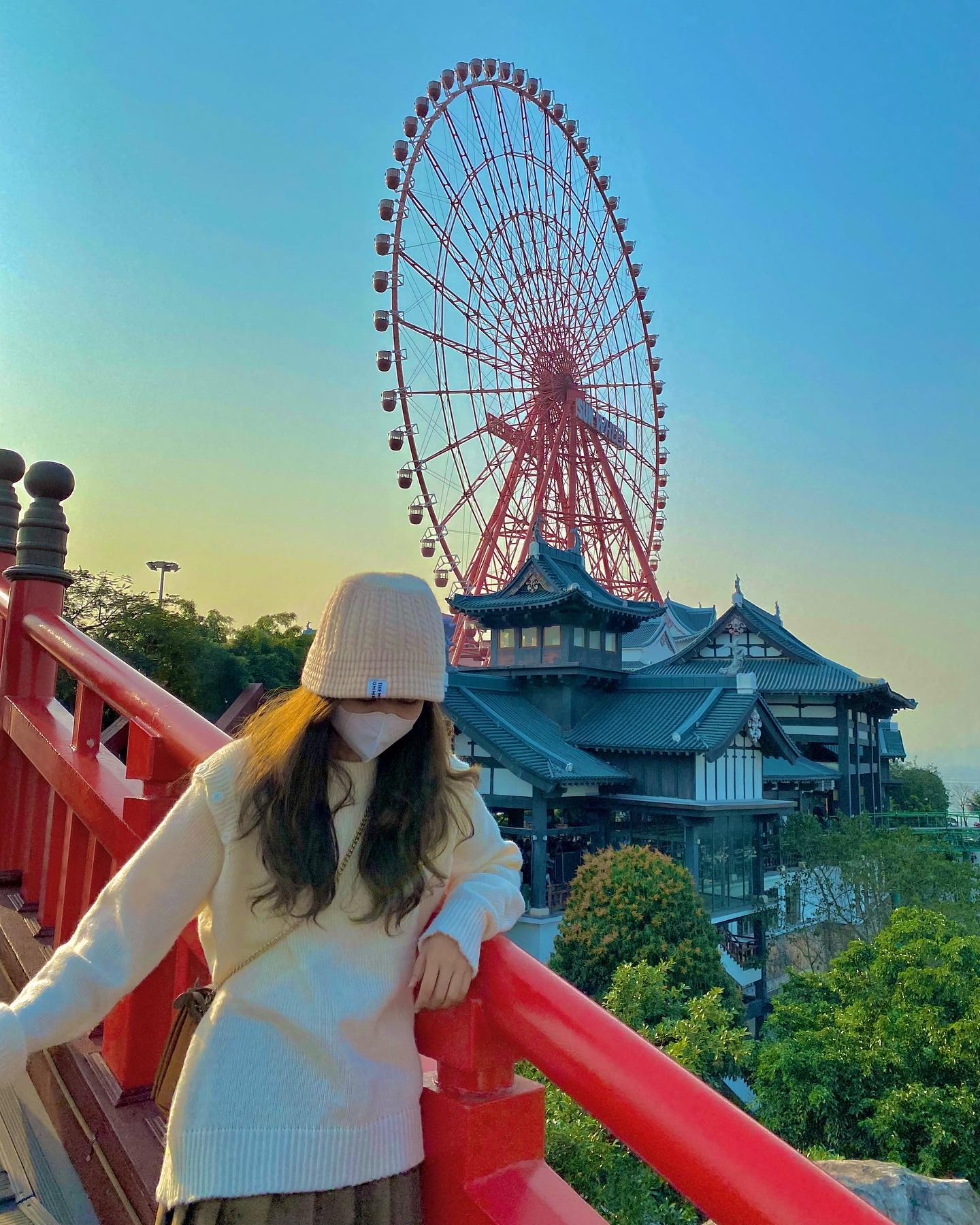 Sun Wheel Ha Long is an impressive highlight of the Halong Sun World complex, offering one of the best spots to capture the panoramic views of the entire Halong from the above. In the evening, getting on the Sun Wheel and contemplating the magnificent Halong city at night makes your evening more fun and relaxing than ever. With all the sparkling LED lights and the breathtaking panoramic views, tourists are invited to an extremely interesting sightseeing experience, allowing for relaxing moments and amazing photos.
Opening hours:
Monday - Friday: 14:00 – 20:00
Saturday - Sunday: 9:00 – 20:00
Relax at bars & nightclubs along Bai Chay Beach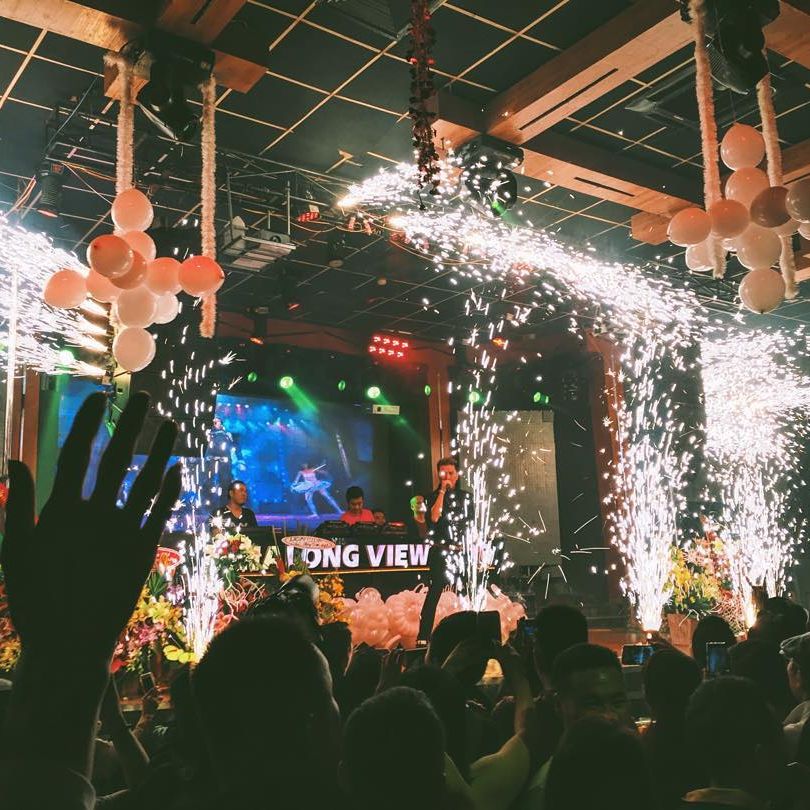 For those looking for a leisurely and laid-back evening, simply unwinding at a local cafe, bar, or nightclub offers a delightful way to relax. Along the Bai Chay Beach, tourists are welcomed into an aesthetic world where soothing music, delicious drinks, delectable bites await. There are an array of bars & nightclubs that provide the best beach views and relaxing ambiances for a tranquil evening.
Highly-recommended bars & nightclubs: Halong View Club, H Club, Valley Beach Club, Square Bar, Chill Beach Bar.
Where and what to eat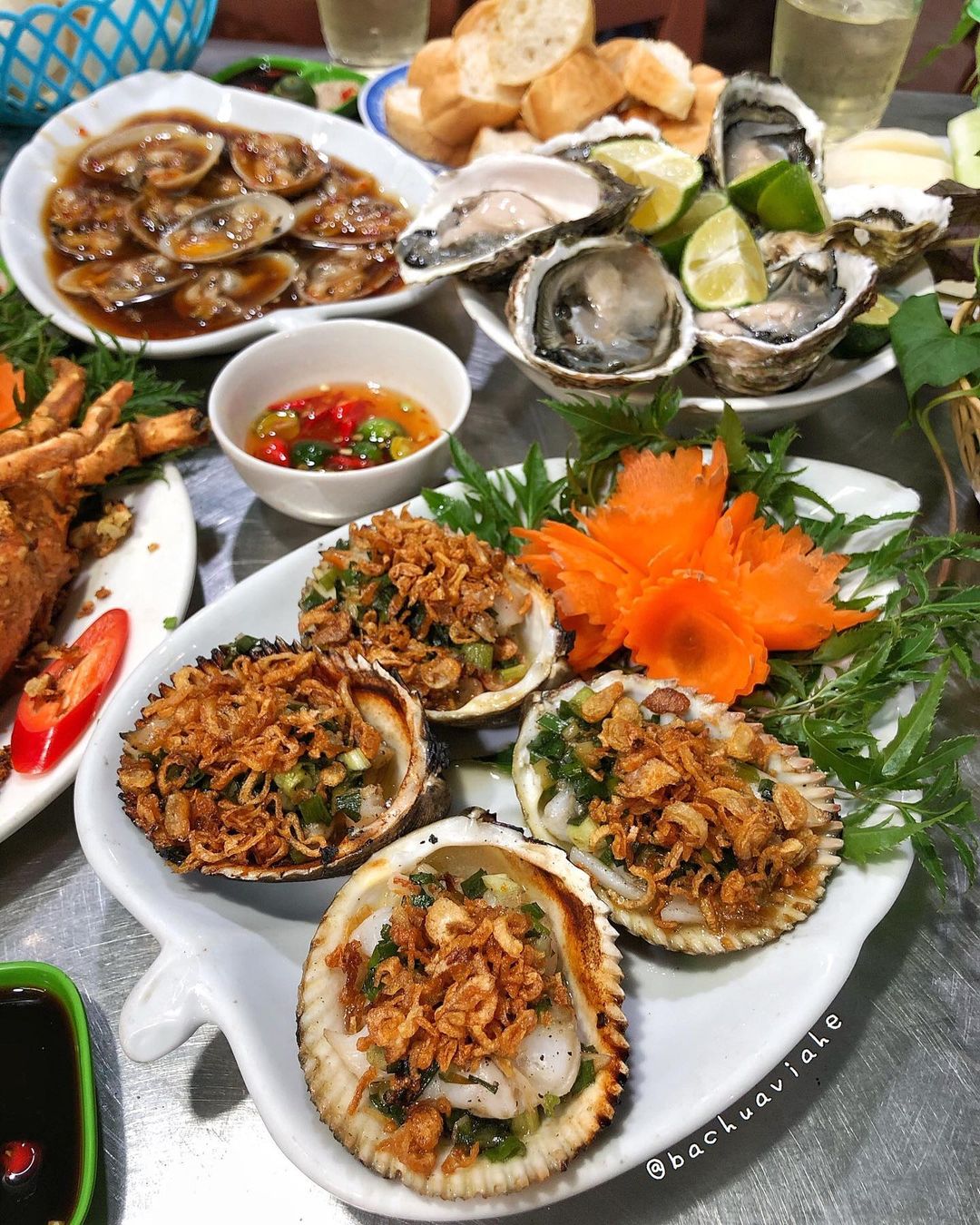 Cha muc (Squid Cake)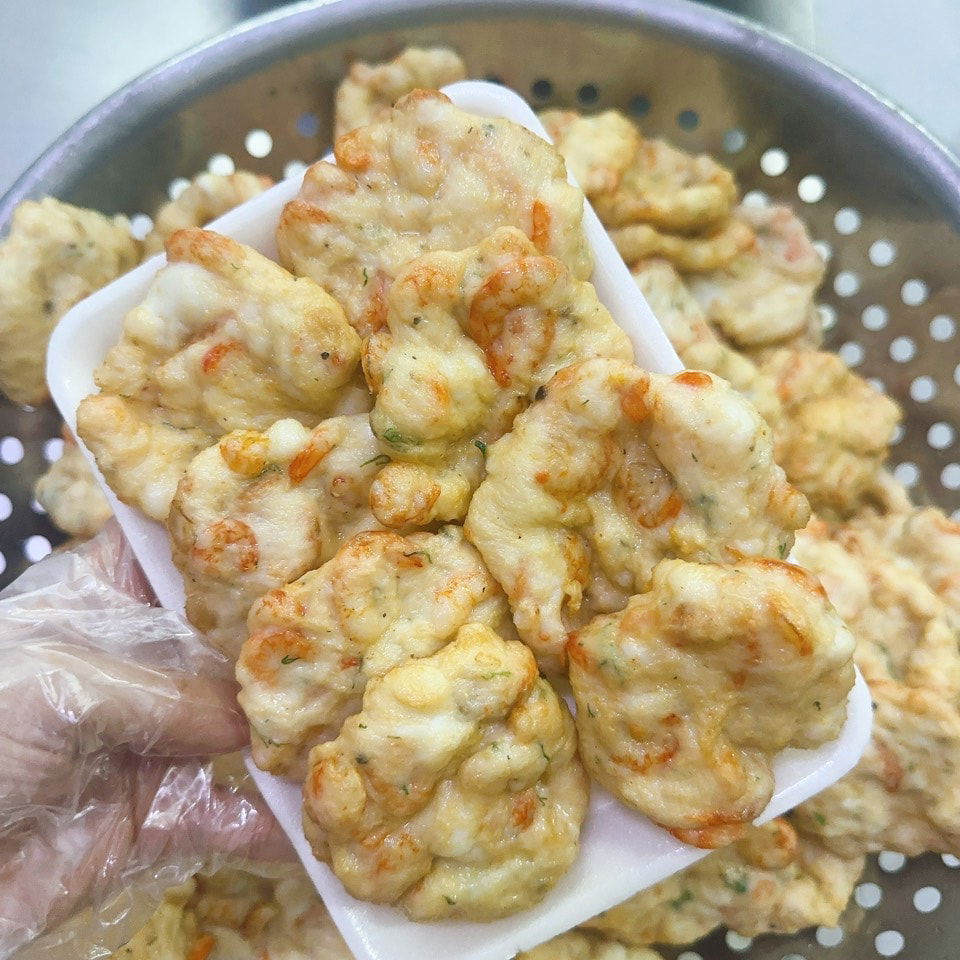 Squid cake, the symbolic dish of Halong City, embraces not only the appealing yellow color from the outside, but also a juicy, chewy, and sweet taste that is full of flavors. Made from fresh and healthy local ingredients, these tasty squid cakes are meticulously prepared through grinding and seasoning processes, resulting in a perfect texture and rich flavors. This specialty can be enjoyed along with different dishes like rice and vermicelli, but they are best served with a lemon garlic chili sauce.
Where to buy: DASAVINA Squid Cake, Thoan Squid Cake, Hien Nhung Squid Cake, Ong Ba Seafood, Phuc Squid Cake
Sa sung (Sipunculus Nudus)
Considered as a unique and exquisite cuisine, sa sung is a sumptuous, rare, and expensive seafood specialty of Halong city due to its unique flavors that are really hard to be found anywhere else. Sa sung is a kind of marine worm that contains a lot of nutritional values as well as a unique taste. Sa sung can be eaten raw or grilled and fried, and often served alongside with herbs and different sauces like garlic, chili, and mustard sauce.
Where to eat: You can try this special dish in many restaurants in Halong city or street food stalls and night markets.
Ngan (Austriella Corrugata)
Ngan, a type of hard clam, is known for its unique and unforgettable taste. This versatile seafood can be served in different ways such as grilled, steamed, stir-fired, and eaten alongside with soup, noodles, and herbs. Additionally, Ngan can also be processed into Ngan Wine, a specialty beverage that further showcases its distinct flavor. Due to its rarity and exceptional taste, Ngan is considered an expensive delicacy, but really worth trying for a memorable gastronomy experience.
Sam (Horseshoe crab)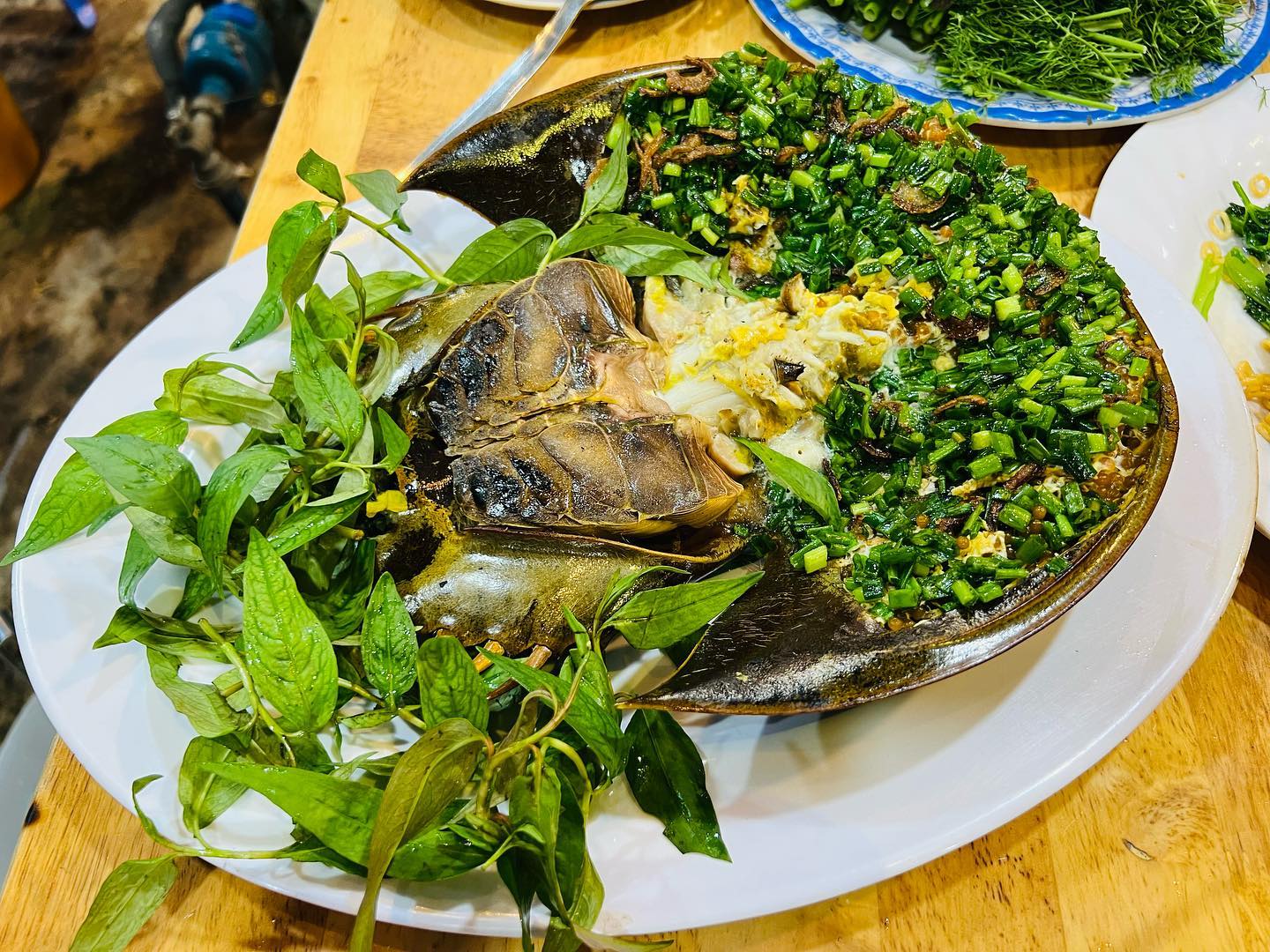 Halong Bay is a perfect habitat for horseshoe crabs, also known as "sam", making sam the iconic specialty of this area. From the delightful blend of sweet and sour flavors in crab salad, to the tender steamed crab meat served with chili and lemongrass, to the sweet and juicy crab meat enjoyed alongside with noodles, this seafood creates a truly enjoyable and memorable experience for every diner.
Hau (Oyster)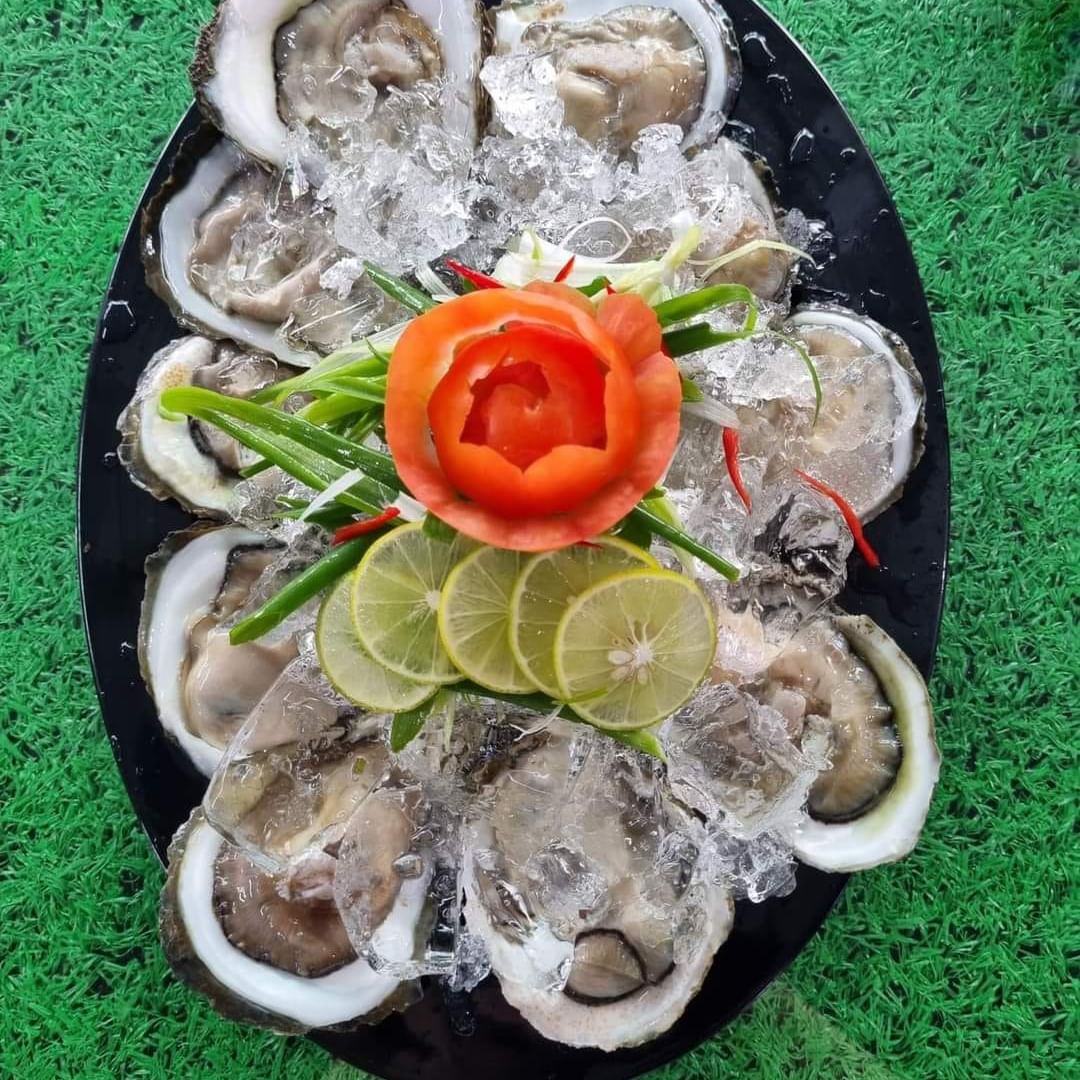 Easy to find with flavorful taste and versatile ways to enjoy, oyster is another must-try dish when coming to the marine land of Halong Bay. Locals here prefer to savor this delicious seafood along with onion and cheese when grilled, steamed with herbs, ginger, and lemongrass, or served with lemon, mustard, and chili sauce. Oysters in Halong feature thin shells, tender meat, and rich nutritional values, creating a simple yet satisfying and flavorful dining experience.
Where to eat: You can easily find this delicious specialty anywhere in Halong city.
Highly-recommended restaurants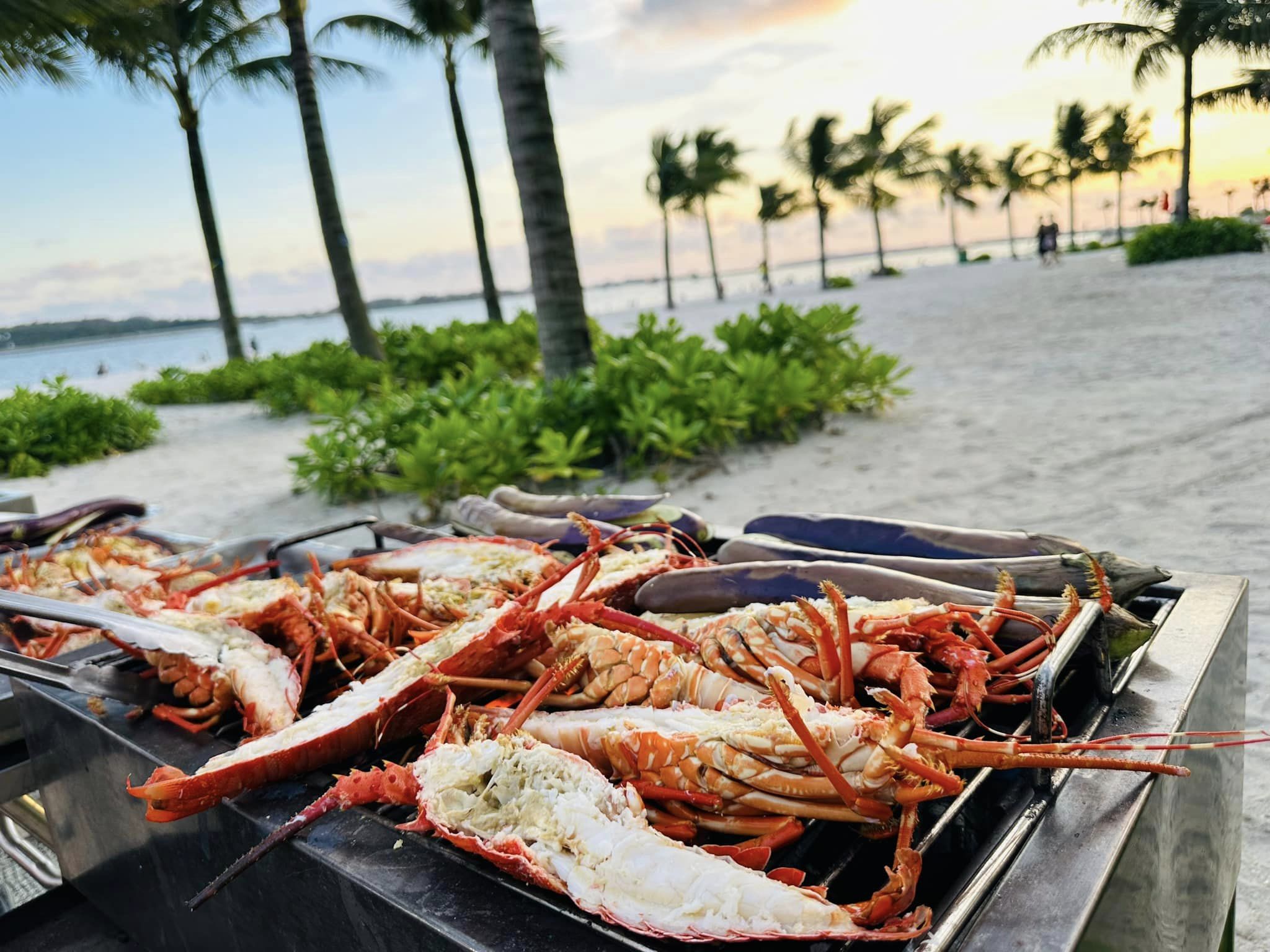 The following restaurant list contains ones that offer the true local flavors of Halong city, specializing in seafood dishes & other cuisines of the area:
Cua Vang Restaurant: 32 Phan Chu Trinh, Group 9, Area 9, Bai Chay Ward, Halong City
Hong Hanh Restaurant: 442 Nguyen Van Cu, Group 3, Area 8, Hong Ha Ward, Halong City
Thien Anh Restaurant: 11 Phan Boi Chau, Group 5, Area 9A, Bai Chay Ward, Halong City
Sen A Dong Restaurant: 1 Ha Long, Bai Chay Ward, Halong City
Huong Duyen Restaurant: 66 Tran Hung Dao, Cao Thang, Halong City
Where and what to buy
Dried seafood & local delicacies
Halong, being a coastal city, offers a delightful selection of seafood delicacies that make excellent souvenirs for your loved ones. Some notable local treats include squid cake, dried "sa sung," and dried squid. Additionally, visitors are encouraged to explore other unique culinary delights, such as Ba Kich wine, Yen Tu apricot wine, and Hoanh Bo soaked rice wine.
Where to buy: Cai Dam Market, Halong 1 Market, Halong 2 Market, Ong Ba Seafood, Dong Trieu Market.
Pearls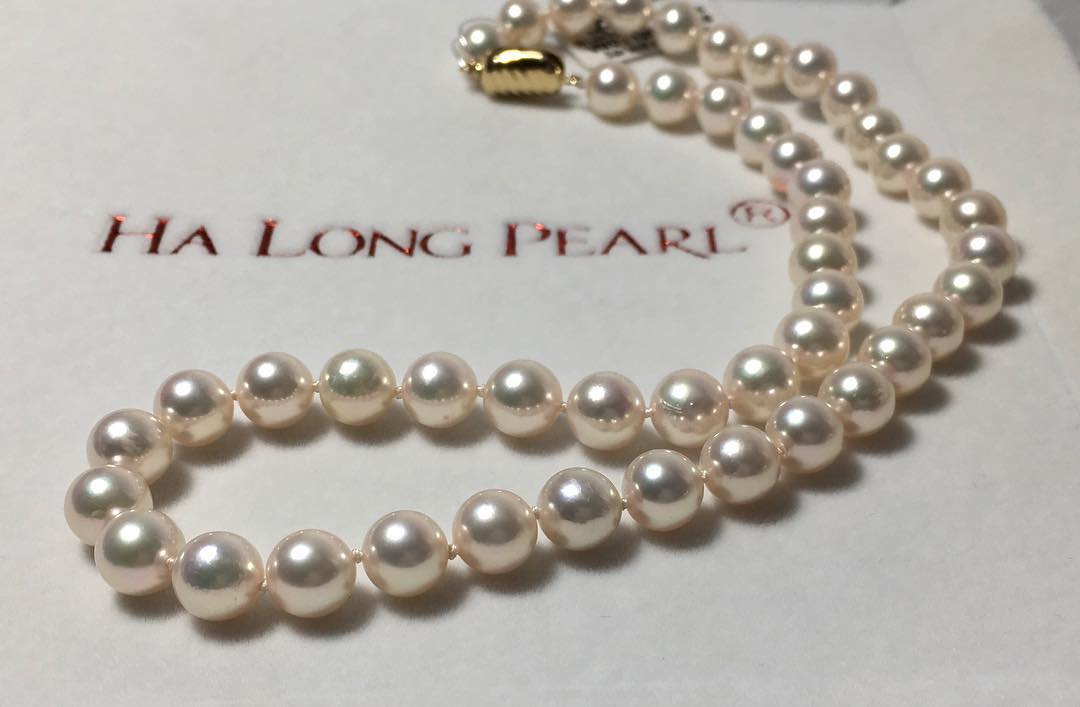 Pearl jewelry is a luxurious gift option for your loved ones, thanks to its captivating beauty and inherent value. Halong pearls, being saltwater pearls, possess a distinctive allure and value that sets them apart from freshwater pearls. If cruising in Halong Bay on a cruise, tourists also have the opportunity to explore pearl farms and witness thí meticulous process of pearl cultivation. These Halong pearls, developed over centuries, boast exquisite natural colors and exude a true sense of opulence.
Where to buy: HaLong Pearl JSC
Seashell jewelry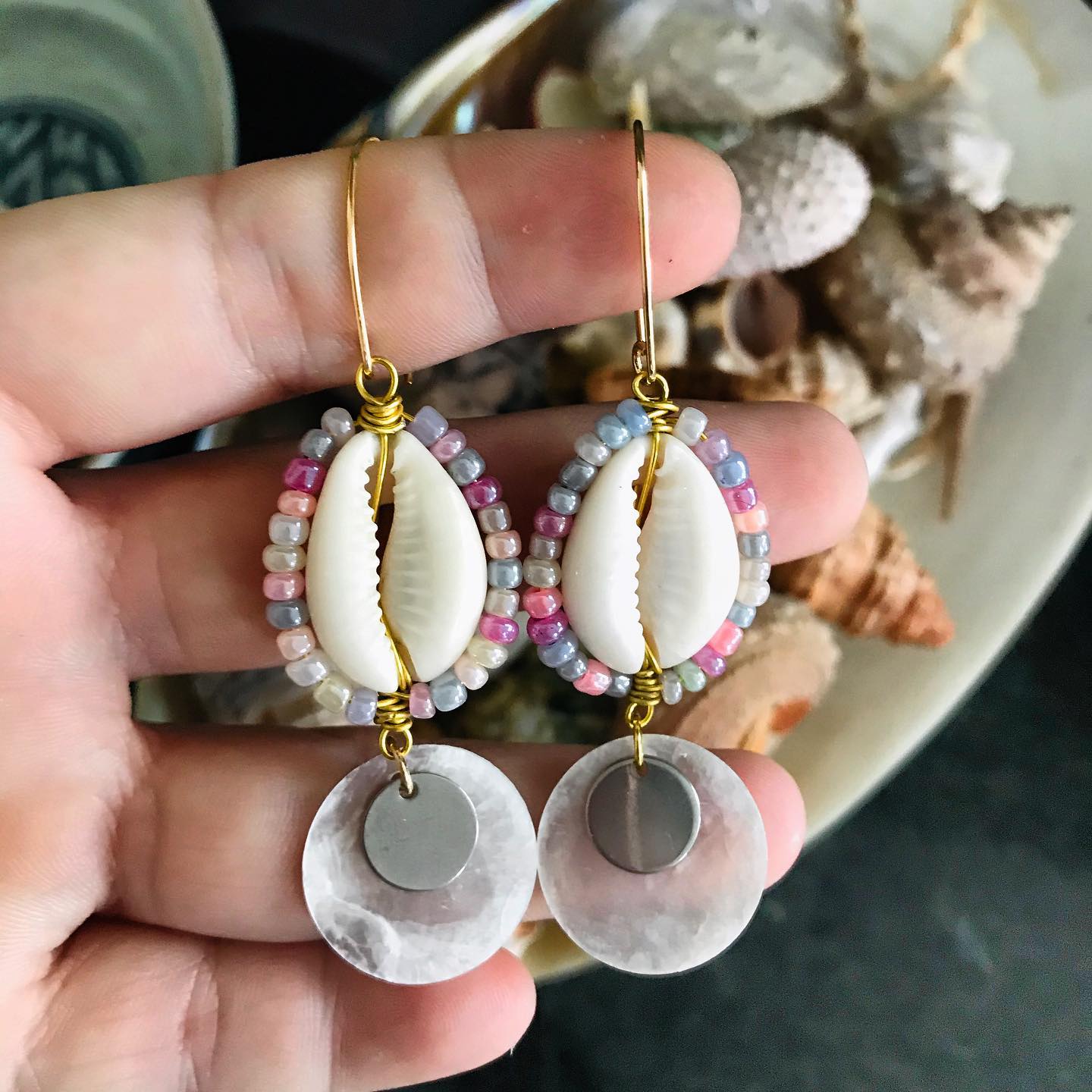 Seashell jewelry in Halong city showcases a simplistic yet alluring appeal that makes it a truly one-of-a-kind souvenir for friends and families. With various styles and colors available, you can effortlessly shop for the perfect seashell bracelets, keychains, necklaces, earrings, and more. These captivating accessories not only capture the essence and iconic image of Halong city but also add an extra touch of charm to your shopping experience.
Where to buy: You can find seashell jewelries in every souvenir shop in Halong city.
Exclusive handicrafts
The markets in Halong offer a wide variety of vibrant handicrafts made from materials such as wood, coal, ceramics, and embroidery. These unique creations usually depict an image of Halong, making them ideal souvenirs that reflect the essence of this city. Easily found and reasonably priced, these items make the ideal gifts for your beloved ones.
Where to buy: You can find these handicraft products in every souvenir shop in Halong city.
Suggested itinerary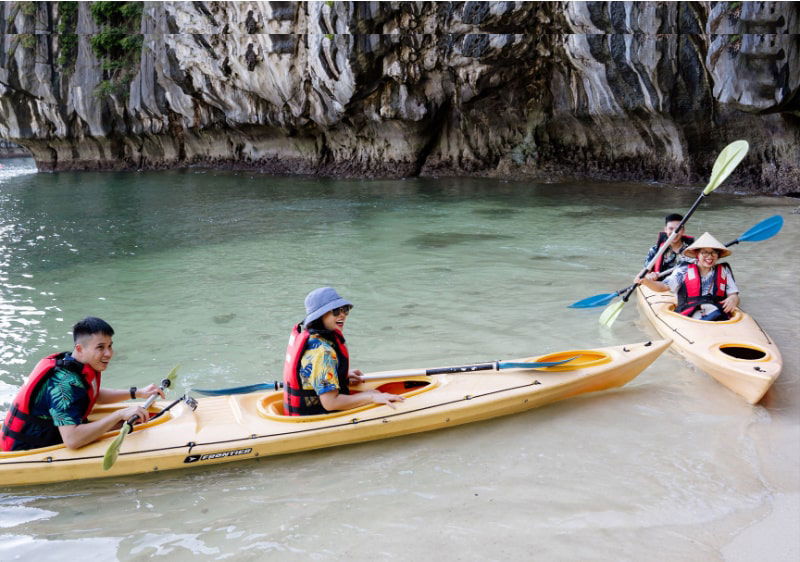 For the best discovery of Halong city, tourists are highly advised to embark on a 2N1D or 3N2D cruise in Halong Bay first, followed by a carefully-curated day tour that delves deeper into the allure of this city. This combination offers a comprehensive experience of its captivating natural landscapes and rich cultural heritage.
Please see our suggested itinerary for a day tour in Halong city below:
In the morning
- Check in and visit Quang Ninh Museum (~ 1 hour).
- 2 options:
Visit Long Tien Pagoda (~ 1 hour). 
Visit Hon Gai Church (~ 1 hour). 
- Lunch: enjoy famous local seafood specialties such as squid cake, "sa sung", "sam", oysters, etc. 
In the afternoon
- 2 options:
Entertain at Sun World Halong Complex (~ 2 hours).
Go swimming and sunbathing at Bai Chay Beach (~ 2 hours).
- Visit Bai Chay Old Quarter: take photos, have a walk, or relax at a local cafe (~ 1 hour)
In the evening
- Dinner: enjoy delicious local delicacies at restaurants on Bai Chay street.
- 2 options:
Explore and go shopping at Halong Night Market (~ 1 hour)
Relax at a local cafe/ bar/ nightclub along Bai Chay Beach. (~ 1 hour)
The day tour in Halong city usually lasts for 6 to 8 hours, depending on tourists' time and preferences.