News & Updates
New Van Don - Mong Cai Expressway set to open to traffic
The 80-km Van Don - Mong Cai Expressway, a section of the 176-km route that connects Halong Bay and Mong Cai was officially inaugurated on Thursday, September 1st.
This 80-km (50 miles) expressway links Van Don Economic Zone and Mong Cai city and successfully shortens the travel time from 2 hours to 50 minutes. The four-lane route enables drivers to run at a maximum speed of 120 kilometers per hour.
Van Don - Mong Cai Expressway together with two other existing expressway sections including Bach Dang - Dai Yen (25 kilometers) and Halong - Van Don (71.2 kilometers) form a 176-km route connecting Halong Bay and the Chinese border at Mong Cai.
This 176 expressway section will then join Hanoi - Halong Expressway (300 kilometers) and Noi Bai - Lao Cai Expressway (264 kilometers) making it the longest route in Vietnam. Thanks to this, the travel time between Hanoi and Mong Cai city is also reduced to 3 hours instead of 5.5 hours.
Speaking at the inauguration ceremony on Thursday, Prime Minister Pham Minh Chinh said the operation of this new expressway offers not only favorable conditions for the northeastern region of Quang Ninh province but also for Hanoi and the northern port city of Hai Phong to improve connectivity and promote tourism and economy.
The Van Don - Mong Cai project was divided into two sections: Van Don - Tien Yen sections (16.8 kilometers) and Tien Yen - Mong Cai (63.26 kilometers). The toll fee for Van Don - Tien Yen section will not be applied since it used the state budget for construction. Meanwhile, the latter Tien Yen - Mong Cai section built in BOT form costs VND 132.000 - VND 512.000/ one way. Additionally, the whole Van Don - Mong Cai Expressway will be open for free for one month from September 1st.
Questions and Answers
(0)
Be the first to ask a question on this page
READ THIS NEXT
Tourism news, recap, and latest updates for Halong bay in April 2023.
Read more
Information, tourism statistics and number of international arrivals in Halong bay in recent years.
Read more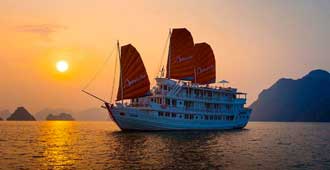 Discover the charming and exotic landscapes of Halong bay on an all-inclusive luxury cruise!
Meet local experts
Need to create your own Halong bay trip?
Call us now: +84 987 24 6600 (Whatsapp)
Customize Your Tour
QUESTION FORUM:
Halong Bay: Questions