News & Updates
Quang Ninh welcomed over 660 thousand tourist visits during the early days of the Lunar New Year.
During the first 5 days of the Vietnamese Tet (January 22-26, 2023), Quang Ninh welcomed over 660,000 tourists.
During the first 5 days of the Vietnamese Tet (January 22-26, 2023), Quang Ninh welcomed over 660,000 tourists.
According to the Tourism Department, during the 5-day Tet holiday, tourist sites in Quang Ninh welcomed around 660,000 visitors. Particularly, spiritual tourist sites such as Yen Tu Mountain, Cua Ong Temple, and Ba Vang Temple were more crowded than ever before. To be more specific, the number of visitors to spiritual tourist sites increased by 6-8 times compared to normal days.
Among them, Yen Tu Mountain and Ba Vang Temple (in Uong Bi) received around 145,000 visitors; the figure for Cua Ong Temple (in Cam Pha) was over 56,000 visitors; Loi Am Temple, Duc Ong Temple, and Long Tien Temple (in Ha Long) received over 8,500 visitors; and there we nearly 28,300 visitors to special national historical site Bach Dang (in Quang Yen).
The admission of other famous tourist sites and entertainment areas also witnessed an increase of 40-50% compared to normal days. For example, Ha Long Bay welcomed around 20,000 visitors, including 10,550 international visitors; nearly 8,000 visitors paid a visit to Sun World Ha Long entertainment park; and the Quang Ninh Museum received 3,500 visitors. The figures for local areas such as Dong Trieu, Van Don, and Mong Cai were around 86,300, 104,600, and 6,100 visitors respectively.
Quang Ninh is a northern province of Vietnam with many historical and cultural heritage sites, featuring more than 600 tangible cultural heritage sites, such as temples, pagodas, shrines, towers, landmarks, heritage sites, and natural wonders of the world. Therefore, the development of spiritual tourism has been identified by Quang Ninh province as a significant form of tourism that will contribute to making tourism a spearheading economic sector.
To attract tourists to these spiritual tourist sites, over time, the province has devoted many resources and encouraged socialization to preserve, respect, and effectively promote the values of the historical and cultural heritage sites and landmarks in the province. Meanwhile, tours, routes, and tourist sites are actively and reasonably built. The authority also deeply invests in accompanying services and improving transport infrastructure that leads to heritage sites.
In addition, management, organization, and implementation of civilized life at tourist sites, heritage sites, and landmarks are also given priority, thus, attracting tourists and contributing to the restoration of the tourism industry and promoting local economic and social development.

References: phapluatplus.vn / quangninh.gov.vn
Questions and Answers
(0)
Be the first to ask a question on this page
READ THIS NEXT
Tourism news, recap, and latest updates for Halong bay in April 2023.
Read more
Information, tourism statistics and number of international arrivals in Halong bay in recent years.
Read more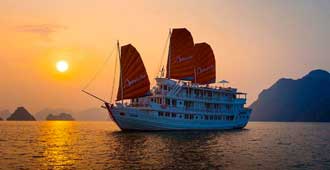 Discover the charming and exotic landscapes of Halong bay on an all-inclusive luxury cruise!
Meet local experts
Need to create your own Halong bay trip?
Call us now: +84 987 24 6600 (Whatsapp)
Customize Your Tour
QUESTION FORUM:
Halong Bay: Questions