Transferring between Hanoi and Halong Bay by private car is the fastest and most relaxing way if you don't mind paying a much higher amount of money compared to other ordinary means of transport like local buses or Limousine cars.
The distance between Hanoi and Halong Bay is 165 km and it takes around 2.5 - 03 hours to arrive. There are various agencies providing private car rental services from Hanoi to Halong Bay and options for the car itself are also varied. We have compiled in this article the most useful information that you will need in order to rent a suitable car for your private transfer to Halong Bay from Hanoi.
Route Map
Who should opt for a private transfer?
This way of transfer is best suited for families with children, the elderly, or small groups who enjoy the utmost privacy and want to save traveling time. There will not be any inconveniences because of strangers and you can have a break anytime you want on the way. In addition, renting a private car can help groups of at least three people get cheaper transportation costs rather than transferring individually. It is also flexible that you can rent the vehicle for a day trip, 2 day 1 night, or 3 day 2 night vacations.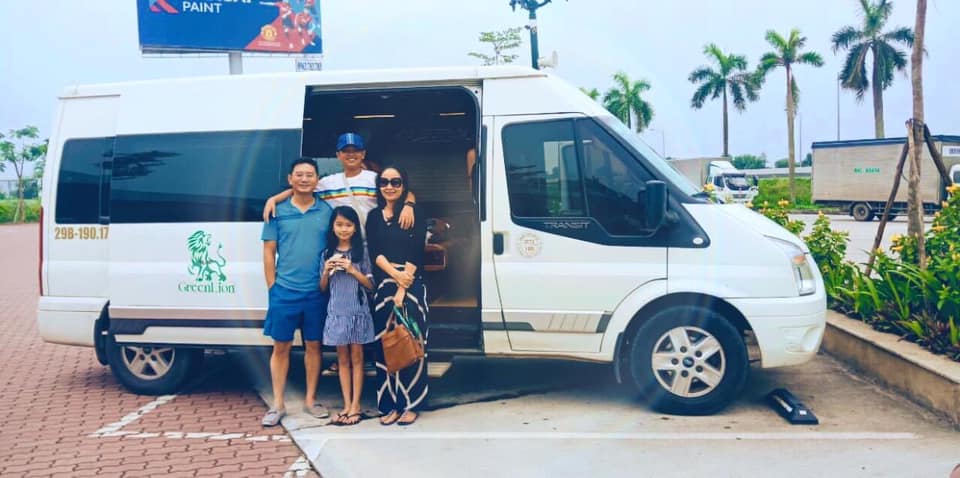 Photo credit: Green Lion (facebook.com/GreenLionSupporter/)

Types of private cars and fares
Choosing the right type of car based on the size of your group and budget is important as this can help you avoid wasting money. There are many types of cars with different capacities: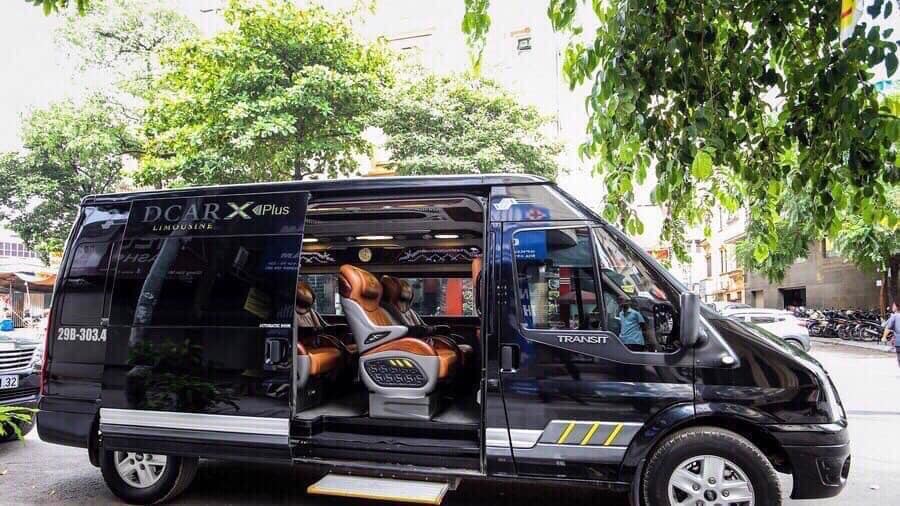 Green Lion 9-Seater Luxury Limousine

4-seater cars
4-seater cars from brands such as Toyota Vios, Toyota Altis, and Honda Civic are good options for families and small groups of three adults and a child with luggage.
7-seater cars
Families with two kids or a maximum of 4 adults with luggage should choose this type of car.
16-seater minivans
If you travel in a medium-sized group of 10 people, choosing a minivan with 16 seats is the best option. You can choose some car brands such as Ford Transit, Mercedes Printer, and Hyundai Solati.
Fares
| | | | | |
| --- | --- | --- | --- | --- |
| Types of private car | One-way trip | Day trip | 2-day trip | 3-day trip |
| 4-seater private car | US$85 | US$115 | US$135 | US$180 |
| 7-seater private car | US$95 | US$120 | US$145 | US$195 |
| 16-seater private car | US$110 | US$150 | US$180 | US$240 |
Note: Fares may/may not include highway fees. It costs US$15 for 4-to-7-seater cars and US$18 for 16-seater cars one way.
How to rent a private car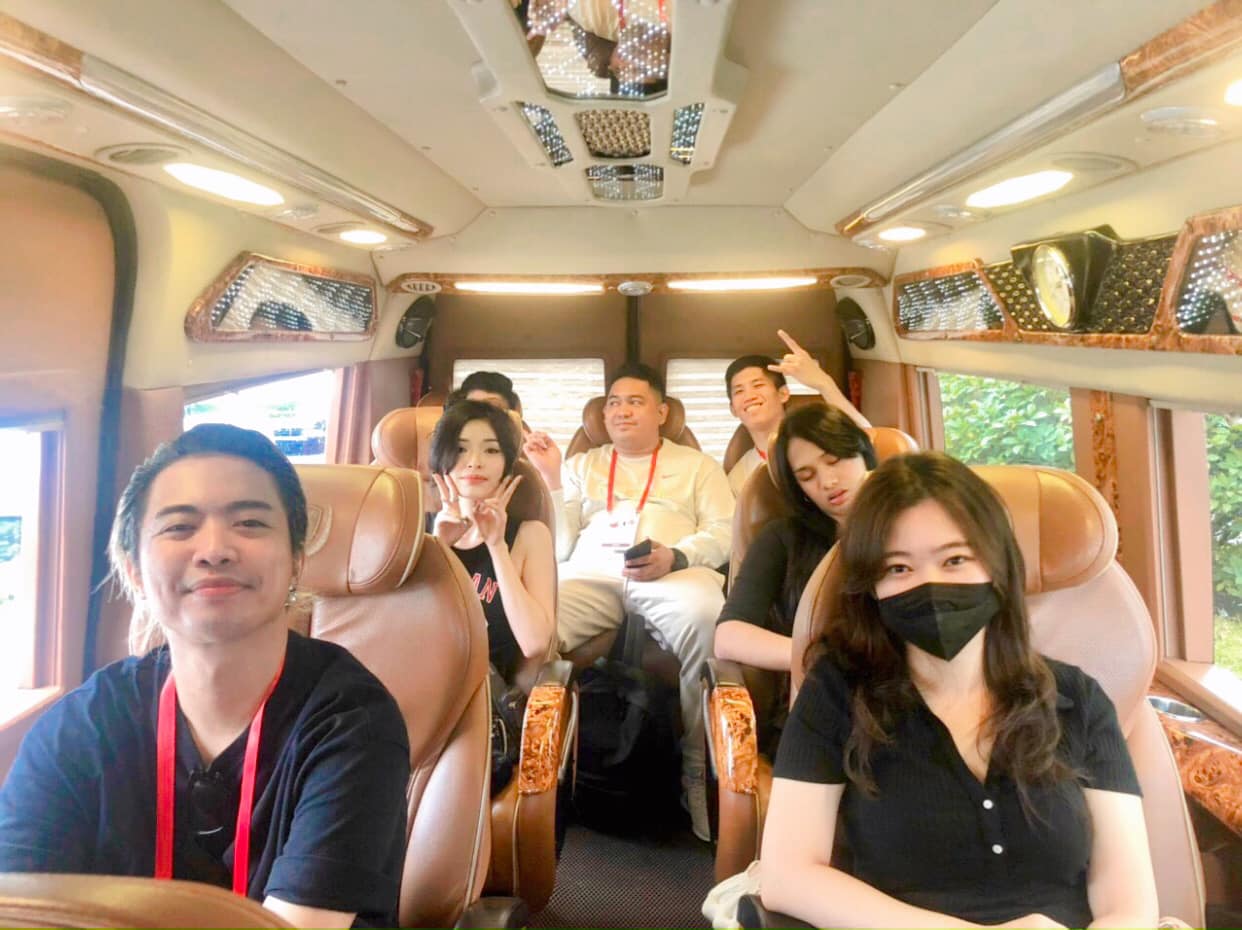 Photo credit: facebook.com/GreenLionSupporter/

Hiring a private car to transfer from Hanoi to Halong Bay is an easy task thanks to a number of many private car rental providers in Hanoi downtown:
Hanoi Transfer Service Company: 16A Ly Nam De street, Hoan Kiem district, Hanoi. Tel: 0912 358 282
Green Lion Bus: 16E, Phung Hung Street, Hang Ma ward, Hoan Kiem district, Hanoi. Tel: 098 470 96 69
Xe Aloha (Old name: Xe Luxury): 43 An Duong, Tay Ho district, Hanoi. Tel: 090 129 1290
In addition, you can book indirectly through travel agencies. The greatest benefit of indirect booking is that you are offered a list of reliable transfers and usually get a cheaper price.
Local tips
The best way to transfer between Hanoi and Halong Bay is to take a private car with a bilingual driver.
This option is not suitable for independent travelers due to the higher price compared to public buses and Limousine cars.
You should Halong Bay package instead of a private transfer only to get a better deal.
Booking transfers through travel agencies is better guaranteed.
More transfer options? See our Hanoi to Halong bay guide
Questions and Answers
(0)
Be the first to ask a question on this page
READ THIS NEXT
Information for getting from the beach city of Da Nang to Halong bay!
Read more
Regarding the distance and travel time from Hanoi to Halong Bay, the question is pretty straightforward. Yet, depending on the …
Read more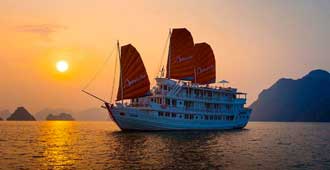 Discover the charming and exotic landscapes of Halong bay on an all-inclusive luxury cruise!
Meet local experts
Need to create your own Halong bay trip?
Call us now: +84 987 24 6600 (Whatsapp)
Customize Your Tour
QUESTION FORUM:
Halong Bay: Questions