Travel Tips
The Best Lan Ha Bay Cruises for Every Type of Traveler
In the southeast coast of Cat Ba Island, Lan Ha Bay is a quieter and more pristine alternative to the touristy Halong Bay. Hosting hundreds of karst island clusters with various shapes and dozens of lagoons, caves, white-sandy beaches, and floating villages, Lan Ha Bay's seascapes is just as attractive as Halong Bay but feels more seductive. Marine life in Lan Ha Bay is also plentiful with around 400 species of arthropod, 200 species of fish, and an abundance of corals. What's more, there houses a labyrinth of cruises ranging from massive vessels to intimate junk boats operating in the bay area that can fit almost every type of visitor.
Cruising on Lan Ha Bay
For those perks mentioned above, more people are sailing to Lan Ha Bay than before. However, a wealth of cruise lines there may sometimes make travelers, especially first-timers, overwhelmed and don't know which one to pick. Thankfully, in all situations, the proper answer is from cruisers themselves.
If you're planning on joining them, the first thing to be done must be finding the suitable line. For example, if you're a solo cruiser, you should absolutely avoid exorbitant supplement charges. In contrast, families with children will prefer inclusive packages and rich entertainment programs while onboard enrichment such as seminars and workshops are not proper.
What type of traveler are you? How much are you willing to pay? Does the cruise match your expectations? And is it good for your company or kids? It's important to answer those questions and start narrowing down your options; otherwise, you may embark onboard in frustration.
Best Lan Ha Bay cruises for couple/ honeymoon
A couple on Era Cruises (Photo by Era Cruises)
If you've already picked your perfect partner and been ready to sail away on a romantic cruise, search for Era cruise and Calypso cruises. Every year, thousands of couples get hitched, newly-weds enjoy their honeymoon at sea, and a large proportion of them make it on Era cruise. This is thanks to fantastic wedding and honeymoon offers that cover everything from a perfect wedding venue accommodating up to 40 guests, to memorable photo shoot, and passionate dining with cake, flowers, candles, and greetings card.
Calypso cruises are also an expert in creating memorable wedding ceremonies on Lan Ha Bay. Lovebirds are treated to all-inclusive wedding packages with 150 guests max and intimate dinner for two.
Best Lan Ha Bay cruises for families
Orchid premium cruises offering the most spacious cabins
A bunch of concerns might show up when traveling with family members because you must find the cruise that has something for everyone. Luckily for you, the kid-friendly cruise list includes big names like Orchid cruise and Azalea cruise. The former boasts the largest family suite cabin in Lan Ha Bay (72m²) which can hold up to 4 adults and 2 children using extra bed. The vessel provides a wide selection of heart-racing activities that teenagers enjoy getting involved such as kayaking, cooking class, and squid fishing. Additionally, the family package provides various hot deals, especially offers for special occasions.
The latter Orchid Trendy ship of opulence is another notable name in the family cruise arena. The cruise sails towards top family-friendly attractions in Lan Ha Bay including Cat Ba Island, Trung Trang Cave, and Viet Hai Village. It hosts an array of spacious rooms and suites from 28m2 to 56m2 and is competent for celebrating events like birthday party and anniversary.
Did you know? Orchid Trendy and Orchid Classic Cruises are amongst the first cruise lines departing from Got Pier which is only 1.5 hours away from Hanoi.
Best Lan Ha Bay cruises for luxury lovers
Ylang cruises with large swimming pool on board!
Heritage Line Ylang cruise, Paradise Grand cruise, and O'Gallery cruise standout amongst praiseworthy luxurious lines that count every dollar. The latest cruise of Heritage Line, Ylang cruise features splendid Asian-Vietnamese staterooms, a scattering of authentic hand-crafted paintings and Vietnamese artwork displays, and a sumptuous spa.
Meanwhile, Paradise Grand cruise is home to the finest restaurants with novel Michelin-starred à la carte menu and Paradise Express - the very first high-speed ferry in Lan Ha Bay. Last but not least, O'Gallery cruise offers royal-style suites, top-notch Limousine transfer service, and the flexibility between Lan Ha Bay exploration and onboard relaxation.
Best Lan Ha Bay cruises for travelers on a budget
Beautiful cabins on La pinta cruise
Tourists who travel on a tight budget should take Cat Ba Sisters cruise and La Pinta cruise into consideration. The 3-star Cat Ba Sisters wooden junk provides standard facilities and great discount programs that give a bang for your buck. The ship is especially great for families with kids/ tweens and young couples.
On the other hand, if you're going to travel with a small group of 6 to 8 people, chartering La Pinta cruise is a wise choice. Its sailing itinerary to Gia Luan Village, Duck Islet, and Ba Trai Dao beach is brilliantly attractive and unique while mid-size cabins are well-equipped with modern comforts and entertainment.
In conclusion, no matter how your monetary and time budget is, cruising to Lan Ha Bay will always be a memorable experience with various cruise types that suit every type of holidaymaker.
Summary of the best cruises in Lan Ha Bay:
| Cruise Lines | Best For | Price |
| --- | --- | --- |
| Era Cruises | Couples/honeymoon | US255$/Night |
| Calypso Cruises | Couples/honeymoon | US268$/Night |
| Orchid Cruises (Orchid Classic, Orchid Trendy and Orchid Premium) | Families with kids | US363$/Night |
| Azalea Cruises | Families with kids | US270$/Night |
| Ylang Cruise (by Heritage Line) | Premium/luxury | US840$/Night |
| Paradise Grand Cruise | Premium/luxury | US357$/Night |
| O'Gallery Cruises | Premium/luxury | US315$/Night |
| Cat Ba Sisters Cruises | Budget | US112$/Night |
| La Pinta Cruises | Budget | US162$/Night |
Frequently Asked Questions
Which ports do cruises to Lan Ha Bay depart from?
Most Lan Ha Bay cruises depart from Tuan Chau International Marina in Quang Ninh Province. It usually takes 2-2.5 hours to get to the cruise departure port via Hanoi-Hai Phong highway. (See maps and directions)
When is the best time to visit Lan Ha Bay?
Lan Ha Bay is best to visit in summer, particularly in June, July, and August with sunny weather and warm waters for beach activities like snorkeling, swimming, and kayaking. The cooler autumn from October to December with fewer chances of rains and storms is also an ideal time to discover the bay.
Should I choose a 2 day or 3 day tour for Lan Ha Bay?
It depends on your traveling plan but 2-day itinerary is the most common option that covers sufficient onboard experience and on-site excursions to must-see spots namely Dark & Bright cave and Ba Trai Dao beach.
Which cruises offer kayaking in Lan Ha Bay?
Kayaking is an irreplaceable activity to explore Lan Ha Bay so almost all cruises include kayaking in their itineraries.
Are there any cruises offering service now?
All cruises are operational. However, most of them are just offering 2 day 1 night cruise itinerary.
Last updated: August 11, 2022
Questions and Answers
(0)
Be the first to ask a question on this page
READ THIS NEXT
Exploring Halong Bay nightlife is probably the best way to complete your journey in this land of natural wonders. In …
Read more
Featuring a complete information about Bai Tu Long bay and a handpicked list of the best cruises in Bai Tu …
Read more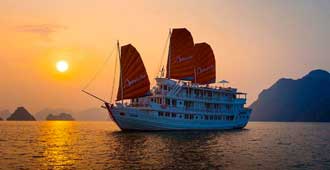 Discover the charming and exotic landscapes of Halong bay on an all-inclusive luxury cruise!
Meet local experts
Need to create your own Halong bay trip?
Call us now: +84 354 64 1421 (Whatsapp)
Customize Your Tour
QUESTION FORUM:
Halong Bay: Questions