Travel Tips
Best Luxury Hotels and Resorts in Halong Bay
Discover Halong Bay in luxury! Besides world-class scenery, pristine beaches and an interesting culture, Halong Bay also showcases some of the world's most luxurious and comfortable accommodation. Below is a list of some of the best high-end hotels and resorts Halong Bay has to offer.
READ THIS NEXT
Featuring a complete information about Bai Tu Long bay and a handpicked list of the best cruises in Bai Tu …
Read more
In the southeast coast of Cat Ba Island, Lan Ha Bay is a quieter and more pristine alternative to the …
Read more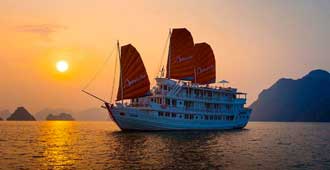 Discover the charming and exotic landscapes of Halong bay on an all-inclusive luxury cruise!
QUESTION FORUM:
Halong Bay: Questions
Free ITINERARY planning with us!
Planning your trip with our Halong local experts, we will help you with:
Accomodation: Find the best hotels/homestay or BnB.
Tours: Connect you to the trusted tour operator in Halong bay.
Cruises: Find the best cruise on your date!
It is all FREE