Travel Tips
Halong Bay Map: Where is Halong Bay, Vietnam?
Overview
Halong Bay is located in northeastern Vietnam. Specifically, it is situated in Quang Ninh Province, which is east of Hanoi, the capital of Vietnam. The bay is known for its thousands of limestone islands and islets, which make for a picturesque and unique landscape. It has been designated as a UNESCO World Heritage Site and is a popular tourist destination.
Location
Halong bay is located 20.927719 latitude and 107.183389 longitude and it is situated at the elevation of 150m to 3.000m above sea level.
Location of Halong bay (Google map)
Quick facts
| | |
| --- | --- |
| Country | Vietnam |
| Province | Quang Ninh |
| Population | 1540 (Mostly on fishing villages) |
| Elevation | 150m to 3000m above sea level |
| Longitude | 107.183389 |
| Latitude | 20.927719 |
| Time zone | GMT +7 |
Getting there
To reach Halong Bay, you can fly into the nearby city of Hanoi, which is the capital of Vietnam. From Hanoi, you can take a bus or drive to Halong Bay, which is located around 170 kilometers away. There are also many tour operators that offer day trips or overnight cruises from Hanoi to Halong Bay.
Things to do
Take a cruise: One of the best ways to experience Halong Bay is by taking a cruise. There are many different cruise options available, from day trips to overnight cruises. These cruises will take you to some of the most beautiful spots in the bay, including the famous limestone cliffs and caves.

Explore the caves: Halong Bay is home to many limestone caves, including the famous Sung Sot Cave, which is one of the largest and most impressive caves in the area.

Kayak or paddleboard: Halong Bay is perfect for kayaking and paddleboarding, as the calm waters make it easy to navigate and explore the limestone cliffs and caves.

Visit the floating villages: Halong Bay is home to several floating villages, where the locals live and work on the water. These villages are a unique and interesting way to experience the local culture.

Swim and sunbathe: Halong Bay's crystal-clear waters and white sandy beaches make it a great place to swim and sunbathe.
Accommodation
There are many different accommodation options available in Halong Bay, including luxury resorts, budget-friendly hotels, and even camping on some of the islands. Many of the resorts and hotels offer great views of the bay, and many of the cruises also offer on-board accommodation.
Questions and Answers
(0)
Be the first to ask a question on this page
READ THIS NEXT
Vietnamese Tet 2024, also known as the Tet Nguyen Dan or Lunar New Year, will fall on Saturday, February 10th, …
Read more
Exploring Halong Bay nightlife is probably the best way to complete your journey in this land of natural wonders. In …
Read more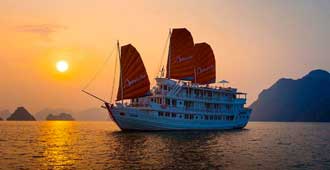 Discover the charming and exotic landscapes of Halong bay on an all-inclusive luxury cruise!
Meet local experts
Need to create your own Halong bay trip?
Call us now: +84 987 24 6600 (Whatsapp)
Customize Your Tour
QUESTION FORUM:
Halong Bay: Questions