Travel Tips
The 12 Best Restaurants in Halong Bay [2023]
Here are some of the best restaurants in Halong bay so you know where to go when you leave your cruise or hotel.
1. Papa's BBQ
Papa's BBQ offers an extensive international menu that has something for everyone. All food is freshly prepared and handmade by Chef Van, and is certifiably delicious. The prices are reasonable and the portions are large and satisfying! As an added bonus the restaurant is close to the beach. We recommend trying either steak and chips, or schnitzel with an imported German beer.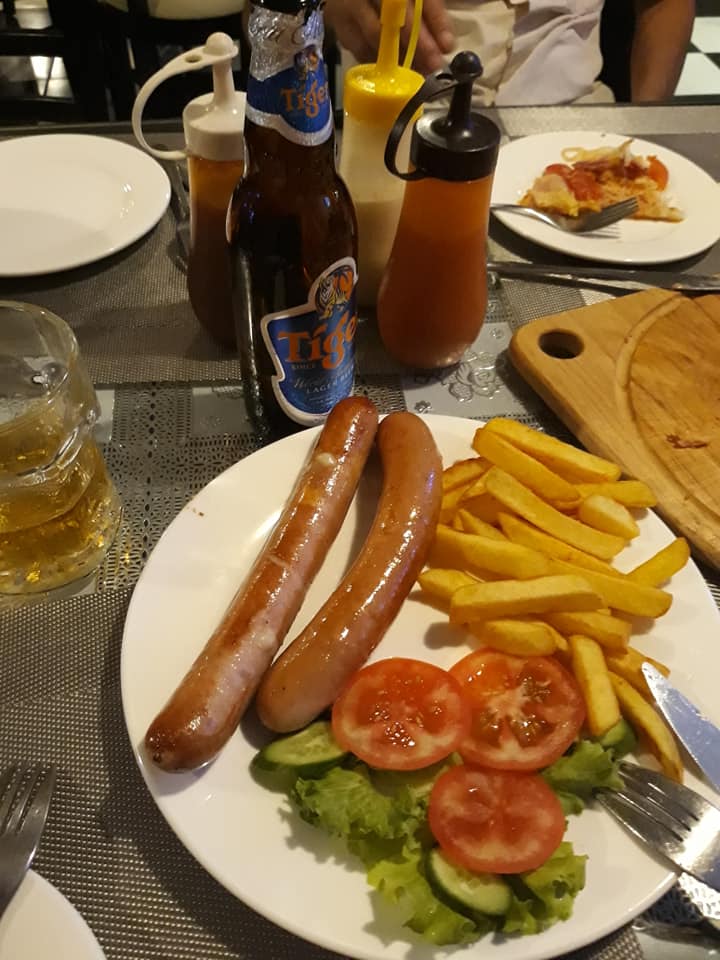 Papa's BBQ (Photo credit: Facebook/PapaBBQ)
Information:

Cuisine: German, Vietnamese, Seafood, BBQ
Opening Hours: 4:00pm - 11:00pm daily (Open)
ddress: Cong Vien Road C346, Sun World Area: Road, Bai Chay, Halong Phone: +84 97 554 12 86 (Maps and directions)
2. Cua Vàng Bãi Cháy (Golden Crab)
This is a wonderful seafood restaurant in the Bai Chay area of Halong City. The food is fresh, the service excellent and the atmosphere fun and friendly. There is an amazing selection of seafood, especially shellfish, and you can take your pick from one of the water tanks around the restaurant before having it cooked up totally fresh. We recommend the fresh oysters with wasabi paired with a nice cold beverage!
Information:

Cuisine: Seafood, Hotpot
Opening Hours: 8:00 - 22:30 daily
Address: 32 Phan Chu Trinh, Bãi Cháy, Hạ Long, Quảng Ninh, Viet Nam (Maps and directions). There is also a branch in Tuan Chau Island, about 10km from the Halong city center.
3. Linh Dan Restaurant
Linh Dan's family run restaurant serves some of the best local food around. It's fresh and authentic tasting, and there are great options for both vegetarians and meat eaters alike.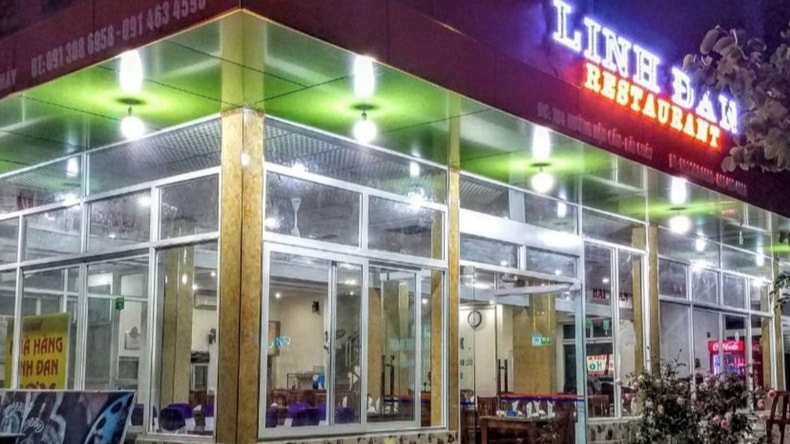 At Linh Dan the prices are affordable and the atmosphere is inviting. We recommend you try some of the fresh seafood, it's so fresh and tasty that you'll probably be back again the next day!
Information:

Cuisine: Vietnamese, Seafood, European, Asian, Vegetarian
Opening Hours: 8:00am - 9:00pm daily (8:30am - 9:00pm on Tuesday). Phone: +84 91 463 4598 (verified as of Feb 2020)
Address: 104 Bai Chay Road, Bai Chay, Halong Bay (Maps and directions)
4. Avocado Restaurant
Go to Avocado Restaurant if you're looking for relaxed ambience and good food. This is an intimate, open-kitchen restaurant where the portions are generous and the servers are friendly and efficient. The menu offers a selection of Vietnamese and European food. Both the food and restaurant interiors are artistically decorated which is a nice touch, and they also serve great cocktails!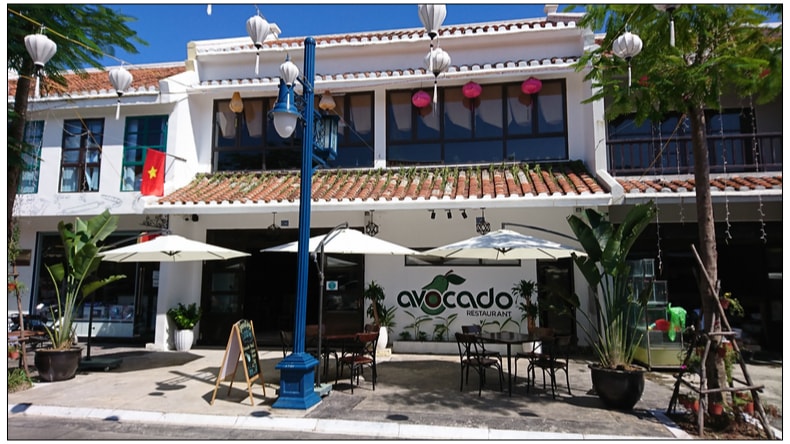 Avocado is one of the nicest looking restaurants in Halong bay with great food. Its Google review rating is 4.5/5 and is amongst the best one in town.

Information:

Cuisine: Vietnamese, European, Asian, Fine dining
Opening Hours: 9:00am - 10:30pm daily.
Address: C342-343, Old Street Zone, No. 9 Halong Road, Quang Ninh (Map and direction)
Phone: +84 203 6501 976, website: https://www.avocado.restaurant
5. Wander Station
Wander Station is a popular bar and restaurant with a menu made up of delicious local and international food. The food and drinks are tasty and well-presented, at decent prices and the atmosphere is relaxed. Wander Station is also known for serving fantastic coffee during the day, as well as tasty cocktails in the evening!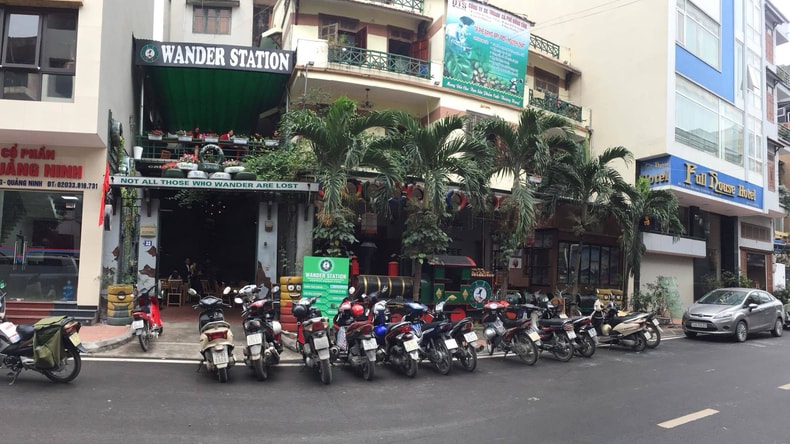 Wander Station and its slogan "Not all those who wander are lost"
Information:

Opening Hours: 6:30pm - 23:00pm daily.
Cuisine: Asian, Steakhouse, International
Address: 32 Van Lang Street, Hong Gai Ward, Halong Bay (Map and directions)
Phone: +84 93 351 86 90Website: https://www.facebook.com/wanderhalong
6. May Corner
May Corner is a fantastic restaurant that will leave you feeling happy and full. It offers a great mixture of local and European food, both of which are cooked to a high standard, but they also specialize in Thai cuisine. There's also a wide selection of delicious cocktails for when the fancy takes you. We recommend the Thai clams, fried kumquat chicken or roasted mantis shrimp.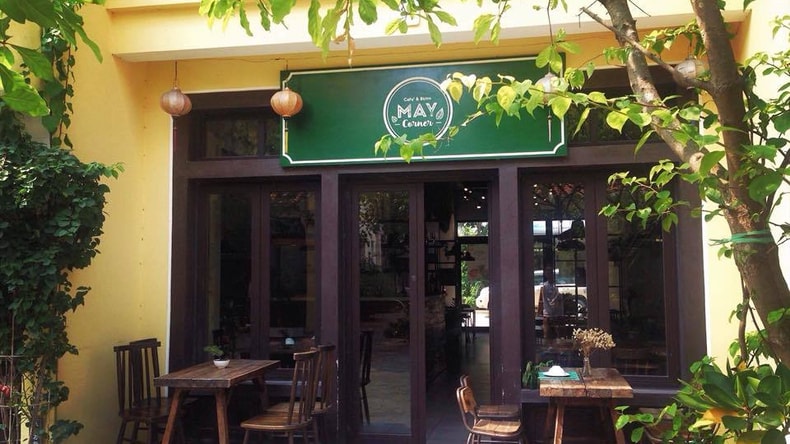 Note: May Corner is currently a cash-only establishment.
Information:

Cuisine: Thai, Vietnamese, Europe
Opening Hours: 9:30am - 2:30pm, 5:30pm - 9:30pm
Address: HO 2-1 Little Vietnam, Halong Marina, Hung Thang, Halong Bay (Map and direction)
Phone: +84 93 656 88 99. Website: https://www.facebook.com/maycorner.vn/
7. Rock House Pizza
Rock Pizza is a cosy little restaurant that serves good food at good prices. This restaurant mainly serves hamburgers and pizzas. The pizzas are a large size and well-prepared. The service is friendly and staff will do their best to accommodate to your needs.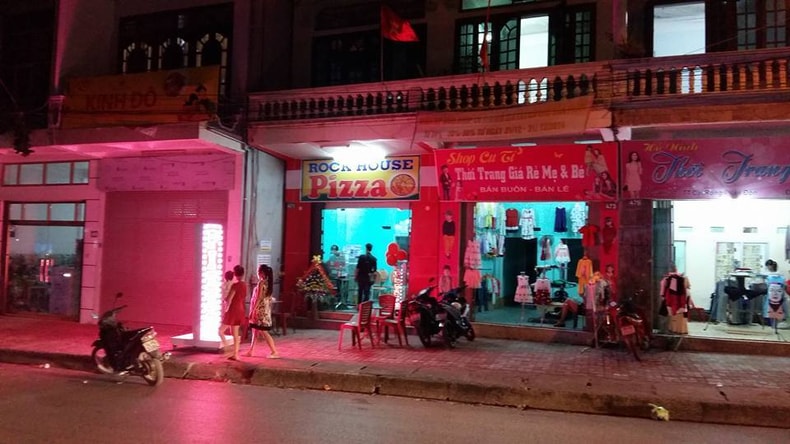 Information:

Cuisine: American, Cafe
Opening Hours: 7:30am - 22:30pm daily, closed on Mondays.
Address: No 12 Van Lang Street Hong Gai Ward, Halong (Map and direction)
Phone: +84 127 668 8855. Website: http://www.rockhousepizza.com/
8. Vietnam Restaurant
Vietnam Restaurant gracefully combines freshly caught seafood with exclusive cooking styles. You should come for an ideal dinner and enjoy traditional Vietnamese music.
This has truly amazing fresh seafood dishes such as lobsters, stir-fry mantis shrimps, and steamed fish that we highly recommend you to try.
Comprising a large hall and 2 VIP rooms, Vietnam Restaurant can accommodate big tourist groups.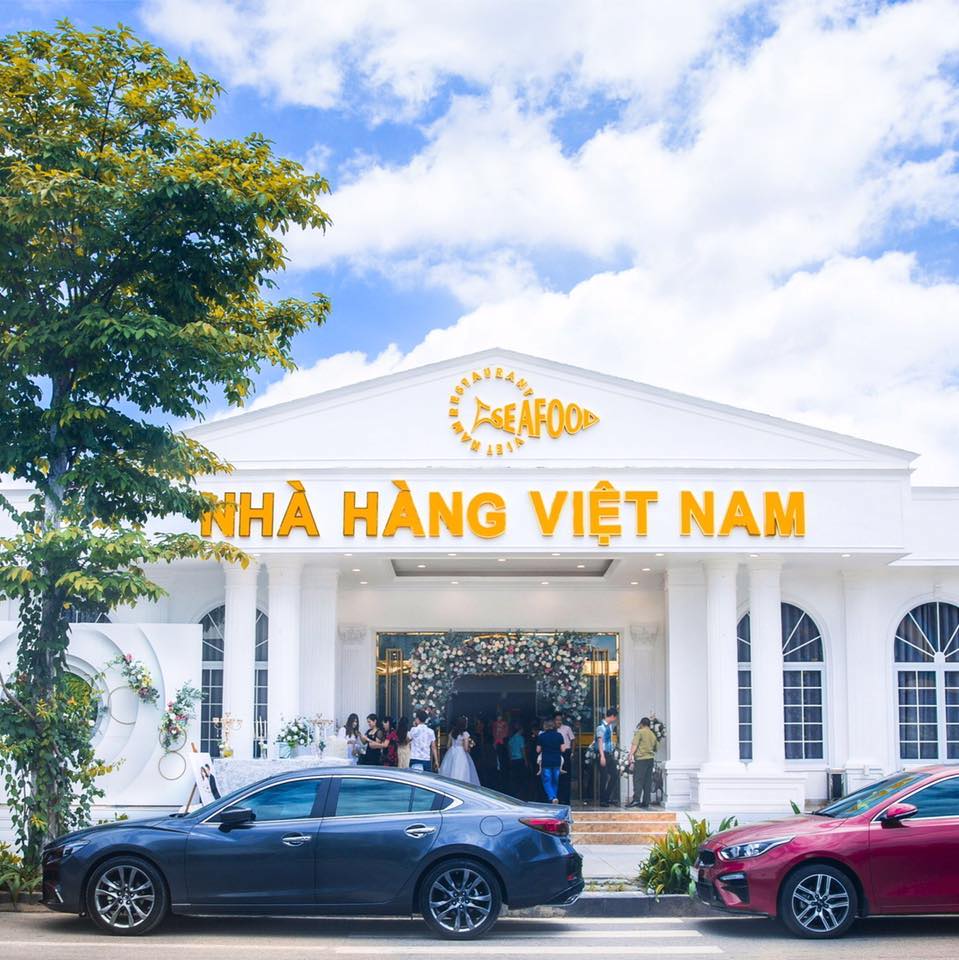 Information:

Cuisine: seafood
Opening hours: 9 am - 9 pm daily
Tel: 0203 3845 913
Address: Hoang Quoc Viet Street, Bai Chay Ward, Halong City
Web: Facebook.com/Nhà-Hàng-Việt-Nam-Hạ-Long-568313883313371
9. Co Ngu Ha Long Restaurant
Founded in 2009, Co Ngu Halong Restaurant is a member of Huong Hai Company, the operator of 5* cruises namely Huong Hai Junks, Indochina Sails, Ginger Cruise, and Jasmine Cruise. The restaurant boasts an impressive exterior inspired by royal architectural style and primarily uses high-quality wood for the interior.
There are a total of 3 floors and each has a maximum capacity of 180 guests. The chilling bar on the third floor offers sweeping views of Halong Bay and nice beverages.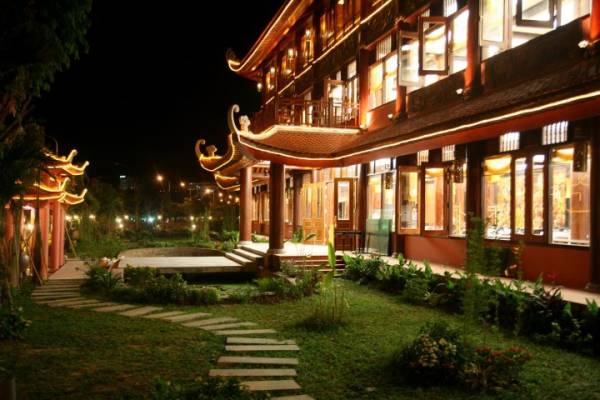 Photo: Megavina.com
Co Ngu Halong Restaurant guarantees your most authentic seafood experience as well as Asian and European specialties. Signature dishes in the restaurant are Norwegian salmon served with shrimp and onion sauce, grilled pork ribs with sauce, tenderloin steak with mustard sauce, French Foie, and shark fin soup.
Information:

Cuisine: Vietnamese & international fusion menu
Opening hours: 8 am - 1030 pm every day
Address: 66 Halong Street, Bai Chay Ward, Halong City
Tel: 0203 3511 363
Web: https://www.facebook.com/halongcongu/
10. Lang Chai Halong Restaurant
Built on a vast, airy area of nearly 1500 sqm, the design of Lang Chai Halong Restaurant is imbued with traditional architecture. You'll find authentic features of a Vietnamese village such as a stone bridge, a banyan tree, and a village gate.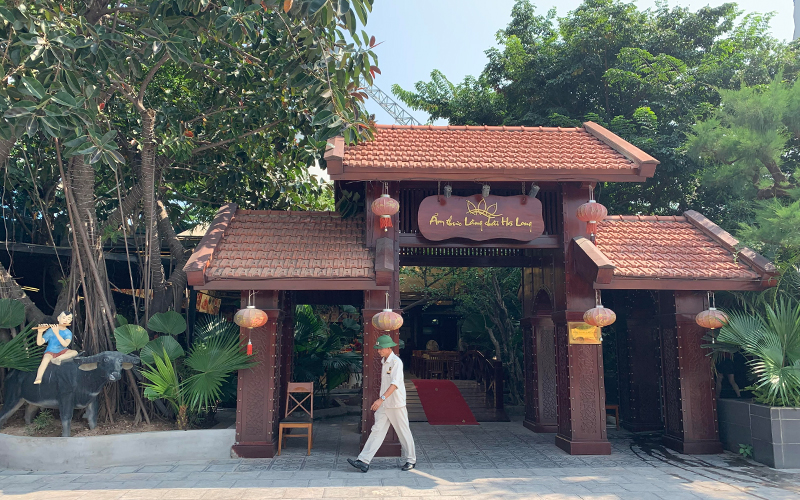 The restaurant attempts to retain the quintessential culinary delights of Vietnamese traditional fishing villages and fuse with modern twists. Surrounded by lush nature, yet Lang Chai Halong Restaurant comprises an array of high-tech amenities and LED systems to cater to large-scale events and parties. More especially, the restaurant serves an outdoor buffet and provides interesting live performances.
Information:

Cuisine: Outdoor buffet, traditional Vietnamese cuisine
Opening hours: 6 am - 10 pm
Phone: (+84) 0982 770 091/ 0986 995 630 - Ms Yến
Address: Hoang Quoc Viet Street, Hung Thang Ward, Halong City (Map)
Web: http://amthuclangchaihalong.com
11. Phuong Nam Halong Restaurant
Your relaxing dining experience in Phuong Nam Halong Restaurant is made with local flair and a tranquil ambiance. Just heading out of the town, the restaurant enables you to contemplate stunning views of Halong Bay. At the first glance, Phuong Nam Halong Restaurant impresses you with a contemporary design fitted with exposed-stone exterior. Inside the restaurant, an array of facilities, sound, and light systems are well-appointed for events.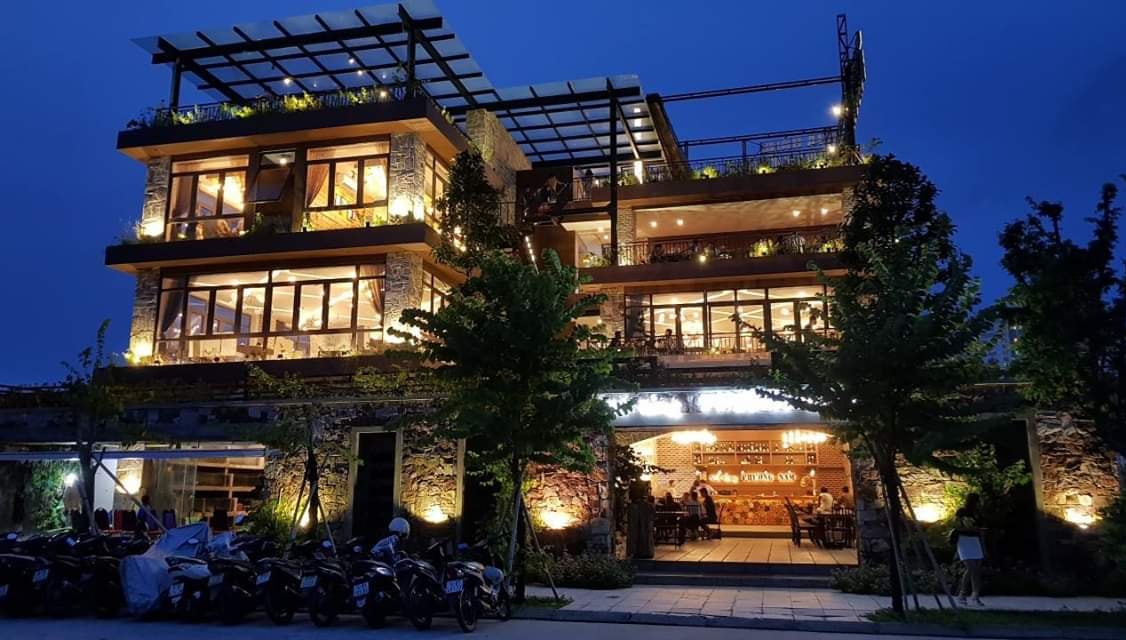 Living up to its name, Phuong Nam Halong Restaurant is best known for special Southeast Asian cuisine, Halong seafood, and regional delicacies created by skilled head chefs. The rich menu is highlighted with dried shredded salmon Sushi, steamed chicken with beer, grilled oysters with cheese, and fresh fruit salad mixed with shrimp.
Information:

Cuisine: seafood, Vietnamese & Asian cuisines
Opening hours: 9am - 10pm
Branch 1: Tran Quoc Nghien Street, Halong City. Hotline: 0904 290 808
Branch 2: Do Si Hoa Street, Cai Dam, Bai Chay Ward, Halong City, just opposite Vinpearl Hong. Hotline: 0901 599 598 / 02033.900.668
Website: https://nhahangphuongnamhalong.com/
12. Buffet Sen A Dong Restaurant
Buffet Sen A Dong Restaurant is the best choice for groups of friends and families to savor sumptuous food and spend quality time together. The extensive buffet menu consists of over 100 Asian and European dishes and up to 50 freshly-harvest seafood.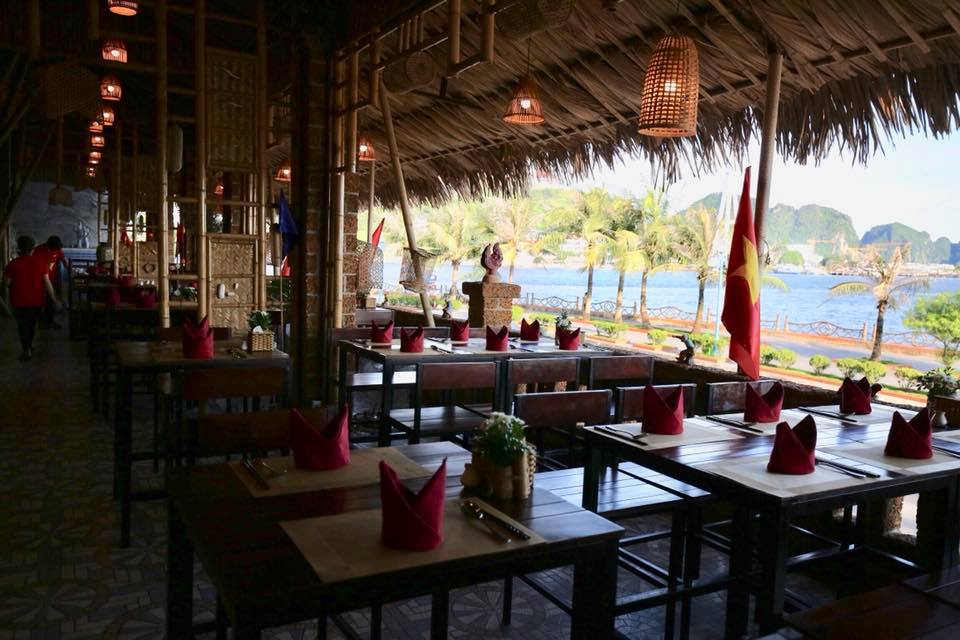 Buffet Sen A Dong Restaurant is able to accommodate 350 guests and is quite busy on the weekends. Thus, advance bookings on those days are necessary.
Information:

Cuisine: Seafood, Asian and European dishes
Opening hours: 11am - 11pm
Address: No.1, Cai Lan, Hung Thang, Halong City
Tel: 082 608 3666
Web: https://www.facebook.com/buffetsenadong.vn/
Last updated: January 02, 2023
Questions and Answers
(0)
Be the first to ask a question on this page
READ THIS NEXT
Vietnamese Tet 2024, also known as the Tet Nguyen Dan or Lunar New Year, will fall on Saturday, February 10th, …
Read more
Exploring Halong Bay nightlife is probably the best way to complete your journey in this land of natural wonders. In …
Read more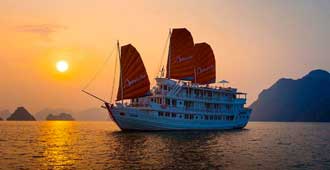 Discover the charming and exotic landscapes of Halong bay on an all-inclusive luxury cruise!
Meet local experts
Need to create your own Halong bay trip?
Call us now: +84 987 24 6600 (Whatsapp)
Customize Your Tour
QUESTION FORUM:
Halong Bay: Questions