Food Safety: 5 Tips for Safe Dining of Seafood in Halong Bay
Besides being famous for its beautiful bay, beaches and caves, Halong Bay also offers travelers great seafood! There's a plethora of fresh seafood to choose from, and with great seafood comes great responsibility. We came up with 5 tips for safe dining in Halong Bay.
IN A NUTSHELL
Avoid eating raw seafood in general.
Never eat raw crab.
Choose fresh seafood, especially one that has shells, contain much higher level of bacteria or poisons.
Avoid drinking excessive beer while eating seafood.
Avoid having fruits/tea after having seafood.
1. Don't eat raw seafood
Raw seafood can be very tempting so if you decide to eat it, make sure not to eat too much of it. Raw seafood might contain the Vibrio parahaemolyticus bacteria which can cause stomach ache, diarrhea and a whole lot of other discomforts. As a rule of thumb, steer clear of 'fishy' looking restaurants, especially if there's no one inside.
2. Don't eat raw crab, ever..
When you eat crab in Halong Bay you run the risk of contracting a nasty parasite by the name of Paragonimus westermani. More commonly known as the 'Oriental Lung Fluke', the parasite causes severe abdominal pains, diarrhea and can affect your respiratory system with paralysis even being a possibility. When you eat crab, make sure it's cooked for at least 20 to 30 minutes. Don't eat at questionable places or establishments where there are no patrons.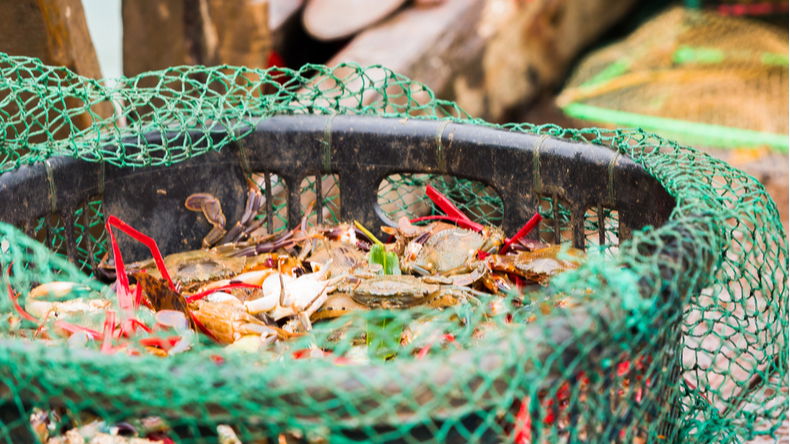 Crabs on sale at local Halong market.
3. Going seafood shopping
There are a lot of markets in Halong Bay and it can be quite a thrill to buy your own fresh seafood. You can either cook it yourself or take it back to the hotel and ask the chef to cook you a nice meal. When you do buy your own seafood, always make sure it's still alive when you purchase it. This goes especially for shellfish as they are more likely to contain higher concentrations of poison and bacteria.
4. Don't drink too much
It is believed that the consumption of alcoholic beverages in combination with eating seafood might lead to arthritis or gout. Be careful not to drink too much while you're enjoying a well earned seafood banquet.
5. Don't eat fruit or drink tea after seafood
The acidity of fruit may inhibit the body from absorbing the protein that's found in seafood. As with tea, the tannins present in tea leaves can react with the protein and calcium found in seafood. This can lead to abdominal pains and vomiting. Wait a few hours with eating fruit and drinking tea after consuming a seafood meal.
Recommended reading: Seafood Safety: What Consumers Need to Know (By The University of Rhode Island, Kingston)