Halong Bay Cruise Cabins: What You Need to Know
There's a wide array of cruises to choose from and with that the degree of luxury, comfort and amenities differ from cruise to cruise. Below is a general overview of what to expect of your accommodation when going on an overnight Halong Bay cruise.
How big are the rooms on a Halong bay cruise?
Put simply, the size of your cabin will usually depend on how much you pay. Space comes at a premium on cruise ships and this rule is no different in Halong Bay. Cheaper cabins are usually smaller than more expensive ones, though this is not always the case as negotiations can always be made with prices in Vietnam.
The smallest cabin size cruise passengers can expect would be around 10 meters squared, with an en-suite bathroom. This size cabin is suitable only for solo-travelers or couples, and in these cabins there is minimal space for movement around the room and for extra luggage.
Cabin Suites are typically more expensive and offer guests more space to roam around in. The larger suites can be up to 75 meters squared in area, with a large en-suite bathroom, a balcony, and a separate seating area.
Compare cruise cabin size
What are the room types: Cabin or Suite?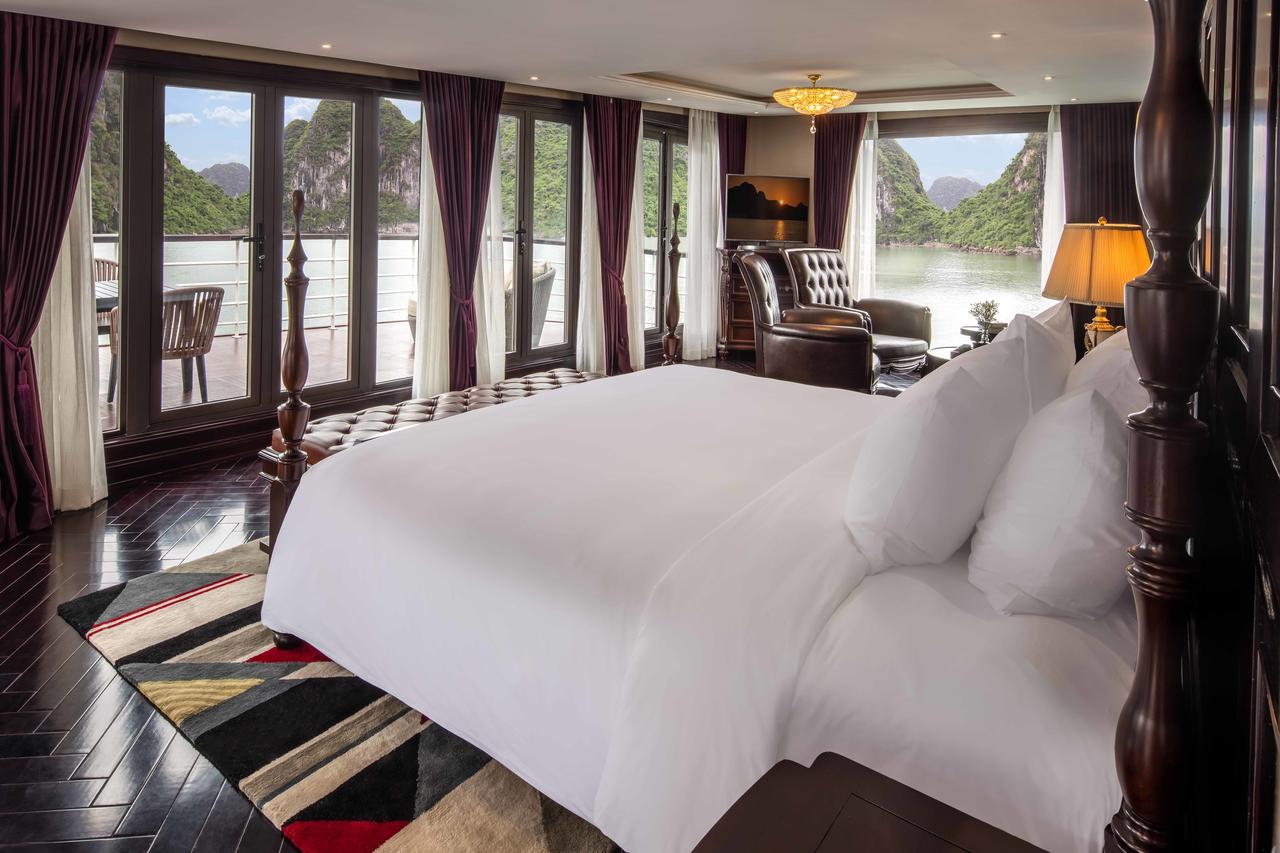 A Cabinet Suite on President Cruise 
Similar to hotels on land, cruises usually have a similar system when it comes to room sizes: single, twin, double and family. These types of rooms are called cabins, and each room type has a different maximum capacity. Often the maximum capacity for a cabin would be two adults and one child but that depends on the cruise operator's discretion.
Bigger and more expensive cabins are usually marketed as 'suites'. This is because they have a separate seating area. The biggest differences between a cabin and a suite are the size, amount of amenities available and the location of the room. A suite generally offers a more generous and royal gander at the environs than the view available in a cabin.
The average size of a cabin is around 16 square meters and is comfortable enough for two adults and one child. It offers basic amenities such as private bathroom, wardrobe and a decent view.
Suites on average are around 23m² to 25m² and offer private balconies, room service, mini bar, a TV and in general a more luxurious experience.
How much should I expect to pay?
The price of cruises can vary greatly, all depending on how much luxury you want. A regular cruise is around $150 US with 3 star cruises ranging from 240 - $280 US and 4 star cruises will set you back about 280 to $340 US. As a rule cabins are cheaper than suites.
Expect to pay the following for each room type:
Twin and Double Room (sometimes called Deluxe Cabin) - from $100 US to $250 US for a 2 day 1 night cruise. These rooms are the most basic type available, usually on the bottom deck of the ship and without a balcony. A Double room has a double bed and a twin room has two single beds.
Suite Room (sometimes called Superior or Premium Cabin) - from $180 US to $300 US for a 2 day 1 night cruise. This is the next room up from a Double room. The Suite room is typically more expensive as it's on the top deck and has better views. Suites may also include more amenities than Double rooms, for example a mini-bar, a bigger bathroom and a balcony.
Luxury Suite Room (sometimes called royal or stateroom) - from $275 US to $450 US for a 2 day 1 night cruise. This luxurious room type is bigger and better than the previous room options. Guests will have more space to move around and access to the best amenities. There may be a Jacuzzi in the en-suite bathroom, a large balcony and panoramic windows.
Family Room (cabin or suite) - from $450 US to $650 US for a 2 days 1 night cruise. Family rooms are typically in the same style as the double, suite and luxury suite rooms as mentioned above, but with larger maximum capacity.
Traveling with children
Traveling with children is not a problem and most cruises don't charge for children younger than 4 years old.
As a general rule children aged 5 to 11 are charged at 75% of the regular rate. Children 12 and over are charged as adults.
There's plenty of room on the cruises for families with children but as always, make sure you clearly communicate what you need and what you expect.