Tips for bringing your own foods and drinks on a Halong bay cruise.
This is the topic on everyone's lips: can you bring your own drinks and alcohol on a Halong Bay cruise?
Typically, cruise operators will NOT allow passengers to bring their own alcoholic drinks onboard the ship, although this may vary with different operators having different rules.
Some operators prefer that passengers inform them ahead of time if they plan to bring their own drinks, and may charge a corkage fee for each bottle that the passenger brings. Corkage fees could go from $5 - $20 USD depending on the cruise.
One rule of thumb that is generally safe to follow is to consume your personal drinks only in your own cabin, and keep it away from public spaces. What passengers do in their own cabin is their own business!
If you want to bring your own food and soft drinks on a cruise, it's best to let the cruise line know, as some will not allow this at all, and some will be happy to let you bring your own drinks and snacks.
Questions and Answers
(0)
Be the first to ask a question on this page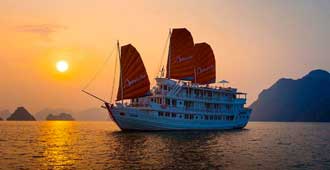 Discover the charming and exotic landscapes of Halong bay on an all-inclusive luxury cruise!
Meet local experts
Need to create your own Halong bay trip?
Call us now: +84 987 24 6600 (Whatsapp)
Customize Your Tour
QUESTION FORUM:
Halong Bay: Questions