Eco-tourism is a popular form of responsible tourism which aims to help travelers visit areas of great natural beauty and cultural significance in a more sustainable way. This means that tourists aim to leave very little physical evidence of their visit in the hope of sustaining our Earth's natural beauty for generations to come.
Eco-travel
Eco-tourism in and around Halong Bay is still in its infancy stages however, there are some internationally recognized eco-travel programs and partnerships that tourists can keep an eye out for, which indicates that a travel company commits to sustainable travel. Three of the main organizations are:
Travelife Sustainability System - Partners with Travelife are part of the Travelife Sustainability System. This initiative sets high standards for Tour Operators and travel agencies ensuring they play a role in contributing to sustainable development and environmental protection.
The Responsible Travel Club of Vietnam (RTC) - RTC works in association with many travel agencies to build and develop sustainable growth in tourism in Vietnam and has been running since 2009.
International Union for Conservation of Nature (IUCN) - Members of this union are committed to helping economic progress along with environmental conservation.
If you spot a company operating with an association or partnership with one of these organizations then you can be sure that they are committed to eco-tourism in Halong Bay.
If you wish to contribute to a more eco-friendly form of tourism in Halong Bay you can do your bit by picking up all of your trash, using minimal plastic and eat locally produced food.
Questions and Answers
(0)
Be the first to ask a question on this page
READ THIS NEXT
Vietnamese New Year is known as Tet, Tet Nguyen Dan, or Lunar New Year in Vietnam. It is the most …
Read more
Hanoi Old Quarter has long been known as the historical and cultural hub in the heart of Hanoi Capital.
Read more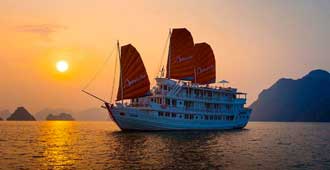 Discover the charming and exotic landscapes of Halong bay on an all-inclusive luxury cruise!
Meet local experts
Need to create your own Halong bay trip?
Call us now: +84 987 24 6600 (Whatsapp)
Customize Your Tour
QUESTION FORUM:
Halong Bay: Questions