Not so much a mountain as a hill, Bai Tho Mountain is only 650 feet (200 meters) high. This makes the mountain easy to climb and to get to the top should not take more than 30 minutes. Once you reach the top you will be rewarded with a splendid view of the Bay and of Halong City. It is said that here is where you'll truly understand why it's called Halong or in English: Descending Dragon.
Overview
Seeing Halong Bay on a cruise ship is a typical and ordinary thing to do for many. So if you expect an alternative, you should consider mountain climbing to the peak of Bai Tho Mountain.
Bai Tho Mountain is among the favorite viewpoints of visitors for the panoramic scenery of Halong Bay. Thinking of mountain climbing, many people may assume it is hard and challenging but Bai Tho Mountain, fortunately, could be within your reach. And the journey climbing up the mountain promises to bring you a lot of wonderful experiences.
Updates: Bai Tho Mountain remains closed since 2017 and recently the local authority plans to re-open the attraction to visitors in the first half of 2023.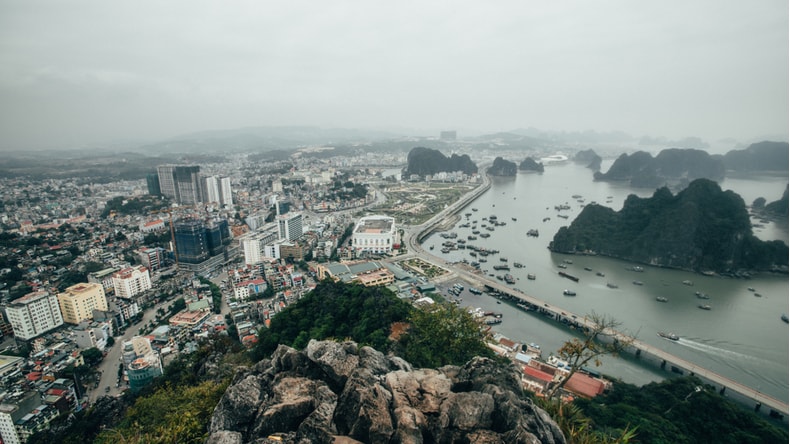 Halong bay view from the top of Bai Tho Mountain!
Location
Bai Tho Mountain is located in close proximity to Halong city center, only 9km and it takes around 10 minutes to drive to the destination. The trail to the top of Bai Tho Mountain is not very hard or steep as it is only 200 meters above sea level. It takes you around 30 minutes to reach the highest point and admire wonderful views of thousands of limestone islets on the waters.
Distance to Bai Tho Mountain
| | | |
| --- | --- | --- |
| Location | Distance | Time |
| Hanoi | 160 km | 2h20m |
| Noi Bai International Airport (Hanoi) | 179 km | 2h30m |
| Hai Phong | 51 km | 50m |
| Van Don Airport | 53 km | 52m |
| Halong city | 9km | 10m |
History
Bai Tho Mountain is interpreted as a "poem" mountain in Vietnamese because of its magnificent natural beauty becoming a great source of inspiration for Vietnamese poets typically King Le Thanh Tong to compose masterpieces of art. Bai Tho Mountain is also a witness to Vietnam's glorious history against the Nguyen Mong invaders thousands of years ago.
The Royal Poem
When King Le Thanh Tong came through the area in 1468, they rested at the mountain. Inspired by the beauty of the mountain and its surroundings, the king used his knife to carve a poem into the mountain. Even though the poem cannot be seen in the present day, it has been preserved in books. This is how it got its current name Bai Tho Mountain which translates into Poem Mountain.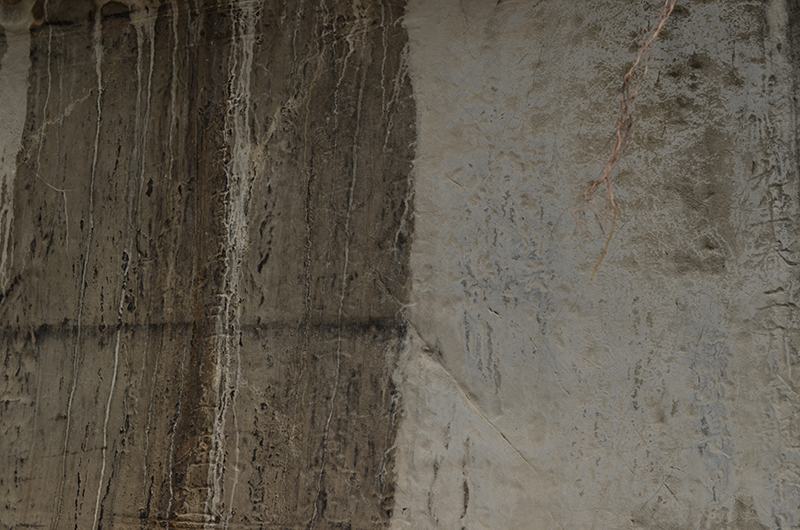 The poem in Nom script on the mountain (Photo: Baoquangninh.com.vn)
Best time to visit
The most favorable period of time to climb Bai Tho Mountain coincides with the best time to visit Halong Bay which is from November to April. The weather in this period is mild and fairly dry. In addition, good visibility enables you to watch the bay clearly, especially on sunny days.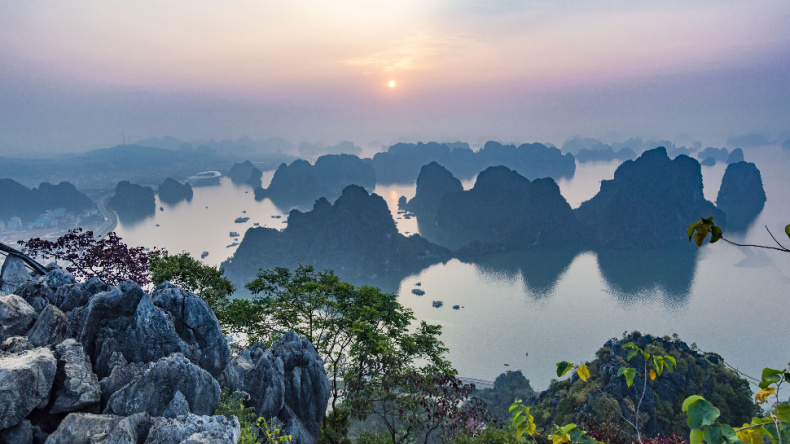 Bai Tho Mountain at Sunrise
How to get there
Transportation from Halong city to Bai Tho Mountain is pretty easy and straightforward. You can take a grab taxi or rent a motorbike to drive on your own.
From Halong city, you follow the 18 Highway passing Bai Chay bridge to Dang Ba Hat - Ba Deo - Le Thanh Tong street. Continue to follow Le Thanh Tong street to Hang Noi street and stop over at Nam Phong cafe. Just opposite Nam Phong cafe, you can ask local inhabitants for the route to the foot of Bai Tho Mountain. Hiking along the trek for around 30 minutes and you will reach the peak of Bai Tho mountain.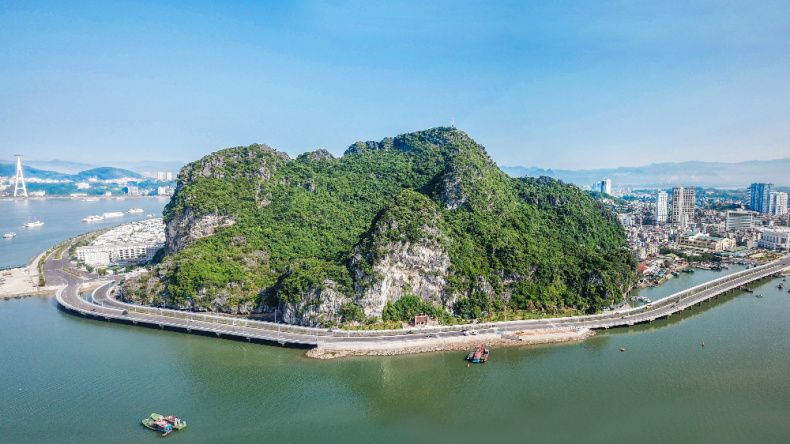 Coastal road around Bai Tho Mountain foot
Best things to do
Contemplate the panoramic view of Halong Bay: A short trek to the peak of Bai Tho Mountain offers a poetic view of Halong Bay and the inner city. It is especially wonderful if you can catch the sunrise and sunset on this mountain. All scenery looks marvelous during these periods of time.
Check in the flag pole and historical stone stele: Since Bai Tho Mountain is also a historical spot, you should not miss a chance to take photos of the flag pole and historical stele on the top.
Nearby places of interest
Thanks to the close distance to the city center and other well-known tourist attractions, you can easily combine a trip to Bai Tho Mountain with visits to nearby attractions.
Halong Bay: Taking either a day cruise or an overnight cruise tour on Halong Bay is one of the top things to do on your bucket list. Apart from enjoying breathtaking scenery, you can engage in many exciting activities like kayaking, swimming, cave exploring, and visiting floating villages.
Bai Chay Beach: Check-in and swimming on Bai Chay beach is a not-to-miss one. The beach has a long stretch of powdery sand, ideal for relaxing and organizing teambuilding activities.
Sun World Halong entertainment complex: If you choose to stay in Halong City, you will be amazed by a number of entertainment activities at the Sun World Halong entertainment complex. Games and activities here are suitable for many types of visitors from children to adults, couples, and groups of friends.
What to pack
A pair of sports shoes to avoid a slippery trek.
Breathable and comfortable clothes. You should check the weather forecast to pack suitable clothes.
Sun hat, sunscreen during sunny and hot days, and insect repellent.
Bottles of water and light snacks.
Camera for taking beautiful photos.
Flashlight if you go down late in the afternoon.
Local tips
Here are important tips you should note down for a memorable trekking trip to Bai Tho Mountain:
Although the trek is quite easy and suitable for beginners, you should consider your health condition before taking up the trip.
Those with heart diseases, high blood pressure, and pregnant women should not join this activity.
Pack some snacks and bottles of water because there is no stall selling these things on the mountain.
You should trek with your group of friends to ensure safety.
As always, be sure to check the weather reports and pack appropriately. The best time to go if you want to see the sunrise is 4.30 a.m. and for the sunset it's recommended you go at 4 p.m.
Questions and Answers
(0)
Be the first to ask a question on this page
READ THIS NEXT
With an extensive list of recreational amenities, Sun World Halong Complex has become a must-go attraction for tourists to Halong …
Read more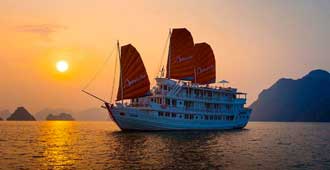 Discover the charming and exotic landscapes of Halong bay on an all-inclusive luxury cruise!
Meet local experts
Need to create your own Halong bay trip?
Call us now: +84 987 24 6600 (Whatsapp)
Customize Your Tour
QUESTION FORUM:
Halong Bay: Questions