Bai Tho Mountain is in Halong City and is one of the best places to get a panoramic view of Halong Bay.
Overview
Not so much a mountain as a hill, Bai Tho Mountain is only 650 feet (200 meters) high. This makes the mountain easy to climb and to get to the top should not take more than 30 minutes. Once you reach the top you will be rewarded with a splendid view of the Bay and of Halong City. It is said that here is where you'll truly understand why it's called Halong or in English: Descending Dragon.
The mountain has a rich history going back many centuries. Before its current name, it was known by Truyen Dang or Roi Den what roughly translates as 'mountain from which a light shines'.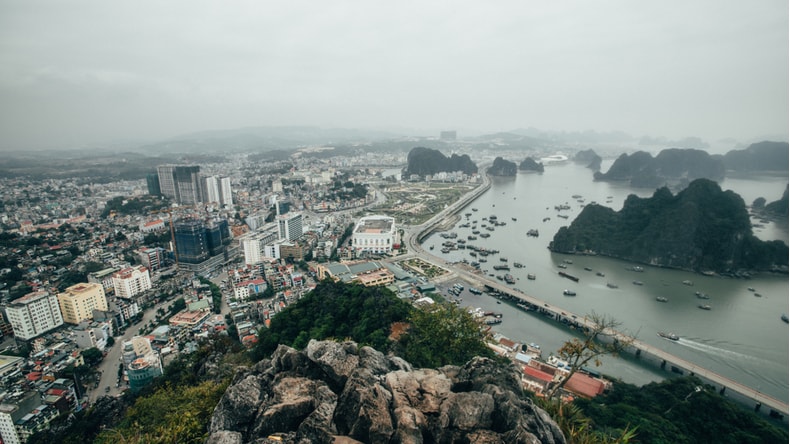 Halong bay view from the top of Bai Tho Mountain!
In the past, because of its vantage point over the bay, a flame was lit on top of the mountain whenever an enemy would near the Bay.
A Royal Poem
When King Le Thanh Tong came through the area in 1468, they rested at the mountain. Being inspired by the beauty of the mountain and its surroundings, the king used his knife to carve a poem into the mountain. Even though the poem can't be seen at the present day, it has been preserved in books. This is how it got its current name Bai Tho Mountain which translates into Poem Mountain.
To get to the mountain you take the path that starts at 104a Le Thanh Thong street in Halong City. There's an alternative path leading up to the top near the pagoda in Long Tien street. The walk should take no longer than 30 minutes but make sure you take some water and stay hydrated!
As always, be sure to check the weather reports and pack appropriately. The best time to go if you want to see the sunrise is 4.30 a.m. and for the sunset it's recommended you go at 4 p.m.
READ THIS NEXT
With an extensive list of recreational amenities, Sun World Halong Complex has become a must-go attraction for tourists to Halong …
Read more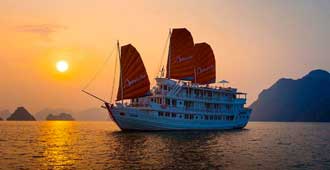 Discover the charming and exotic landscapes of Halong bay on an all-inclusive luxury cruise!
QUESTION FORUM:
Halong Bay: Questions
Free ITINERARY planning with us!
Planning your trip with our Halong local experts, we will help you with:
Accomodation: Find the best hotels/homestay or BnB.
Tours: Connect you to the trusted tour operator in Halong bay.
Cruises: Find the best cruise on your date!
It is all FREE