Yen Tu Mountain, Quang Ninh
Yen Tu Mountain, also known as Yen Tu Pagoda or Yen Tu Relic Complex, is a renowned Buddhist site for tourists on a pilgrimage. The mountain is located in Uong Bi City, about 50 km (32 miles) from Halong Bay in Quang Ninh province. The distance from Hanoi to Yen Tu Mountain is approximately 130km to the northeast. Yen Tu Mountain has been a center of Buddhist teaching since at least the 13th century, thus it holds significant religious and cultural importance and attracts million visitors annually.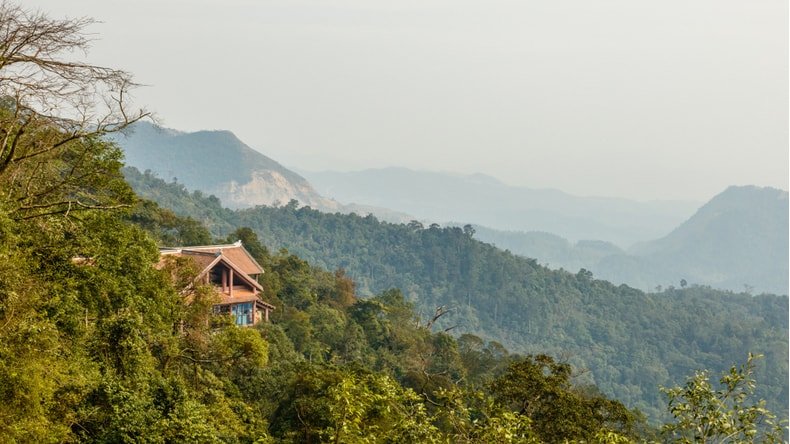 IN A NUTSHELL
At its highest point, Yen Tu Mountain stands at 1,068 meters (3,504 feet) above sea level.
The Yen Tu cable car, with a total length of 2,100 meters (6889 feet), is divided into two sections.
The mountain trail is approximately 6 kilometers long, and it takes around 6 to 8 hours to hike up to the peak.
A prominent pilgrimage destination with scenic natural beauty
Many Vietnamese locals and international Buddhist visitors flock to Tu Mountain annually, especially during the festival season. The pilgrimage often involves climbing the mountain on foot or by cable car to the top of the mountain, showing respect, making offerings, and seeking spiritual enlightenment. Additionally, apart from religious significance, you should not miss a chance to capture the stunning natural beauty of Yen Tu Mountain. The tourist site is covered with lush forests and numerous waterfalls, streams, and wildlife to be discovered along the way.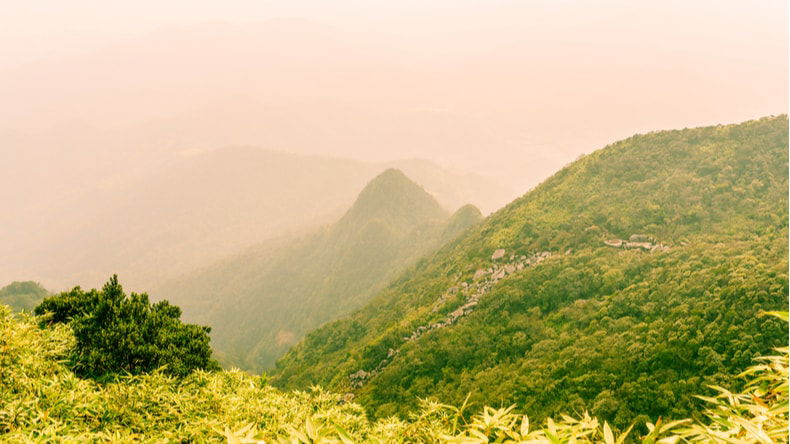 Stunning landscapes on top of Yen Tu mountain! 
Best time to visit
The best time to visit Yen Tu Mountain is during the spring (March to May) and autumn seasons (September to November) with mild and pleasant weather. It would be scorching and humid in the summer months (June to August) and you should avoid traveling to Yen Tu Mountain in the winter (December to February) since it is very cold and misty.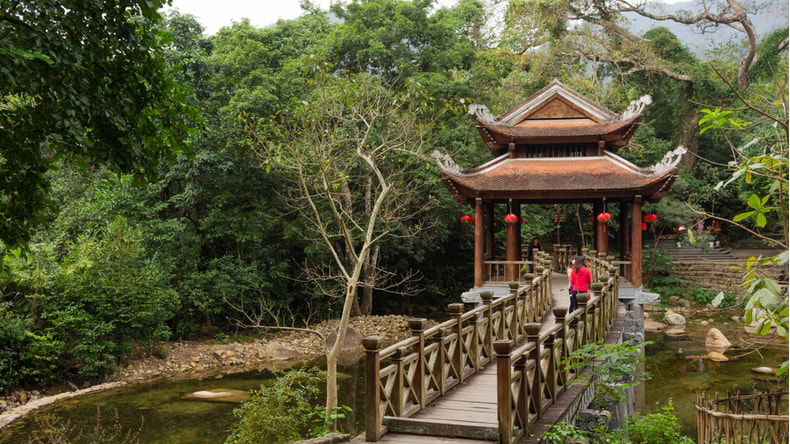 Best things to do in Yen Tu Mountain
Trekking: For a challenging and immersive experience, you can choose to hike up Yen Tu Mountain. This is among the most famous trails in the region with varied difficulty levels. The most common trail is the 6-kilometer route from the foot of the mountain to Dong Pagoda. You should wear comfortable shoes and pack essential items as well as water for uphill climbs.
Visiting pagodas: Yen Tu Mountain is home to numerous pagodas and temples. The main attraction is Dong Pagoda, located at the peak. You can soak up the spiritual atmosphere and admire the traditional architecture. Remember to be respectful, follow any instructions or guidelines, and remove your shoes before entering sacred sites.
Joining Yen Tu Festival: If your visit coincides with the Yen Tu Festival, you will have the opportunity to witness and participate in vibrant cultural festivities. The festival usually takes place from the 10th day of the first lunar month to the end of the third lunar month with many interesting activities.
How to get to Yen Tu Mountain from Hanoi
The nearest major city to Yen Tu Mountain is Hanoi. From Hanoi, you can take a bus or hire a private car to Uong Bi City to access Yen Tu Mountain. The journey takes around 3-4 hours following Hanoi-Hai Phong Expressway. Alternatively, you can also take a train to Uong Bi Railway Station.
How to Get Up the Mountain
Upon arrival at Uong Bi City which serves as the gateway to Yen Tu, you can take a taxi to the destination. Yen Tu Mountain is accessible by cable car or foot.
By cable car: Taking a cable car is the easiest way to reach the mountain peak. You can take a cable car halfway up the mountain, and then after a short hike, there is a second cable car that takes you to the top.
By foot: Hiking up by foot is a common practice for pilgrims. It is a little more strenuous and not recommended for people who are old or more prone to heart attack. It takes about 3.5 hours to get to the top. As there are stairs going to the top, it is a pretty straightforward climb.
Where to stay
The well-known spiritual and scenic area of Yen Tu comprises several tranquil sanctuaries namely Legacy Yen Tu - MGallery and "Lang Nuong Yen Tu" - Yen Tu Village.
Legacy Yen Tu - MGallery: Mgallery Legacy Yen Tu Resort features unique architecture and landscape, located at the foot of the sacred Yen Tu Mountain. The resort's location nestled amidst the mountains and forests reveals a sense of utmost seclusion and peace. Its design is inspired by architectural features in a palace from the Tran dynasty. A journey to Legacy Yen Tu is truly a getaway from the hustle and bustle of city life where you can immerse yourself in nature and the essence of Buddhist architecture.
"Lang Nuong Yen Tu" - Yen Tu Village: "Lang Nuong Yen Tu" is a part of the Yen Tu complex of monuments and landscapes. The property recreates a space that embodies the distinctive characteristics of the Northern region of Vietnam under the Tran Dynasty. It showcases traditional houses made of clay, brick walls, ironwood, and stone pavements. Staying there, you could soak up a solemn and mysterious ambiance, deeply imbued with a sense of spirituality.
Where to eat
Dining options in Yen Tu are quite plentiful and you can choose to eat in the restaurants within the resort or the outside area.
Tho Quang Restaurant: Tho Quang is a prominent restaurant in Legacy Yen Tu - MGallery that is made from classic materials like wood, copper, and ceramic tiles. Three meals a day in the restaurant cover an extensive international buffet menu and Vietnamese traditional dishes.
Thien Quan Restaurant: Another notable dining venue in Legacy Yen Tu is Thien Quan Restaurant which features an elegant and sophisticated design. You can find a wide range of premium drinks and tapas snacks here.
Goc Viet Quan Restaurant: The restaurant is designed in a rustic Vietnamese countryside style, creating a familiar and comfortable atmosphere. It is renowned for authentic rural specialties and diverse regional cuisine, especially seafood from the three regions. The menu includes a variety of dishes such as Quang Ninh seafood specialties, crab hotpot, steamed wild duck, braised wild duck with bamboo shoots, and more.
Essential tips when visiting Yen Tu Mountain
Plan sufficient time and start early: It is recommended to spend at least a full day to fully experience the site. You'd better start early in the morning to avoid the crowds. If you're planning to hike up the mountain, you need to allocate extra time for the ascent and descent.
Wear comfortable clothing and sports shoes: Dress in comfortable, breathable clothing suitable for hiking or walking. You should also choose a good pair of sports shoes to climb up uneven paths.
Pack essentials: Useful items such as sunscreen, a hat, sunglasses, insect repellent, and a small backpack to hold your belongings are essential. Additionally, do not forget to bring a water bottle to stay hydrated during your journey.
Check the weather forecast before your trip: You need to know about the weather and prepare accordingly. Bring rain gear if there's a chance of rainfall, and pack an extra layer of clothing for cooler temperatures, especially if you are visiting during the autumn or winter months.
Be mindful of local customs: Yen Tu Mountain is a religious site, and you have to respect local customs and traditions and dress moderately.