How Many Days Should You Spend in Hanoi and Halong Bay?
You could easily spend a week in Hanoi and Halong bay without feeling bored. However, for most people with limited time, a few days would be good. For example, a 3 days in Hanoi and 2 days in Halong bay itinerary would cover most of both destinations.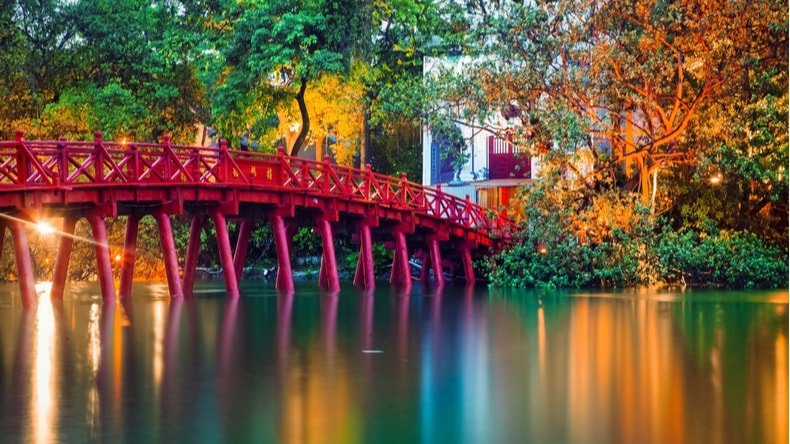 Hanoi
Hanoi, Vietnam's vibrant capital city, is like an urban museum. Many people pass through Hanoi to get to Halong Bay, but the city definitely deserves a few days attention in its own right.
From the crumbling Old Quarter to the trendy French Quarter, visitors to Hanoi need only walk its narrow streets to see that this is a special place. Hanoi is truly a multi-layered city where periods of foreign occupation are apparent on every corner.
We recommend spending three days in Hanoi to truly get a good feel for the city, especially if you're a first time visitor.
3-Day Itinerary Hanoi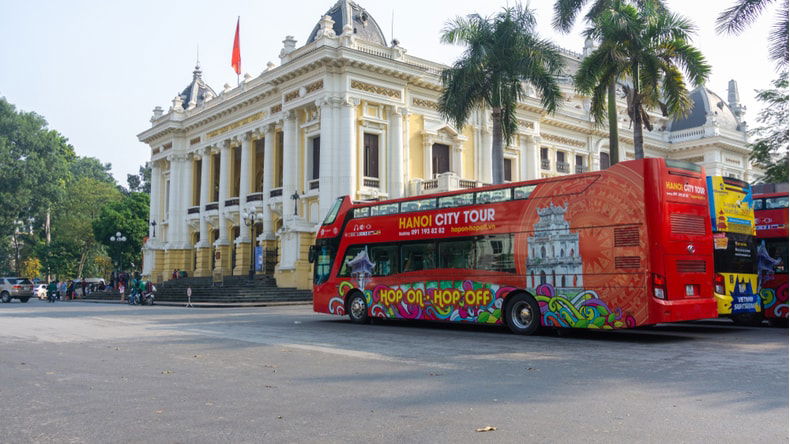 Hanoi city bus - a great way to go around for a sightseeing tour! 
Day 1:
On your first day in Hanoi you should spend at least the morning and afternoon exploring the Old Quarter, sipping cà phê sữa đá (Vietnamese iced coffee), eating Bún Chả and understanding what it means to be a Hanoian. Make sure to stop by the Opera House and St. Joseph's Cathedral as well as walk around Hoàn Kiếm Lake.
In the evening, make your way to the more modern French Quarter and go to one of the trendy cocktail bars, or find a Water Puppet Show to see some traditional Vietnamese culture.
Day 2:
Eat Bánh Mì for breakfast in the Old Quarter before you visit Ho Chi Minh's Mausoleum in Ba Đình Square and nearby Lenin Park. When you need a rest, try some Bún bò Nam Bộ for lunch, accompanied by some delicious fresh coconut. You can find this anywhere in Hanoi!
Spend the afternoon taking in the old French-Colonial architecture of Ba Đình as you walk to your next destination: the Temple of Literature, Vietnam's oldest university.
Spend the evening by the West Lake, find a beautiful restaurant that overlooks the water and have dinner there before drinking beers in a local Bia Hoi.
Day 3:
In the morning head to the Lotte Tower for a spot of shopping before going up the observation deck to see a jaw-dropping view of Hanoi.
After lunch, go back to the Old Quarter and find Train Street, spend the afternoon here drinking local Hanoi beers or trying the famous egg coffee.
Spend the evening wandering around the vast Hanoi Night Market where you can get some souvenirs for your loved ones back home.
Halong Bay
After three days in Hanoi you're ready to head to Halong Bay, where it is recommended that you spend at least 2 days.
2-Day Itinerary Hanoi to Halong Bay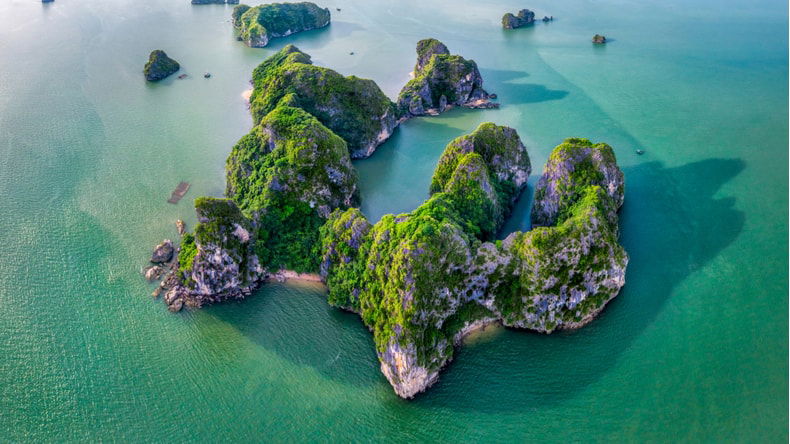 Islands on emerald water - a symbol of Halong bay! 
Day 1
Leave Hanoi early and take a shuttle bus to Halong Bay. Arrive by lunchtime and board an all-inclusive Halong Bay Cruise.
Have lunch on the cruise boat before visiting one of the famous Halong Bay caves by kayak and then stopping off at a local floating village where you will spend a few hours exploring. Visit a beach on an uninhabited island before returning to the boat for dinner.
Have dinner on the cruise boat and then take part in some squid fishing before turning in for the night
Day 2
Wake up early and take part in Tai Chi exercises on deck. Have breakfast and then take kayaks to explore another mysterious cave.
Head back to the boat for lunch while the it takes you back to the port.
After lunch take the shuttle bus back to Hanoi. Once in Hanoi, drop off your luggage and freshen up at your hotel and then explore the Old Quarter at nighttime once more.
In this article, we have gave you an idea about the number of days you should spend and the things you could do in Hanoi and Halong bay. We wish you find the information useful and good luck to your holiday!