If you've got 5 days to explore Northern Vietnam and you're not quite sure what to do, we've got your back. This itinerary will take you from the ancient streets of Hanoi to the towering mountains of Halong Bay to come to an end in the hills and mountains of Sapa.
IN A NUTSHELL
Spend the first day exploring Hanoi's highlights.
On day two, head towards Sapa where you will explore Ham Rong mountain.
Day three takes you to Cat Cat village, where you will learn about H'mong culture.
The final destination is a 2-day/1-night cruise to Halong Bay.
Day 1: Hanoi
8:00: Leave your hotel and go to Tran Quoc Pagoda, a historic Buddhist temple in Hanoi, near the West Lake.
9:45: Take a stroll towards Ho Chi Minh's Mausoleum in Ba Dinh, grab a traditional Vietnamese breakfast along the way.
11:15: Next up, drop by the One Pillar Pagoda, one of Vietnam's most iconic temples.
12:00: Stop to have lunch in a nearby local restaurant.
13:30: For a blast from the past, visit the ancient Temple of Literature, built in 1070 AD, it's also Vietnam's first university.
15:00: Head towards Hoan Kiem Lake, do as the locals do and walk around the lake and generally chill out. Visit Ngoc Son Temple and try some ice cream from one of the nearby gelaterias.
17:00: Return to the hotel and get ready for dinner.
18:30: Explore the Old Quarter, find somewhere for dinner - perhaps Bun Cha or Bun Bo Nam Bo?
20:00: Return to hotel and get lots of sleep in preparation for day two!
Summary: Visit 5 attractions including Tran Quoc Pagoda,Ho Chi Minh's Mausoleum, One Pillar Pagoda, Temple of Literature, Ngoc Son Temple and Hoan Kiem lake.
Day 2: Hanoi to Sapa
Ham Rong Mountain, Sapa
8:00: Board the shuttle bus headed for Sapa. Enjoy the beautiful scenery on the way.
13:00: Arrive in Sapa and have some lunch.
14:00: Head for Ham Rong mountain, climb to the summit (takes 20 minutes) and explore the Indochina Orchid Garden.
17:00: Go back to the hotel and freshen up for the evening.
18:00: Find somewhere to have a delicious dinner!
19:30: Explore Sapa town by night.
Tip: You can also catch an overnight train from Hanoi to Sapa. Train departs Hanoi at 22:00 and arrive Lao Cai (for Sapa) at 06:10 in the morning. it costs about 800,000 VND/person for one-way ticket.
Day 3: Sapa to Cat Cat Village to Hanoi
Cat Cat ethnic village landscape, Sapa
08:30: Wake up and enjoy breakfast in Sapa Town.
9:30: Go to Cat Cat Village, close to Sapa Town. Meet the Hmong people and learn about their distinctive customs and traditions.
12:00: Go back to Sapa to have lunch.
13:30: Explore Sapa's market and buy some souvenirs.
14:30: Head back to Hanoi by shuttle bus.
19:30: Return to your Hanoi hotel and relax for the evening, or get dinner around the Old Quarter.
For train lovers: An overnight train from Sapa departs Lao Cai station at 21:40 and arrive Hanoi at 05:30.
Day 4: Hanoi to Halong Bay
Overnight cruise ships in Halong bay.
8:00 - 8:30: Get a Banh Mi on-the-go for your breakfast, then board the shuttle bus heading for Halong Bay.
12:15 - 13:00: You should aim to arrive at Halong Bay ferry port by midday. Check-in and board your cruise.
13:00: Enjoy a set-menu lunch onboard the cruise boat.
14:00: First stop, visit Titop Island. Take some time to swim, sunbathe or explore the island.
15:30: Head to Sung Sot Cave, one of the most beautiful caves in Halong Bay.
16:30: Go back to the boat and freshen up in time for dinner. Have a shower and relax on the deck while you wait.
17:30: Enjoy the set-menu dinner.
19:00: Once the sun has gone down partake in squid fishing, karaoke singing and games.
Important Note: Passports are required for onboard stay, remember to take your passport with you.
Day 5: Halong Bay to Hanoi
Bo Nau cave in Halong Bay, Vietnam
07:00: Wake up nice and early to enjoy breakfast on board the ship.
07:40: Visit the pearl farm. Learn all about the cultivation of pearls in Halong Bay.
08:30: Try some kayaking, explore the area surrounding your cruise boat independently.
10:30: Have brunch on the boat and then take in Halong Bay as the boat travels back to Tuan Chau Harbor.
12:00: The shuttle bus will take you back to Hanoi's Old Quarter. 16:30: Return to your Hanoi hotel.
Recommended hotels for Hanoi: The Oriental Jade Hotel & Spa and Apricot hotel (2 minute walk from Hoan Kiem lake)
READ THIS NEXT
Planning a trip to Halong but still hasn't decided where to go yet? You should surely know that there are …
Read more
There's so much to see and do in Halong Bay. To make your trip a bit easier, we've compiled three …
Read more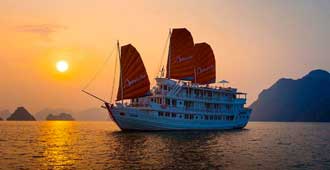 Discover the charming and exotic landscapes of Halong bay on an all-inclusive luxury cruise!
QUESTION FORUM:
Halong Bay: Questions
Free ITINERARY planning with us!
Planning your trip with our Halong local experts, we will help you with:
Accomodation: Find the best hotels/homestay or BnB.
Tours: Connect you to the trusted tour operator in Halong bay.
Cruises: Find the best cruise on your date!
It is all FREE