Kayaking through Halong Bay is a must-do bucket list activity and by far the best way to explore all that the bay has to offer. Sliding through the water in a nifty kayak gives travelers more independence, and allows them to reach places that cannot be reached in cruise ships. Kayaking tours are offered by most Halong Bay cruises. Before embarking on a kayaking adventure there are a few things you should know.
Basic safety tips
Tourist kayaking through a cave in Halong bay (Photo: Shutterstock)
Follow these safety tips and be well-prepared for a kayaking trip:
Before kayaking warm your body up with a bit of movement beforehand - the last thing anyone wants is a cramp while in a kayak.
Listen carefully to the tour guide and remember details of the route, timings and rules.
Wear a life-vest.
Be aware of the weather, tides and currents and the wind strength.
Stay well away from cliffs, caves and rocks.
Never, ever go kayaking whilst intoxicated. It's dangerous and not worth the risk.
Ensure you hold the oar with your arms about the same width as your shoulders, with the concave sides of the oar facing behind you.
Halong Bay water is pretty warm during winter, so it is good to go kayaking anytime of the year. However, keep yourself warm after you are done with the activity to avoid catching a cold. The temperature during winter can get as low as 10°-15°.
What to bring
The key to success is good preparation. Make sure to include the following things on your kayaking adventure:
One life-vest per person.
Water bottles for each person.
Sunscreen in a high factor.
Insect repellent.
Camera.
Good, comfortable shoes.
Recommended reading: The best time to visit Halong bay.
Best kayaking spots
Luon cave - one of the top spots for kayaking! (Photo: Shutterstock)
Halong Bay has a landscape so magnificent that there are endless amounts of wonderful kayaking spots. No matter where you go you're likely to be blown away by the natural landscape. That said, the local government has issued strict guidelines on where travelers should kayak in order to protect areas of Halong Bay.
The following areas are kayaking hotspots in Halong Bay:
1. Luon Cave
Just close to Bo Hon Island to the northeast, Luon Cave is regarded as a top-rated kayaking spot in Halong Bay attracting thousands of sports enthusiasts annually. Serenely kayaking through its arc-shaped entrance, you will be in the middle of a small jade-green water lake. Do not miss a chance to have a glimpse of towering limestone mountains and sometimes catch sight of many friendly golden monkeys. Apart from kayaking, visitors can also choose to get on a rowing bamboo boat and leisurely contemplate the picturesque landscapes.
2. Vung Vieng Fishing Village
Located in Bai Tu Long Bay, Vung Vieng Fishing Village is included in many cruise itineraries and also shortlisted as a great kayaking destination. Kayaking around Vung Vieng Fishing Village not only allows tourists ample opportunities to breathe fresh air, enjoy the peaceful ambiance, and capture mesmerizing scenery but also delve into local culture. Amidst staggering white limestone formations, there is a scattering of beautiful floating raft houses and a communal house.
3. Cap La Island & Cap La Fishing Village
Blessed with pristine white-sandy beaches and a tranquil atmosphere, Cap La Island is another favorite kayaking spot for adventure seekers on Bai Tu Long Bai. More than just mesmerizing and secluded
scenery, kayaking in Cap La Island enables you to approach Cap La Fishing Village, a small fishing site that is home to about 200 local people. Here visitors can take stunning photos of rustic floating houses and locals fishing or doing their daily tasks.
4. Ba Hang Fishing Village
Adjacent to Thien Cung Cave, Ba Hang Fishing Village is an ancient, well-preserved fishing site drawing throngs of tourists to visit and enjoy the feeling of self-rowing. Tourists can meet hospitable fishermen living in colorful raft houses and participate in their daily works. Ba Hang Fishing Village was also proudly chosen as the filming location of the Kong: Skull Island blockbuster for its primitive and breathtaking seascapes.
5. Tung Sau Area
Located near Cua Van Fishing Village, Tung Sau Area is best known for high-quality pearls and pearl farming. A kayaking trip to Tung Sau Area is a not-to-miss experience since tourists will have joyful momenta paddling among beautiful rock formations, karst cliffs. Moreover, visitors can stop over Tung Sau Pearl Farm to watch and learn about the pearl growing and making process.
6. Cua Van Fishing Village
Cua Van is a well-known thousand-year-old fishing village as well as a prominent tourist attraction in Halong Bay. It is rated as one of the 15 most beautiful fishing villages in the world. The best way to explore this peaceful ancient site is to get on a kayak. Featuring the largest fishing village in Halong Bay, Cua Van Fishing Village is surrounded by lots of limestone mountains and islets and dotted with small floating houses. To get an insight into local culture, tourists can join local experience tours and socialize with locals.
7. Trinh Nu Cave
Trinh Nu Cave is about 3km from Sung Sot Cave to the southeast. The cave was discovered by the French and named "Virgin Cave" for its untouched beauty. It features an amazing system of stalactites and stalagmites divided into three compartments. Kayaking into Trinh Nu Cave, you will be allured for its glamorous formations and cool, green waters.
8. Cong Do Island
Belong to Bai Tu Long Bay, Cong Do Island impresses tourists with its staggering natural landscapes and multi-shaped rocky formations. The island also has a diverse ecosystem and large coral reefs. Cong Do Island always keeps you entertained with an array of activities, especially kayaking. Visitors can contemplate splendid views and may come across some rare species.
9. Hon Co Island
Also called Grass Island, Hon Co Island is another popular kayaking destination in Bai Tu Long Bay. This site is quite unpopular among tourists yet bestowed with a fresh atmosphere and sandy beaches. Besides kayaking, tourists are offered other exciting activities such as swimming and visiting Co Cave.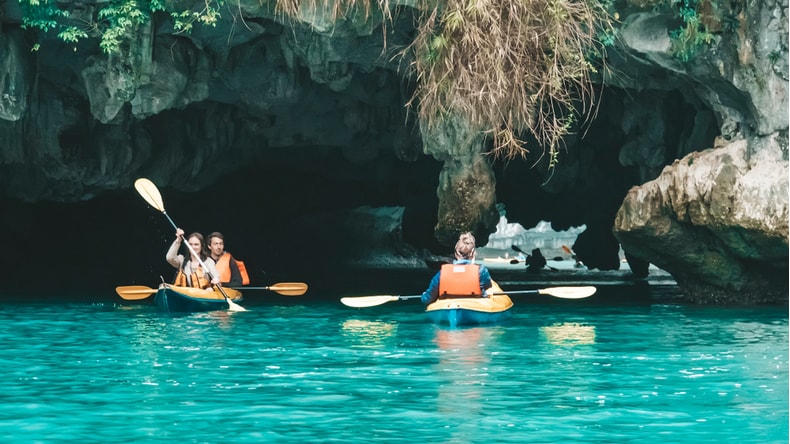 Photo: Shutterstock
Best time to go
Halong Bay typically adheres to the weather pattern of Northern Vietnam with four distinct seasons and some stormy periods. Therefore, tourists wishing to enjoy kayaking in Halong Bay should be aware of the current weather condition. Indeed, there are two favorable periods of time that tourists can get on a kayaking excursion which are from March to June and from October to December. During those months, the weather is pretty warm and dry without storms or sudden rains. Visitors can freely explore the bay and join other outdoor activities.
Cruises that offer kayaking service
Since kayaking is among the most prominent and indispensable activities in Halong Bay, a vast majority of cruises include it in their cruise itineraries for free. Have a glance at some of the best cruises with free kayaking below:
Stellar of the Seas Cruise
Paradise Peak Cruise
Aclass Stellar Cruises
Serenity Cruise
Swan Cruise
Paradise Luxury Cruise
Questions and Answers
(0)
Be the first to ask a question on this page
READ THIS NEXT
Exploring Halong Bay nightlife is probably the best way to complete your journey in this land of natural wonders. In …
Read more
Featuring a complete information about Bai Tu Long bay and a handpicked list of the best cruises in Bai Tu …
Read more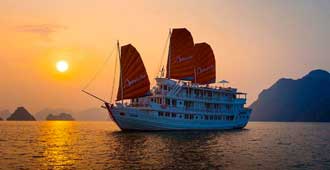 Discover the charming and exotic landscapes of Halong bay on an all-inclusive luxury cruise!
Meet local experts
Need to create your own Halong bay trip?
Call us now: +84 354 64 1421 (Whatsapp)
Customize Your Tour
QUESTION FORUM:
Halong Bay: Questions