Kayaking through Halong Bay is a must-do bucket list activity and by far the best way to explore all that the bay has to offer. Sliding through the water in a nifty kayak gives travelers more independence, and allows them to reach places that cannot be reached in cruise ships. Kayaking tours are offered by most Halong Bay cruises. Before embarking on a kayaking adventure there are a few things you should know.
Basic Safety Tips
Tourist kayaking through a cave in Halong bay (Photo: Shutterstock)
Follow these safety tips and be well-prepared for a kayaking trip:
Before kayaking warm your body up with a bit of movement beforehand - the last thing anyone wants is a cramp while in a kayak.
Listen carefully to the tour guide and remember details of the route, timings and rules.
Wear a life-vest.
Be aware of the weather, tides and currents and the wind strength.
Stay well away from cliffs, caves and rocks.
Never, ever go kayaking whilst intoxicated. It's dangerous and not worth the risk.
Ensure you hold the oar with your arms about the same width as your shoulders, with the concave sides of the oar facing behind you.
Halong Bay water is pretty warm during winter, so it is good to go kayaking anytime of the year. However, keep yourself warm after you are done with the activity to avoid catching a cold. The temperature during winter can get as low as 10°-15°.
What to Bring
The key to success is good preparation. Make sure to include the following things on your kayaking adventure:
One life-vest per person.
Water bottles for each person.
Sunscreen in a high factor.
Insect repellent.
Camera.
Good, comfortable shoes.
Recommended reading: The best time to visit Halong bay.
Best Kayaking Spots
Luon cave - one of the top spots for kayaking! (Photo: Shutterstock)
Halong Bay has a landscape so magnificent that there are endless amounts of wonderful kayaking spots. No matter where you go you're likely to be blown away by the natural landscape. That said, the local government has issued strict guidelines on where travelers should kayak in order to protect areas of Halong Bay.
The following areas are kayaking hotspots in Halong Bay:
Cap La Island & Cap La Fishing Village
Ba Hang Fishing Village
Tung Sau Area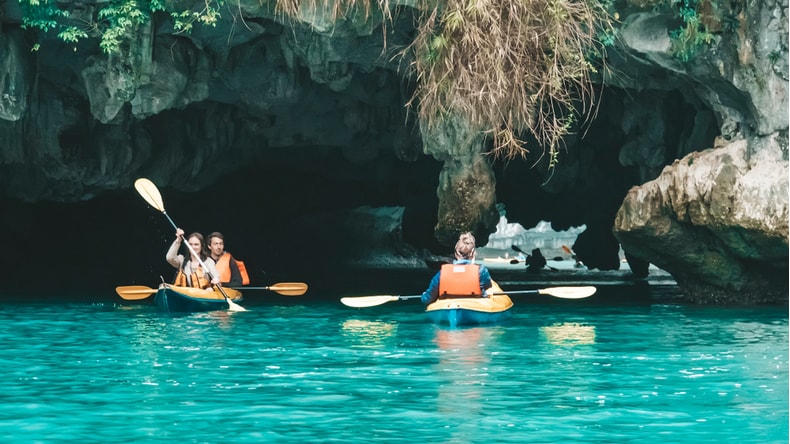 Photo: Shutterstock

Last updated: 19 September, 2019
READ THIS NEXT
Featuring a complete information about Bai Tu Long bay and a handpicked list of the best cruises in Bai Tu …
Read more
In the southeast coast of Cat Ba Island, Lan Ha Bay is a quieter and more pristine alternative to the …
Read more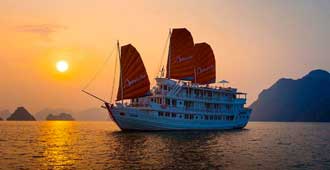 Discover the charming and exotic landscapes of Halong bay on an all-inclusive luxury cruise!
QUESTION FORUM:
Halong Bay: Questions
Free ITINERARY planning with us!
Planning your trip with our Halong local experts, we will help you with:
Accomodation: Find the best hotels/homestay or BnB.
Tours: Connect you to the trusted tour operator in Halong bay.
Cruises: Find the best cruise on your date!
It is all FREE