Travel Tips
Basic Safety Tips for Kayaking in Halong Bay
Kayaking is a kind of paddling, using a kayak to move across water. With thousands islands and isles, calm tides, clean, and emerald green water, Halong Bay is ideal for the activity.
Basic Safety Tips
Most cruises in Halong Bay offer kayaking. Kayaking will make your Halong trip more interesting, but you should know these tips about kayaking in Halong Bay:
Carefully follow the instructions and conditions before kayaking.
Stay close with other people; remember to warm up before kayaking.
Even if you are an experienced kayaker, don't come too close to caves and karsts. There are reports of people getting stuck into caves and it took from 30 minutes to hours to rescue them.
Never go kayaking while being intoxicated. Drinking will dull your sense and might lead to unfortunate accident. There incidents of people drown because of swimming after consuming a large amount of alcohol.
Don't go kayaking for too long, you might get sunburn because of it.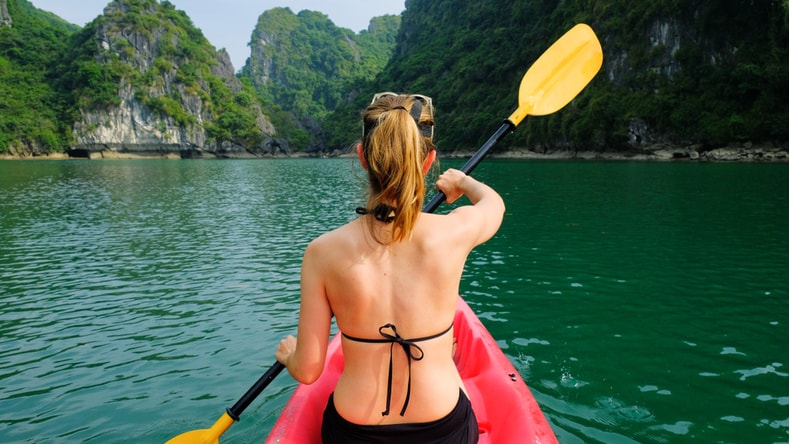 Kayaking is the most popular activity in Halong bay!

Halong Bay water is pretty warm during winter so feel free to kayaking anytime of the year. However, keep yourself warm after you are done with the activity to avoid catching a cold. The temperature during winter can get as low as 10°-15°.
READ THIS NEXT
Travel to Halong always promises a great experience to travelers, in any occasions during the year. Tet Holiday is not ...
Read more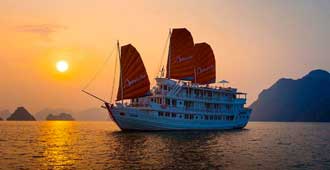 Discover the charming and exotic landscapes of Halong bay on an all-inclusive luxury cruise!
QUESTION FORUM:
Halong Bay: Questions
Free ITINERARY planning with us!
Planning your trip with our Halong local experts, we will help you with:
Accomodation: Find the best hotels/homestay or BnB.
Tours: Connect you to the trusted tour operator in Halong bay.
Cruises: Find the best cruise on your date!
It is all FREE