So you want to visit Halong Bay but you don't know where to lay your head at night? We've compiled this guide to help you make the best decision for you. Read on to decide where to stay in Halong Bay!
1. Stay overnight on a cruise
Visiting Halong Bay by cruise is clearly the most popular and obvious option around. You can spend the evening on deck listening to the ebb and flow of the waves, surrounded by the silhouettes of impressive limestone mountains. When you wake up in the morning you can watch the sunrise over the mountains and enjoy some Tai Chi on deck before getting ready for a day full of activities. There are several different areas that cruises generally tour which you should take into consideration when choosing where to stay in Halong Bay.
a) Lan Ha Bay Cruise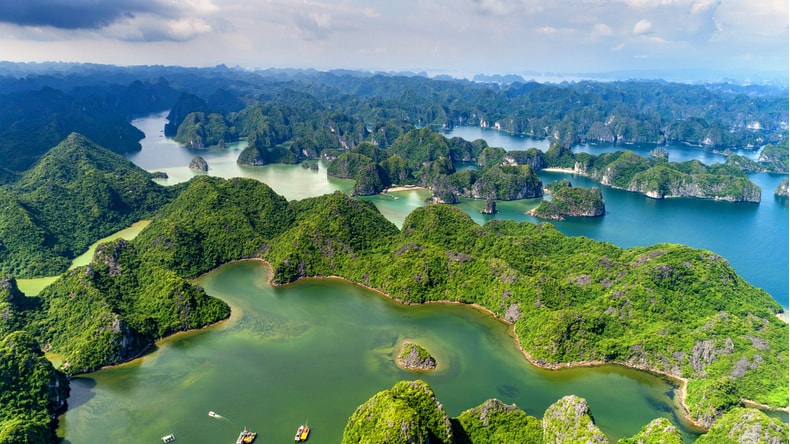 Beautiful Lan Ha Bay from above!

Lan Ha Bay is a quieter and less visited alternative to Halong Bay. It has the same landscape with masses of limestone karsts and white sandy beaches. The main difference is that there are fewer boats in this area meaning fewer tourists. This is a great option if you prefer to take it easy and stay away from the crowd.
b) Bai Tu Long Bay Cruise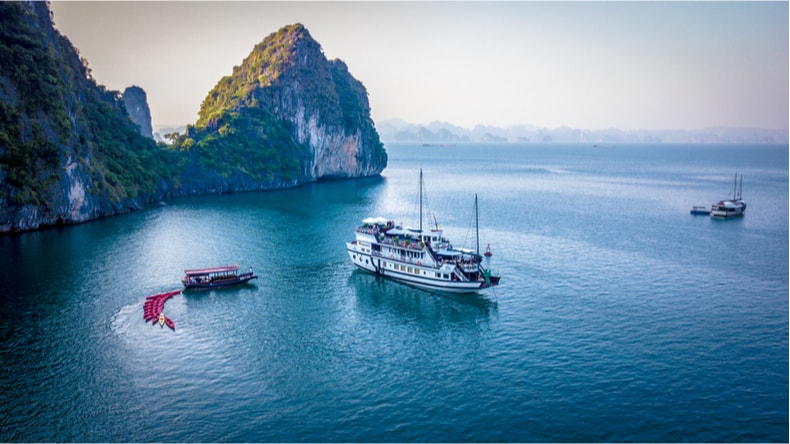 Cruising in Bai Tu Long Bay!

Bai Tu Long Bay is sometimes called 'The Bay Less Traveled'. It is another option for those who want to keep off the beaten track. It's an extension of Halong Bay and an absolute hidden gem. As there are fewer tourists here, there is less pollution and the water is clearer. Choose this route if you like to travel off the beaten path!
c) Halong Bay Cruise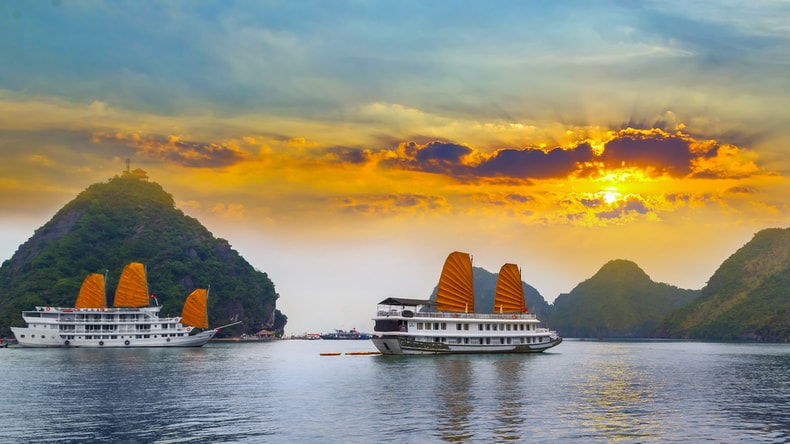 Sunsets in Halong bay.

Halong Bay is obviously the most popular route available for a cruise and the best option if you want to see all of the most famous attractions in Halong bay. It's a lot busier than the other two options, but arguably bigger with more to see.
2. Stay overnight on an island
If you dread the thought of staying overnight on the sea you can choose to stay on an island! Staying on an island gives you the option to go to the beach any time you want, swim at night, trek by day and visit local restaurants. Which island should you choose? Read further to consider our recommended choices.
a) Cat Ba Island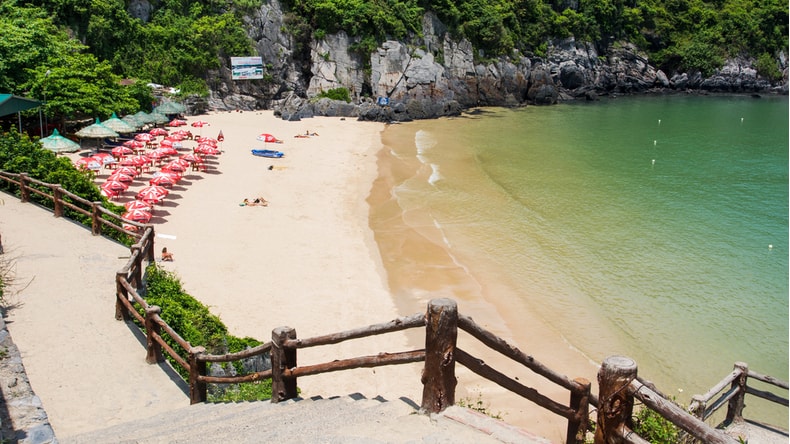 Plentiful of choices for resorts and hotels in Cat Ba Island.

Halong Bay's biggest and most inhabited island Cat Ba will undoubtedly give you a comfortable stay. During the day you can trek in the national park, then spend the afternoon at one of Cat Ba's beautiful beaches, before watching the sunset and spending an evening at one of the local seafood restaurants.
b) Co To Island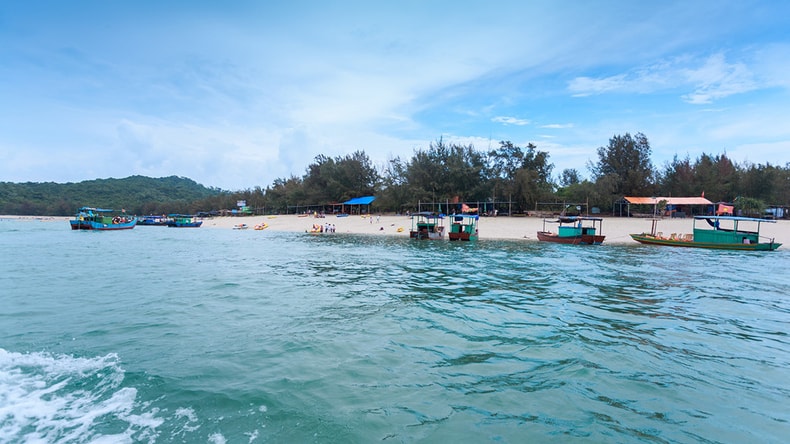 Co To Island beaches (Photo credit: Zing.vn)

Co To Island is still somewhat undiscovered by tourists. The main draws are its white sandy beaches, clear waters and delicious fresh seafood restaurants. As it is relatively quiet and not very developed, this island is great for those who wish to explore undiscovered areas. However, it will not be the most convenient location to choose and does not cater to tourists.
c) Quan Lan Island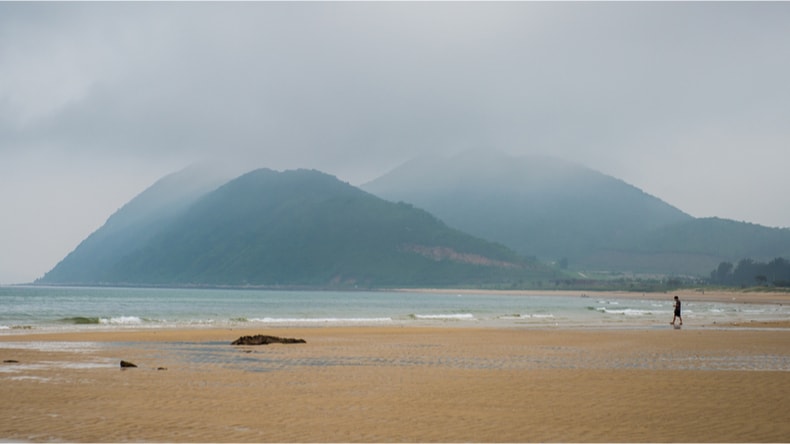 Quan Lan Island, natural beauty without massive tourism touch!
Quan Lan is another great option for those who love nature. This island is charming in its pristine natural beauty. The island has beautiful landscapes and also great seafood!
Quan Lan is a great place for lazing on the beach, exploring the coast by kayak and then spending the evening indulging in some of the freshest seafood around.
3. Stay inland
If your priority is resting up, then you should consider staying inland. If you choose the right hotel you can have a wonderful stay in Halong City and use the city as a base to explore Halong Bay.
Here we give you some highly recommended hotels to help you make your decision:
Muong Thanh Luxury Quang Ninh Hotel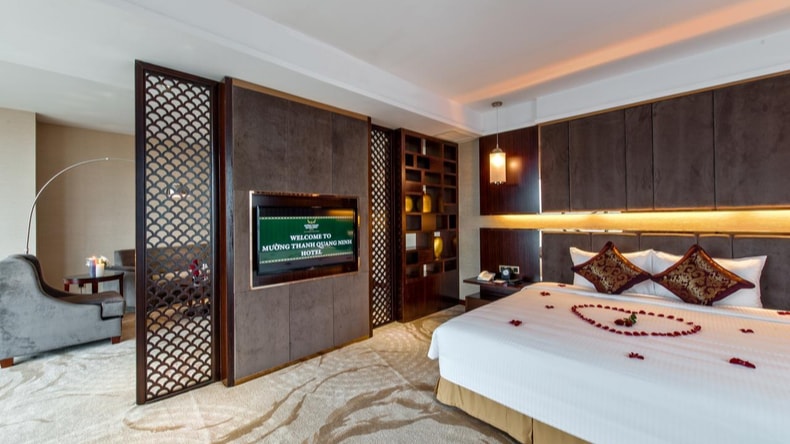 On booking.com this hotel is described as being a perfect choice for couples. It is close to Bai Chay beach and Halong Night Market. Bai Tho Mountain is 6 miles (10 kilometers) away, Tuan Chau Island is 9 miles (15 kilometers) away. The hotel itself is stylish and modern and has an outdoor swimming pool and rooms with mountain views. Double rooms go from $62 USD per night as of January 2021.
Address: Hạ Long, Bãi Cháy, Thành phố Hạ Long, Quảng Ninh, Vietnam (Map and directions). Phone: +84 203 3646 618
Central Luxury Hạ Long Hotel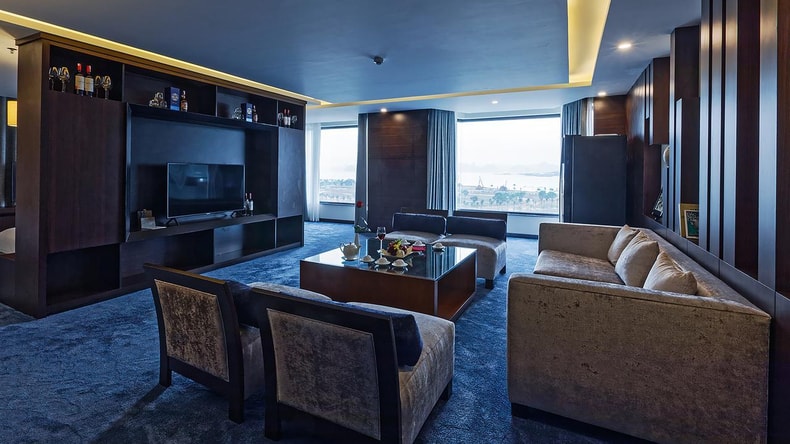 Central Luxury Ha Long Hotel is one of booking.com's bestsellers in Halong City. It has great facilities including an outdoor swimming pool and restaurant as is 5.5 miles (9 kilometers) away from Tuan Chau port. Rooms have mountain or sea views and prices start from $80 USD per night for a twin room with mountain views.
Address: Hùng Thắng, Thành phố Hạ Long, Quảng Ninh, Vietnam (Maps and directions) .Phone: +84 203 397 9999 (verified as of 2021)
Novotel Halong Bay Hotel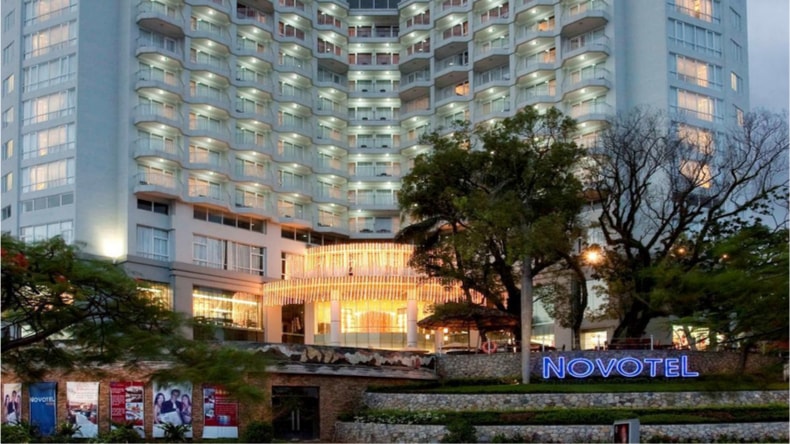 Novotel is one of booking.com's top picks in Halong City. It's a 4-star hotel, ideal for business travelers, families and couples alike. The hotel has great amenities and facilities and is only 800 meters away from Halong night Market. Rooms start from $64 USD per night for a standard twin.
Address: 160 Ha Long road Ha Long City, Quảng Ninh 200000, Vietnam (Maps and directions) Phone: +84 203 3848 108.
Last updated: January, 02 2023
Questions and Answers
(0)
Be the first to ask a question on this page
READ THIS NEXT
Vietnamese Tet 2024, also known as the Tet Nguyen Dan or Lunar New Year, will fall on Saturday, February 10th, …
Read more
Exploring Halong Bay nightlife is probably the best way to complete your journey in this land of natural wonders. In …
Read more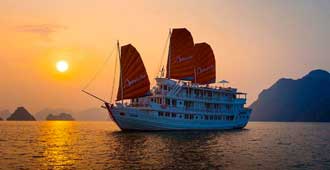 Discover the charming and exotic landscapes of Halong bay on an all-inclusive luxury cruise!
Meet local experts
Need to create your own Halong bay trip?
Call us now: +84 987 24 6600 (Whatsapp)
Customize Your Tour
QUESTION FORUM:
Halong Bay: Questions