9 Essentials to Pack for your Halong Bay Cruise
Not sure what to pack for Halong bay? Be prepared for every season with this complete Halong packing list.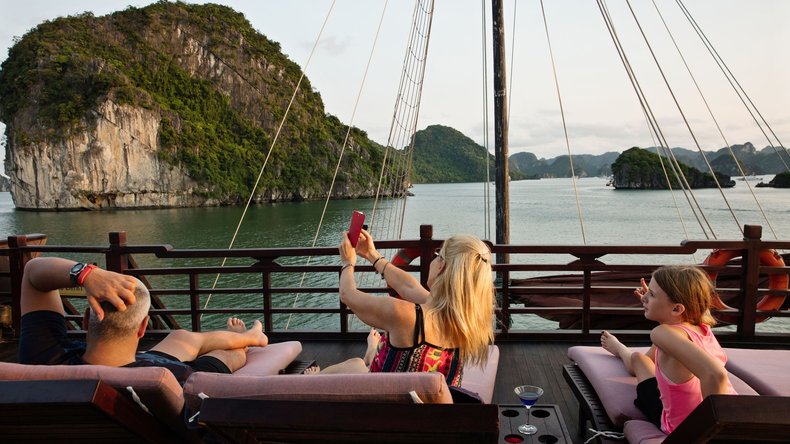 1. Passport
Cruise guests absolutely must remember to bring their passport for any cruise. The cruise line must register all passengers with the local police for the duration of their stay and probably won't allow passengers to board the cruise without it so don't forget it! Passports should be kept on your person at all times.
2. Small Travel Bag or Backpack
Cruise cabins are relatively small compared to normal hotel rooms (there's limited room on a boat) so there won't be a lot of room for big suitcases or even small suitcases. Guests should bring a reasonably sized bag or backpack with everything they need inside.
3. Clothes
Of course travelers must remember to bring enough appropriate clothing and footwear for the duration of their stay. Keep an eye on the weather forecast to make sure that you pack weather appropriate clothing. Bring cool clothing and swimming gear for hot weather and warm clothing for cold weather.
Tip: It's also a good idea to bring an extra set of clothes that you don't mind getting wet if you have kayaking on your itinerary. Most itineraries also include a visit to the beach so bring a swimsuit to join in with some swimming fun.
4. Toiletries
Some cruise lines may provide some generic shampoo and conditioner in the shower but it's advisable for guests to bring their own preferred toiletries. You should bring shampoo and conditioner to wash your hair after swimming, shower gel, toothpaste and hand sanitizer.
5. Sunscreen and Sunglasses
Bring sunscreen to Halong Bay for travel at any time of the year but especially during the summer months when the UV index can get extremely high and especially damaging. Consider bringing a waterproof sunscreen as this will protect you better when kayaking or spending time at the beach. Remember to reapply sunscreen every few hours and after exposure to water.
If traveling with young children, it's advisable to bring sunblock with at least factor 50 to protect their sensitive skin from the strong Vietnamese sun.
Tip: Just as important as sunscreen, sunglasses are needed to protect your eyes from the sun! The sun is very strong in Vietnam so they really are just as essential as sunscreen.
6. Drinks and Snacks
Cruise lines will provide guests with bottled water in their rooms and may provide some complimentary drinks with meals but everything else will need to be paid for by the guests themselves. For this reason, it's advisable to bring your own drinks if you don't want to pay additional fees on the cruise.
It's also recommended to bring some snacks, as food is not usually served outside of meal times.
7. Cash/Credit Card/Debit Card
As guests usually have to pay for their drinks and additional snacks, it's a must to bring some form of payment such as cash or a credit or debit card. Cash is always accepted so this is the safest option. Bring Vietnamese dong or US dollars to make sure that the currency will be accepted.
8. Entertainment
Wifi and 4G coverage is not available for the majority of Halong Bay cruises so guests should bring some of their own entertainment options to keep them going during downtime. This could be in the form of books, tablets, laptops, card games or board games.
For travelers with young children it's recommended to bring some coloring books and toys as these usually aren't provided by the cruise line.
Some cruises will provide some board games or a guitar but it's best to bring something yourself too! At the very least bring a camera or phone with a built-in camera to capture memories of your Halong Bay trip.
Tip: Remember to bring adapters for electronic devices. Vietnam uses adapter type A, C and F.
9. Insect Repellent
One of the subtle highlights of taking a cruise is actually relaxing on the top deck of the boat while the sun sets, taking in the gorgeous scenery and appreciating the moment. One thing that can ruin the moment is relentless insect bites! Travelers are highly recommended to bring some insect repellent with a high concentration of deet to ward off bugs.
10. Medicines (Seasickness Aids)
Travelers that require special medicine should remember to take enough for the duration of the trip. Halong cruises go right out into the bay and there will be no possibility to buy specialized medicines onboard, although there will be basic medicine such as painkillers, ibuprofens and first aid kits.
Additionally, if you suffer with seasickness, please remember to take an anti-seasickness pill before boarding your cruise (anti-seasickness medication is more effective when taken before being on the sea).