We understand that many questions arise that go unanswered when it comes to cruises. Here we aim to answer various questions that frequently pop up but are seldom feature in FAQ articles.
Should I bring cash on my cruise? What would I need cash for?
Yes, you should bring some cash with you on your cruise as often drinks are not included at all and food is only included during mealtimes, which is a set menu. Therefore, you will need cash to pay for any additional drinks you may have and to buy any snacks that are available.
On some cruise lines activities are not included in the cabin price so you may also need cash for this.
Try to bring Vietnamese Dong with you, although most cruises will accept US dollars and some will accept Euros.
My cruise is called '2 day 1 night' but it's actually less than 24 hours on board. Why?
The cruise is labelled 2 days and 1 night as it occurs over 2 day-time and one night-time. The actual time spent on the boat is less than 24hrs as most passengers come to Halong Bay from Hanoi and need time to account for their transfer to and from their accommodation in Hanoi.
What happens if there's bad weather?
If the weather is bad, the cruise operator has to wait for the local Halong Bay authorities to indicate whether cruises will be allowed into the bay. Usually if the weather looks a little stormy or becomes too windy, ships will not be allowed to travel into the bay. If this happens, the cruise will be cancelled.
Where possible, cruise operators will try and avoid scheduling cruises when typhoons or other bad weather is forecasted. Due to the unpredictability of weather, it's possible that cruises may be cancelled the day of the trip, however operators can sometimes tell the day before if the cruise will be cancelled.
Is smoking allowed on the cruise? What happens if I smoke on the cruise?
Smoking onboard on the cruise is usually only allowed in designated smoking areas which are on one of the upper decks and other open areas. Smoking is usually not permitted in any of the indoor areas of the cruise boat.
Is WiFi available on board?
Most cruise lines have complimentary WiFi but it can be very unstable and patchy the further you get away from the coast as coverage does not reach far out to sea.
The same is true for 4G coverage, which is also very unpredictable and doesn't typically work very well the further you move away from the coast.
Can I go on a cruise if I'm pregnant?
It's fine to go on a cruise as long as you are not in your final weeks of pregnancy, when there is a higher risk that you may go into early labour.
If a guest is in their 37th week of pregnancy, or beyond that, they are advised to delay the trip until after giving birth. Additionally, those who have high-risk pregnancies should also delay the trip until after the pregnancy is completed.
Will I get seasick?
Passengers don't typically get too seasick as the ocean around Halong Bay is usually very calm. If you're very sensitive to seasickness we recommend taking some over-the-counter anti-nausea pills a few hours before you board the cruise. This should stop you feeling any seasickness.
Questions and Answers
(0)
Be the first to ask a question on this page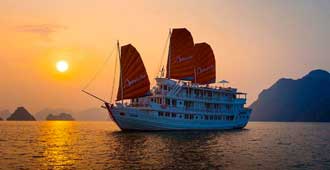 Discover the charming and exotic landscapes of Halong bay on an all-inclusive luxury cruise!
Meet local experts
Need to create your own Halong bay trip?
Call us now: +84 987 24 6600 (Whatsapp)
Customize Your Tour
QUESTION FORUM:
Halong Bay: Questions