To tip or not to tip? When travelling in a foreign country, that is often the question. Lets find out if you need to tip when cruising in Halong bay.
After enjoying the trip of a lifetime in Halong Bay, it's natural to wonder how much you should tip the wonderful staff who have helped make your trip happen.
If guests feel that the service they received on their cruise was excellent they may wish to pay compliments to the staff in the form of a tip. Tipping service staff is not customary in Vietnam but it is often appreciated as many service workers do not receive a high wage.
We recommend tipping between 50.000 VND and 100.000 VND to individual staff that you would like to thank. To thank the crew in general, we recommend tipping around 200.000 VND per cabin for a 2 day 1 night cruise, and 250.000 VND for a 3 day 2 night cruise.
Any tips will be greatly appreciated by staff but you should only tip if you feel that the service you received was exceptional.
Questions and Answers
(0)
Be the first to ask a question on this page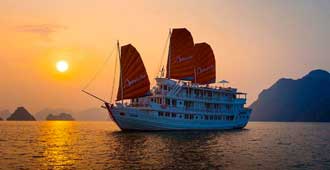 Discover the charming and exotic landscapes of Halong bay on an all-inclusive luxury cruise!
Meet local experts
Need to create your own Halong bay trip?
Call us now: +84 987 24 6600 (Whatsapp)
Customize Your Tour
QUESTION FORUM:
Halong Bay: Questions