Cruise Restaurants, Dining & Food for Halong Bay.
Overview
Nothing could be better than enjoying a lavish meal onboard an authentic junk boat while sailing through one of the world's seven natural wonders. Vietnam is well-known for it's fresh and fragrant food. The simple flavors make Vietnamese cuisine the favorite of many people the world-over.
Cruises through Halong Bay usually serve an assortment of Vietnamese and Western cuisine, and there is almost always a great selection of the freshest seafood.
As cruises differ in length and price, the kind of food and drink on offer can vary greatly. Sometimes you get what you pay for and the quality of the food is tied to the amount the traveler paid for the cruise, with cheaper cruises offering lower quality food - but this is not always the case!
Cruise passengers should be sure to let the cruise operator know of any dietary requirements applicable as far in advance as possible, so that they may cater to their guests' needs.
Below is an overview of meals and drinks typically served throughout a Halong Bay cruise.
Welcome drinks
A tropical welcome drink onboard!
The first stage of most good cruise itineraries is to welcome new guests with refreshing drinks when they arrive at the cruise terminal for check-in. Usually welcome drinks include some fresh juices, iced tea and coffee. It may be possible to contact your cruise operator beforehand to arrange some specialty drinks to await your arrival to the terminal.
Lunch
Usually served buffet style, there are typically many different dishes to choose from; both Vietnamese and Western.
For Western style lunches, there may be delicious soups, freshly baked European style bread, cheese, salads and cold cuts. For a more local flavor, travelers are advised to try the freshly caught seafood which may include oysters, lobster and large juicy prawns. For meat lovers there are plenty of options for you too, from grilled pork, beef or duck, there's plenty to choose from.
Vegetarians might expect some braised tofu in a tomato sauce that is popular throughout Vietnam, vegetable curry, spring rolls or some vegetable and noodle dishes. It may be more difficult for vegans to find suitable food as a lot of Vietnamese food includes fish sauce in the recipe.
Dessert is usually a decorative offering fresh exotic fruits, but some cruises may also offer mouth-watering European style pastries for dessert.
Dinner
Boiled crabs for dinner!
As the sun sets over the magnificent karst islands in Halong Bay, it's time to get ready for dinner. As with breakfast and lunch, most cruises offer an assortment of both Western and Vietnamese style dishes that can range from pizza to freshly caught shrimp prepared right in front of you.
Some cruises serve an inflexible set menu, where they will place the dishes on the table for you to choose which ones you'd like to try. Others offer a buffet-style dinner much like lunch. Expect to see many seafood dishes, including prawns, ngan, lobster and baked oysters.
A BBQ option is available on selected cruises where they freshly grill the most delicious meals on the spot for you to enjoy.
Some cruises include a cooking demonstration where a dish is prepared on the spot while the chef explains how it's cooked. A great example is 'Drunken Shrimp' where the chef uses vodka to steam the shrimp to perfection, all in under one minute. Some cruises also offer the option to make your own spring rolls, which is a fun, educational and delicious activity all at the same time.
Drinks
Invaluable to a great meal, a wide array of drinks are available. For breakfast and lunch there is fresh fruit juice, coffee, tea and milk. For dinner: wine, beer, cocktails and spirits will be available as well. Meals are included in the cruise price but most cruises don't include drinks in the price of the cabin, so these need to be paid for by cash or credit card during the cruise or during check-out in the cruise terminal. Just in case, it's always a good idea to bring some cash.
Breakfast
Pho, orange juice and Vietnamese coffee are often found on a cruise breakfast!
According to many, breakfast is the most important meal of the day. It is essential that a good breakfast is served on your cruise.
Besides a traditional Vietnamese breakfast where Pho (Vietnamese noodle soup with chicken or beef) and fresh fruits are served, Western style breakfasts are also offered by some cruises. This may involve a continental breakfast consisting of toast, fresh fruit, pastries, jam, honey and yogurt or a more luxurious breakfast served with eggs, smoked ham/salmon with freshly baked bread and butter. Fresh coffee and tea are usually included in the price of your cabin.
Breakfast is only served on overnight cruises.
Cooking class
Guests making fresh spring rolls with shrimp in a cooking class.
One of the highlights of an overnight cruise is learning how to cook traditional Vietnamese dishes. Most cruises include an optional cooking class where the chef will educate guests about the history of some Vietnamese dishes and how to prepare them.
This is a great way to get to know the local food culture while enjoying the beauty of the Bay. On nearly every cruise spring rolls will be on the menu, and depending on what produce and seafood is available, the chef will select a few other dishes for you to prepare.
Every cruise is different. Ask your operator what kind of cooking classes they offer and if they can be catered to your diet.
Tip: For those among us who are true foodies, consider President Cruises. It's the only cruise with a Michelin Star Chef on board.
Last updated: November 10, 2019
Questions and Answers
(0)
Be the first to ask a question on this page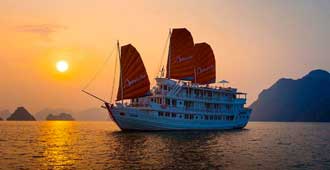 Discover the charming and exotic landscapes of Halong bay on an all-inclusive luxury cruise!
Meet local experts
Need to create your own Halong bay trip?
Call us now: +84 987 24 6600 (Whatsapp)
Customize Your Tour
QUESTION FORUM:
Halong Bay: Questions