Travel Tips
What to Eat in Halong Bay: Top 6 Local Foods Every Visitor Should Try
Do you consider yourself a foodie? A gastronomy connoisseur, a gourmand? Travel to Halong Bay! The bay is famous for its fresher than fresh seafood, which is flavored with delicate bouquets of herbs. Halong Bay serves up the best of Northern Vietnamese cuisine with zero pretentiousness. Don't miss out on the following specialties.
1. Cha Muc (Grilled Chopped Squid)
Cha Muc is famously from the province of Quang Ninh and considered one of the top regional specialties of Vietnam. It's a squid cakes and the highest quality cakes are made with squid from Halong Bay in particular. Cha Muc is prepared by grinding up squid meat by hand after which it's fried at a medium heat until they turn a beautiful golden brown.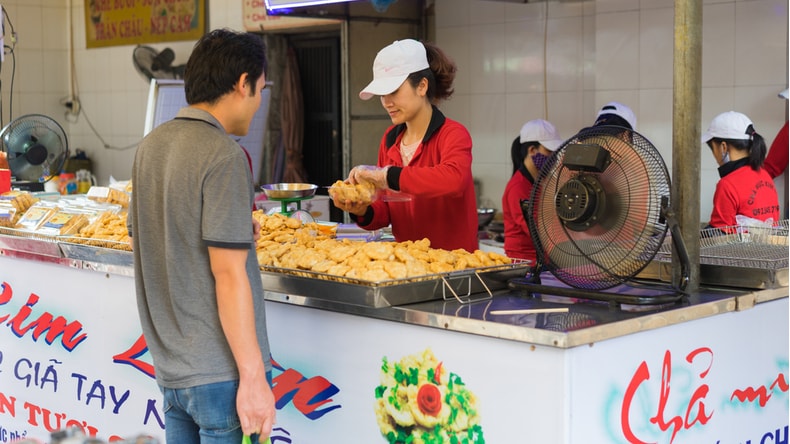 Cha Muc (Grilled Chopped Squid) can be found at any local market. Cha Muc was voted as country's top 10 tastiest dishes (Photo: Shutterstock)
When you bite into Cha Muc you first feel the delightfully crunchy exterior before tasting the juicy squid meat. Cha Muc is usually eaten with sticky rice and fish sauce or Banh Cuon which is a type of rice cake. You can easily find Cha Muc at many food stalls around Halong City for around 20.000 VND (1 USD) per portion.
2. Sam (Horseshoe crab)
Sam, otherwise known as Horseshoe Crab, live primarily in shallow ocean water which means that Halong Bay is the perfect habitat for them. This means that there is an abundance of Sam in Halong Bay! It can be prepared into many different dishes using crab as the primary source of meat.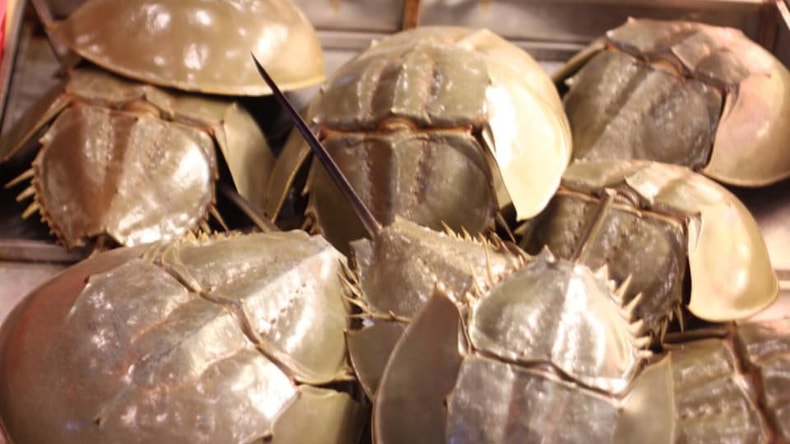 Fresh Sam
Crab salad, sweet and sour, sautéed crab with lemongrass and pepper, steamed crab, fried crab with glass noodles and the list could go on! These are all dishes for which Sam is used.
3. Drunken Prawn and Lobster
Fresh prawns and lobster are two of the greatest joys of Halong Bay. Straight from the sea and onto your plate, you won't taste better anywhere!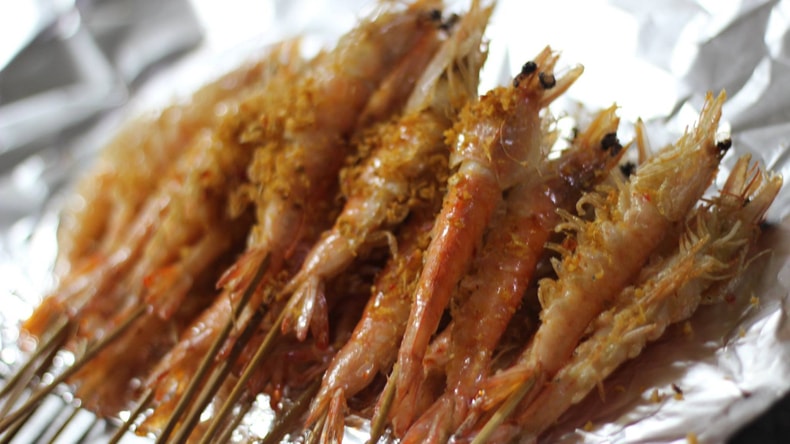 Grilled prawn dish
There are many ways to prepare both prawn and lobster but steaming with lemongrass, beer or vodka are probably the most popular in Halong Bay. This cooking method helps to cook the food quickly but also gets rid of the fishy smell allowing you to enjoy the natural taste better.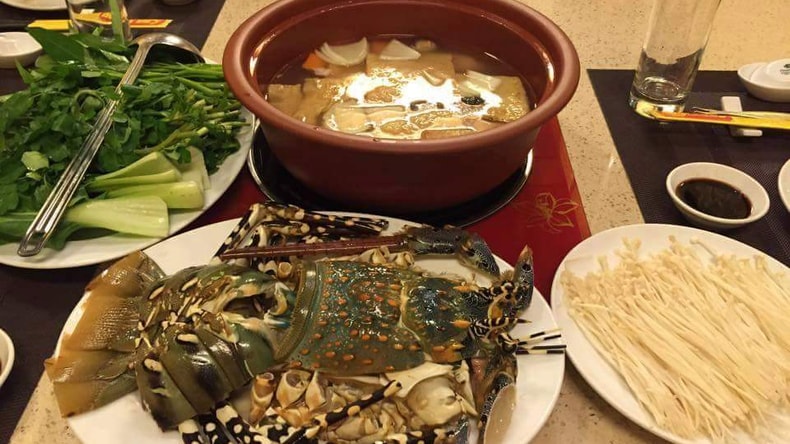 Lobster hotpot - a luxurious local dish.
4. Oyster
Oysters are famous world-over for being a luxurious treat; Halong Bay is a wonderful place to enjoy them fresh.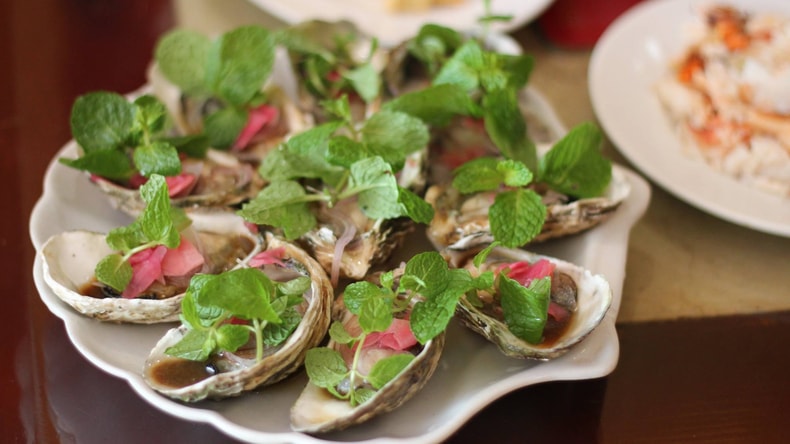 Fresh oyster, a very popular dish in Halong. Just try this food in reputable restaurants for food safety.

Fresh oysters are caught daily, washed and grilled over charcoal and then seasoned with salt, pepper and lemon or grilled onions. Sometimes they're served raw with a slice of lemon, delicious!
Ngan (Austriella Corrugata)
In Vietnamese, "Ngan" actually means tasteless, but in reality these hard shell clams are very delicious. If you travel to Halong Bay and like seafood you simply must try Ngan. It's a versatile dish that can be prepared grilled, steamed or added to a stir-fry.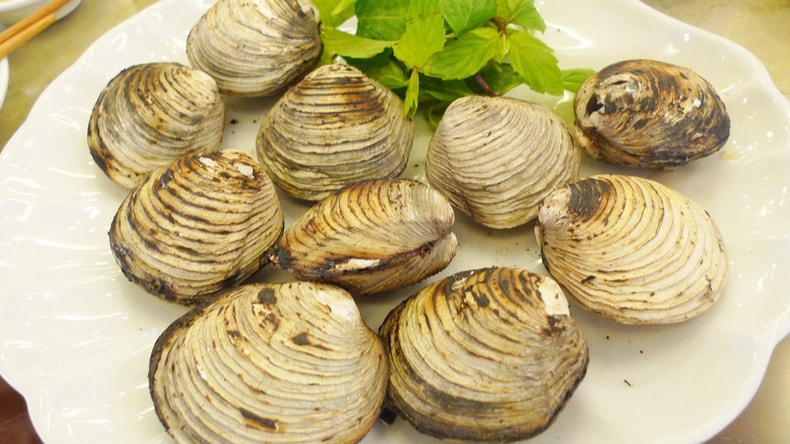 Grilled Ngan - This a must-try specialty if you are in Halong (Photo: Orientalsails.com)
A special delicacy made from Ngan is Ngan wine which has a unique, indescribable flavor. It is made from a strange mixture of Ngan blood and rice wine. Ngan wine can be found in Cai Ram market in Halong City.
6. Sá Sùng (Sipunculus Nudus)
Sa Sung is probably the most unusual food in this list. It's a type of sea worm found in abundance around Quan Lan Island. The worm lives in the sea, just under the top layer of sand, and only lives in clean water.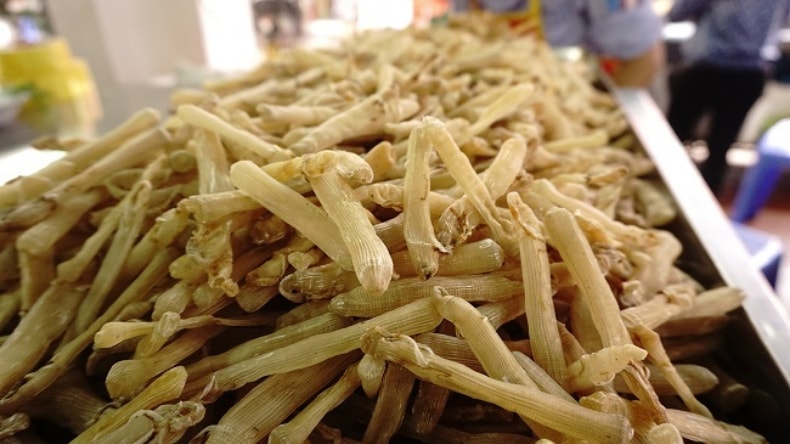 Dried Sa Sung, this is often added to hotpot dishes for sweeter soup (Photo: sasung.com.vn)
Sa Sung can be hard to find which means it is an expensive seafood that was reserved for the highest echelons of Vietnamese society in the past. Now it is more accessible for ordinary people but still quite expensive at 3.000.000 VND to 4.000.000 VND per kilo (around 2 pounds).
Sa Sung is usually grilled, fried or eaten raw. It goes very well with flavors like garlic, chili salt and mustard.
Where to eat?
The many delicious foods mentioned above can be found at local seafood restaurants all over Halong City and the inhabited islands of Halong Bay. Read our Best Restaurants in Halong Bay post for some ideas on where to eat.
In Halong City the Bai Chay area is a great place to find lots of seafood restaurants as well as street food and night markets. Also, many restaurants specialize in a few specific foods and have lots of photos of their most prized dish outside the restaurant, so keep an eye out for photos of foods that you'd like to try!
Questions and Answers
(0)
Be the first to ask a question on this page
READ THIS NEXT
Vietnamese Tet 2024, also known as the Tet Nguyen Dan or Lunar New Year, will fall on Saturday, February 10th, …
Read more
Exploring Halong Bay nightlife is probably the best way to complete your journey in this land of natural wonders. In …
Read more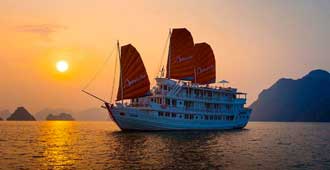 Discover the charming and exotic landscapes of Halong bay on an all-inclusive luxury cruise!
Meet local experts
Need to create your own Halong bay trip?
Call us now: +84 987 24 6600 (Whatsapp)
Customize Your Tour
QUESTION FORUM:
Halong Bay: Questions