Weather
August in Halong Bay: Weather and Event Guide
August is still a hot month and may subject to seasonal storms. Nonetheless Halong Bay is still an attractive destination for the month since it will be a lot less crowded than the high season.
IN A NUTSHELL
August has the lowest amount of sunshine of the year, a mere 6 hours a day as opposed to 7 or 8 hours in other months.
Due to the lack of sunshine, August is the least popular month to visit Halong Bay.
Just like July, storms and other bad weather is not uncommon.
Make sure you stay informed about the weather day-to-day.
It's still hot in August so make sure to pack sun protection and a swimsuit.
August Weather In Halong Bay
The lowest levels of sunshine are to be expected in August, a mere 6 hours of sunshine a day. Because of this and a higher chance of bad weather, it's not a very popular time for tourists to visit Halong Bay. With a humidity level of 75%, it's not as humid as July even though frequent downpours may make you feel like it's more humid. August is the wettest month of the year and Halong Bay registers 262 mm of rain in 16 days on average every year. Be sure to keep an eye on the weather forecast before you head over to Halong Bay.
| Month | High / Low (°C) | Average rainfall (MM) | Rain Days |
| --- | --- | --- | --- |
| August | 32° / 25° | 262mm | 16 days |

August Weather Averages
Pros and Cons for Visting in August
Pros:
August is a warm month and because of this, it's a great time to enjoy some water-based activities to cool down! Snorkeling, swimming, and kayaking are all popular options.
Because there's a high chance of poor weather conditions, many people avoid going to Halong Bay during August. If you don't mind taking a bit of risk, going in August to Halong Bay might be quite a bargain.
Cons:
Bad weather can really interfere with your plans and it's wise to keep yourself informed of the weather situation every hour. As every day is likely to be a scorcher it might not be for everyone to visit Halong Bay in August.
Events
There are no public holidays or festivals in the month of August.
What to pack
Avoid packing any heavier clothes for August, it'll be too hot and you won't wear it! If you're visiting Halong Bay on a day trip you should bring a dry change of clothes, just in case you get wet and need to change. Bathing suits and sun protection is a great idea, it gets quite hot in August and though it may be cloudy, the sun is strong! A poncho is a good addition to any backpack as it will keep you dry in case you get caught in an unexpected rainstorm.
READ THIS NEXT
May marks the start of a hot summer although the heat in this month is by and large endurable. It …
Read more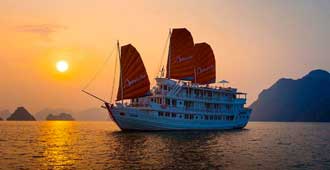 Discover the charming and exotic landscapes of Halong bay on an all-inclusive luxury cruise!
QUESTION FORUM:
Halong Bay: Questions
Free ITINERARY planning with us!
Planning your trip with our Halong local experts, we will help you with:
Accomodation: Find the best hotels/homestay or BnB.
Tours: Connect you to the trusted tour operator in Halong bay.
Cruises: Find the best cruise on your date!
It is all FREE